List Price: $34.99 [Buy now and save at Amazon]
---
I was unfaithful, I admit it. I...cheated on you, Adam-12. I missed most of this fifth season back in '72...so I could watch...The Paul Lynde Show. But it didn't mean anything, Adam-12, I swear it didn't! It was just a sitcom, and I hardly even laughed, and when I did, I was thinking of you the whole time, Adam-12, really! And it was just those few times, Adam-12. I never did it again, never! I came back to you in the summer reruns...but we couldn't quite make it right in the end, could we? Shout! Factory continues to deliver the goods (i.e.: NBC/Universal Television's library catalog) with Adam-12: Season Five, a 4-disc, 24-episode bare-bones collection that continues to trouble me (I'm pretty sure these transfers, like Season Four, are missing the final episode wrap-ups that were probably snipped in syndication...and I've had emails from both sides of this argument--some a little disturbing--with both claiming expert knowledge). Aside from that, absolutely nothing has changed here from Season Four to Season Five...with the possible exception that even less information about Reed and Malloy's personal life is offered here. In Adam-12Land, the street is everything.
Some background on the series, for anyone new to the show (and believe me: you can jump in at any point in the show's seven-year run--you can't get lost). Senior Lead Officer Pete Malloy (Martin Milner), in charge of a 10-squad car unit, is a nine-year veteran of the world's most highly-trained police force: the Los Angeles Police Department. His partner is clean-cut, married heartthrob, Officer Jim Reed (Kent McCord), entering his fifth year in the department. Each episode features the officers in their patrol car (Pete almost always drives) policing their assigned area, where they encounter a wide range of situations that run from the mundane (a young boy runs away this season), to the intense (that young boy's mother later kills his step-father). After spending four years together in a patrol car, and after their initial adjustment to each other's individual styles and personalities, the two highly trained officers have achieved a well-earned rapport, both at work and during off-duty hours, when they frequently socialize together. While Malloy's confirmed bachelor status was a constant source of amusement for the married Reed, discussions of home life for both men is severely restricted this time out: Reed never bugs Malloy about getting married, and Malloy only mentions Reed's wife, Jean, once (we never see her this season). At the station, Malloy and Reed's immediate superior, Sergeant "Mac" MacDonald (William Boyett), is there to constantly remind the officers that even though they're human, and that they can't help but respond personally to some of the situations they find themselves in, they're police officers first. It's by-the-book, or out you go. And finally, showing up for just a few episodes here this season, Officer Ed Wells (Gary Crosby) again provides his usual prickly irritation to easy-going Malloy and Reed.
In my Season Two and Season Four reviews, I wrote fairly extensively about the aesthetic and structural pleasures of this Jack Webb/ Robert A. Cinader series (more like mash notes than reviews, as I read them over again), so I'm not going to get into all that again (you can access Season Two here, and Season Four here, for background and context). What I will say, briefly (I promise), is that I find the rigid visual schematic and the close-cropped A-B-C framing and editing of Adam-12 to be beautifully spare and clean, matched by the almost kabuki-like scripting that turns the most mundane actions into stylized rituals, repeated over and over again until they achieve mythic, iconic status. When Malloy and Reed drop down into their new, more powerful 1972 AMC Matador, solidly chunking those doors closed, and begin to roll down the mean streets of L.A.--over and over again, episode after episode, without any variation--the effect eventually becomes hypnotic. The characters, although humanized by the scripts (and obviously by the performances), simultaneously operate outside the realm of reality due to this stylization of the visuals and editing, and thus they operate as icons as well as three-dimensional characters. It's difficult to find that kind of myth-making-through-repetition now, with today's shows' emphasis on open frames and unpredictable, hyper-realism, but vintage TV is full of such iconography.
That being said...I couldn't help but feel the series may have peaked the previous year, precisely because such a dramatic and visual schematic will, by the very nature of its design, inevitably wear out its welcome. Now don't get me wrong: Season Five of Adam-12 is just fine, thank you very much. It still delivers the clean-cut, square-jawed goods in the way that would make executive producer and co-creator Jack Webb feel proud. However, dialing back on getting more thoroughly acquainted with Jim and Pete, at this point, after four years, is a mistake. Adam-12's episodes rarely cross-over in terms of continuity; there's never an overriding story arc that threads through these seasons, unless it's a minor plot point, such as Jim's wife having a baby a few season back (and even that wasn't mentioned all that much). Indeed, one could take the scissors to a First Season episode and a Fifth, and splice them together and never know the difference, save for the hair styles and the different patrol vehicles. And I love that Hawksian focus on professionalism through work, with Pete and Jim keeping a masculine, tight-lipped camaraderie that seems like such a tonic to today's constant whinging on and hand-wringing in TV dramas.
Unfortunately, after four years of such beautifully stark minimalism...I want a little bit of floridness, a little bit of excess, and by Webb-ian terms, "florid" means maybe a peek or two at the officers' home lives, or maybe some of their off-duty activities. We never see Reed's wife Jean this season, or the baby. We don't see his home, or his car. We don't see Malloy off-hours, either (except when he's learning how to motorcross to beat a bunch of biker punks in a race). No women for Pete, either. We hear brief mentions of what Pete and Jim do on their off-hours (they bowl together, or shoot pool, or Pete comes over, with a date, for barbecues at Jim's house), but we just don't see them interact outside of the confines of the L.A.P.D. this season, and that becomes a bit stale after five years. Now sure, such moments have briefly popped up in earlier seasons, but the series' main focus has always been the streets of L.A.. And I get that, and enjoy it.
But without any further exploration of the lead characters here, the ritualized encounters with biker gangs, scofflaws, red-light runners, petty thieves, combative homeowners, and tripped-out hippies, need to fill the void, and they had better keep my attention. Too bad they feel sorta...humdrum this time out. Maybe that's too strong. How about "familiar"? Looking back over my notes, only a few of the titles really stood out to me, making me want to seek them out again (unlike so many episodes from Season Four, such as the brilliant The Search, which I watched again just a few weeks ago). There are good episodes (or more accurately, good moments in episodes) this season, but I'm not sure how many of them can stand as series' bests. The season opener, Dirt Duel has one of those happy pop culture occurrences that makes you weep with joy: the lead biker punks out to scratch off Pete are 77 Sunset Strip's Edd "Kookie" Byrnes and The Monkees' Mickey Dolenz (jesus, they both had to know that the 70s were going to blow for them after appearing here). Some sweet motorcross action and the sight of Dolenz dressed like Sha Na Na's Bowser makes this one a keeper (that and a plethora of already out-of-date slang like, "pigs," "broads," and "cool it"). Training Wheels has some kick-ass shots of the new AMC Matador in action as Pete takes it through some training exercises, along with a funny subplot featuring pain-in-the-ass Wells' bright idea: police-on-bicycles (older Pete confesses he has a cramp, with Jim asking where, to which Pete replies, "I'd rather not discuss it."). The Late Baby gives us a new girlfriend for Pete (but only at the police station, where she conveniently works), in the dishy form of Christina Sinatra (she beats Nancy by a mile, pal), with brother Frank, Jr. along for an amusing cameo as Wells' partner. One of my all-time favorite character actors, Henry Jones ("Aaaaahm not talking 'bout them shoes!"), has a very nice turn in the touching Harry Nobody, while an obviously embarrassed Don Stroud (perhaps working off a contract commitment for Universal?), behind glasses and phony beard, is hilarious as he reports his "bag" stolen ("It's not a purse. Please don't call it a purse," he begs in all pre-Seinfeld seriousness). Actor and screenwriter Leo Gordon (who contributes quite a few scripts this season), turns out a good one for The Chaser, where great character actor Bruce Gordon has a nice turn as an unscrupulous private investigator (sad to see the gorgeous Joan Staley, looking thin and wan, in such a nothing role as a waitress--maybe she was working off a contract obligation, too). Gordon comes back again (with a short cameo, to boot), in Hot Spell, which shows the guys bitching about wearing their Class As in the heat (Gordon, as a psycho killer, what else, gets a good line: "If I had my piece, you'd be cold meat now."). The Beast has some amusing moments, when Malloy and Reed get one of the old Belvedere wrecks for a patrol car (too bad somebody didn't make H.R. Pufnstuf's Lennie Weinrib a regular as Tony the mechanic--he's fun). Killing Ground has a nice Wambaugh/mini-Onion Field feel to it, with Pete and Jim taken hostage by psychos Michael Richardson, John Chandler and (thank God), Joy Bang! Suspended is a good procedural, showing Malloy coming up with a neat trick that clears Jim's suspension because of a fatal shooting. Anatomy of a 415 has a metronome creepiness to it, as the officers are called back repeatedly to an apartment where a couple escalate their fight...to a deadly conclusion. William Boyett has a nice scene where he explains how hard it is for a father, who dearly loves his teenage son, to let go of him, in the well-written (Ken Johnson scripted) episode, Keeping Tabs, while in the season's best episode, Badge Heavy, we get a solidly rotten cop who likes choking out his perps for kicks. He even threatens Reed, but "Good Time Charlie" blows it in front of the men, and he resigns in ignominy...with criminal charges pending. No redemption for this disgrace to the uniform. Now that I think about it...that's a pretty good list of episodes, after all!
NBC's Adam-12 took a bit of a hit in the Nielsen's this fifth season, dropping down from its series high of 8th for the previous 1971-1972 season, to 11th for the year during this 1972-1973 season. Direct competition in the 8:00 half-hour on Wednesday nights came from ABC's highly-touted but ultimately unsuccessful The Paul Lynde Show (I'm sorry, Adam-12...I never missed it), although people did come back for The ABC Wednesday Movie of the Week (tied for 25th that year). Upper mid-level performer The Carol Burnett Show, Adam-12's direct competition over on CBS, continued it's steady reign in the Nielsen Top Twenties (22nd for the year), with lead-out Medical Center (where are you on DVD, Chad Everett?) dropping some to tie for 19th. Perhaps hurting Adam-12 more than the competition was its own lead-out, The NBC Wednesday Mystery Movie. The previous year, that monster hit had boosted the cop show's performance enormously, with hits Columbo, McCloud, and McMillan and Wife remaining firmly entrenched in fans' minds as the line-up of that cool series. Unfortunately, those popular shows were moved to Sunday nights this 1972-1973 season (where they tied for 5th for the year), and Adam-12 had to lead-in newcomers to the series, Madigan (with Richard Widmark, based on the Don Siegel film), Cool Million (with James Farentino), and the Columbo-like Banacek (with George Peppard)--none of which caught on with the viewers (this Wednesday version of The NBC Mystery Movie didn't even crack the Nielsen Top Thirty). That certainly didn't help Adam-12, which would get one more hurrah in the Nielsen's in its sixth season...before Sonny and Cher blew them up.
Here are the 24 episodes of the four disc set, Adam-12: Season Five, as described on their slimcases:
DISC ONE
Dirt Duel (9/13/72)
Officers Pete Malloy and Jim Reed get help from an unexpected source in their pursuit of two motorcycle purse-snatchers.
The Late Baby (9/20/72)
Officer Malloy dates the new girl in the steno pool, causing Officer Ed Wells great concern.
Air Drop (9/27/72)
A young girl leads Officers Malloy and Reed to a suspicious plane and jeep in the mountains.
Lost and Found (10/4/72)
Stars of Emergency! make special appearances when Officers Malloy and Reed help prevent the death of a six-year-old boy and track down a 13-year-old drug addict.
Training Wheels (10/12/72)
Much to their chagrin, Officers Malloy and Reed are assigned new vehicles in an experiment to catch car accessory thieves.
Badge Heavy (10/25/72)
Officer Jim Reed puts himself on the spot when he accuses fellow Officer Charlie Burnside of unnecessary cruelty to suspects.
DISC TWO
Harry Nobody (11/8/72)
Officers Malloy and Reed catch a killer with the aid of an unlikely witness.
The Surprise (11/15/72)
Assisted by Officer Wells, Officers Malloy and Reed break up a rash of commercial burglaries.
Vendetta (11/22/72)
Officers Malloy and Reed try to prevent a vindictive man from avenging his brother's death.
The Chaser (12/6/72)
Aided by a tip from waitress Jenny, Officers Malloy and Reed question a private investigator who outsmarts himself.
Hot Spell (12/13/72)
Officers Malloy and Reed search for a missing cyclist and also become very suspicious of a front-yard sale offering attractive items.
Girls and Long Letters (12/20/72)
A young woman's suicide attempt and her note to a former racketeer plunge Officers Malloy and Reed into one of their most unusual investigations.
DISC THREE
O'Brien's Stand (1/3/73)
Pete Malloy's apartment house manager, Mrs. O'Brien, pickets the police department to protest against the failure to capture a purse-snatcher.
Clear With a Civilian (Part One) (1/10/73)
At the end of their watch, Officers Pete Malloy and Jim Reed cite a woman for making an illegal turn--but when the officers return to the station, they are introduced to the new police commissioner, who turns out to be the same lady who received the driving citation.
Clear With a Civilian (Part Two) (1/17/73)
Officer Malloy introduces Officer Reed to Edith Dixon, the new police commissioner, whom Malloy had cited for a traffic violation.
Citizen Arrest - 484 (1/24/73)
An off-duty patrolman's arrest of a female shoplifter at a supermarket leads Officers Malloy and Reed into a tragic chain of events.
The Beast (1/31/73)
Officers Malloy and Reed run into trouble when they tangle with a beauty and "the beast."
Killing Ground (2/7/73)
Officers Malloy and Reed become victims of a trap set by two young criminals and narrowly escape death.
DISC FOUR
Night Watch (2/14/73)
Officers Malloy and Reed have a busy night that culminates in three tragedies, and Reed's sales resistance is tested by a used car dealer.
Suspended (2/21/73)
Officer Reed is suspended when a dying unarmed man and another witness accuse him of the shooting.
A Fool and His Money (2/28/73)
Officer Malloy's day is marked by dodging bullets and advice on how to spend $10,000 he won in a contest.
Anatomy of a 415 (3/7/73)
Officers Malloy and Reed receive several calls to the same home on a "disturbing the peace" complaint that culminates in tragedy for the family.
Keeping Tabs (3/14/73)
Officer Malloy helps Sergeant MacDonald bridge the generation gap with his son, and Officer Reed gives some pointers to an inebriated traffic director.
Easy Rap (3/21/73)
Lega rulings that protect criminals frustrate Officers Malloy and Reed when they go after a dope pusher and a car thief.
The DVD:
The Video:
Timing out at around 24 and a half minutes per episodes, I'm pretty sure these transfers are missing the final wrap-up tags that were routinely snipped for syndication (Adam-12 experts have emailed...and they all claim the guys on the other side of their arguments are wrong, so....). You can just feel that the episodes are ending abruptly, even though that 24 and a half minutes is healthier than the standard 22 minutes or so for most other chopped-for-syndication transfers. However, who knows at this point? As for the images themselves, the full-screen, 1.33:1 transfers look quite dishy, with solid colors (some a little pink here and there, but very rarely), a sharpish image, and no compression issues to speak of. Very nice looking...but those edits trouble me.
The Audio:
The English mono audio tracks for Adam-12: Season Five accurately reflect the original broadcast presentation of the series - they're big and fat, with agreeably strong recording levels. All dialogue is cleanly heard, and close-captions are available, as well.
The Extras:
Unfortunately, no more extras for these Adam-12 sets, apparently.
Final Thoughts:
It may not be the series' peak, but it's holding steady. At this point in the series (four years in), I would have finally preferred to get some more in-depth looks at Malloy and Reed off-duty, but I understand the show's rigid determination to stay on the streets, and that's cool with me. Some good episodes here and there, and good moments in almost every episode, so that's win-win for Adam-12 fans...but beware possible edits. I'm highly recommending Adam-12: Season Five.
---
Paul Mavis is an internationally published film and television historian, a member of the Online Film Critics Society, and the author of The Espionage Filmography.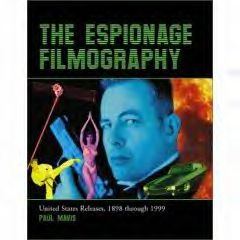 ---
C O N T E N T

---
V I D E O

---
A U D I O

---
E X T R A S

---
R E P L A Y

---
A D V I C E
Highly Recommended
---
E - M A I L
this review to a friend
Sponsored Links
Sponsored Links