Secret Agent: a.k.a. Danger Man - The Complete Collection
List Price: $99.95 [Buy now and save at Amazon]
---
Hours and hours and hours of one of the best (if not the best) spy series in the history of television. A&E has skinnied-down their 2007 "megaset" release of the complete Danger Man series (with two discs now per slimcase) for Secret Agent: a.k.a. Danger Man - The Complete Collection, an 18-disc, 86-episode megaset starring the incomparable Patrick McGoohan as super-cool secret agent John Drake, a set that will fulfill all your sixties British TV spy needs. You don't have to double-dip here (or even triple-dip, if you have the earlier individual sets like I do); if you have the 2007 release, everything is exactly the same here, including the discs, the menus, the skimpy extras--even A&E's incorrect assertion on the back cover that the first season of Danger Man only aired in the U.K. (seriously, A&E, if you need researchers, just call...). At this price, you can't possibly go wrong (Amazon currently has it for only...40 bucks!), and the new compact size helps with shelf space, too. A perfect, must-have Christmas gift for that vintage TV lover in your life.
A little background on the show's complicated production and broadcast history would be in order here, to better appreciate the various "series" ("seasons" in Brit-TV speak) that make up what we know as Danger Man...or Secret Agent, as it was retitled here in the States. British television producer Lew Grade, who helped form and eventually controlled production and releasing companies ATV and ITC, always had one eye on the international television market--specifically, the rich network and syndication fees over here in America. Grade had struck gold for ATV when he okayed the production of producer/writer/director Ralph Smart's international hit, The Adventures of Robin Hood, which enjoyed a lucrative three year run on CBS from 1955 to 1958. Grade and Smart strengthened their ties to the American network market with CBS's The Invisible Man in 1958, which ran for a season, with additional new episodes airing the following summer of 1960. According to a few sources I've read, Smart was involved with none other than author Ian Fleming at this time in an effort to bring "James Bond" to television, before Fleming opted for the big-screen approach for his internationally best-selling character. Smart then worked with associate producer Ian Stuart Black to eventually create "John Drake" and Danger Man.
39 episodes of Danger Man were completed for release by 1960, and the series was a minor success in Britain and international markets. However, an unremarkable run on CBS' summer replacement schedule (filling in for the canceled Wanted: Dead or Alive) in 1961 helped scotch a deal for American financing of a second season, and the series was abandoned. Interestingly enough, subsequent repeat showings of Danger Man in international markets created a cult following for the espionage adventure over the next two years, and with the growing Bond phenomenon exploding in England and elsewhere after the releases of Dr. No in 1962 and From Russia With Love in 1963, Lew Grade was ready to dust-off Danger Man again. Patrick McGoohan, who had created quite a stir with producers with his John Drake portrayal (reportedly, he was offered the roles of both James Bond and Simon Templar of The Saint series, turning them down, among other reasons, on moral grounds) capitalized on the Danger Man cult by appearing in two Disney films (Dr. Syn, alias the Scarecrow and The Three Lives of Thomasina), before Grade offered more creative input on a Danger Man reboot. Expanded by producer Smart to a one-hour format to allow more character development to suit McGoohan's tastes, the retooled Danger Man took off in England in 1964, becoming one of its most successful TV series (McGoohan became the medium's highest paid star), with these new episodes finding favor in international markets clamoring for anything spy-related. The series even returned to American TV, debuting in 1965 as a summer replacement on CBS' schedule, before coming back as a mid-season replacement on Saturday nights for the 1965-1966 season (Johnny Rivers' Secret Agent Man was pasted on as the theme song over new opening credits here in America, giving the singer a Top Ten Billboard hit). Two more "series" were produced that ran through 1966, with Danger Man's last two episodes from 1967, filmed in color and later spliced together for theatrical release, making up the show's aborted fourth season (McGoohan left the series to make the cult classic, The Prisoner, which many believe features the continuation of the John Drake character in "Number 6").
SERIES ONE: 1960-1962
Having originally purchased the individual A&E sets years ago, I haven't watched Danger Man for some time, so it was rather thrilling to go back and view them again in one lump sum (57 hours and counting...). Predating the Bond film series by a full two years, a case could be made for Danger Man's first initial, qualified success in Europe and the international markets helping to pave the way for Fleming's fictional hero's success on the big screen. After watching these first 39 half-hour episodes, it's clear that someone involved in setting up the Bond franchise watched these shows closely. While McGoohan, a devout Catholic, famously insisted on refusing to allow Drake to become romantically involved with women in the series, or to carry a gun ("I never carry a gun. They're noisy and they hurt people. And besides...I do very well without them.")-both very un-Bondian characteristics-his wry, deadly cold, almost impassive attitude towards his missions isn't at all out of step with the initial way Sean Connery essayed Bond. Drake even gets the jump on Bond's famous intro, snagging, "My name is Drake, John Drake," before a series of actors made Bond's salutation iconic.
Of course, similarities between Danger Man and the Bond franchise largely end there, particularly in these first 39 episodes, with incredibly tight, focused 25-minute noirish little suspensers, shot in moody black and white, having little to do with the later color-soaked, increasingly outlandish Bond adventures featuring guns, girls, and blood. If they still teach story construction in "film schools," these half-hour Danger Man episodes would be excellent guides for economical storytelling. Forced to get on with it in the few minutes each episode has, these relatively complex narratives are boiled down to their most essential elements, creating remarkably tense, speedy spy stories that are fast-moving narrative gems. Each narrowly winnowed-down scene contains zero storytelling fat, while the direction by series regulars, including Charles Frend, Peter Graham Scott, Seth Holt, Terry Bishop, Michael Truman, Anthony Bushell, and Ralph Smart, show an amazing ability to keep the camera moving and the framing interesting during a time when most TV direction was square-headed and straight-on "talking heads." Aided by some of the best production designs I've seen for a British TV series from this time period (probably down to Lew Grade's eye on the international market), most Danger Man episodes shoot for some exotic location in Africa, Europe, or Asia. And almost invariably, the production designs for the sets are impeccable (the set dressing is incredibly varied for a TV show at this time period), enhanced by quite a bit of second-unit location shooting and newsreel footage that gives the episodes a sense of expansive verisimilitude they really shouldn't have a right to claim, considering the production limitations of most series from that time period.
Enhancing the happenstance, noirish feel of these first half-hour episodes is the series' delightful fuzziness to pin down exactly who Drake is, or what he does. According to the opening narration, Drake works for NATO...but the first episodes have that particular sentence eliminated, creating the series' first puzzle (aiding the haziness, Drake doesn't actually come out and specifically state he works for NATO-we're just supposed to assume that). McGoohan's jokey, cynical narration in these episodes (the lightest, breeziest he'll be over the course of the entire series), which again gives Danger Man a noirish feel, at first suggests he's not even a regular member of the intelligence field. In the second episode, Time to Kill, Drake, affecting an outright amused tone in his narration, states, "Those security boys must sit up nights dreaming up this cloak and dagger stuff," when he's required to meet an operative, complete with password and countersign. He even offers up a, "Believe it or not!" when his little assigned trick of recognition works; this is hardly the stuff of an experienced, trained agent. And yet, in other episodes, that's precisely how he comes off, leaving the viewer slightly off-center in how to take Drake. As for Drake's precise position or who his boss is-if he even has a boss-again, we're up in the air. In Josetta, Drake states he's working for "his country," but what country is that, exactly? We assume America, because of McGoohan's deliberately Mid-Atlantic accent, but throughout these first two seasons, he'll work with people and bosses who obviously are English. What about his bosses? Richard Wattis shows up most of the time as the amusing Mr. Hardy (who lives with his mother), but Lionel Murton as Colonel Keller also gives assignments to Drake. Later on, in Find and Destroy, it looks like we're being set up for Peter Sallis' John Gordon to be Drake's boss, complete with an office for Drake and a secretary, Helen, played by Helen Horton. But they disappear after just one episode. Indeed, the in-flux nature of Drake's bosses mirrors the take-it-or-leave-it attitude Drake has towards his assignments, where it's hinted at in several episodes that he's able to pick and choose his jobs, suggesting a latitude not even given to James Bond. All of this fogginess only enhances Danger Man's unique blend of tension and real-world obliqueness.
As for Drake's mysterious personality, the scripters and McGoohan are adept again at keeping things up in the air. We get hints and clues as to why Drake does what he does, but like so many of the attractive women who immediately fall for Drake's ambiguous charm, his diffident manner unsettles them, and his ice-blue eyes reveal nothing. In The Journey Ends Halfway, a woman is very clear in stating that Drake will become involved in her plight because of his "romantic ideals and a willingness to seek out danger," two justifications that Drake doesn't counter (although Danger Man again tricks us by having a "romantic" agent who refuses to bed any of the women who so obviously want him). And certainly throughout the series, there's the suggestion that Drake's innate democratic ideals work in tandem with his romanticism to always support the underdog, the fighters against the establishment, and even former friends who find themselves in trouble. But not always....
Drake's missions intriguingly center around larger political issues made personal (and often petty) through the machinations of big and small people caught up-either willingly or under coercion- in the dirty game of espionage. By 1960, Britain was already awash in the final examinations and recriminations of its once-mighty position as the most powerful empire on earth, and Danger Man litters its scripts with dying empire types, from widows of Foreign Office ministers revealing the manipulations of England's government on the tribes of Africa (The Conspirators), to delusional little file clerks, tucked away in some forgotten corner of the abandoned empire, desperately trying to remain relevant (Position of Trust). The resulting political chaos caused not only by the removal of British rule, but also the continued manipulation of these African, Caribbean, and Asian lands by competing nations (not just "the West"), are also fodder for the series, although Danger Man isn't so blind as to see that power-grabbers who exploit the masses come from all sides, all races (Deadline, Colonel Rodriguez). Operating from this political vacuum, where the shadowy Drake moves through an unsettled world where no one knows who's in charge, Drake's sense of a moral vacancy is startlingly present. Drake knows full-well his methods may result in the death of innocents, but that to survive, he has to exert as much pressure on corrupt governments and officials as possible to save himself and complete the mission, since he's reminded constantly by his various beatings and near-death escapes that he's wholly and entirely, expendable (The Prisoner, The Honeymooners).
Completing the unsettled, unsettling nature Danger Man, of John Drake's tenuous position in the world of espionage, the moral vision his possesses (or tries to maintain), and the constant floating loyalties and back-stabbing switches in priorities, is a central performance by Patrick McGoohan that perfectly encapsulates the strange, violent, circuitous world created here. Particularly in these first 39 episodes, there's an unpredictability factor in McGoohan's performance that's quite remarkable. Certainly best known for his role in The Prisoner, even in turns like Ice Station Zebra (with another very John Drake-like secret agent character), McGoohan had an ability to totally "psych out" the audience as to what he was thinking or what he was going to do next. With that unmistakable, unique delivery that sounds like a cross between a particularly snide Oxford don, an American gangster spitting out epitaphs, and a clipped auctioneer rattling off a list of offenses, McGoohan keeps that one eye cocked as a bemused sneer crosses his unrevealing face, pinning down a squirming suspect or an increasingly uncomfortable femme fatale, with equal aplomb. Appropriately enough considering the title of the series, there's that sense of "danger" in his turns here that keeps his performances quite fresh after 40 years, creating a character that we at once recognize from episode to episode...but one that we really don't know anything about at all (as we might suspect about McGoohan, as well). Obviously enjoying his chances to ham it up as boozy bums (The Blue Veil), handicapped American businessmen (The Lonely Chair), and gruff New York slobs (Name, Date and Place), McGoohan is just as quick to return to the impassive, rattlesnake-quiet Drake, and "disappear." It's an endlessly fascinating performance-an equal to his more celebrated turn in The Prisoner.
A special note is needed here, as well, for the excellent supporting players that show up here in the series-many of them multiple times. As anyone who loves vintage British TV knows, the caliber of performances from regularly-appearing British actors (and foreign actors, including Americans, who regularly worked on British TV), were second-to-none, and Danger Man was no exception. Contributing stand-out work during the entire series (all of their names may not ring a bell at first, but their faces will be immediately recognizable to the vintage British TV fan) are: Sarah Lawson, Derren Nesbitt (one of my favorites), Barbara Shelley (delicious), Laurence Naismith, Lois Maxwell, Donald Pleasance, Hazel Court, Sam Wanamaker, Kieron Moore, Patrick Wymark, John Le Mesurier (one of the funniest actors out of Britain...although not here), Charles Gray (supremely snotty), Robert Flemying, Mai Zetterling, Barbara Murray, Sydney Tafler, William Sylvester, Ronald Howard, Honor Blackman (most of the Bond vets show up here at one time or another), Allan Cuthbertson, Peter Stephens, Moira Lister, Paul Stassino, Nigel Green (who appears several times, to good effect), Patricia Driscoll, Terence Longdon, Percy Herbert, Wendy Craig (always good), Finlay Currie (great to see his big, shaggy head), Lisa Gastoni (yum), George Colouris, Ron Fraser, Anna May Wong (!), Robert Shaw (in an early role), Beverly Garland, Dermot Walsh, Patrick Troughton, George Murcell, Zena Marshall, Marne Maitland, Anthony Dawson (shows up frequently), Walter Gotell, Rupert Davies, Burt Kwouk, Judy Carne, John Phillips, Christopher Rhodes, Hermione Baddeley, Moira Redmond, Jack MacGowan, Eric Pohlman, Eileen Moore, Marla Landi, Julia Arnall, Zia Moyheddin (an amazing actor who's terrific in several appearances here), Michael Ripper, William Marshall, Dawn Addams (I'm feeling faint...), Niall MacGinnis, Frederick Bartman, Patrick Newell, Jane Merrow (the sexiest mouth in 60s TV...and a terrifically underrated actor as evidenced by several stand-out performances here), William Lucas, Michael Gwynn, Gerald Heinz, Lelia Goldoni, James Maxwell, George Mikell, Peter Bowles (terrific in a menacing role here), Francesca Amis (a doll), Howard Marion Crawford, Suzan Farmer, Peter Illing, Peter Copley, Anton Rodgers, Helen Cherry, Jerry Stovin, Alex Scott, John G. Heller, Ronald Radd, Donald Houston, Daniel Hutcheson, Wanda Ventham, Nicola Pagett (zowie), Bill Nagy, Glyn Owen, Catherine Woodville, Sylvia Sims, Robert Urquhart (very funny whenever he's on), Maxwell Shaw, Bernard Lee, Adrienne Corri, Jill Melford, Errol John, Michael Trubshawe, Lee Montague, Eunice Grayson (the one that got away from Bond), Harvey Ashby, Martin Benson, Alan Gifford, Ralph Michael, John Fraser, Sheila Allen, Eric Barker, Francis de Wolff, Patsy Rowlands, Desmond Llewelyn, Ann Lynn, Kathleen Breck, Victor Brooks, Susan Hampshire, Jeanne Roland (hot), Judy Geeson (love her), Bernard Bresslaw, Brian Worth, Pat Haines, Alexandra Stewart, John Woodvine, Ian Hendry (the one that got away from The Avengers), Barbara Steele, Elizabeth Shepherd, Lyndon Brook, Derek Francis, Denholm Elliott, Jean Moody, Kenneth J. Warren, Aubrey Morris, and one of my favorites from Carry On and Corrie, Amanda Barrie. That is a stunning list of performers, and they deserve a great deal of the credit for making Danger Man so successful.
---
SERIES TWO AND THREE: 1964-1966
Buoyed by the worldwide success of not only the reruns of Danger Man but also the James Bond franchise, Lew Grade and Ralph Smart brought back Danger Man in 1964 with a major format change: bumping the show up to an hour's running time. Remarkably, this expansion didn't result in "padded-out" stories compared to the tightly-constructed first season, but in equally complex episodes that allow for more complicated plots and deeper characterizations. Now more concretely allied with a specific intelligence outfit-the fictional "M9"-Drake is firmly identified as a British intelligence agent in these episodes, working with his cover through World Travel, an international travel agency. We now get views of Drake in his nicely-appointed apartment; he's given a regular car (an Austin Cooper S, license 731 HOP), and even a new theme (the delightfully fey Bondian riff, High Wire, featuring a cool harpsichord hook). And certainly in a nod to Bond and those Man From U.N.C.L.E. boys, Drake is now outfitted with an increasing array of gadgets, including a morse code lighter, a camera/transmitter/receiver typewriter, a fishing rod that shoots a pin microphone, a watch with a hypo in its dial, an electric shaver with a drill, and a high-tech bed with a pop-up viewing screen among others.
But still...the vagueness of his raison d'etre remains. Whether intentional or by chance through a mix-up in broadcast order versus production order (a lucky bit of fate for U.S. viewers), Drake continues to deviate from Bond's steady boss/antagonist "M" with a multiple of superiors who ask/implore/goad/force him into missions. In the opener, The Battle of the Cameras, Hobbs, menacingly portrayed by Peter Madden, is Drake's new boss, brandishing a wicked-looking letter opener that he absent-mindedly plays with as he orders Drake about. But almost immediately, Drake is answering to the less-threatening, more officious Gorton, played by Raymond Adamson, who occupies the exact same office as Hobbs. Later, as the series progresses, a boss ordering Drake into harms' way is either largely eliminated, or shuffled off to a series of minor diplomatic and intelligence functionaries who come and go with irregularity. This gradual shift only further establishes a strange undercurrent of lawlessness that goes with Drake's operations, echoed by Drake's own words in A Man To Be Trusted: "I could never be a policeman. I couldn't stand the regulations. I work outside the law." You could take that statement a number of ways, including Drake's own feeling that what he does is essentially "lawless," both legally and morally, mirrored by the fact that increasingly, he has no supervision in his activities.
Increasingly, the writers for Danger Man are willing to explore Drake's existential musings, albeit never in a preachy or too overt way. In Fair Exchange, Drake may not like giving over his friend to the East Germans...but he'll do so as ordered, because he knows he could compromise the network. Ultimately unmoved by his friend's revenge angle (she was tortured by a Communist agent), Drake sounds a strange note for a secret agent, "You can't wipe out blood with more blood!" before he tries to stop her assassination plan. Drake, increasingly snide with his comments about the establishment he works for, makes grim jokes about his duties ("Shhh...I'm interfering with the privacy of a citizen," he states in It's Up to the Lady, as he listens in on a bug), while at the same time recognizing the deadly finality of his actions-and his inability to forget them when an innocent is harmed by them ("You're forgetting yourself, Drake," Hobbs warns in The Galloping Major, to which Drake fatalistically replies, "I wish I could forget."). In the excellent "small town with a secret" episode, That's Two of Us Sorry, written by Jan Read, all of Drake's investigative efforts are for naught when it's discovered the low-level flunky who precipitated the search for his stolen files actually misplaced them-resulting in the arrest of a former Communist sympathizer and spy who has since reformed. A few of frequent contributor David Stone's scripts are the most overtly political ones this go-around, with Whatever Happened to George Foster? being one of the series' best, with Drake involved in a personal vendetta against powerful mover-and-shaker businessman Bernard Lee who's involved in Latin American politics. Contemptuous of Lee's efforts to start a revolution to protect his oil fields, Lee accuses Drake: "You seem to be against progress," to which Drake replies, in his best Number 6 fashion, "Freedom can be more important." Importantly, once Drake gets what he wants-Lee folds and pulls his money out of the revolution-Drake is decent to the businessman, giving him the only copy of the dossier that could ruin Lee (Stone penned the series' funniest, strangest episode, too-the dreamy comedic nightmare, The Ubiquitous Mr. Lovegrove). Even when faced with an "enemy," Drake seems to realize that the gray area of a situation is the one he's most comfortable in, since he's complicit in this dirty game of international espionage and politics, as well (the series is quite fair in showing both sides, including The Black Book, where a Communist agent realizes the pleasures of freedom-even sick, perverted freedom-in the West).
Drake's fascination to women-and his seeming total indifference to them-is amped-up, as well, in these two seasons. In The Battle of the Cameras, irresistible Dawn Addams sums up Drake's (and McGoohan's) appeal quite nicely: "I've never met a man with such an icy surface. I find it fascinating." Indeed, in that same episode, Drake confirms his unwavering resistence to the corrupting influences of sex and romance when he states that all cynical women are romantics, but cynical men's hearts "remain as hard as diamonds." Often using women to accomplish his mission, Drake, out of either outright disinterest (he states in A Man to be Trusted that he's "biologically handicapped" in the area of sex-a potential thesis paper-in-the-making if I've heard of one) or out of a fear of being exposed or hurting these women's feelings, stays "pure" (we never get an indication he's spent the night with anyone), but not without consequences. Femme fatales, used to getting their own way with men, are frustrated and angered by his rejection, and "good girls" are dejected that the enigmatic, attractive Drake strikes a chord in them...only to float away when it really counts at the end of his missions. It's a total inversion of the Bond mythos (Bond screwed bad women to convert them before killing them, and screwed "good girls" before they were knocked off by the villains), and a remarkably consistent one.
---
SERIES FOUR: 1967
I won't go into too much detail for Series Four...because it's only two episodes long. I don't know the backstory behind this brief switch to color before the show's self-cancellation (reportedly, McGoohan was tired of the role by this point and pulled the plug with Lew Grade after these two episodes were shot), but these two color forays to Japan for John Drake-Koroshi and Shinda Shima-show a series, or perhaps more accurately, a star, running out of enthusiasm (even a couple of the final black and white Danger Man episodes show McGoohan to bad advantage, including The Hunting Party, which just seems like a retread of No Marks for Servility, while The Man With the Foot, while funny, ends with the silliest escape for Drake yet: a comedic go-cart chase that's an embarrassment to all concerned). Koroshi seems inordinately talky, while Shinda Shima seems only focused on Bondian action, which, while certainly exciting, leaves little for John Drake to do...much like the eventual fate of big-screen counterpart, James Bond. And while it's exciting to see these color episodes (McGoohan's a ginger!), much like The Fugitive's fourth season switch to color that I recently reviewed, this change does little to advance the series, and in fact harms it by taking away the grit, the grayness, the shadowy little noir world that the first 39 episodes of Danger Man created so brilliantly. Indeed, these two episodes, particularly the final one, are more Thunderball and You Only Live Twice, rather than the shifting moral sands-world of John Drake's. Perhaps it was best that McGoohan ended Danger Man when he did.
Here are the 86 episodes of the 18-disc set, Secret Agent: aka Danger Man--The Complete Collection, as described on the discs' slimcases:

DISC ONE

View From the Villa
A murdered banker was holding $5 million in NATO gold.

Time To Kill
On the trail of an assassin, Drake is stuck with an unwilling partner.

Josetta
Drake helps a blind girl find her brother's killer.

The Blue Veil
Tales of slavery bring Drake to Arabia.

The Lovers
An old enemy hires Drake to guard a visiting dignitary.

The Girl in Pink Pyjamas
A beautiful, dazed girl provides the key clue to an assassination plot.

Position of Trust
Drake teams with an American agent to disband a drug ring.

The Lonely Chair
Drake impersonates a wealthy industrialist whose daughter has been kidnaped.

DISC TWO

The Sanctuary
A Scottish bird sanctuary harbors an IRA cell.

An Affair of State
Drake investigates the death of an American economist in the Caribbean.

The Key
Secret information is leaking from the American embassy in Vienna.

The Sisters
Two women's political asylum claim seems suspect.

The Prisoner
Drake must find a double for a man accused of espionage.

The Traitor
The trail of a turncoat takes Drake to Kashmir.

Colonel Rodriguez
Drake is accused of murder in the Caribbean.

The Island
A plane crash strands Drake on a small island with two hit men.

DISC THREE

Find and Return
Drake poses as a Baltic agent to capture a girl suspected of espionage.

The Girl Who Liked G.I.s
An undeveloped photo dispels the mystery surrounding a soldier's death.

Name, Date and Place
Investigating a series of murders, Drake puts out a contract on his own life.

Vacation
Drake's holiday is interrupted when he recognizes a notorious assassin.

The Conspirators
The wife of a murdered bureaucrat refuses to believe that she might be next.

The Honeymooners
Drake heads to the Far East to free a couple from prison.

The Gallows Tree
A dead spy's fingerprints turn up on a stolen car in Scotland.

A top-level security leak leads Drake to commit a hold-up.

DISC FOUR

The Brothers
A missing diplomatic pouch must be recovered at any cost.

The Journey Ends Halfway
Drake poses as a Czech engineer to stop a murderous ring of human smugglers.

Bury the Dead
A NATO agent is killed in a car accident in Sicily.

Sabotage
Drake investigates the crash of a cargo plane in Southeast Asia.

The Contessa
A chance discovery leads to the fall of a major drug smuggling operation.

The Leak
Workers at a North African nuclear plant are falling ill.

The Trap
A cipher clerk's sudden disappearance causes concern.

The Actor
A Hong Kong radio station is embedding codes in its broadcasts.

DISC FIVE

Hired Assassin
Drake infiltrates a group planning to kill the South African president.

The Deputy Coyannis Story
A minister is misusing funds meant for international relief.

Find and Destroy
A miniature submarine wrecks off the South American coast.

Under the Lake
Drake befriends a young woman whose father he suspects of forgery.

The Nurse
A kingdom's fate lies in the hands of Drake and a Scottish nurse.

Dead Man Walks
Tropical disease specialists are dying under mysterious circumstances.

Deadline
Drake impersonates a gunrunner to thwart an African uprising.

DISC SIX

The Battle of the Cameras
Assigned to the French Riviera, M9 agent John Drake poses as a wealthy playboy gambler Peter Simons to gain the trust of the mysterious secrets-peddler Mr. Kent (Niall MacGinnis) and his associates. But when his cover is secretly blown, a fatal trap is set.

A Room in the Basement
After seeing her husband kidnaped, the wife of a fellow-agent appeals to Drake for help. Drake gathers together friends who decide to take matters into their own hands.

Fair Exchange
A British agent, who was captured and tortured in East Germany returns to kill the man who tortured her. John Drake, posing as her husband, follows her trail to Europe.
DISC SEVEN
Fish On the Hook
The controller of a network of British agents in the Middle East, known in London only as "The Fish," is in danger of being exposed. John Drake is sent to Egypt to bring the controller back to London--but first he has to discover the "Fish's" identity.
No Marks for Servility
An arrogant and ill-mannered international swindler rents a villa in Rome and takes an instant disliking to the "gentleman's gentleman" there--butler John Drake. The open hostility between the two men tests Drake's self-discipline to the utmost as he investigates his new master's shady activities.
Yesterday's Enemies
A former British agent appears to have set up his own network of double-agents in Lebanon and Drake's mission is to find out who Brett's contacts are, and who runs the organization. Drake exposes the entire scheme but is shocked and appalled by the deadly consequences.
DISC EIGHT
The Professionals
Sent to Prague to investigate the disappearance of another agent, Drake finds himself targeted by a Czech spymaster who uses a beautiful young woman to ensnare his enemies.
A Date With Doris
In a Latin American nation, Drake's friend Peter is framed for murdering the wife of a general. Sent to rescue Peter, Drake finds himself joined by a most unlikely ally.
The Mirror's New
A diplomat in Paris goes missing for a day, and once a search is mounted, he turns up unaided. He claims, however, to have no memory of what happened. Drake's perseverance helps restore his memory.
Colony Three
Behind the Iron Curtain, the Soviets have established a top-secret spy school set up to resemble a British village. Drake goes undercover to infiltrate the facility and discover its secrets.
DISC NINE
It's Up To The Lady
A communist sympathizer flees to Greece with his wife. Drake follows in an attempt to keep them from defecting to the Soviets.
Whatever Happened to George Foster?
When Drake discovers that Lord Ammensford is unduly exploiting his influence to subvert a small Latin American nation to his purposes, he brokers a deal to protect the country from the peer's selfish plans.
The Galloping Major
Posing as an Army Major, Drake is sent to Africa to help oversee an election. He soon discovers that a coup is brewing--but before he can derail it, he needs to figure out who is behind it!
The Colonel's Daughter
Drake is sent to investigate the disappearance of the assistant of a retired colonel in India, and ends up swapping cases with the local police. But both investigations turn out to be intertwined, and more dangerous than expected.
DISC TEN
That's Two Of Us Sorry
Documents are stolen from a research lab in Scotland, but the fingerprints at the scene appear to belong to an agent who's been dead for twenty years. Drake's investigation turns up more surprises.
Such Men Are Dangerous
Drake poses as an ex-con in order to infiltrate a secret society that trains assassins. Once recruited, he discovers a far-right plot to eliminate "undesirable" rulers.
A Man To Be Trusted
A murder in the Caribbean gives Drake the opportunity to test the reliability of the local intelligence contact, the flamboyant Colonel Mora. Both missions are completed, but not without some difficulties.
The Affair at Castelevara
Drake is sent to a Latin American country where an old revolutionary has been sentenced to die. The Americans have a way to stop the execution, but Drake counters with a plan of his own.
DISC ELEVEN
Don't Nail Him Yet
Intelligence identifies a naval staffer as a potential spy, and Drake poses as a put-upon schoolteacher in order to win his trust and identify his accomplices.
The Ubiquitous Mr. Lovegrove
It seems Drake must clear himself of gambling charges, and to do so he becomes involved in the goings-on of a surreal casino populated with a femme fatale, a mysterious doorman, and death--who's posing as an insurance salesman.
Have a Glass of Wine
A woman with military secrets is blackmailed and heads to France, with Drake in hot pursuit. Once there, he must match wits with his Russian counterpart and a local spy who gets the jump on both of them.
You're Not In Any Trouble, Are You?
Posing as a crime writer in Italy, Drake infiltrates a murder-for-hire ring. But in order to topple it, he needs to find out more, so he puts out a hit on himself and waits to see who shows up!
DISC TWELVE
Sting in the Tail
The best way to a man is through his heart--at least that's the path Drake takes when he tries to get at a ruthless assassin through his mistress. But the plan nearly unravels because of a teddy bear!
The Black Book
Called to France to find out who is blackmailing a prominent general's brother, Drake follows a trail that leads to a Russian defector with a black book full of secrets. But he is not the only one following this trail....
English Lady Takes Lodgers
Drake heads to Spain to investigate a security leak. Posing as an alcoholic writer, he discovers that the compromised secrets are related to the mysterious murder of an English expat, and the killers are coming for him next.
Loyalty Always Pays
Drake needs to get into an African defense minister's safe to find out if he has struck a secret deal with the Chinese. To do so, he must blackmail the nation's security chief--an easily corruptible Englishman.
DISC THIRTEEN
Are You Going to be More Permanent?
Drake plays a high-stakes game of Clue with the residents of Vienna, trying to figure out who is behind the disappearance of a series of agents. Dark dealings, shady characters, and secret locations abound.
Parallel Lines Sometimes Meet
Drake follows two scientist to the Caribbean, where he runs into his Soviet counterpart. Soon, both are on the trail of another scientist, who has dark plans for bother agents and Drake's original quarry.
A Very Dangerous Game
Disguised as a drunken music teacher, Drake infiltrates a Chinese spy network in Hong Kong. They turn out to be interested in having him do more than carry secrets.
The Mercenaries
Drake is sent to an African republic to monitor the activities of mercenaries led by a Colonel Coote. Posing as a new recruit, he soon discovers the Colonel's real goals--but can he warn the proper people in time to make a difference?
DISC FOURTEEN
The Outcast
An agent suspected of selling classified information is murdered in Gibraltar, and her sailor boyfriend goes missing. Drake must find him in order to discover what happened to the dead girl and the secrets she knew.
Judgment Day
Drake is sent to an Arab town to rescue a doctor and bring him to London, but he isn't told why. The truth comes out when their charter flight is hijacked, but Drake is powerless to stop the perpetrators.
To Our Best Friend
British Intelligence thinks that their man in Baghdad is leaking secrets, and Drake heads to investigate. The suspect is an old friend, and he interprets Drake's efforts as a personal betrayal.
Say It With Flowers
An enemy agent appears to have met his end in Switzerland, but M9 is not convinced. Sent to investigate, Drake poses as an insurance investigator and finds out that the clinic where the body was taken is not quite what it seems.
DISC FIFTEEN
The Man on the Beach
Drake is in Jamaica to meet an unknown man when a couple tries to frame him for treason. He sees through their efforts, but more troubles are in store--his contact has been murdered, and he needs to find the killer.
The Man Who Wouldn't Talk
The British spymaster in Sofia is captured and must be rescued before he reveals important secrets. Drake is sent to the Bulgarian capitol where he rallies support from the local network of agents.
Someone is Liable to Get Hurt
Drake goes undercover as a weapons dealer in order to get close to a suspicious figure with political aspirations. But his plan is put on hold when a mysterious woman captures him....
Dangerous Client
The government tries to silence a young scientist who has developed a deadly gas. He flees to France, and Drake is sent after him with strict instructions to keep the opposition from learning the fatal formula.
DISC SIXTEEN
I Can Only Offer You Sherry
British oil reserves fall into enemy hands and Drake is sent to investigate. He finds that an opportunistic agent has taken advantage of an idealistic young clerk to obtain classified information.
The Hunting Party
A high-level leak suggests the involvement of Basil Jordan and his wife, Claudia. Drake goes undercover and lands a job as a servant at their French chateau, where he finds evidence of their clandestine activities. But Basil knows what Drake is up to and plans to silence him.
Two Birds With One Bullet
Drake is sent to Latin America to help a fellow agent who has infiltrated a revolutionary party, but he is immediately jailed for planning to assassinate the party's leader. Drake must escape, clear his name, and determine what is really going on.
DISC SEVENTEEN
I'm Afraid You Have the Wrong Number
Something seems off when a British agent in Switzerland dies in a car crash. Investigating the wreck, Drake's suspicions are quickly confirmed, but his cover is blown, and he must unravel the mystery while staving off repeated attempts on his life.
The Man With the Foot
Drake retires to Spain for a well-earned vacation. But instead of sun and relaxation, he is greeted by miserable weather and a determined--if somewhat heavy-handed--enemy agent.
The Paper Chase
Top-secret documents are stolen from a diplomat's car in Rome, and Drake has just 48 hours to recover them. The frenetic action sees him infiltrating seedy apartments and elegant estates, anteing up in a high-stakes gambling den and taking a turn behind the wheel of a go-kart!
DISC EIGHTEEN
The Not-So-Jolly roger
An agent working for a pirate radio station suspects that they are broadcasting secret messages, but is killed before he can verify his theory. Drake takes his place and must discover the truth while making sure he doesn't meet the same fate as his predecessor.
Koroshi
This rarely-seen color episode sees Drake in Japan, investigating the death of a local operative. It turns out that an English ex-pat has revived an ancient murder cult, and Drake attracts their deadly attention.
Shinda Shima
The continuation of "Koroshi" sees Drake track the cult to a remote island whose longtime inhabitants have been scared off by their new neighbors. He poses as an electronics expert and infiltrates the killers' headquarters.
The DVD:
The Video:
These are the exact same transfers as used for A&E's previous releases, right down to the same menus and artwork. The full-screen, 1.33:1 black and white transfers for the first 39 episodes seem the best, with a razor-sharp black and white image, a little bit of shimmer, and no defects. The hour-long black and whites seem much duller, less monochromatic, with an acceptably sharp image and some grain. The two color episodes don't really pop (the reds seem off), but they're sharp.
The Audio:
The Dolby Digital English 2.0 stereo audiotracks seems like split mono to me, but the recording level is decent, and hiss, while noticeable in parts (along with some squelchiness from time to time), is under control. Unfortunately, no close-captions or subtitles for anything here.
The Extras:
The extras are the same, as well. The original U.S. opening credits for Secret Agent are included, along with the same text bio on the sadly-passed McGoohan (now, obviously, completely out of date, since it lists him as "semi-retired"). The same photo gallery also is included. Pity somebody at A&E didn't juice this up a bit with some new extras-missed opportunity.
Final Thoughts:
You don't have to choose between Danger Man and The Avengers as the best spy TV series from the 1960s, because they're entirely different in tone (I'm not counting The Prisoner in that equation because it belongs in its own category). Danger Man, rigorously tight and focused and almost grim in its determination to stay grounded in a murky world of compromised morality, is a remarkably consistent effort, sporting excellent scripts, inventive direction, a plethora of superlative supporting players, and perhaps the most enigmatic performer to ever grace the small screen, Patrick McGoohan. He's simply amazing here. I'm disappointed that nothing new was done with this set (had they included one tiny new little extra, I would have given this our highest rating here at DVDTalk, such is my esteem for the series), but for newcomers, it should be a revelation. I'm highly, highly recommending Secret Agent: a.k.a. Danger Man - The Complete Collection.
---
Paul Mavis is an internationally published film and television historian, a member of the Online Film Critics Society, and the author of The Espionage Filmography.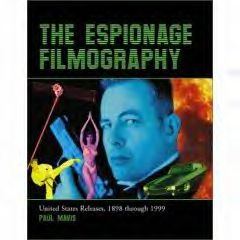 ---
C O N T E N T

---
V I D E O

---
A U D I O

---
E X T R A S

---
R E P L A Y

---
A D V I C E
Highly Recommended
---
E - M A I L
this review to a friend
Sponsored Links
Sponsored Links