Agatha Christie Hour: Set 1, The
List Price: $39.99 [Buy now and save at Amazon]
---
Thoroughly entertaining anthology of lesser-known Christie stories. Acorn Media (you know, you really are the living end, Acorn) has found yet another "forgotten" piece of British dramatic television with their release of The Agatha Christie Hour: Set 1, featuring the first five episodes in that British series, which originally aired way back in 1982 (it was also featured on PBS's Mystery! here in the States). If you love Christie (and who doesn't?) but you need a break from Poirot and Marple, The Agatha Christie Hour: Set 1 is perfect viewing for you. Let's look briefly at the five one-hour episodes here.
DISC ONE
The Case of the Middle-Aged Wife
Maria Packington (Gwen Watford) leads a life, not unlike most men as the saying goes, of quiet desperation. Married to now-successful London businessman George Packington (Peter Jones), Maria had once been a great help to George in establishing his Bakelite company, but now, she's been shunted back home, like a proper bourgeois English housewife, where she's expected to occupy her time with keeping a proper home for her husband. It's an unfulfilling marriage, but danger to that dull stability is on the horizon as Maria sees her husband become infatuated with Nancy Purvis (Kate Dorning), a pert little gold-digger employed by George who's playing him like an old fool. Out of sheer chance, as she surveys the morning paper's "agony column" (the personals), she spots a curious entry: "Are you happy? If not consult Mr. Parker Pyne, 17 Richmond Street." Intrigued by this existential come-on, she makes an appointment with Mr. Pyne (Maurice Denham), who assures her that unhappiness is like any other malady, and that a cure is all but guaranteed...for a fee, of course. Pyne, a former statistician for the government, is now retired, and he's decided to put his gleaned information on human nature to work, relieving people's unhappiness, with the aid of his team, which includes future Hercule Poirot assistant, Miss Lemon (Angela Easterling), and self-described "lounge lizard," Claude Luttrell (Rupert Frazer).
SPOILERS ALERT!
I've never read any of the Parker Pyne short stories, but I was utterly fascinated by this adaptation by scripter Freda Kelsall and director Michael Simpson; it's my favorite episode of The Agatha Christie Hour: Set 1 collection. A touching, ultimately cruel tale of emotional neglect in a dormant marriage, The Case of the Middle-Aged Wife is yet another example of Christie's unparalleled ability to root her mysteries and characters in layered, complex psychology. Whenever Christie is discussed by readers, there's a shared sense of fun, initially, at the thought of enjoying another one of her thrillers, preferably on a rainy afternoon, in a comfy chair by the fire (clichéd, perhaps, but don't knock it until you try it). But once you delve into her worldview, it's apparent that Christie had her mind on darker, sadder, more troubling aspects of the human condition, and The Case of the Middle-Aged Wife is a good example of this preoccupation. I certainly enjoyed being introduced to the fascinating Parker Pyne, with his intriguing Holmsian omniscience of information, as well as the equally Holmsian network of characters who aid him in his work, a cross-section of high and low people that range from authors and petty criminals to playboys and politicians. I love Pyne's absolute assuredness in his own powers to solve his clients' problems, firmly asserting that unhappiness can be identified and described in five states (of which we're never told, maddeningly), and that a cure is all but guaranteed by him. His plot to make George "sit up" to his wife's unhappiness is certainly clever, if a bit obvious, but that's part of the charm of the story: Maria knows she's paying for the privilege of Pyne's elaborate ruse...but she doesn't care, because she's genuinely becoming happy again, rediscovering what it feels like to have someone pay attention to her, and to her feelings.
All of that plotting is quite deft and appealing for the mystery lover out there who enjoys guessing where Maria's affections might go as Pyne's ruse continues, but far more interesting are the emotions that Christie manages to evoke from Maria's repressed inner life, as well as from Claude's tortured realization of his own self-worth. The fantastic nature of Pyne's plan may seem, well...fantastical and hard to believe, but Maria's loneliness and anguish over losing her husband's love seems devastating real here (thanks in no small part to Watford's quietly stunning turn here), while the viewer feels genuine sorrow for the Claude character when he realizes not only that his life has been a waste, but that he's actually fallen for Maria and that he could never have her because he's been tricking her all along, including giving her a fake ring that supposedly belonged to his mother--all at Pyne's direction. It's a remarkably strange, cruel ending to the story. We should be happy for Maria's newly rediscovered love for George, but he's a dolt who's oblivious to what his wife has been through (well-played by the marvelous Peter Jones), and we wish she could be with Claude. As for the tortured Claude (the handsome, sensitive Frazer is perfectly cast here), Pyne shakes his head amusedly at Claude's "interesting vestiges of conscious," as he coldly writes in his journal, but the weight of Claude's genuine emotional torment only merits a, "study developments" notation from the statistician. Pyne is as unmoved by Claude's plight as he is indifferent, ultimately, to Maria's. He helps people find happiness to exercise his own perspicacity, not because he truly cares. It's a cold world in Christie's books, and Pyne is an intriguing representation of that indifference.
---
In a Glass Darkly
Home from university, moneyed aristocrat Neil Carslake (Shaun Scott) has brought along his school chum Matthew Armitage (Nicholas Clay), the son of a farmer, to attend the engagement party of Neil's sister, Sylvia (Emma Piper). Bowled over by Carslake's ancestral home, Badgeworthy, he's even more taken aback by the vision he sees in his bedroom mirror: a young woman is strangled by an unseen man who's only distinguishing mark is a hideous scar on his neck. Shaken by the incident, Matt is further flustered when he sees the lovely Sylvia...and positively floored when he realizes she's the woman he saw in his vision, and that her fiancé, Charles Crawley (Brian Anthony), has a large scar on his neck. Compelled to tell Sylvia about his experience, he implores her not to marry Charles, an improbable request that Sylvia still manages to accept. Sent off to the front lines for the "Great War" and wounded in action, Matt returns to Badgeworthy to seek out Sylvia--complete with a fresh scar to his neck.
SPOILERS ALERT!
I can't imagine too many readers at this point, spoilers alert or not, who haven't figured out the "surprise" ending of In a Glass Darkly, and certainly, that familiarity of plot is the story's biggest drawback. Christie, leaving the door open for interpretation of the supernatural aspects of the story (was the vision real? Or was it a case of self-fulfilling prophecy...or madness on Matt's part?), still keeps the motivations of Matt and Sylvia rooted in layered emotion, even if we can guess right off the bat where the story is going. Of course, Matt turns out to be the man strangling Sylvia in his vision, so interest in the film has to come from how well the inevitable is built up and revealed, and how well the performances come off. Directed by Desmond Davis, from an adaptation by William Corlett, In a Glass Darkly's refreshingly straightforward presentation helps to ameliorate its predictable plotline. Davis doesn't indulge in any visual flourishes to distract the viewer from the central pull of Matt's increasing hysteria and obsessiveness, while keeping a sense of foreboding to the material through dark, sometimes gauzy/creepy cinematography, and some well-chosen soundtrack cues (the booming of the guns in Matt's head). Even better is the turn by Nicholas Clay as the increasingly unhinged Matt, who manages to convey his terror at his own actions at the same time he lets us know he's powerless to stop them (Emma Piper, with her still, cool beauty, is just right as counterpoint to Clay's energy). Predictable, but solid, nonetheless.
---
The Girl in The Train
Carefree dolt George Rowland's (Osmund Bullock) luck has finally run out. Coming to work late for the final time, his Uncle William (James Grout) fires him from the family investment firm, and George suddenly has zero prospects. But thankfully, George comes from money, so he's off on an adventure: with the aid of his butler, Rogers (Ernest Clark), he's decided to alight at Rowland's Castle, a station on the Portsmouth rail line, for no other reason than it matches his last name. Once on the train, though, the adventure really begins when cutie Elizabeth (Sarah Berger) hopes into George's compartment and demands that he hide her from the pursuing Prince Orsric (David Neal). Absolutely delighted to be accosted by this beautiful mystery girl, George immediately agrees...and begs her to let him help her in any nefarious deed she might be contemplating. Pressing a small package into his hand, she asks him to guard it with his life, and to keep an eye on a bearded fellow also riding the train, demanding that George never let him out of his sight. Thus begins George's cloak-and-dagger journey into political espionage and romance.
SPOILERS ALERT!
An absolute delight from start to finish, with a core of Christie seriousness to it that makes it all the more charming. Certainly the lightest of the entries here in The Agatha Christie Hour: Set 1, at least in tone, The Girl in The Train on the surface seems to be a funny spoofing of all those penny dreadful and pulp adventure and espionage stories that were so popular during its publication. Fully aware of the conventions its parodying, The Girl in The Train takes one self-reflexive step forward by having its protagonist, the gleefully dopey George, acknowledge those conventions by wishing them upon himself. He desperately wants an adventure, the kind of adventure he's read about and seen in the films, so when Elizabeth shows up, he's ecstatic that she's following true to form (he's over the moon when she says she can't explain her actions, because that's precisely what all heroines in these adventures say). And sure enough, George rises to his self-imposed, fiction-induced challenge, going from callow slacker to brave, intrepid spy smasher who says he's deathly afraid of getting hurt...and who therefore learned jujitsu to keep himself safe (Bullock is enthusiastic and quite funny here, walking a fine line between being annoyingly charming, and merely annoying). Interestingly, Christie's story, here adapted by William Corlett and atmospherically directed by Brian Farnham, stays grounded not only in this interesting dichotomy between illusion and reality (we feel for George when he's disappointed that Elizabeth doesn't figure into his illusionary adventure...even when it proves out that he did foil a plot to blow up Portsmouth harbor), but also in George's disappointment in himself, admitting to himself in a mirror (another play on illusion and reality) that he's a failure in life and as a person. Fortunately, Christie allows George to come back from this harsh bit of reality by having Elizabeth come back to him, explaining away all his doubts, while telling him she made up the whole adventure for him (which is of course doubly ironic, because George did stumble onto a real, nefarious plot). It's a sweet ending for a very funny episode (I love the coppers immediately hauling off Orsic the minute they hear he's "foreign") that underneath, isn't just amusing fluff.
---
DISC TWO
The Fourth Man
Attorney Sir George Durand (Michael Gough), resigned to missing his intended traveling companion, Canon Parfitt (Geoffrey Chater), unexpectedly welcomes old friend Sir Campbell Clark (Alan MacNaughtan), a physician who was lecturing in London on an infamous case of multiple personalities and murder. At the last moment, Canon Parfitt makes the train, while a mysterious stranger, Raoul Letardau (John Nettles), makes room for himself in the train compartment and appears to fall asleep. Some smug, spirited comments are made by the three professionals about the "sleeping" man-in-the-street, before said man "wakes up," and calls out the three pillars of society on their assumptions about the famous murder case...of which Raoul is intimately aware.
SPOILERS ALERT!
A fascinating story by Christie (adapted again by William Corlett and directed by Michael Simpson), but one that's undercut to some degree by the flashback construction and some poor casting. Weaving a tale of remembrance that embraces possible supernatural possession (or mental madness), The Fourth Man benefits from the four pros in the train compartment, with Midsomer Murders' John Nettles taking special bows for keeping the story moving along with his delicately shaded narration of the flashbacks (Gough, Chater, and MacNaughtan are so skilled and natural you can't imagine they're not the characters they portray here). And it's a fascinating story from Christie, with a strangely macabre ending, where we realize the victim actually did strangle herself...but to what end? To kill herself, or to kill her tormentor, who may have spiritually entered her body, or merely influenced her mind towards insanity? Unfortunately, these flashbacks aren't particularly well-staged, nor are they artfully introduced throughout Nettles' fine narration. However, that could have been overlooked had the actors portraying the young children been of a higher caliber. For the story to truly work, we have to not only believe in evil seductive powers of young Annette Ravel, we have to physically feel it to overcome our basic suspicion of what Christie is trying to get at (or at least suggest). Regrettably, Prue Clarke, neither physically nor emotionally, makes that connection for the viewer, so we never really believe her Annette is a sexual monster capable of controlling anyone, let alone poor Felicie (Fiona Mathieson). And without that heat of sexuality and madness, the central core of The Fourth Man crumbles.
---
The Case of the Discontented Soldier
Major John Wilbraham (William Gaunt), one of Her Majesty's empire builders, has returned from Africa to...what? A moribund village life, with zero excitement for a warrior still needing of stimulation? Luckily, the Major spots Parker Pyne's advertisement in the newspaper ("Are you happy? If not consult Mr. Parker Pyne, 17 Richmond Street."), and makes an appointment. Almost instantaneously ascertaining what ails the Major, Pyne promises to show him the darker side of England...for a fee of 50 guineas, and almost immediately, the Major is whisked into a world of damsels in distress (Patricia Garwood as Freda Clegg), nefarious villains, and cliffhanger escapes from certain death.
SPOILERS ALERT!
Not nearly as successful a Parker Pyne adaptation as the masterful The Case of the Middle-Aged Wife, The Case of the Discontented Soldier is nonetheless an enjoyable romp through one of Christie's spoofs on pulp adventures, complete fistfights, purloined treasure maps, and our hero and heroine locked in a cellar that's being flooded (of course, Pyne's men are watching to make sure that no harm actually comes to them). All of this is well done and moves along smartly under Michael Simpson's direction, and it's still fun to imagine the nether world that Pyne moves through, where he knows and can contract with criminals, sharpies and con men. Unfortunately, whether in the actual construction of Christie's story, or in this particular adaptation by T. R. Bowen, we never really believe that the Major, a competent, realistic man of action, would for one moment "lose himself" enough in Pyne's fabricated storyline, to ever forget that he was indeed just an actor in a farce. From the moment the Major agrees to Pyne's offer, his questioning nature also ceases, and he's diving head-long into the adventure, and falling in love with Freda. Wouldn't he stop at some moment and say, "Hey, wait...I'm paying for this production. It's not real."? As for the Freda character, she raises more questions than answers, too. She's selected by Pyne, but is she an innocent, or a willing participant? Is she one of his actors, or a civilian, if you will? And if she's a civilian, how was she picked by Pyne? Only in the final moments of The Case of the Discontented Soldier does anything of consequence come down for the viewer, when the author of this particular Pyne operation visits Parker: Ariadne Oliver, the friend of Christie sleuth, Hercule Poirot. Questioned by Pyne for the unoriginality of her plotline for the Major's adventure, Oliver strenuously defends it, saying "the conservatism of the generality of mankind likes to know where it stands." That the adventures Pyne cooks up for his clients need to be familiar, so the participants know they're in an adventure, and not in something unfamiliar and disagreeable. In other words, as she sternly puts it, "Life should imitate fiction whenever possible," a clarion call to movie and TV addicts if I ever heard one. It's funny at first to hear her say that (Lally Bowers is marvelous in her brief scene), and then, a little sad, for a variety of reasons--just another indicator of the depth of Christie's work.
---
The DVDs:
The Video:
Originally shot on videotape, the full-screen, 1.33: 1 transfers for The Agatha Christie Hour: Set 1 are right on par with what you'd expect from a video-shot British television program. Obviously, it's not going to look like high-def, but if you're used to the sometimes muddy colors, the contrasty flaring, and video noise from time to time, you'll welcome the nostalgic look of these episodes.
The Audio:
The Dolby Digital English 2.0 stereo track is adequate for the job here, with separation effects minimal, at best, and slight hiss (from the original recording materials, no doubt).
The Extras:
Two very brief text extras on Christie and Pyne; you could get the same info (and reams more) on the net.
Final Thoughts:
Marvelous collection of "minor" Christie work. Everyone needs a break from Poirot and Marple at some point, so Christie fans will find The Agatha Christie Hour: Set 1 a fascinating collection of adaptations of some of her lesser-known short stories and sleuths. Extremely well-written, directed and performed, I'm highly recommending The Agatha Christie Hour: Set 1.
---
Paul Mavis is an internationally published film and television historian, a member of the Online Film Critics Society, and the author of The Espionage Filmography.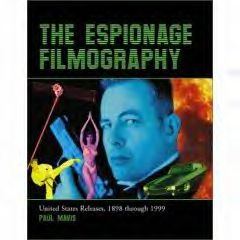 ---
C O N T E N T

---
V I D E O

---
A U D I O

---
E X T R A S

---
R E P L A Y

---
A D V I C E
Highly Recommended
---
E - M A I L
this review to a friend
Sponsored Links
Sponsored Links