Appointment With Danger (1951)
List Price: $24.95 [Buy now and save at Amazon]
---
"But behind this army [of postal workers] is a special corps of trained men. Seldom seen, almost never publicized. The nation's oldest police force: the postal inspectors, always on the guard."
Newcomer Olive Films is releasing four Paramount library titles (the other three titles are Union Station, Crack in the World, and Dark City), including 1951's Appointment With Danger, an Alan Ladd noir/police procedural probably best known today for the fluke teaming of future Dragnet coppers Jack Webb and Harry Morgan as a pair of vicious hoods. Viewed outside that fun little pop culture sidebar, Appointment With Danger is an effective thriller (though perhaps not top-notch noir), with cool, impassive Ladd always great to watch, and some strong location work and deap-pan dialogue to take your mind off the silly Phyllis Calvert nun subplot.
The Hotel Compton, Gary, Indiana. Postal Inspector Harry Gruber (James Cornell) lies strangled in his bed, his murderers, Joe Regas (Jack Webb) and George Soderquist (Harry Morgan, here billed as "Henry") silently coiling the rope used to snuff out his life. Transporting the body to La Porte, Indiana, the thugs almost make a clean getaway until they're spotted trying to get rid of Gruber by nun Sister Augustine (Phyllis Calvert). Soderquist distracts her, but she notices Regas holding up another man against the car. Walking away, and not satisfied with Soderquist's fob that their "friend" is drunk, she tips off a motorcycle cop...who promptly speeds off in the other direction after a careless driver. Tough cookie Al Goddard (Alan Ladd), a grimly cynical hard case from the Chicago Postal Inspectors' division, is assigned the case of finding Gruber's murderers. Warned by Gary postmaster Maury Ahearn (Dan Riss) that his suspicious nature and unfeeling heart may actually hamper his detective skills, Al soon discovers this may be true when he finally tracks down Sister Augustine, the only witness who can provide a clue to the murder. She's reluctant at first to help Al, and even more so when it becomes necessary to accompany him to Gary for the investigation, but eventually she sees that there's hope for the hard, unsentimental inspector. And Al is going to need that hope, considering the spot he's put himself in: going undercover as a dirty cop to flush out local gangster Earl Boettiger's (Paul Stewart) plan to rob a postal train.
SPOILERS ALERT!
There's one of those terrific 1940s opening montages for Appointment With Danger (did I read somewhere that this film was shot in '49, and held back by Paramount because of worries of overexposing Ladd?) where a sturdy narrator extols the virtues of one of America's fine institutions--in this case, the U.S. Postal Service. Unfortunately, this patriotic set-up works against Appointment With Danger's potential noir atmosphere because it lauds the largely unknown workings of the inspector division...and then does nothing to subvert or ironically comment on that initial sunny view for the rest of the picture. Ladd is described variously as "heartless" and born without a mother, while Gary, Indiana Postmaster Ahearn flat-out calls him a "nut," saying that his badge and law books have curdled him into not liking, or believing, or trusting anyone...an analysis that Ladd doesn't argue with, confirming Ahearn's view by claiming everyone is a "pitch artist," working for themselves. Fine. Sounds like the beginning of an intriguing, flawed noir anti-hero who may die (or cause others to die) because of this stubborn, fatal character flaw. Why in the world would the Postal Service keep on such a dangerous man? Let's find out. Well...nope, not in Appointment With Danger. Far from doing anything interesting with Ladd's cynicism and misanthropic sourness, Appointment With Danger keeps Ladd a true-blue hero throughout the film, with his character flaw portrayed not as a crippling noir drawback like sexual obsession or a momentary case of corrupted morals...but rather that he's too...tough (how can you be too tough in a noir?).
Apparently, "love and forgiveness" should be his goals, at least according to friend Ahearn and Sister Augustine, and that subplot--the "gentling" of Al--becomes a largely unwelcome (and entirely unconvincing) theme in Richard L. Breen's and Warren Duff's screenplay. Even worse, Ahearn's admonishment to Al that reliance on the men of the force, patience and timing--not Al's "brass knuckle" tactics--will win out in the end, proves to be dead wrong; Al saves his own skin by killing Regas and fighting Earl, who is subsequently mowed down by the cops (so much for the film's suspect message). Ladd's greatest gift as an actor--his iconic, cold, brutal neurasthenia--is ultimately wasted here because we already know he's eventually going to come around under the guiding light of Sister Augustine. Neither will Appointment With Danger chance even the suggestion of sexual attraction between nun and postal inspector, due probably to the Hays Office edicts (or at the very least, the Catholic League's) that would make it unthinkable for such a thing to occur. So with romance (or even the hint of it) out, all we're left with, in trying to figure out where Calvert fits into all of this, is the possibility that she will help Ladd and become an active part of the investigation. And at first, we think the screenwriters might be going for that angle, with her character picking up some comical cop lingo and going out with Ladd into the field. But almost as soon as that's picked up, it's dropped, and she's soon dodging Regas' assassination attempts before she's allowed to be utter dense and almost get Ladd killed. Nor for that matter, is anything done with the film's most visible noir iconography: the femme fatale played by noir legend, Jan Sterling (sexy as hell, as usual), who doesn't turn out to be a "fatale" at all, and who has little to do here other than serve as a last-minute red herring, making us wonder for a moment is she's going to turn in Ladd when she finds out he's on the level (anticlimactically, she doesn't...and just walks out of the film).
Noir elements do crop up from time to time, including the excellent location work around Chicago and Gary, Indiana (when they're not shooting most of the street scenes on the Paramount backlot), and the occasional striking visual by cinematographer John F. Seitz , such as Gruber, dead in his bed, the rope being coiled in the foreground as the neon hotel sign flashes on and off ("The Friendly Hotel"). And plenty of snappy tough-guy patter keeps the viewer amused, including Ladd's definition of a "love affair" ("It's what goes on between a man and a .45 pistol that won't jam."), or his admonishment to Webb after he kills him ("You're getting heavy, Joe," as he holds up the dying killer). If anyone has a theory about Ladd's introduction to the Gary postmaster, with Al and Ahearn fighting in Ahearn's office, throwing each other about in vicious judo holds, I'll welcome it...but it's a funny (if inexplicable) moment, while Appointment With Danger's biggest laugh comes when Ladd plays Webb in handball and drops him like a sack of potatoes with a vicious right haymaker. However, perhaps most indicative of Appointment With Danger's not-quite-successful transition from competent, enjoyable (but conventional) police meller to a notable noir entry is evident during what should have been its most memorable scene: the bludgeoning of Morgan by Webb...via bronzed baby shoes belonging to Morgan's long-lost kid. Now, just reading that description should tantalize movie and noir fans who can easily visualize the possibilities of staging that lurid, symbolically-fraught set-up. Unfortunately, good director Lewis Allen is undercut by a too-soon foreshadowing shot of the booties that ruins the tension, followed by a remarkably pedestrian handling of the murder itself, shot in flat, blown-out light without any visual flourish or power. What could have been a hallmark moment in noir iconography, turns out to be just another murder scene in a good, if unremarkable, crime actioner.
The DVDs:
The Video:
Olive Films has delivered an adequate (if unspectacular) 1.33:1, full-screen transfer for Appointment With Danger, with original materials that show scratches and other screen anomalies, as well as an at-times contrasty image. Picture is reasonably sharp. No compression issues to speak of.
The Audio:

The English mono audio track is also adequate for the job here, with hiss noticeable but not distracting, and recording levels consistent. No subtitles or close-captions available.
The Extras:
There are no extras for Appointment With Danger.
Final Thoughts:
Solid, entertaining crime meller (particularly when Alan Ladd is clipped and violent), but not a long-lost noir classic. Too many opportunities to craft such an entry into the genre are lost or flubbed, while the Phyllis Calvert/nun subplot is not particularly original or interesting, and poorly handled, to boot. Dragnet fans will mark down Appointment With Danger as must-viewing with Jack Webb and Harry Morgan as two vicious killers teamed together; it's just a pity the film couldn't have broken out of its conventions...entertaining, though they are. I recommend Appointment With Danger.
---
Paul Mavis is an internationally published film and television historian, a member of the Online Film Critics Society, and the author of The Espionage Filmography.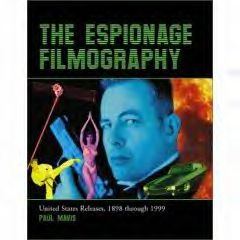 ---
C O N T E N T

---
V I D E O

---
A U D I O

---
E X T R A S

---
R E P L A Y

---
A D V I C E
Recommended
---
E - M A I L
this review to a friend
Sponsored Links
Sponsored Links