Lytton's Diary: Complete Collection
List Price: $59.99 [Buy now and save at Amazon]
---
Delicious Peter Bowles is the whole show here...and that's not enough, sorry to say, old boy. Acorn Media has released Lytton's Diary: Complete Collection, a four-disc, 12-episode collection of the two "series" (seasons) of the 1985 British television drama about suave, moralistic Fleet Street gossip columnist, Neville Lytton. Pokey little mysteries, cheap production design, and anonymous supporting players all work against Mr. Dapper himself, so the level of your infatuation with Bowles will determine a rental or sale for this disappointment. No extras, either.
Urbane, polished gossip columnist Neville Lytton (Peter Bowles) works for one of London's Fleet Street's most successful papers, The Daily News. Scrupulously turned out in his Saville Road cutaway jackets, neatly trimmed moustache, and his perfectly coiffed swept-back hair, Lytton cuts a dashing figure--a bonus for a gossip columnist who looks and talks like one of the people he's covering in his paper's dish-the-dirt column. Fellow reporter Laura Grey (Anna Nygh) certainly enjoys Neville's company...she's sleeping with the married-but-perpetually divorcing writer. His gorgeous, classy "ex," Catherine (Fiona Mollison), is constantly after Lytton for a divorce, something neither one of them truly wants, apparently, since they both pull back from actually filing, time and time again. At work, Lytton frequently dodges disapproving looks from his stern editor, Ian (Bernard Archard), whom everyone refers to as "God," while never failing to put down his co-worker, weasely Henry Field (Bernard Lloyd). When Lytton isn't chasing down a story about Swedish film stars, hooligan skinheads, or corrupt Old Bailey judges, he can be found at home, usually alone, working on his "serious" novel, until it's time for the next book premiere party, or charity benefit, or press junket, providing the daily minutia of trivia that keeps Lytton employed.
SPOILERS ALERT!
I had the pleasure of reading Peter Bowles' absolutely delightful memoir, Ask Me If I'm Happy: An Actor's Life this past spring, and if I wasn't a confirmed Bowles fan from his hilarious sitcom, To The Manner Born and his countless other TV and film appearances (great to see him pop up in the entertaining The Bank Job a few years ago), I certainly was after reading his lovely book. So I was really looking forward to watching this dramatic excursion for the star probably best known in England for his comedic turns (according to Bowles, he co-created Lytton's Diary, based loosely on his friend, diarist Nigel Dempster of The Daily Mail, right after To The Manor Born, to offset the perception that he was strictly a comedic television actor). Unfortunately, very little of Lytton's Diary proved to be as dishy as its set-up seemed to promise. Most news junkies will tell you that the British tabloids contain the most vicious, uncompromising gossip hounds in the world (I never miss The Daily Mail), a reputation they've earned and held onto for decades now. And throughout Lytton's Diary, Lytton and the rest of the crew of The Daily News all promise that the gossip business is cruel and ruthless and deadly, while licking their chops and waiting for Lytton to slyly slit someone's throat with a deadly quip in news ink.
And sometimes...but very rarely, that happens in Lytton's Diary. In the episode, Tricks of the Trade, Lytton is set-up for a major fall when a rival paper hires a hooker to romance him and then tell-all in a salacious article, before Lytton turns the tables and switcheroos the old friend who set him up, destroying his friend's career in the process. Now that's the way I would expect such a devilishly unscrupulous gossip columnist to behave...since that's all I ever hear anyone say about Lytton's moral fiber in these episodes. Regrettably, for every one step forward in that correct, wicked direction, Lytton's Diary takes two or three steps back by constantly reminding us that Lytton is, after all, an exceedingly moral, upstanding man who would jeopardize his career repeatedly to kill stories and thwart other investigations into people if he feels they deserve a kind turn. I thought Lytton's Diary was going to be delicious and nasty, with Bowles a sort of public school combination of Noel Coward and J.R. Ewing. Instead, Bowles' Lytton spends more time fretting about his place in the moral universe than your average Prius-driving, Greenpeace-check-mailing, PETA member.
The series is all over the place with the character, where one minute he's telling a socialist copy boy to stick his revolution because he loves gossip, and the next he's ruefully smiling and telling another inquirer into the workings of his soul that he just pretends all the criticism of his profession doesn't bother him, while barely suppressing a sniffle. How can you have a series that professes to display for us a veritable Darth Vader who glides around London, crushing the larnyxes of lying politicians and cheating pop stars with the mere swipe of a pen, and wind up giving us a surprising lackidasical muser who's more worried about the ethics of journalism than actually entertaining us? Save the endless hand-wringing about moral turpitude for American TV--I want British Jedi-like deadliness in the form of withering retorts and snide innuendo in Lytton's Diary. In one episode, Lytton actually has the nerve to say, "You know, sometimes I think I'm too nice for this job." Don't forget "too ponderous" and "too boring," as well.
And that's the good part of Lytton's Diary. When it comes to the "mysteries," the little stories of political intrigue and personal peccidillos gone public that Lytton either stumbles over or picks out of the manure pile, Lytton's Diary fails entirely to make these exciting or involving. "Pokey" doesn't begin to describe the pace of these episodes; aren't these supposed to be hard-driving stories of the vicious gutter hounds of London's gossip mill, the "scolding mechanism," as Lytton describes them in one episode, who serve to keep in check those who flaunt the rules of society? God, doesn't that sound pious and humorless right there? Fatally slow, Lytton's Diary for some unknown reason adopts a languid approach to the episodes' pacing that's entirely at odds with the themes and supposed aims of the show itself.
And if you have episodes sonombulently lolling from scene to scene, you might assume that part of the problem is also the anonymous supporting cast that can't keep our interest...and you'd be right. Except for Lytton (and not because of how the character is underwritten but because of Bowles' smooth charm), I can't for the life of me remember the characters' names who worked with him at The Daily News. My notes have names like "David" and "Jenny" and "Helena," but honestly, they're just a blur in my memory. Nothing distinctive about their individual characteristics, and absolutely nothing of interest in how they're briefly utilized in episode after episode...and that puts an enormous burden on Bowles. As a fan, I can state flately that Bowles can't be uninteresting (at least I've never seen him that way in any project). He's the epitome of unflappable British cool here, and since he can pull that off so well, he's fun to watch...for a while. But as episode 4, and 5, and 6 roll around, and you sense that Lytton's Diary isn't going to change one bit, you begin to lose interest. The second "series" sees some changes to the anonymous cast, but that does nothing to help the show, with imperturbable Lytton just rolling along, shooting his cuffs and jumping back and forth between loving his job and hating it, while we wonder how--and when--this could all possibly end. It does end on a note of finality (the producers must have known it wasn't coming back for a third season), and that's just fine with the viewer who's had quite enough of this surprisingly toothless back-biter.
Here are the 12 episode of the four-disc set, Lytton's Diary: Complete Collection, as described on the on-screen episode menus:
Rabid Dingo-Shock, Horror
Despite warnings to steer clear of the subject, Lytton tries to dig up dirt on an Australian tycoon interested in buying the Daily Post. With a rival coworker hot on his heels, Lytton's luck may be running out.
Daddy's Girls
Lytton runs a seemingly straightforward story about a banker's teenage daughter and her relationship with a record producer. His interest is piqued, however, when the father overreacts to the piece. Is the man just being protective, or is there more at play?
The Lady in the Mask
Stung by criticism that his column is getting "tepid," Lytton looks to spice things up a bit. Then an unmarked envelope arrives with a photo of a nude woman wearing a mask. When Lytton gets an accompanying anonymous phone call, he decides to investigate.
Tricks of the Trade
Lytton learns about a crooked politician working a shady export deal with moneyed interests from the Middle East. In covering the story, he must tread a careful path-saying enough to draw the M.P. out, but not enough to get the Daily news sued.
The Silly Season
With material in short supply during the summer "silly season," Lytton reluctantly considers a forthcoming kiss-and-tell book by a Swedish actress. After some thugs try to intimidate the starlet from publishing, Lytton finds a story he can believe in.
Comeuppance
When a group of right-wing skinheads runs amok in a small village, Lytton suspects it's more than a case of simple hooliganism. But his curiosity puts him in harm's way-and his professional pride isn't the only thing that could take a beating.
The Ends and the Means
When an old friend's husband commits suicide, Lytton wonders why the successful government official would have killed himself. He focuses on an elegant mystery woman who attends the funeral, but the widow asks him to call off his inquiry.
Rules of Engagement
Lytton puts a new reporter on the trail of a tennis star leaving his wife and kids, while Lytton himself investigates an Old Baily judge with close ties to a known criminal. However, neither situation is quite what it seems.
The Ancien Regime
The owner of the Daily News makes Lytton an offer he can't refuse-or can he? While Lytton deliberates, he continues to pursue his hottest story: the link between a notorious French actress and a murderous Central American dictator.
The Miracle Man
It seems like everyone's trying to tell Lytton what to do. His publisher has all kinds of fixes for his first draft, and his young new editor wants him to cover more pop stars in his column. Lytton prefers to focus on a faith-healer evangelist instead.
National Hero
The new editor hires a trendy young reporter for the diary, but Lytton's own interests are stuck firmly in the past-on a revered war hero with skeletons in his closet. Meanwhile, a professional rivalry gets personal with Lytton's competitor at the Post.
What a Wonderful World
An international beauty competition offers Lytton little in the way of a story, until sabotage, corruption, and perhaps even murder enter the fray. Back at the Daily News offices, the owner throws his weight around, determined to win a battle with the printers' union.
The DVDs:
The Video:
The full-screen, 1.33:1 video transfer for the video-shot Lytton's Diary: Complete Collection looks rough (no doubt due to the original materials used for the transfer), with the typical 70s and 80s British television video look we're all familiar with, coming over here as noisy and burnt-out. Colors are largely drained away. Brit-TV fans will accept it, but it's not the best.
The Audio:
Even worse is the Dolby Digital English mono audio track--one of the muddiest, most incomprehensible I've encountered from Acorn (and of course, they don't help by not providing subtitles or close-captions). Recording level is way too low (I had to put phones on at one point to hear some exchanges).
The Extras:
There are no extras for Lytton's Diary: Complete Collection.
Final Thoughts:
Gossip is supposed to be fun and bitchy and exciting...all the things Lytton's Diary: Complete Collection isn't, unfortunately. Ultra-charmer Peter Bowles does what he can, but even he gets old here after awhile. A pokey misfire. You can skip Lytton's Diary: Complete Collection, unless you're a die-hard Bowles fan, and then a rental will do.
---
Paul Mavis is an internationally published film and television historian, a member of the Online Film Critics Society, and the author of The Espionage Filmography.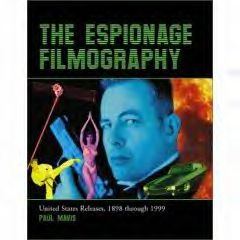 Sponsored Links
Sponsored Links