Mothers-in-Law: The Complete Series, The
List Price: $39.98 [Buy now and save at Amazon]
---
"Mother, is that you?"
"It ain't Lucille Ball!"
Christ is this loud...and funny, too. MPI Home Video, in association with Desilu, too, has done DVD Talk Collector Series-worthy work on their release of the cult sitcom classic, The Mothers-In-Law: The Complete Series. All 56 episodes of the two-season comedy starring Eve Arden and Kaye Ballard are presented here uncut (with quite a few featuring original cast commercials for their new Proctor & Gamble products like Scope® and Camay®), along with a copious amount of extras that are particularly valuable for vintage TV fans and historians of the series' executive producer and regular director: genuine TV innovator and legend, Desi Arnaz. The laughs peter out some in the second season due to an unfortunate cast change, but all in all, there are more than enough silly, farcical moments here to help chase away the dog days of this hot, hazy summer.
The set-up couldn't be simpler. Cool, patrician housewife Eve Hubbard (Eve Arden) lives next door to earthy, Italian-spewing housewife Kaye Buell (Kaye Ballard). Normally, these two very different women wouldn't find very many excuses to spend much time together, nor would their respective husbands, for that matter: Eve's straight-arrow better-half is attorney Herb (Herbert Rudley), while Kaye's equally effusive husband is Hollywood television writer, Roger (Roger C. Carmel in season one, Richard Deacon in season two). Unfortunately for both obstinate couples, the Buell's 21-year-old son, Jerry (Jerry Fogel), has been in love his whole life with the girl next door: the Hubbard's 19-year-old cutie pie, Suzie (Deborah Walley), with the result being that the Hubbards and the Buells have spent unwanted decades in each others' back pockets. So when the young couple decide to get married, the sparks fly, not only when the competing mothers-in-law war with each other over who fusses the most over the newlyweds, but also when they join forces to fuss over the newlyweds...much to the consternation of their husbands and the kids.
I suppose it's possible that I remember The Mothers-In-Law from its original run, from 1967 to 1969, even though I would only have been around 4-years-old during its last season (I can remember some one-off shows from even earlier than that). But whenever I try to place this sitcom (always iffy with the tricks memory plays on you), I see myself watching it in the afternoon. Even though Desi Arnaz only produced 56 episodes (90 used to be the benchmark for syndication), did it play on NBC's daytime schedule in the 1970s, or on local TV stations? I certainly saw it somewhere, though, prior to this DVD release; it's a not-immediately recognizable title that yet has somehow stuck in the memories of a lot of viewers from my generation (half of that might be from the insanely catchy, 60s twangy theme music by Jeff Alexander alone).
An unabashed reworking of the basic I Love Lucy framework, from the original creators of that seminal television sitcom, Desi Arnaz and creators/screenwriters Bob Carroll, Jr. and Madelyn Davis, The Mothers-In-Law came about after several years of TV production hiatus for producer/executive Arnaz, after he had resigned in 1962 as president of Desilu (the powerful television studio built by Arnaz and his then-wife, Lucille Ball), selling his shares in the successful studio to his ex-wife in the process. Creating the new Desi Arnaz Productions company with those profits (with offices and facilities at Desilu, naturally), Arnaz filmed two unsuccessful pilots--The Carol Channing Show and the adventure drama, Lands End, with Rory Calhoun (both, amazingly, included on this DVD set)--before he partnered with United Artists Television to produce The Mothers-In-Law. Considering the team involved here (I Love Lucy alumni scripters Davis and Carroll, Jr. pen quite a few of the episodes here), it's not surprising that they would all light on reworking the basic Lucy structure, particularly since it was still working phenomenally well for its other co-originator, Lucille Ball (The Lucy Show was the second most-watched series on television during The Mothers-In-Law's first year). Television is nothing if not imitative, so why wouldn't Arnaz try and recapture some of that wacky I Love Lucy magic for his TV comeback?
And at least during the first half or so of the first season of The Mothers-In-Law, echoes of Lucy and Ethel getting into one preposterous escapade after another can be heard throughout the episodes. Using two very basic set-ups--the mothers-in-law either warring with each other over the kids, or screwing up when they try to help the young couple too much--the laughs and shtick are as broad as the screaming is seemingly overwhelming from our two leather-lunged lead actresses. Essentially, each episode, at least in the beginning of the series, boils down to a couple of loud-mouth broads yelling at each other, until they both calm down or collapse into a heap of sentimental tears as they realize, despite their differences, that they're both mothers who love their children unconditionally. Not exactly Noel Coward material, but then again, a sure-fire way to get belly laughs. With Arden cool and sardonic (at least in the first two minutes), and Ballard crazed and melodramatic all the time, there's a good contrast of tone in the initial plot developments, before they both start screeching like Lucille Ball and Vivian Vance, with both actresses acquitting themselves admirably not only with the over-the-top line readings but also with the large-scale set-pieces involving runaway props (in the first few outings, they battle a large piano in the rain, an unseen biker gang in an overcrowded motel room, and a garage door with a mind of its own). While Lucy and Ethel were always friends first, and then maybe bitchy and snappish with each other once they were in a pickle, the antagonism between Arden and Ballard always comes first in the relationship, and that contentious attitude adds a little bit of welcome bitterness to the comedy.
Part of that antagonism, by design, is supposed to come from differences in culture between the posher, WASPy Arden, and the more voluble, emotional Italian Ballard--certainly another hold-over from the comical cultural misunderstandings that plagued Irish-American Lucille McGillicuddy and Cuban Ricky Ricardo over at the Mertz apartment building. And while the scriptwriters do play up Ballard's hand-biting and growling and punching her husband in the arm while spouting untranslated Italian curses (you can call it stereotypical, but the Italian Ballard, born Catherine Gloria Balotta, doesn't label it that in her interview included on the discs' extras), it's hard to see much contrast when the supposedly WASPy-seeming Arden is right in there, yelling and screaming toe to toe with Ballard. Arden may have been known before The Mothers-In-Law for her sarcastic, arch, smooth verbal delivery, but here, she's belting it right out there just to keep up with Ballard (sometimes she seems uncannily like Lucy...with the help of Desi, perhaps?), so I'm not sure the whole Italian/WASP contrast is all that successful.
And I must say that I thoroughly enjoyed that ballsy, frenetic approach in the first part of the series. Sure it's too broad and brassy probably for more "refined," "sensitive" tastes of many of our younger TV viewers today (read: too cool/uptight to crack a smile at anything that isn't dripping with faux-irony), but I respect that kind of show biz moxie you just don't see anymore from multi-talented performers like Arden and Ballard (you sure as hell don't see their likes anymore, either). They're out there hoofing it as if their lives depended on it, with Ballard in particular consciously pushing the material way past farce into out-and-out baggy-pants slapstick, staying just this side of reaching out and jostling the camera to wring out one more extra guffaw. These broads are playing to the stalls, and their energy is electric, even if their material isn't always of the highest caliber. And as for their chemistry together, it's palpable and often hilarious (check out Arden; she's always right on the verge of corsping whenever Ballard goes too far). When first Ballard, and then Arden (in The Career Girls) impersonate Bette Davis with devastating results (they're lurching around, knocked-kneed, sputtering perfect "dahling" Davis incantations), I haven't laughed that hard in quite a while. There's a kind of nutty capriciousness to those beginning The Mothers-In-Law episodes that I found delightful, from Ballard yelling out at unseen biker gang members from a hotel room, only to get doused with a malted (the look on Ballard's face is priceless as she wondrously exclaims, "That's chocolate malt! I always thought they drank beer!" in Everybody Goes On a Honeymoon), to Desi Arnaz's utterly hilarious cameos as Senor Raphael Delgado the bullfighter (particularly his first appearance in A Night To Forget, where he's marvelously flustered and angry).
Unfortunately, the level of manic inventiveness isn't sustained as the season progresses (how cool would it have been if the hard-as-nails Lucy had made a phone call, telling everyone to stay off her turf...), with The Mothers-In-Law slipping back into a more tried-and-true, largely dialogue-driven (and frankly, stale) sitcom mode where the misunderstandings are as likely to come between husband and wife, as they are between mother and daughter/son. Sure, there's still some knockabout here and there, but the set pieces seemed to be retired, and a flurry of one-liners and easily-anticipated farcical misunderstandings replace them, including husbands pissed about wives spending money, and wives pissed about husbands not paying enough attention to them. A core problem with The Mothers-In-Law, as well, are the lynch pins for the entire set-up: the kids. Granted, the scripters are going to concentrate on the two leads (as they should, considering how talented and funny Ballard and Arden are), but almost nothing of consequence is done with Walley and Fogel, who seem more like props to be moved around the sets, giving out inconsequential dialogue when empty space is needed to be filled. Fogel, way too old (and too stiff) to look convincingly 21 (he was actually 30...to his "mother" Ballard's 38), is of no help, while the usually charming Walley, perhaps buffeted by career setbacks like her step down to AIP pictures and her recent divorce from John Ashley, looks positively morose here, as if she'd like to be anywhere but on the set (she only comes alive when the let the sexy Walley strut her stuff in production numbers). The Mothers-In-Law came out the same year The Graduate did. No one is expecting that kind of writing for this fluffy sitcom, but had Arnaz and the scripters tried to inject just a modicum of the revolution going on in 1967's youth culture into the scripts, the series might have benefitted over the vacuum created by Walley's and Fogel's nonentities (the addition of a baby in the second season does nothing to make these two characters stronger or critically, funnier. They're just genetically unfunny).
As for the cast change from Roger C. Carmel to Richard Deacon, that's the final straw putting down The Mothers-In-Law's initial promise into standardized sitcom mediocrity. There are a lot of stories going around about why, exactly, Carmel (best known by far from his appearance on the original Star Trek as Harry Mudd) was let go from/quit The Mothers-In-Law. The official party line is that after the first season, executive producer Arnaz had a commitment from NBC for four more years of the show, but without a raise for the cast--a raise that was called for in all the leads' contracts. Carmel balked, demanded the raise and either walked or was fired by Arnaz. It's a good story, and it sounds about right (although I question that four year commitment from NBC when The Mothers-In-Law failed to even crack the Nielsen Top Thirty despite coming on after Walt Disney's Wonderful of Color and right before TV's number one Western, Bonanza). According to Carmel, he claimed Arnaz was pocketing multiple salaries (including directing many of the episodes here, executive producer, and showing up for multiple cameos), and that he was taking what was left of NBC's money, leaving little for the actors. Could be, too; that's what producer/owners do: make as much money as possible off their TV series. An even better story is that Carmel's drug habit was wreaking havoc on the show's production, and Desi finally put his foot down and canned Carmel. That sounds like it could be true, as well (Desi certainly would have recognized someone with substance abuse problems, considering his own habits).
Whatever the reason for the loss of Carmel, it delivers a mighty blow to the series, particularly since his replacement is so...subdued and frankly, mediocre. With a couple of wonderfully showy hams like Ballard and Arden, the guys playing their husbands had better have some weight of their own to hold the screen. Stalwart vet Rudley is surprisingly funny as the blustering straight-arrow Herb, but Carmel can't help but steal the scenes he shares with Rudley because he's so damned charming and quirky and out-sized and naturally funny. So when he's replaced by The Dick Van Dyke Show's Mel Cooley, the air goes right out of the balloon. Don't get me wrong: Richard Deacon was perfection as the put-upon slow-burn butt of all of those Morey Amsterdam jokes in the classic Van Dyke series, but here...he's just not animated enough to compete, let alone to offer up laughs of his own. He looks funny, that's for sure, but that's about it. Perhaps it was coming into a series where he wasn't particularly wanted, or more probably, because this type of broad, farcical humor wasn't his forte, but either way, he disappears on the screen. He simply isn't funny enough when acting against the insane Ballard. And certainly, his stolid presence here did nothing for the ratings for the make-or-break sophomore season of The Mothers-In-Law, which was quickly canceled when the Nielsen's showed an even lower drop from the previous year's less-than-stellar numbers.
Here are the 56 episodes included in the eight-disc boxed set, The Mothers-In-Law: The Complete Series:
DISC ONE
A Nation State (September 10, 1967)

Everybody Goes On a Honeymoon (September 17, 1967)

All Fall Down (September 24, 1967)

A Night to Forget (October 1, 1967)

The Newlyweds Move In (October 15, 1967)

The Career Girls (October 15, 1967)

Who's Afraid of Elizabeth Taylor? (October 22, 1967)

My Son, The Actor (October 29, 1967)

DISC TWO
How Do You Moonlight a Meatball? (November 5, 1967)

I Thought He'd Never Leave (November 12, 1967)

The Great Bicycle Race (November 19, 1967)

Through the Lurking Glass (November 26, 1967)

Divorce Mother-In-Law Style (December 3, 1967)

The Not Cold Enough War (December 10, 1967)

You Challenge Me to a What? (December 17, 1967)

Everybody Wants to Be a Writer (December 31, 1967)

DISC THREE
The Kids Move Out (January 7, 1968)

The Hombre Who Came To Dinner - Part 1 (January 14, 1968)

The Hombre Who Came To Dinner - Part 2 (January 21, 1968)

Don't Give Up the Sloop (January 28, 1968)

I'd Tell You I Love You But We're Not Speaking (February 4, 1968)

Herb's Little Helpers (February 11, 1968)

Bye, Bye Blackmailer (February 25, 1968)

The Wig Story (March 3, 1968)

DISC FOUR
It's Only Money (March 10, 1968)

I Haven't Got a Secret (March 17, 1968)

Jerry's Night Out With the Boys (March 24, 1968)

The Long, Long Weekend (March 31, 1968)

Jealousy Makes The Heart Grow Fonder (April 7, 1968)

How Not to Manage a Rock Group (April 28, 1967)

Here Comes The Bride, Again (September 15, 1968)

The Match Game (September 22, 1968)

DISC FIVE
A Little Pregnancy Goes a Long Way (September 29, 1968)

Love They Neighbor - If You Can't Make Him Move (October 6, 1968)

I Didn't Raise Myself to Be a Grandmother (October 13, 1968)

Even Mothers-In-Love Have Mothers-In-Law (October 20, 1968)

The Matador Makes a Movie (October 27, 1968)

It's a Dog's Life (November 10, 1968)

The First Anniversary is the Hardest (November 24, 1968)

The Birth of Everything But the Blues (December 1, 1968)

DISC SIX
Nome, Schnome, I'd Rather Have It At Home (December 8, 1968)

Hail, Hail The Gang's Still Here (December 15, 1968)

Didn't You Used To Be Ossie Snick? (December 22, 1968)

Make Room For Baby (January 5, 1969)

Haven't You Had That Baby Yet? (January 12, 1969)

And Baby Makes Four (January 19, 1968)

Nanny Go Home (January 26, 1968)

Double Trouble In the Nursery (February 2, 1969)

DISC SEVEN
Void Where Prohibited By In-Laws (February 9, 1969)

Guess Who's Coming Forever? (February 23, 1969)

Every In-Law Wants To Get Into The Act (March 2, 1969)

Two On the Aisle (March 16, 1969)

Take Her, He's Mine (March 23, 1969)

Show Business Is No Business (March 30, 1969)

The Charge of the Wife Brigade (April 6, 1969)

The Not-So-Grand Opera (April 13, 1969)

The DVD:
The Video:
For the most part, the full-screen, 1.33:1 video transfers for The Mothers-In-Law: The Complete Series look fairly good, with decent-enough color, a sharpish picture (just a bit of fuzziness), and some scratches here and there. However, there are episodes that tend toward the pinkish, with others that seem darker than they should. Still, considering the obscurity of the title, these look quite good overall.
The Audio:
The Dolby Digital English split 2.0 mono audio track is just okay...and squelchy as hell, with all dialogue heard clearly and some hiss as expected, but wow does the laugh track sound overamped. English subtitles are available.
The Extras:
Here's where MPI and Desilu, Too did The Mothers-In-Law-and vintage TV lovers-proud. At the beginning of the first episode on disc one, Desi Arnaz, Jr. introducing the set, gives some background on his father's production of the show (it's good to see him). We're then treated to the original NBC peacock bumper, as well as the Proctor & Gamble commercial insets. Nice (too bad they didn't do this for all the episodes). As well, throughout the set, we're treated to cast commercials for their sponsor. On disc eight, a whole slew of extras are included. First up, an interview with Kaye Ballard, who at 83 looks twenty years younger, and who has a lot to say about the series' production. Good info. It runs 15:02, and as a bonus, she sings the lyrics to the theme song (which were never recorded). The original unaired pilot-featuring Kay Cole in her one shot as Suzie-is included. It runs 26:27. Cast commercials, including one with Carol Burnett (?) are included, running 5:28. Running 17:07, there are rare behind-the-scenes footage of the production of the My Son, The Actor episode, with Kaye Ballard narrating (fascinating to see the multi-talented Arnaz in action). There's a great Let's Talk to Lucy radio interview, running 18:00, where Lucy interviews Eve Arden about the series. There's a photo gallery, as well. There is some rare footage of Kaye Ballard included, running 12:18, featuring an appearance on The Hollywood Palace in 1968, and on The Mike Douglas Show in 1963 (amazing). Rare Eve Arden footage is included, featuring her on the Meet Cyd Charisse special from 1959, and a trailer for the movie version of Our Miss Brooks. It runs 7:45. An unproduced script for The Mothers-In-Law is included (My Obstetrician Was More Sensitive Than Yours), while the complete unsold pilots for Desi Arnaz Productions' The Carol Channing Show and Rory Calhoun's Land's End are included-marvelous! And promos for other MPI release are also included. This is a bonanza of extras for students of vintage TV, and bump up the recommendation of this disc set considerably. Too bad all vintage TV releases can't be like this as far as extras go.
Final Thoughts:
Funny is funny, and this loud, brassy domestic farce delivers the goods. It may lose steam in its second season due to the loss of a key cast member, but delicious Kaye Ballard and Even Arden are, plain and simple, two hilarious broads who know exactly how to scream a one-liner and drop their baggy pants for a laugh. As for the extras here, they offer an unprecedented look at one of television's most important producers (featuring material never seen before), and are worthy of our highest rating at DVDTalk. And sometimes, that's enough to elevate the entire set. I'm highly recommending The Mothers-In-Law: The Complete Series.
---
Paul Mavis is an internationally published film and television historian, a member of the Online Film Critics Society, and the author of The Espionage Filmography.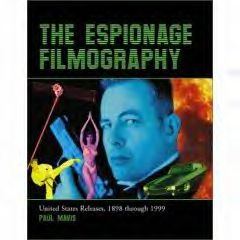 ---
C O N T E N T

---
V I D E O

---
A U D I O

---
E X T R A S

---
R E P L A Y

---
A D V I C E
Highly Recommended
---
E - M A I L
this review to a friend
Sponsored Links
Sponsored Links