Real McCoys: Complete Season 4, The
List Price: $29.98 [Buy now and save at Amazon]
---
"Reason with Grandpa? You sound like you just moved in."
Want you to meet the family,
Known as the Real McCoys.
That's Grandpappy Amos, the head of the clan,
He roars like a lion but he's gentle as a lamb.
And now here's Luke who beams with joy
Since he made Kate Mrs. Luke McCoy.
From West Virginny they came to stay,
In sunny Cali-forn-i-ay!
Oh Grandpappy Amos and the girls and the boys,
Of the family known as the Real McCoys!
Not as strong a season as the opener (which I reviewed three years ago), but still funny and sweet--down home-style. Infinity has released The Real McCoys: Complete Season 4, a four-disc, 39-episode(!) collection from the smash-hit ABC sitcom's 1960-1961 go-around. The originator of the "rural sitcom" genre that proved so influential and successful in the 1960s, The Real McCoys used to be a syndication staple during the sixties and seventies, but you don't see it around the dial too much anymore, so these releases by Infinity--compromised as they are, here, by edited versions--are a welcome primer for historians and a boon to the casual vintage TV lover (hard-core vintage TV fans, of course, will pass on these syndicated versions).
Nothing much has changed down on the McCoy dirt farm since we last visited it. The proud, simple (and somewhat wacky) McCoy family, headed up by Grampa Amos McCoy (Walter Brennan), a crotchety, blustering old grump, are holding their own on the ranch they inherited in the famed California San Fernando Valley. Originally from Smokey Corners, West Virginia, the McCoys set up housekeeping in the dilapidated ranch house (which now looks quite nice on the inside), with grandson Luke (Richard Crenna), his pretty young wife Kate (Kathy Nolan), Luke's teenage sister Hassie (Lydia Reed) and Luke's young brother Little Luke (Michael Winkleman) all pitching in to keep the struggling farm a going concern. Helping out on the farm is Pepino (Tony Martinez), a Mexican ranch hand who proves to be a humorous and kind addition to the McCoy family. Not being a true sitcom unless wacky neighbors are included in the mix, scrappy old codger George MacMichael (Andy Clyde), who is forever getting into petty squabbles with Grampa over a contested checker game or some other scheme, shows up quite often, while his spinster sister Flora MacMichael (the delightful Madge Blake), who wouldn't be adverse to becoming Mrs. Amos McCoy some day (if he'd only ask her) is less frequently seen.
SPOILERS ALERT!
It's always difficult to chart a series' artistic ups and downs when you jump in and out from season to season. I reviewed season one of The Real McCoys back in '07 (you can read that review here), so I won't go into too much previous detail on the show since I covered its production background and its subsequent appeal to viewers in that piece. I didn't get the chance to review season two, nor did we get a copy of season three here at DVDTalk, so it's impossible for me to judge how the show wound up where it is here in this fourth go-around. Taken on their own, then, and out of that context, these episodes don't seem to measure up to the consistent high quality of the first season's offerings--a situation not helped by the strange disappearance and reappearance of co-star Kathy Nolan in the middle of the season--but plenty of them are well-written and amusing enough to help explain the series' high ratings in 1960-1961. The show's central themes remain the same: tension over Grandpa's role as the head of the household (and the inevitable scaling back of that role as he acknowledges his advancing years and set-in-stone ways), as well as conflict between "progress," as usually represented by city folks and their new-fangled ways, and a more traditional manner of viewing the world and the McCoy's place in it. These themes are then put through a comedic mechanism of accommodation, where funny complications arise from one character trying to spare another character's feelings (either by subterfuge or misguided play-acting)...which of course invariably leads to an even bigger mess for all those involved.
Naturally, some viewers today may not take to some of those traditional comedic set-ups because of their "politically incorrect" nature. A good example comes right off the top with the season opener, Beware a Smart Woman (I can hear the groans of derision already), where brighter Kate willingly throws her adult education test to make dumbbell Luke feel smarter. Latching onto those isolated moments will make a good but incomplete argument for the cave-man quality of vintage TV series like The Real McCoys, but they're more properly seen as just that--established, time-honored situational set-ups--rather than as overt political messages, because their opposite ideologies are present, too, if one cares to look for them. In the very next episode, Executive Wife, Luke puts Kate's happiness first when he encourages her to go into business with a pickling company (even though he regrets it later), and in A Bundle from Japan, Kate lends her feminist voice to a courting feud between a newly-arrived Japanese woman and an "Americanized" Japanese farmer who chauvinistically wants a "traditional" Japanese wife to wait on him hand and foot (he eventually sees the error of his ways, and delights in his new "real American wife" who has a give-and-take relationship with him, just as Kate has instructed her).
Too often, many contemporary critics of these vintage television shows get mired down in finding only fault with them (usually based on the politics and sociology of the day), and that's a shame because it blinds them to the truly wonderful moments that can be found in a seemingly "forgotten" show like The Real McCoys ("forgotten" because it almost never seems to be mentioned in the same breath as the better-known series it spawned, such as The Andy Griffith Show, The Beverly Hillbillies, Petticoat Junction, and Green Acres). Even if the overall quality of this fourth season of The Real McCoys feels inferior to the show's opening go-around, the high level of the writing and of the performances are still notable for bringing a sweet, tender quality to the show's gentle comedy (often brought forth by regular series scripters Jim Fritzell and Everett Greenbaum, who would similarly enliven Griffith's show). And predictably, 3-time Oscar-winner Walter Brennan is the show's dependable anchor, adeptly turning from crabby old bastard to pole-axed sentimentalist in the blink of a watering eye; his skill at this kind of turn-on-a-dime emoting (necessary with the quick, fast scenes of a 25-minute television episode) is really rather remarkable. Standout episodes this season include Pepino McCoy, where former bandleader Tony Martinez gets to show his singing and guitar-playing chops in a nicely-crafted episode. Father and Son Day is a familiar, modest-but-heartfelt piece with Brennan quite effective in a sad scene where he realizes his young grandson Little Luke would rather have his older brother Luke help him with the races at the annual picnic. Brennan has a transcendent moment in Farmer or Scientist, where Amos, during an aptitude test, waxes simply and poetically on what he would do if the sun no longer shone on the earth (Brennan is mesmerizing here). The New Librarian gives old comedy pro Andy Clyde (are his short subjects out on disc yet?) a good vehicle in his battle with Amos over a vivacious new woman in town. The City Boy has some amusing moments as Amos checks out a poor city kid, sent to the farm to work for his summer camp, like a horse, checking his arms and legs like a prospective plougher. The Swedish Girl introduces us to Eva Norde who plays Helga the maid, a prospective (?) replacement for Kate's character (more about that below). Blonde-haired Norde's a doll, and very sweet; it's a pity she's unceremoniously dumped without explanation after only a few episodes. King Kong legend Fay Wray appears as herself in the delightful Theatre in the Barn, where we get some spectacularly funny close-ups of Andy Clyde in action. Sorority Girl has pretty Joan Freeman and May Heatherly as you guessed it, sorority girls, in this well-written tale about reverse snobbery (a frequent theme in The Real McCoys). In three Virginia-based episodes, Back to West Virginny, Fly Away Home, and the beautiful September Song, the series has fun exploring the then-current "keeping up with the Jones" aspect of American consumer life, along with a funny parody of the ruthlessness of corporate business with iconic character actor Charles Lane adding another indelible portrait of a mean-eyed bastard squawking at someone. The final episode in the trilogy, and perhaps the best episode this season, September Song, written by Fritzell and Greenbaum, is a moving, poignant little almost-love story, where Amos mistakenly relieves a past love affair with the wrong woman (the simultaneous look of loss and recognition when Amos realizes what he's done, is absolutely haunting on Brennan's part). Watching an episode like September Song, tucked away in a mid-series season in a show no one really talks about anymore, always makes me wonder what other hidden, forgotten gems are out there just waiting to be unearthed via DVD, and appreciated again by vintage TV fans.
As great as those episodes are, there's still a general feeling of complacency in this fourth season, a reliance on more conventional comedic set-ups, locked down in the sealed-off world of the Desilu Studios (back-lot shooting is few and far between, giving the show a hermetically-sealed feeling at times). As limited as Crenna's role seems by this point in the series (Brennan really gets all the good lines and stories), Nolan's plight is even worse. No longer is Luke and Kate's marriage front and center in the storylines; we don't get to see Crenna and Nolan continue to create a believable little couple who are striving to find their place within a marriage, as we did in the first season. Now, it's mostly gags and one-liners for them...when Nolan is even around. By the 14th episode this season (The Investors), Nolan suddenly disappears, and only comes back by the 27th ,Kate Comes Home (she makes a brief cameo on the 20th episode). I haven't been able to find any info on why she left during this extended period of time (Nolan would eventually leave the series in the fifth season, over a contract dispute); was it for another film commitment? Or health reasons? Or was it the beginning of her fight with ABC and the producers of The Real McCoys? I don't know. But I do know that when she's gone, a great big hole appears in the series, which in turn is thrown off balance by Crenna and Brennan scrabbling around without a female counterpoint. Nolan's an effortlessly appealing performer, and her sunny, cheerful turn her provides a lot of counter-warmth against the crusty Brennan, as well as providing some needed heart and romance with Crenna. Without her, the show suffers, and her absence here is a big reason why this fourth season somehow feels incomplete.
Certainly no one in 1960 felt the same way as I do, though, if you go by the ratings then; this fourth season found the highest ranking The Real McCoys would achieve in the Nielsen's, tracking in at 5th for all series by the end of the year--a remarkable achievement just from a logistical point alone, since ABC didn't have the same station clearance that bigger nets CBS and NBC enjoyed. Whether or not audiences missed Nolan is hard to say, but they certainly tuned in faithfully, bolstered no doubt by ABC's winningest line-up that year on Thursday nights. Not taking into account the weak lead-in, Joanne Dru's Guestward Ho! at 7:30, The Real McCoys was sandwiched in nicely between The Donna Reed Show at 8:00pm (where it had unremarkable but steady numbers), and My Three Sons (which registered a hefty 13th for the end of the season). Following that sitcom, ABC's water cooler-worthy action series, The Untouchables, blazed briefly for one year in the Nielsen Top Ten (8th for the year), no doubt helping to create plenty of pull for the network's entire line-up that night. Such was The Real McCoys' popularity this season, it knocked CBS' solid performer Dick Powell's Zan Grey Theatre right out of the Nielsen Top Thirty, while delivering the final death blow to underperforming Western Bat Masterson over on NBC. The following season of The Real McCoys would show a dip in the ratings (but still within the Nielsen Top Fifteen), before a disastrous move to CBS ended the series.
Here are the 39 episodes of the four-disc set, The Real McCoys: Complete Season 4, as described on the slimcases:
DISC ONE
Beware a Smart Woman
Kate and Gramps conspire to make Luke think he's the smart one after Kate enrolls in night school.
Executive Wife
After Kate accepts an offer to commercialize her homemade piccalilli, Luke and Gramps are unhappy because they will no longer be the breadwinners.
Pepino McCoy
When Pepino secretly takes a night job to financially help the McCoy family, they feel he has failed them by sleeping during the day instead of doing his chores.
Father and Son Day
When Little Luke and Grampa jump to conclusions about who's teaming with whom for the Grange picnic games, embarrassment ensues...until Little Luke sets things straight.
Farmer or Scientist
When he finds out that Little Luke is taking a science course at school and has no interest in being a farmer, Grampa decides it's time to take action.
The New Librarian
After George cancels their usual date to play checkers, Grampa steps in to thwart the budding romance between George and the new librarian.
Smothered in Love
Grampa gets disgusted and feels unneeded when the whole family begins to pamper him and won't let him do his chores. Much to his delight, they allow him to resume his duties.
Baldy
Fearing he'll go bald and lose Kate's love, Luke resorts to Al the barber's treatment advice. When Grampa learns that's why Luke has become edgy, he manages to divert Luke's attention.
The Hermit
When food items begin to disappear and coyote skins are put in its place, Grampa has Pack Rat Harry hauled into court for the crimes. But during the hearing, Grampa reverses his stance.
The Legacy
When the McCoys learn they, except for Amos, are the beneficiaries in George's will, Grampa accuses them of fawning over George. Agreeing with Grampa, Luke and Kate ask George to disinherit them.
DISC TWO
A Bundle from Japan
Luke and Grampa hire a young Japanese girl to help Kate with the chores. When the girl starts acting "too American," and begins to fight with her fiancé, Grampa steps in.
The Horse Expert
The family gets Grampa mad when they override his decision on which animal to choose for payment on a debt. Grampa doesn't get along with the animal...at first.
The City Boy
Grampa and the family argue over taking in a city boy for the summer to help with chores. After the boy abuses the privilege, Grampa decides to teach him a lesson.
The Investors
Against Luke's better judgment, Grampa and some friends invest in cousin Claude's oil well scheme. When they lose all their money, Claude repays them from his Las Vegas winnings.
If You Can't Lick 'Em
After ignoring Luke's advice, Grampa learns a valuable lesson in modern merchandising methods.
The Rival
Luke gets jealous when he receives a letter from Kate with glowing remarks about a neighbor. Grampa tries to calm Luke, but George goads him to further jealousy.
The Good Neighbor Policy
After Grampa wrecks the family car with no injuries, George and Grampa try to scam the insurance company for a payout.
You Can't Beat the Army
Grampa and Luke go through various channels to reclaim one of their cows that was unofficially "drafted" by the Army.
The Bazaar
When Luke and Grampa are arrested for promoting gambling at the PTA Charity drive, Judge Gherkin feels their method of raising money is a little unusual.
The Swedish Girl
In Kate's absence, the McCoys hire Helga, a beautiful young housekeeper. When gossip ensues, Luke is all for dismissing her, but Grampa persuades him to do otherwise.
DISC THREE
The New Sunday School Teacher
When the new pastor, Reverend Digby, calls on the McCoys, Grampa finds himself committed to teaching Sunday School class in lieu of an unpaid $25 pledge to the church.
Baseball vs. Love
Little Luke develops a crush on Helga, the Swedish house keeper hired while Kate is away. It may seem a little juvenile, but it creates an adult problem with her boyfriend.
Theatre in the Barn
During the annual Grange play held in the McCoy barn, George gets the lead role opposite Fay Wray. Grampa jealously plans an unusual revenge...which doesn't come off as he planned.
George Retires
Grampa decides drastic actions is called fro when George declares he has put his farm on the market and is leaving with his sister Flora on a world cruise.
Pepino's Wedding
After volunteering to pay for Pepino's wedding, Grampa learns the bride wants all the "bells and whistles." When freeloaders add to the bill, Grampa's generosity comes to a screeching halt.
Sorority Girl
Because Hassie is ashamed of her home and family, Grampa hosts a cook-out to help Hassie win election into a high-school sorority.
Kate Comes Home
Kate returns home after a lengthy absence to Grampa's delight. Kate resumes some of her household duties and covers for Hassie, who is assigned the job of cooking.
Money in the Bank
The McCoys decide to deposit their money into a bank instead of keeping it in a cookie jar. When Grampa is chosen to make the deposit, his reluctance to do so almost costs them everything.
A Man of Influence
With larceny in their hearts, the Civic Improvement Committee invites Grampa to join them in a real estate deal. But Grampa double-crosses them and pulls a neat bit of petty larceny himself.
Back to West Virginny
Grampa, Luke and Kate help Grandma McCoy celebrate her 100th birthday, but fear their gifts may seem cheap compared to other "more affluent" family members.
DISC FOUR
Fly Away Home
Grampa's stubbornness holds up a deal to expand the paper box plant which employs many of the West Virginia McCoys. His relatives forgive him for jeopardizing their jobs when he finally seals the deal.
September Song
Grampa, visiting his ancestral home in Smokey Corners, tries to recapture his youth when he meets Mary Turner, but learns it takes more than hair dye.
Kate's Competition
Grampa barges into the middle of an argument between Luke and Kate when Luke compliments Alice Carter, a new neighbor.
Lost and Found
Gramps feels sure he has witnessed a miracle when $200 falls to his feet from out of the sky. Later, he's happy he followed the judgment of Luke and Kate and reported his find to the police.
First Love
Little Luke becomes very conceited and a braggart when the girls at school give him a big rush. Grampa and the family decide he needs to learn a lesson.
Hassie's European Trip
Grampa has his doubts when a wealthy neighbor offers to send Hassie abroad as a traveling companion for his granddaughter, but allows Luke and Kate to talk him out of his fears.
How To Win Friends
Grampa, Kate and the postman try to instill self-confidence in Luke, but soon regret their actions. Fortunately, Luke realizes how far off course he has gone.
The Matador
A famous matador visits the McCoy farm and offers to teach his cousin, Pepino, the bull fighting business. At first Grampa and Luke encourage Pepino, but things aren't what they seem.
George's Housekeeper
When George's sister goes away, his house is overflowing with dirty dishes. Grampa suggests hiring a housekeeper, but things get out of hand when George wants to marry her.
The DVDs:
The Video:
As with the first season of The Real McCoys I reviewed, these full-screen, 1.33:1 video transfers may be "digitally remastered," and look quite good considering the quality of the original materials used, but they're still not the original, unedited 26-minute-and-change network versions that collectors and fans of the show really want--regardless of their image quality. These are the syndicated versions that run a little over 22 minutes, and for many collectors, that's a deal-breaker. No compression issues were spotted.
The Audio:
The Dolby Digital English mono audio tracks were undistinguished, with muddy sound at times, not helped by the lack of subtitles or close-captions.
The Extras:
There are no extras for The Real McCoys: Complete Season 4.
Final Thoughts:
These edited, syndicated episodes will give collectors pause. Casual fans of the series and vintage television might see past that serious drawback to this Infinity release, and try and enjoy what's left here. What is left is quite good (although not as cohesive a season as the first one, particularly with Kathy Nolan M.I.A. during the middle of the run), with some episodes featuring Walter Brennan as good as they come in the series. I'm cautiously recommending The Real McCoys: Complete Season 4 only for casual viewers who won't be upset by the edited, syndicated versions here; serious fans should hold out for the original network versions.
---
Paul Mavis is an internationally published film and television historian, a member of the Online Film Critics Society, and the author of The Espionage Filmography.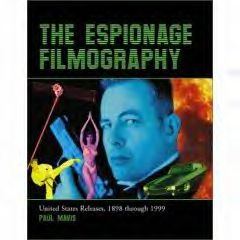 ---
C O N T E N T

---
V I D E O

---
A U D I O

---
E X T R A S

---
R E P L A Y

---
A D V I C E
Recommended
---
E - M A I L
this review to a friend
Sponsored Links
Sponsored Links