Bing Crosby - The Television Specials: Volume One
List Price: $29.98 [Buy now and save at Amazon]
---
Positively therapeutic, dad--one of my favorite vintage TV releases so far this year. From Infinity's Legends of Entertainment series comes Bing Crosby - The Television Specials: Volume One (I like that hopeful tone of "Volume One"), featuring four of Der Bingle's musical specials from the 1950s through 1970. Guest stars include Frank Sinatra, Peggy Lee, Dean Martin, Jack Benny, Louis Armstrong, Edie Adams, Bernadette Peters, Sheree North, Flip Wilson, the Smothers Brothers, and of course, fellow Road traveler, Bob Hope, who cruise along with the Old Groaner to the wild sounds of George Shearing, Paul Smith, Joe Bushkin, Buddy Cole, and the Pete Fountain Quartet, among others. If you were around back when Bing did his annual TV specials (he produced and starred in 30 of them between 1954 and 1977), you'll remember then that they were pretty much "required" viewing back when parents and grandparents controlled the dial (TVs had dials then. Ask around). Seeing this fascinating selection of his specials work (including his first-ever, from 1954), gives you not only a terrific smattering of Crosby's and his guests' vocal stylings, but also an overview of how TV musical specials evolved visually and thematically over this 16-year period--an invaluable tool for historians. Several nice bonuses are included in this attractive set, which is absolutely essential viewing for anyone interested in vintage American television, as well as for jazz and pop music aficionados. Let's look very briefly at each show.
The Bing Crosby Show (January 3rd, 1954)
Making his TV special debut here in this crisply photographed outing (shot on creamy black and white 35mm film as opposed to the usual live TV broadcast that would have been kinescoped on 16mm for repeats), Crosby, ever the savvy businessman, shows his watchful, careful approach to the new medium by coming late to the party after most of the bugs had been shaken out (by 1954, most of his big contemporaries had already dipped their toes in the network waters), and by not overstaying his welcome (the show is tight at 25 minutes and change). Indeed, Crosby made the wise decision to limit his own personal appearances on network TV to these annual outings and guest appearances on other variety shows, knowing full well that TV had a voracious appetite for material that could bleed dry a low-key performer like himself if he showed up in people's homes every week, for nine months out of the year (something he forgot when he failed with his own network sitcom, also titled The Bing Crosby Show, in 1962).
Everything about this debut is played safe, and why shouldn't it have been, considering Crosby was probably at the very apex of career in 1954 (that year's number one film, Bing's White Christmas, would gross the equivalent of over 250 million dollars at the box office today...back when a dollar really bought something). Why risk something novel or inventive in approach or design, and have it backfire, scotching further ventures on a medium that was rapidly asserting itself at the forefront of American popular culture? In 1954, people wanted to hear Bing sing, and that's precisely what he gives them here. No big fuss or bother: an opening monologue (complete with canned laugh track, perhaps previously recorded on one of Bing's revolutionary AMPEX recorders?), a few simple numbers, a little bit of comedy patter with Jack Benny (CBS's number one comedy star at the time), and off the stage. Crosby's opening western swingish Y'all Come certainly is catchy and fun (it manages to sound both condescending and cool at the same time), with a tiny bit of Oklahoma flavor thrown in as cowboys and cowgirls come to square dance in front of the deliberately phony-looking backdrop. It Had To Be You is straightforward crooning Crosby, leaning against Buddy Cole's piano as he melts through vocals, before Cole starts to jazz things up, with Bing following along with an appreciative grin. Master of the double and triple take Jack Benny has a funny little bit with Bing and Jack's new flame, "Crystal Fog" (Sheree North does a wild, sexy dance, with Bing offering, "I hope we get a couple of good seats in the wagon," as proof), before Benny tells Sheree, "Bing doesn't sell like he used to." (watch Benny's absolutely paralyzingly funny backward glance at offender Bing--a master). Bing's Changing Partners is pleasant, but not particular memorable. Only Bing's final number, Cole Porter's I Love Paris, plays a bit off, with Bing seeming to fight John Trotter's arrangement of the big, insistent horns. Not at all an original piece of work, this first network special for Bing nevertheless showcased his usual measure of absolute control (and perfectionism) over his product.
The Bing Crosby Show (September 29th, 1959)
This Oldsmobile-sponsored special, Bing's sixth network outing, is certainly the stand-out entry for music lovers and jazz enthusiasts here on the Bing Crosby - The Television Specials: Volume One set, featuring bona fide legends Crosby, Frank Sinatra, Peggy Lee, and Louis Armstrong in the same room. Set on glittering, abstract, minimalist sets (complete with expressionist mobiles, hanging glass baubles, and see-through Lucite® chairs) and shot on "hotter," more "realistic"-looking videotape, this particular Bing Crosby Show looks like it was filmed on Mars compared to the square, conservative, straight-ahead, I Love Lucy-looking special from 1954. Hep coolness now rules the roost, with the men martini-dapper in their tuxes and Peggy Lee form-fitted out like Mae West. The special starts out on a tentative note, though, with the principles seeming a tad uncomfortable with the opening staging of I'm Glad We're Not Young Anymore (maybe they just didn't appreciate the deeper implications of the bantering lyrics), before everyone starts warming up, with Bing's Looking At The World Through Rose-Colored Glasses, Sinatra's Willow Weep For Me, and a sultry Peggy Lee's Baubles, Bangles and Beads all hitting their prescribed marks. Sinatra and Crosby have a long, funny interlude next, where they discuss among other things, Palm Springs and cheap motels ("Do I know motels!" exclaims a delighted Sinatra). Watching the Chairman of the Board, though, going up against the original Ol' Blue Eyes, there's no doubt that the Crooner who started the Voice on his own path to fame, is effortlessly more gifted in genial hep-cat patter and comedic phrasing than his younger protégé. It's a shame Bing couldn't have come along at a different time in movies when his comedy could have been even looser and more ad-libbed than what he was required to do in his studio films--his timing and verbal playfulness are exquisite.
The show moves to a new high with the I Love A Piano number, where three huge white grand pianos (with clear Lucite® tops) wait for the singers. Peggy Lee cruises along with George Shearing on the keys to his own Lullaby of Birdland (that cat is amazing), with Sinatra then segueing into The One I Love (Belongs To Somebody Else), cracking up cool jazz pianist Paul Smith with a gravelly, "Yeaaaaaaah, Paul!" Only Bing seems to be pleasantly startled by Joe Bushkin's aggressive take on Bing's radio theme, Where The Blue Of The Night (Meets The Gold Of The Day), with Bing looking almost like he wants him to slow down just a mite. But he soon gives up and encourages Bushkin with a, "Aw, whip it! before he asks real friendly at the end, "Anybody hurt?" to the enthusiastic banger of the ivories. Then it's time for Satchmo's solo, where he lays into the popular Mack The Knife, giving Bobby Darrin a run for his money, before a spoofy beatnik dance interlude--Cool Fairy Tales: Cinderella or If The Shoe Fits...SWING-- commences, with Lee and Crosby having at '59's Beats with the clever, witty Too Neat To Be A Beatnik, Too Round To Be A Square (is there anything in the world more gorgeous than a lithe, long-legged dancer? Bing sure likes his here...). Bing steps in with Armstrong, and the show really takes off, with Basin Street Blues, Everybody Loves My Baby, Johnny Mercer's and Hoagy Carmichael's standard, Lazybones (my favorite moment here in the set--watch the contrast and beautiful chemistry between the two performers), and Them There Eyes all given lush, jazzy workouts. Sophie Tucker's Some Of These Days is delicious in Lee's interpretation, but frankly, Frank seems to be dogging it with a lazy If I Could Be With You, before he manages to drop a line to Lee in Carmichael's and Arodin's standard, (Up A) Lazy River. Bing's and Lee's (We're Gonna Be In) High Society is spirited, while Satchmo's theme, Sleepy Time Down South is cut off far too soon, before the special winds down with all four going out on Now You Has Jazz (again from Cole Porter's High Society). The height of jazzy sophistication for 1959 network television, from writer William Morrow, director Bill Colleran, musical director Axel Stordahl, song writers Sammy Cahn and James Van Heusen, choreographer Tom Hansen, and art director Jim Trittipo.
The Bing Crosby Show (May 14th, 1962)
Changing gears from the sophisticated abstractness of the 1959 special, this Bing Crosby Show special returns to a more conventional variety show format, embodying almost a sitcomy feel with its emphasis on homey leisure activities as the unifying theme linking the musical numbers. Certainly the addition of Road partner Bob Hope, as well as son Gary, lends an air of "old home week" to the sprightly, fun proceedings, but in this outing, comedy holds almost as much sway as the music. The show opens promisingly with an expressionistic approximation of a human "film factory" which morphs into, once the weekend arrives, sun revelers on the beach. The lyrics to West Side Story's America are changed to encompass a witty rundown of American's fervor for pursuing happiness in their spare time, with Bing crooning some prophetic lines about "credit cards and bank accounts crashing in A-mer-i-ca!" Hope stays low-key, and guest Edie Adams is cute and spunky, but as usual with Gary Crosby, he sinks the whole deal with his flat, too-husky tone and stiff delivery (with a chip-on-his-shoulder attitude which is remarkably unattractive). Probably the section that will interest most fans is Crosby's and Hope's "ad-libs" (scripted, for the most part) over a selection of stills from their Road pictures, with their latest (and last) effort, The Road to Hong Kong, liberally plugged. It's slow-going at first, with Hope exhibiting that "gotta dash" demeanor that crept up into more and more of his TV appearances in the 1960s and 1970s (Hope has that 1,000-yard stare with one eye on the cue cards and the other on the stage door exit), but once the aging boys start to crack each other up, a lot of years melt away as they harmonize on a Road medley, including You Lucky People, You / Moonlight Becomes You / (We're Off On The) Road to Morocco / Personality / But Beautiful. Hope scores the best lines, from stating over a two shot of them, "There they are: the stars of Route 66," to "We better not be on the Road to Israel," when they show a picture of the two in Arab garb. But Crosby can hold his own with just a sly laugh and an implication: when they put up a shot of the two of them in bed together, Crosby exclaims, "What have we here?!" and Hope breaks up. The team seals the deal with this nostalgic return back in time with a nicely turned-out rendition of Team Work.
The sexy Edie Adams gets the big push with a splashy production of I Need Some Night Life (lucky Ernie Kovacs), while Bing alternates with a simple starry set as he sings the pretty Let's Not Be Sensible. Pete Fountain and his Quartet are lowered down by platform and four thin cables, precariously hovering over the stage (god knows why) for a blistering version of I Got Rhythm before they're hoisted up again as Bing and Gary try to harmonize on Play a Simple Melody. The special's final segment takes place at "Camp Carefree," where our four performers are camp counselors (complete with beanies). Hope gets in a funny monologue about the camp's services ("And remember, everybody: we're here to take care of you. If you're nervous, we have a camp psychiatrist. A toothache? We've got a dentist. And if you get into any really serious trouble, we have a direct line to Richard Burton."), and the Smothers Brothers, in one of their early TV appearances, do a little funny bit about Tommy falling into a vat of chocolate (that has nothing to do with the show's theme), before the group takes the special home with a lively version of Zing A Little Zong. An altogether homey, conventional TV musical variety special, perfectly encapsulating the mood of 1962 network TV at that time.
Bing Crosby: Cooling It (April 13th, 1970)
With the final special in the Bing Crosby - The Television Specials: Volume One set, Bing Crosby: Cooling It, we get an altogether fascinating (sometimes for the good; sometimes for the truly horrible) combination of the 1959 and 1962 specials, marrying a willingness to experiment with the look of the piece--by all rights, they should have called it, Bing Crosby: Chroma Keying It--while incorporating standard, and by 1970, sometimes clichéd elements of the network musical variety special. Certainly there appears to be a concerted effort to bring Crosby into the Age of Aquarius, what with all the talk about the future and a "new world" coming, along with all the chroma keyed daisies and balloons and Peter Max-looking graphics (by way of The Electric Company). But just as obvious, there's the influence of the network present, too, with the appearance of comatose Dean Martin in a caveman wig (...and a turtleneck and action-wear slacks???), and Flip Wilson doing his "Geraldine" shtick. It's a fascinating dichotomy which screams "1970," making Bing Crosby: Cooling It a must-see for lovers of the bizarre in terms of network programming.
Leisure time again is the theme this go-around (just like the 1962 special), but now it's mechanized and impersonal, as embodied in the opening sequence, featuring Cooling It (which could be an anthem for Crosby's carefree, laid-back style) and a background full of dancers dressed like something that's going to show up in Kubrick's A Clockwork Orange. As the song continues, we get a glimpse into the creation of the world (Wilson is God, bouncing the Earth like a basketball, while caveman Dino Hai Karates Bernadette Peters over the head with a club). The chroma keying is quite nice, but the inserts of the "comedic" bits, if you can call them that, remind one why Laugh-In lasted about two minutes in the collective conscious of American pop culture (when Martin as Gutenberg smashes the first printing press because it will lead to Jacqueline Susann novels...and patches it right back up again when he learns about Playboy, nobody gets that they're the same side of the coin). In another weird sop to standard variety special vibes, Crosby sings the ubiquitous Raindrops Keep Falling On My Head while Crosby-as-Red-Skelton's-hobo-character is chroma keyed behind him. What does that have to do with leisure activities? Bernadette Peters gets to mumble a Sondheim-Light Self-Improvement (the chroma key is so off-putting that when you see her giant Easter Island head behind her normal-sized body, it looks like she's going to eat herself when she hits a high-C). Flip Wilson does an uncomfortable monologue that also has nothing to do with leisure time (he held sway with the public for about as long as Laugh-In did). A kinda-sweet, kinda-maudlin Turn Around with Bing and Peters follows (she's his little girl, all grown up), before "Geraldine" shows up to slay Bing and amuse not-caring Dino. A truly appalling medley with Dino and Bing follows (Bing intros Dino as "the Prince of Leisure, the Lord of Lethargy, the Sultan of the Supine, the Duke of Drowsy"), where they stumble through Breezin' Along With The Breeze / Give Me The Simple Life / Bidin' My Time / Lazy Day / Gone Fishin' / (Up A) Lazy River / Enjoy Yourself (It's Later Than You Think), before Bing tries for a little contemporary harmonizing with the tumultuous world of 1970, warbling Cass Elliott's New World Coming. Probably the most entertaining entry in the Bing Crosby - The Television Specials: Volume One--and for all the wrong (and oh so right) reasons.
The DVDs:
The Video:
Video fidelity varies from special to special, with the first entry obviously the best looking with that silky black and white 35mm print (which looks flawless), while the Cooling It special looks the best among the video-shot transfers (the Crosby estate obviously took care of their materials). The other two specials have their problems associated with older video elements, including contrasty pictures and video noise, but anyone interested in vintage TV won't be disappointed by these serviceable full-screen, 1.33:1 transfers.
The Audio:
The Dolby Digital English split mono audio track is adequate for the job (the recording level is decent), with a minimum of hiss...but that's all. No subtitles or close captions.
The Extras:
On disc one, The Christophers: Faith, Hope and Hogan, from 1952 and running 27:34, is an episode of the weekly syndicated Christophers inspirational television program, hosted by Father James Keller. Bing sings One Little Candle, and Bob Hope, Phil Harris and golfer Ben Hogan show up. Running 5:54 and shot in good color, a 1953 excerpt of The Jimmy Demaret Show is included here, with Der Bingle talking about his great passion: golf. This is Bing's first color television appearance, according to the DVD's pamphlet. Finally, running at 4:23, the KGMB-TV Honolulu Airport Interview, from 1962, is included, with Bing wrangling some his young kids, and stating High Society is his favorite film.
On disc two, a Thermo-Fax commercial from 1964 is included, running 1:29, which has Bing singing (literally) the praises of the new 3M copy machine. And finally, Girl Talk, from May, 1967, is included here, running 23:17, featuring a rare, lengthy interview Bing consented to for Australian television personality, Hazel Phillips. Cool glimpses of Bing's home in Hillsborough, California. The best moment? Bing immediately says, "What am I doing on show called Girl Talk?"
Final Thoughts:
Vintage TV isn't just endless reruns of Leave It To Beaver (as much as we may wish it was). We want to see all the other kinds of TV that used to fill up the black and white airwaves back when the Big Three ruled the dial, too. Bing Crosby - The Television Specials: Volume One is a terrific resource for historians and enthusiasts of that period of television, but more importantly, it's an invaluable record of one of--if not the--greatest singer of the 20th century working through our American Songbook and consistently knocking those beautiful melodies right out of the park. If only Infinity could have included the original commercial breaks, as well. One of my favorite releases so far this year. I highly, highly recommend Bing Crosby - The Television Specials: Volume One.
---
Paul Mavis is an internationally published film and television historian, a member of the Online Film Critics Society, and the author of The Espionage Filmography .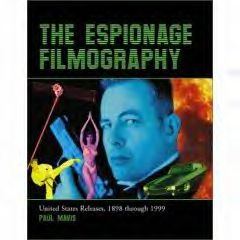 ---
C O N T E N T

---
V I D E O

---
A U D I O

---
E X T R A S

---
R E P L A Y

---
A D V I C E
Highly Recommended
---
E - M A I L
this review to a friend
Sponsored Links
Sponsored Links