All in the Family: The Complete Seventh Season
List Price: $29.93 [Buy now and save at Amazon]
---
A once-groundbreaking series, now in a holding pattern. Coming out over three long years after Sony released Season Six on disc (and then summarily dumped the rest due, reportedly, to low sales), Shout! Factory, the Indiana Jones of long-lost DVD series, rescues television's greatest sitcom with All in the Family: The Complete Seventh Season, a 3-disc, 25-episode set that finds the Bunker household pretty much as it was the previous season...and that's not the best news for a show known for pushing boundaries. Zero extras, but the video looks surprisingly good.
Can there really be people out there who don't know about the Bunkers? Sadly, I would say that's more and more likely, since the series was never a major presence in syndication (perhaps because it was too topical and "of its time"?). So here's a little background for those who don't know the set-up. 704 Hauser Street, Astoria, Queens, New York, 1976. All-American bigot Archie Bunker (Carroll O'Connor) looks about the world and simply can not understand what has happened. Besieged by the real horrors of life in 1970s New York City (crime, inflation, overcrowding, no job security, the breakdown of civility), and the imagined ones of his prejudices (anyone who isn't exactly like him in gender, race, religion, political and esthetic outlook is a threat), Archie is in a perpetual slow-burning fire of anxiety and quick-to-surface impotent rage. His "dingbat" wife, Edith (Jean Stapleton), is the soul of kindness and understanding...when she does manage to understand what's going on around her. At first totally subservient to her husband, Edith has grown to the point where she now works on her own, and where she can stand up to Archie whenever his actions or opinions become too outrageous even for her Christian allowances. The Bunkers' daughter, Gloria (Sally Struthers), the mother of one-year-old son (and beloved grandson of Edith's and Archie's), Joey, lives right next door to the Bunkers in their old neighbors the Jeffersons' home. Gloria's ultra-liberal husband, Mike "Meathead" Stivic (Rob Reiner), once the argumentative bane of Archie's existence when the couple lived with the Bunkers, is now a college professor, experiencing with Gloria all of the usual tribulations associated with young marrieds living on their own.
SPOILERS ALERT WARNING!
This is how I briefly summed up the mega-ton impact All in the Family had on television and society during the early 1970s, when I reviewed Season Six almost four years ago:
"Today's viewers can watch All in the Family and still marvel at the power and humor of TV's greatest situation comedy, but you may have had to experience the show first-hand, during its original run in the 1970s, to fully understand the cultural shockwaves it sent through America when it premiered. The last of the "Big Three" network series to truly engage the majority of the TV viewing audience, All in the Family electrified a nation of tube watchers who only had three channels to choose from, and who had not the faintest inkling that one day, instead of cancelling plans and staying in front of the box, they could just tape a show like All in the Family. "Electrified" is not too strong a word to use for All in the Family's impact on American audiences. I can remember quite clearly evenings where relatives or friends would stop by to watch the show (it was "event" television before that phrase existed), with the resulting loud discussions almost drowning out the dialogue--when does that happen today? And no matter where you went the next day, if chitchat presented itself, it would invariably involve the latest outrageous sayings of Archie Bunker. Newer viewers have described Seinfeld as the ultimate "water cooler" show, but it didn't come close to the influence that All in the Family had on viewers, educators, politicians, organized religion, and just about every other group you can name. Everybody watched All in the Family at some point during the 1970s; it was the most talked about, written about, argued about, championed and vilified show that American television had ever known. And now, with the explosion of cable, DVDs, and the internet, when entertainment consumers have more choices for their viewing material than they could possibly have time to sample, let alone rally behind as the country did with All in the Family, it's highly unlikely that any television show will ever again attain that cultural reach."
...which is all fine and good...for the earlier seasons of the show. By this seventh go-around, however, All in the Family--still frequently hilarious, still meaningful many times--had ceased to be a show that stood as a taboo-breaker, an envelope-pusher. What "shocks" it still conjured up (Archie's prejudices, of course, and one or two so-called "controversial" themes this year), had long-since been assimilated into the general pop culture. All in the Family was, at least in this seventh season, a victim of its own success. So thoroughly had it helped change the landscape of television, and so monumental had that shift been, there was no way it could possibly continue to be a revolutionary force with the same impact it had those first two or three seasons. It had, in a word, "mellowed," as was evident in the sixth season. In my earlier review, I discussed the removal of Mike and Gloria from the pressure-cooker atmosphere of the Bunker house, and the inward-turning nature of the stories (leaving assaults on broader sociological and political themes behind), both of which necessarily "softened" the show.
The same is true in this seventh season, but even more so, since these 25 episodes refuse to build or expand upon the change in dynamic that came with the Stivics moving out of the Bunkers' home during the previous 1975-1976 season. In essence, it's just "more of the same" for the seventh...except that we don't even have the jolt of seeing Mike and Gloria move out. What was the point of having the Stivics leave the Bunkers, if nothing was going to happen to them? Of course, we get a handful or less of episodes that focus on their marriage, but with the exception of Gloria's False Alarm, where Mike gets a vasectomy, they're all pretty standard variations on sitcom trials and tribulations of young marrieds (and even that "controversial" episode ends on a most distressingly hum-drum note). Where is Mike going as a professor? How does his newfound freedom from Archie change his view of his father-in-law? We don't know. Even worse is the treatment of Gloria. I could be wrong, but I'm not sure it's ever mentioned whether or not Gloria works, so...what does she do over at the house all day? What's her life like now, living away from her beloved mother? We don't know. Yes, Mike and Gloria stop by occasionally to rile Archie, but it's an obvious screenwriter trick that was getting stale the previous season (the producers try to recreate this dynamic by inserting Puerto Rican nurse Teresa, played by Liz Torres, as a boarder at the Bunkers. It fails spectacularly). Without the Stivics at home, it's harder to get Archie ticked off, and with the Stivics away, they have to be away for some reason--a reason that is never exploited this season.
Worryingly, far too much of this seventh season of All in the Family plays as either entirely too familiar, or as a half-hearted version of its former self. The ability of the show to shock is gone, which very well may have been inevitable for a series in its seventh year, but when it tries to cover the same tracks it did before with noticeably lesser results, it makes the viewer focus more on the slippage, and less on what actually is there. For example, female impersonator Beverly Lasalle (Lori Shannon), who created such a memorable impression the season before in Archie the Hero, comes back in Beverly Rides Again, but to almost no effect. The joke was already played out the first time. As mentioned above, the Teresa character is just a clumsy attempt to insert an irritant into the Bunker household for Archie to bounce off of, but it quickly degenerates into jokes about mispronounced words and slamming bedroom door farce. And worse, episodes like Archie's Dog Day Afternoon (where he hits neighbor Barney's dog), Fire (a standard "Archie tries to pull a fast one on the system and gets creamed in the bargain" episode we've seen too many times before), and Mike and Gloria Split (Gloria thinks she's dumb...because Mike treats her that way), all play like episodes from other sitcoms, with a déjà vu feeling that further sets back All in the Family's cutting edge rep.
Even when this season deliberately tries to engage the viewer with "touchy" subject matter, the episodes often pull up short in comparison to the series' glory days. The season opener, Archie's Brief Encounter, which originally aired as a special one-hour episode (split up into three episodes later in syndication), should have been a real barn burner, with the newly blossoming Edith sending off fireworks after discovering Archie almost commits adultery. Unfortunately, what could have been a major shift in their relationship, is brushed away most inconsequentially, with even Mike and Gloria immediately making excuses for Archie's behavior (when did that ever happen before?), and Edith requiring nothing more from Archie than his protestations of his love for her to make everything all right. Yes, Edith does come to understand she can depend on herself now, instead of just Archie, but the viewer senses no "weight" to the episode, no truly seismic change in the Archie/Edith dynamic, when it so obviously should have, considering Edith's fierce loyalty to Archie, and Archie's often-stated disdain for loosening American morals. It's a missed opportunity to really shake up the series, or at least show these two characters experiencing a potentially devastating emotional event. The next two-part story arc, The Unemployment Story, not only echoes earlier, better episodes where Archie is laid off, it then sets up an interesting comment on the times--Archie, getting too old to land a new job, is still better qualified with no skills than an over-educated applicant--only to scuttle it in a completely nonsensical way: Archie is not only called back to work, but he gets a promotion to boot (with no set-up for this remarkable turn of events, and no further mention of Archie's elevated status, either, since it's mentioned in other episodes that he still has to drive a cab at nights). Mike and Gloria's Will continues the series' trend of looking inward at the couples' dynamics for stories--Mike and Gloria don't trust leaving Joey to Archie should they die--but it concludes by not concluding (they refuse to make a final decision), obviously signaling that the scripters couldn't figure out how to resolve this potential deal-breaker between the Bunkers and the Stivics. Even Archie, The Liberal plays thoroughly familiar, with the viewer already way ahead of the episode since we've seen the "smart, intelligent African-American/Jew/Asian/Hispanic turns the tables on ol' Archie" storyline countless times already. Only The Draft Dodger truly reminded me of the series at its height, with a discussion-worthy storyline about a Canadian draft-dodger eating Christmas dinner with the Bunkers, that produced crackling dialogue and an impassioned, explosive performance by O'Connor (interestingly, that's the only episode from this particular season I clearly remembered, prior to watching the discs. It's a beautifully sad, angry episode, with good performances by Eugene Roche and Renny Temple).
Looking back over what I've written so far, it sounds overly negative, but that's only in context to what the show used to be able to pull off; it's important to remember that despite the inevitable softening of the series, All in the Family at this juncture in 1976 is still a superior sitcom--and much of why it works lies more and more with the personal appeal and expert comedic delivery of Carroll O'Connor. The easiest (and most reliable) jokes the scripters pull out for Archie are his constant malapropisms, and as a kid who grew up on The Bowery Boys's Leo Gorcey, I can remember they were my favorite moments in the show when I would try and figure out just exactly what Archie was trying to say (my Dad, when he could catch his breath from laughing, would help explain). With gags like, "The sexual act was never constipated," "mental-pause and hot flushes," "beaurocraps," "I was impudent," "colored shemaglobins," and "Geronimous zones and floor play," O'Connor garbles and rushes through the words like an uneducated man who knows he's probably not getting the words right, creating a recognizable "shtick" for Archie that gets a belly laugh every single time. And of course, the racist jokes fly thick and heavy, too, although one notices that the coarser epitaphs (particularly for African-Americans and Jews) are all gone now, replaced by the more frequently used "chinks," "fruits," and "dagos," and all of which work because O'Connor delivers them without a trace of self-consciousness. Of course, some modern audiences are going to recoil from this kind of language coming from a white male character (although no complaints usually come for black or latino or gay comics using racial or gender-based humor), but 1976 was still a time in America where humor was an equal-opportunity offender; the strictures of hypocritical, self-censoring double-standard P.C. nonsense hadn't filtered down yet into the popular culture. O'Connor's facility with bizarre, violent imagery jokes only improves here, too; watching him describe smashing a beautiful butterfly and stuffing it in his pocket (so little Joey could enjoy him), or describing a cat wetting in his boss' toupee, or threatening to ball-up a cat, "nails out," to throw at Barney's dog, you can see the relish O'Connor has for these outrageous moments. After all, who else on 1976 TV could get away with gags like those, and still remain sympathetic to the audience?
As with many accomplished comedic actors, O'Connor is equally adept at his dramatic scenes (a truism that doesn't always apply in the reverse), and again, some of the strongest moments in this seventh season of All in the Family come during O'Connor's quietest, most emotional scenes. Watch O'Connor's face cloud over in self-realization when the young Hispanic kid tells him nobody cares anymore about immorality in Archie's Brief Encounter. Or see the look of stinging pain when he realizes his daughter doesn't want him raising her child in Mike and Gloria's Will. His sputtering rage when he declares he doesn't want to hear anything more about that "rotten damn war" Vietnam, in The Draft Dodger, is electrifying (particularly when it shows Archie's realization that the war he originally supported had devastating consequences), while in Archie's Chair, his soft reminiscences about the passage of time and the life he's led, all the while sitting in his favorite, decrepit armchair, are heartbreaking. And one of his finest moments in the entire series comes this season, in the sad/funny Stretch Cunningham, Goodbye, where the scripters pull out every hilarious faux pas imaginable for Archie to commit at a synagogue, before they have him tenderly say, "Shalom," to his friend. It's a masterful performance. Watching O'Connor, and his equally talented co-stars, it's not surprising that even though the quality of the series fluctuated from season to season, the combined 13-year run of the character (when you factor in Archie Bunker's Place) was welcomed with some of the highest sustained ratings in television history.
Speaking of ratings, unfortunately, this seventh season of All in the Family saw the series perilously nose-dive from its previous number 1 slot in the Nielsen's (the first TV series to have a five-year consecutive run at the top), all the way down to 12th for the 1976-1977 year. Certainly CBS's decision to move it again, this time to Wednesday nights, was a disaster in the making. Going directly against the dependable NBC Wednesday Night Movie and ABC's killer Baretta (9th for the year), which benefited from 14th-rated The Bionic Woman as a lead-in, All in the Family was staggered in the weekly ratings, so much so that CBS immediately moved the series again in October to Saturday nights at 9:00pm, further discombobulating loyal viewers who couldn't find the show. Fading-fast lead-ins The Mary Tyler Moore Show and The Bob Newhart Show didn't help much, nor later lead-out The Carol Burnett Show, all of which fell out of the Nielsen Top Thirty this season. Fortunately, CBS would finally figure out what they originally knew all along: All in the Family needed a stable timeslot. Its subsequent Sunday night slot proved fortuitous, springing All in the Family back into Nielsen Top Ten glory.
Here are the 25 episodes of the 3-disc set, All in the Family: The Complete Seventh Season, as described on the enclosed episode guide:
DISC ONE
Archie's Brief Encounter, Part 1
Edith leaves Archie when she finds out he dated a flirtatious waitress while she was volunteering at the Sunshine Home.
Archie's Brief Encounter, Part 2
Archie concocts a story to cover up what happened with Denise, but Edith only grows more suspicious.
Archie's Brief Encounter, Part 3
Edith forgives Archie's indiscretion after Mike and Gloria bring the two together for an emotional reunion.
The Unemployment Story, Part 1
Archie's self-esteem takes a beating when he loses his job on the loading dock.
The Unemployment Story, Part 2
A college grad threatens to commit suicide after he loses a janitor's job to Archie.
Archie's Operation, Part 1
Archie's trip to the hospital is an ethnic nightmare. He's admitted by a Puerto Rican receptionist, treated by a Jewish physician and is forced to accept a blood transfusion from a black doctor.
Archie's Operation, Part 2
Archie recuperates in record time after he's called back to work--with a raise and a promotion.
Beverly Rides Again
As a practical joke, Archie fixes up one of his drinking buddies with female impersonator Beverly La Salle.
DISC TWO
Teresa Moves In
The Bunkers take in a boarder to help revive their battered budget, but Archie disapproves of having a Puerto Rican move in and cook dinner for himself, Edith, and Gloria.
Mike and Gloria's Will
Archie and Edith are hurt when they discover that Mike and Gloria aren't leaving them custody of Joey in their will.
Mr. Edith Bunker
Edith saves a man's life and becomes the toast of the town, but Archie isn't happy standing in the shadow of her limelight.
Archie's Secret Passion
Edith discovers Archie once had a brief encounter with an old high school friend she's invited to dinner.
The Baby Contest
Archie enters Joey in a newspaper's beautiful baby contest, against the express wishes of Mike and Gloria.
Gloria's False Alarm
Gloria insists that Mike get the vasectomy he's talked about for years.
The Draft Dodger
Mike brings his friend, a draft dodger, to Christmas dinner unbeknownst to Archie.
The Boarder Patrol
Returning home unexpectedly, Archie and Edith surprise a scantily clad Teresa and her boyfriend.
DISC THREE
Archie's Chair
Mike accidentally breaks Archie's chair.
Mike Goes Skiing
Mike asserts his independence by leaving Gloria behind while he joins his friends on a weekend skiing trip.
Stretch Cunningham, Goodbye
Archie reluctantly agrees to deliver Stretch Cunningham's eulogy, unaware that his departed friend was Jewish.
The Joys of Sex
Both Gloria and Mike help Edith and Archie express their sexual interaction after catching Edith reading How to Be Your Husband's Mistress.
Mike, The Pacifist
Stranded in a subway train with different personalities, Mike is shocked when he punches a man for the very first time in his life after the man pushes Gloria aside.
Fire
The Bunkers and Teresa wake up with their bathroom on fire! Archie expects money from the insurance company until he finds out that he's guilty of starting the fire.
Mike and Gloria Split
Archie and Mike reluctantly become roommates, which ends up in disaster.
Archie, the Liberal
When Archie and the guys at the lodge are being called bigots in the papers because their membership is all white, Archie suggests initiating a black Jewish guy.
Archie's Dog Day Afternoon
Archie must spend his afternoon at the vet when he accidentally runs over Barney's annoying--but cute--dog with his cab.
The DVD:
The Video:
Did they boost these, because they look quite good. Never a great looking show to begin with (Norman Lear's cheap-assed videography set television production values back 20 years), these full-screen, 1.33:1 transfers look very sharp, with surprisingly strong color and a nicely-contrasted value. Good improvement over the previous release.
The Audio:
The English mono audio track is transferred at a solid level, with all dialogue heard clearly. Hiss from the original elements can be heard, but it's not distracting. Close-captions are available.
The Extras:
No extras. A drag.
Final Thoughts:
Stylistically and thematically not too different from Season Six...and that ain't good. All in the Family may have dimmed the fire in its belly, with a distinctly mellow tone creeping into the proceedings, but it's still frequently hilarious--with most of that due to the amazing Carroll O'Connor. Not the strongest season by far, but still worthwhile. I'm highly recommending All in the Family: The Complete Seventh Season.
---
Paul Mavis is an internationally published film and television historian, a member of the Online Film Critics Society, and the author of The Espionage Filmography.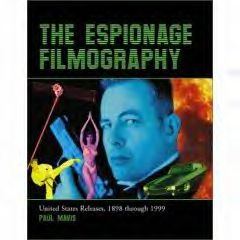 ---
C O N T E N T

---
V I D E O

---
A U D I O

---
E X T R A S

---
R E P L A Y

---
A D V I C E
Highly Recommended
---
E - M A I L
this review to a friend
Sponsored Links
Sponsored Links