Kino // Unrated // September 7, 2010
List Price: $29.95 [Buy now and save at Amazon]
---
"Life can be wonderful, like television."
Hypnotic...but baffling and ultimately, unpersuasive. Lorber Films has released Videocracy, the 2009 documentary by Swedish/Italian director Erik Gandini that looks at...I think...the incestuous relationship between Italian Prime Minister Silvio Berlusconi and the media empire he owns and controls. Gandini gets the mood right, suggesting ominous things about the cultural devaluation of Italy through "boob tube" TV aesthetics, all in the service, apparently, of fascistic politics. And for all I know, he's right. But "mood" ain't "facts," and without the most basic context and background on what the hell we're watching here, Videocracy may only be of use to regular viewers of Italian television.
Opening with a clip from a '70s late-night quiz show that the director/narrator claims was the start of the "television of the President," Gandini places this show--where women would strip if callers answered their questions correctly--as the beginning of a cultural revolution in Italy. Fast-forwarding to today, the director looks at Ricardo, a 26-year-old mechanic and lathe-operator who dreams of becoming a television star. Having latched on the dubious distinction of combining Jean-Claude Van Damme martial arts with Ricky Martin singing, Ricardo believes TV stardom automatically elevates a person to mythical status, while ensuring them a steady supply of girls. Ricardo is among hundreds of ordinary Italian people who try every day to get on the reality and game shows of Italian TV, where nudity and debased behavior in the support of keeping jaded viewers tuned in, is actively encouraged. Ricky knows, however, that he's got a tough row to hoe if he wants to make in on TV, because the velina girls have the industry sewn up. Fulfilling a very specific purpose--they never speak, and they only come out to dance provocatively and decoratively stand by the TV hosts--becoming a velina, we are told by Gandini, apparently is the occupation of choice by most young Italian women, because if a girl beats the odds and becomes one, they can eventually marry a footballer and perhaps even join the government (Prime Minister Berlusconi made one his Minister of Gender Equality).
From the velina we move to TV insider Lele Mora, an agent and personal friend of Berlusconi, who gazes lazily on the beautiful young men who lounge around his opulent grounds, explaining they all work in TV. Proudly explaining how he takes these "nobodies" and completely transforms them into TV stars, Lele also favorably compares Berlusconi to Lele's personal idol, Mussolini...although he's careful to say the two don't share the same politics. We meet a few more friends of the Prime Minister, including Marella, who takes candid photos of the Prime Minister when he parties on the island of Sardinia, as well as Flavio Briatore, a businessman who owns the notorious Billionaires' Club. Next up is Fabrizio Corona, a former paparazzi photo hound who has apparently been co-opted by the "President's television," becoming a celebrity himself through the notoriety of his extortion conviction. These are players in the insular world of Italian television.
I've never lived in Italy, so I haven't watched their television, but as any traveler can tell you, television as experienced in a different country often provides a bit of culture shock to the unsuspecting viewer who plunks down for a bit of televised relaxation. Despite the claims of content becoming homogenized and ritualized as media conglomerates consolidate more and more, TV as experienced here in America is not how TV is experienced in Italy or anywhere else, and vice versa, of course. I mention this because anyone other than a native Italian coming to Videocracy is going to need even a little bit of basic background or context on where the medium is in terms of its programs and its reach, both culturally and aesthetically, if we're going to meet the director and his themes on a semblance of an even playing field. At the beginning of the documentary, Gandini states an outsider can't understand Italian TV unless they get "inside" it. Fine. Take me in and show me what's right or wrong with it, and tell me or show me why you think Italian TV is corrupt, base propaganda aimed at deadening the souls of Italians via the transmuted erotic and materialistic fantasies of its controller, Silvio Berlusconi, for the purpose of controlling their minds.
At least I think that's what Gandini is getting at here. He may state that you have to get "inside" Italian television to understand it, but then he goes too deep, almost on a subliminal level, where we have to guess and assume at the connections we're making in our minds...with zero facts presented to back those assumptions up. For example, the director opens the documentary with that bizarre, Fellini-esque clip from that 70s talk show, claiming with great portent that "this is where it all started." Well, this is where what all started? Did Berlusconi come up with this idea, to have the lady strip during a quiz show? Or did he copy it for his own shows? How was Berlusconi involved in television at the time of this clip? How about even a year for the clip? We just don't know. And what does the term, "the television of the President" mean, exactly? Don't fudge, don't prevaricate. Tell me what you mean by the "television of the President." If I don't understand what you mean by that term, how can I orient myself within the documentary? How is this "perfect system" of television and politics dangerous, as the director states? What has it harmed? What has this system held back? How does it affect the viewers? How, indeed, is it "perfect?" And is this propaganda somehow aiding the Prime Minister? We're just never told in Videocracy. The movie seems to want to scream, "Fire! Fire!" but all I see are wisps of smoke, and fire trucks zig-zagging in all different directions.
Now don't get me wrong: I really enjoy Gandini's creepy, menacing groove that he creates with his images of Italian television juxtaposed against the equally slimy participants who manufacture it. I like how Videocracy is amorphous and strange and unspoken in its central condemnation of television as debased propaganda...at first. That dream-like noodling is cool for a while, and you can come away from the doc with some kind of ominous inkling as to what you've just seen (I love Gandini's angelic choirs when he shows jaw-droppingly gorgeous women performing delicious bumps and grinds). It's not hard to connect the dots when you discover that Berlusconi, often portrayed here in America as some sort of stereotypical clown who pinches girls' bottoms and jokes about Obama's "suntan," is in reality an extremely powerful media mogul who controls not only Italy's government, but also 90% of its television, including owning the three largest private networks, while running the state-owned channels. Naturally, an incestuous situation like that is going to lead to political campaign promos, running all the time on the "President's television," like Meno male che c'e Silvio!, where everyday Italians sing, "Thank God Silvio exists!" with a straight face (don't laugh too hard; how about those elementary kids singing about Obama?). And who can't see that there's something deeply wrong with that whole Lele Mora/gorgeous male "nobodies" he pimps/slimy hustler-turned-celebrity Fabrizio Corona connection? Anybody who knows anything about how television and politics works in America won't see anything too radically different here, so it's not vital that Gandini be pedantic and spell everything out for us during this middle section. We get that there's a seamy underbelly to all of this phony glitz because we're well aware of it with our own media/political culture.
It's when Gandini wants to fly above these obvious, accessible examples of corruption to implicate or indict Berlusconi that Videocracy becomes more supposition than proposition (or perhaps better, prosecution). Again, I'm not knocking Gandini's vision...if I'm even correct in guessing exactly what that vision is. I'm just not convinced he's made his argument concrete enough, particularly when it comes to calling out Berlusconi's role in all of this. Is Italian TV, as the director of the Italian version of Big Brother claims, merely a visual manifestation of Berlusconi's outlook on life--have fun with big-breasted women--or is there more to it than that? We never see any other examples of Italian TV in the doc, nor are we told how much of Italian TV is like that which is shown here, so it's impossible to tell. Indeed, the view from Videocracy's lens is so insular that we're never sure what reality director Gandini is illuminating. We never hear from anyone outside the loop of Italian television: no teachers, no religious leaders, no social commentators, not even the average viewer who doesn't have a stake in trying to be on TV (most damning, Gandini never interviews a potential velina, keeping them, essentially, as silent as the TV producers). The closest we get to that is Ricardo, the misguided young mechanic who wants to be a TV star, who feels he's entitled to something based strictly on expenditure of his effort: I tried, so therefore I should get. Whether he's complaining that life isn't fair that he should remain a mechanic his whole life, or acknowledging that he would prostitute his body to a man if it would lead to a big TV role, I choose not to believe that Ricardo is the embodiment of the average Italian TV viewer. As well, I'm not so sure that director Gandini, by concentrating only on Ricardo, isn't trying to say that all of Italian TV viewers are as gullible and deluded as he is--a proposition I find condescending, at best (I always get real nervous when I hear an artist making blank assumptions and generalizations about "the people."). Don't tell me there aren't millions of Italians out there who oppose this marriage of media and politics. And if there aren't that many, as Gandini seems to suggest from time to time, emphasizing how most Italians love Berlusconi and love his TV, where, then, does cultural manipulation end and personal responsibility begin (people get the government...and TV, they deserve)? That's another theme that could have been explored here, but isn't. So without any other viewpoints present here, along with a theme that's long on sexy/sickening atmosphere and dangerously short on facts, Videocracy has a hard time making its case along any kind of transformative lines. If the terms of what you're describing are vague and unsupported, and you offer no other viewpoints to the argument, then assumptions, speculation, and ultimately superficiality, will likely win out.
The DVD:
The Video:
The anamorphically enhanced, 1.85:1 widescreen transfer for Videocracy looks quite good during the sequences shot on Hi-Def widescreen video, with bright, correctly valued skin tones and decent-enough blacks. However, some of the older TV footage referenced here has been squeezed and cropped for widescreen, giving a noisy, sometimes blown-out image.
The Audio:
The 2.0 English (narration)/Italian (everyone else) audio track is quite clean, with Johan Soderberg's hypnotic music coming across forcefully. English subtitles are integrated into the film.
The Extras:
There are no extras for Videocracy.
Final Thoughts:
I probably buy what Gandini is getting at...I'm just not sure what the hell he's getting at. Videocracy has many rather remarkable moments (that final grotesque image of the young girls gyrating, hoping to get a shot at being a velina, is mesmerizing and horrific), and taken just on atmosphere alone, it's a success at creating a queasy feeling that Italy may indeed be a fascist state pacified by government-run "boob tube" TV. At least that's what I took away from this ultimately vague, almost subliminal documentary. Your conclusions could be entirely different. On that note, I'm recommending a rental for Videocracy, particularly if TV fascinates you.
---
Paul Mavis is an internationally published film and television historian, a member of the Online Film Critics Society, and the author of The Espionage Filmography.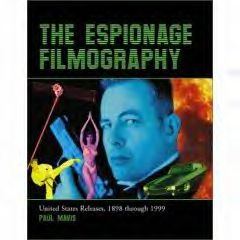 Sponsored Links
Sponsored Links