John Belushi - Final 24: His Final Hours
Other // Unrated // June 29, 2010
List Price: $14.95 [Buy now and save at Amazon]
---
The names "Robin Williams" and "Robert De Niro" are never mentioned, so.... MVD Visual has released John Belushi - Final 24: His Final Hours, a 2006 episode from the Canadian documentary series, Final 24, that airs here in the States on A&E Biography. Purporting to tell the "truth" about the Saturday Night Live and Animal House star's last drug-fueled 24 hours on earth, John Belushi - Final 24: His Final Hours utilizes interviews with friends and family of the comedian (Dan Aykroyd, his widow Judith Belushi Pisano, his manager, the late Bernie Brillstein, among others), along with clips from his SNL days and re-creations of the events of March 4th and 5th, 1982, for the purpose, as the back of the DVD cover states, of creating a "psychological detective story." A lot of theories about Belushi's self-destructive nature are thrown out there...along with a lot of rationalizing and excusing, too, hyped up by the doc's hypocritical devotion to showing the actor portraying Belushi doing drugs every five minutes or so. Prospects are grim for a recommendation.
For those younger viewers who may not be too sure who exactly John Belushi was, or perhaps more importantly to this review, how he died (I suspect that group grows bigger each year), the rotund, drugged-out star of Saturday Night Live and 1979's Animal House had bottomed-out his movie career by 1982, starring in a string of critical and financial losers (co-starring roles in little-seen Goin' South and Old Boyfriends, the notorious financial disaster 1941, for which he received, fairly or unfairly, a large portion of the blame, the woefully misguided romantic comedy, Continental Divide, and the funny, strange, but ultimately unsuccessful Neighbors) that even a qualified "hit" couldn't erase (The Blues Brothers, in 1980, may have sold tickets, but its budget skyrocketed out of control, due in no small part to Belushi's dangerous, drug-addled behavior on the set). According to John Belushi - Final 24: His Final Hours (and other books I've read on Belushi), by the spring of 1982, Belushi was looking for a "comeback" of sorts with the interested-but-nervous studios, but one that didn't involve another variation on the slobby sex maniac "Bluto" character he essayed so brilliantly in Animal House. When faced with the possibility of starring in a cheap, exploitive adaptation of The Joy of Sex for Paramount (at the suggestion of who else for such disposable high-concept crap: Michael Eisner), Belushi apparently balked, sending him into an ever spiraling-down four day drug binge that ended on March 5th, 1982, when Cathy Evelyn Smith, a notorious rock groupie (Gordon Lightfoot's inspiration for Sundown) and drug dealer, injected a final "speedball" of coke and heroin into Belushi's arm and killed him.
I can't honestly say where Belushi resides in pop culture today. I grew up watching him on SNL, and I distinctly remember buying a ticket for PG-rated Jaws II so I could sneak in to see naughty R-rated Animal House, such was my anticipation for that comedy (I loved the old National Lampoon mags by older brothers had lying around). If you were a teen or young adult back during those first few years of his stardom, he was the comedy force on the pop culture scene for a year or so, noted and "admired" (by those who shared his proclivities) just as much for his rebellious drug taking activities, as for anything he actually did on the big or small screen. But I also remember that by 1982, Belushi was already considered a bit of a "has-been" by the young and fickle moviegoers (sacrilege to those who still keep his memory alive, including interviewee Anne Beatts here, who ludicrously compares Belushi to Keaton and Chaplin, no less), with his chemical dependencies already a matter of public knowledge, and frankly, a more interesting subject of conversation to an increasingly bored public, than his spate of unsuccessful films. So I would imagine that John Belushi - Final 24: His Final Hours might seem to be a good starting point for those who come across Animal House or a SNL repeat on cable, and who want to know more about Belushi. But beware; there's a lot of misdirection and blather amid the doc's true intention: the cheap, sensationalistic charge of showing an actor playing Belushi, taking drugs.
As to the doc's two stated purposes--recounting Belushi's final 24 hours while providing psychological clues as to his behavior--John Belushi - Final 24: His Final Hours fails on both counts. Contrary to its own title, the doc doesn't just focus on Belushi's last day; it's padded out with quite a bit of screen time devoted to his biography (which is annoyingly inserted throughout the doc, ruining any suspense and build-up by breaking up the recounting of the events on March 4th and 5th). Had the doc stayed more focused on those 24 hours, some genuine insight may have come from the events of that night in 1982 (which are still disputed by multiple versions of what may or may not have happened to the star). For instance, why doesn't John Belushi - Final 24: His Final Hours mention Belushi's pals Robin Williams and Robert De Niro? By several accounts, they were with Belushi during his final hours; their appearance on the scene, and any possible involvement with Belushi's fatal drug taking, would seem to be a pretty important point to bring up in the doc. Does the doc shy away from mentioning them because of potential lawsuits (there were theories that De Niro was "researching" drug abuse for his upcoming role in Sergio Leone's Once Upon a Time in America, while Williams, at this time, was supposedly going through his own substance abuse issues). One doesn't know, but it's clear by their absence from the narrative that John Belushi - Final 24: His Final Hours isn't exactly going to be a hard-hitting expose.
Omissions of facts aren't the doc's only problem; it also relies unquestioningly on the comments made by those others involved in Belushi's life--no doubt the reason people like Belushi's widow and Aykroyd agreed to appear on camera here in the first place. Without a moderator or interviewer actively questioning the version of the facts put forth by these participants, we're presented with statements that not only beggar the imagination (such as Brillstein, with a straight face, stating, "God knows I didn't know what was going to happen," when he gave a binging Belushi $1800...to supposedly buy a guitar), but which are also vague and evasive (Aykroyd is rather remarkable skirting around the real nature of Belushi's troubles, while Belushi's widow speaks in hazy, nebulous generalities about life with a drug addict that are essentially meaningless). Watching these interviews, it's apparent that everyone is still very uncomfortable not only discussing the depths of Belushi's problems, but also in rendering any judgments about their own complicity in his behaviors (Brillstein takes the cake when he outrageously suggests that not only was "the whole culture" on coke, but that Belushi would have wound up the same way had he not become famous and instead remained in Wheaton, Illinois).
As for why Belushi did what he did, John Belushi - Final 24: His Final Hours can't come up with anything better than the standard clichés about success hitting someone too young in Hollywood, and the standard rap about childhood insecurities (his widow implies at one point that Belushi may have wound up where he was psychologically, because he couldn't make his mother "happy," a more incomplete, indistinct rationale I haven't heard in a doc). There's no attempt to really dig for answers, or to develop meaningful theories that rise above generalities. Instead, we're treated every five minutes or so to fake-Belushi snorting coke or shooting up heroin, while friends and family dance around the issues at hand, making excuses through oversimplified musings that hit far and wide, such the role society has to bear for Belushi's personal failings (Brillstein seems to favor that entirely dubious subtext). John Belushi - Final 24: His Final Hours really hits rock bottom, though, when it drags in Dr. Drew Pinsky, the "noted" drug abuse specialist who makes a living out taking addicts and putting them on display in TV shows for our prurient interest. Whatever your feelings are on substance abuse, there's nothing more amusing than seeing a man like Pinsky (who makes serious coin excusing away personal responsibility by blaming everything on pharmacology and biology, as he says here), make a Freudian slip about the brain "believing" it needs to do drugs...before he nervously, self-consciously catches himself, and drags his point back to the safety of irresistible chemical attraction. What his opinions/guesses may have to do with the events of the night in question almost thirty years ago is anyone's guess, but the fact that he gets so much air time in this short documentary--combined with the padding of Belushi's bio and the counterproductive, sensationalistic focus on re-creations of Belushi getting high--only confirms that John Belushi - Final 24: His Final Hours is just another disposable foray into morbid celebrity corpse gazing.
The DVDs:
The Video:
The anamorphically enhanced, 1.78:1 transfer for John Belushi - Final 24: His Final Hours is quite clean, with a super-sharp image and correctly-valued color. No compression issues.
The Audio:
The Dolby Digital English 2.0 stereo audio mix is quite aggressive in its recording level, with mild separation effects. No close-captions or subtitles included.
The Extras:
There are no extras for John Belushi - Final 24: His Final Hours.
Final Thoughts:
Right at the beginning of John Belushi - Final 24: His Final Hours, someone states that John Belushi's life/death was "an American tragedy." You know what a tragedy is? A little kid with cancer. That's a tragedy. Not a gifted, over-privileged comedian with the world by the tail and advantages you and I couldn't dream of, who blows it all up his nose and in his veins. That's not a tragedy; that's pathetic. John Belushi - Final 24: His Final Hours makes a lot of excuses for the comedian's death at 33 years of age, but it's short on facts, short of conviction, and long on sensationalized material and generalized pap. Skip it.
---
Paul Mavis is an internationally published film and television historian, a member of the Online Film Critics Society, and the author of The Espionage Filmography.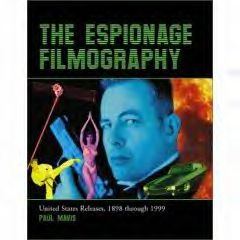 Sponsored Links
Sponsored Links