Deadliest Catch: Season Six
List Price: $24.98 [Buy now and save at Amazon]
---
"This is one very wet, very cold maximum security prison."
"Bottom line: if you really want to go for crab, you know, sometimes you got to go barbaric."
The most emotionally involving season of the series so far. Discovery has released Deadliest Catch: Season 6, a five-disc, 16-episode collection that looks at the 2009's king crab and 2010's opilio seasons for the now-world famous Northwestern, Time Bandit, Wizard, and Cornelia Marie crabbing boats, documenting the sorrow and inspiration, as well, engendered by the death of the series' most popular captain, Phil Harris. Hours and hours of bonus footage, interviews, and After the Catch episodes gives the series' fans a complete look at this particularly intense season.
Just a little background on the Deadliest Catch, in case you haven't caught it before (and as a new viewer you can safely jump in at this later date--you may not get all the finer nuances of the complicated relationships between the captains and crews, but the show is fairly self-explanatory). Deadliest Catch follows the tough, intrepid (and one might assume from time to time, unbalanced) crab fishermen who trawl the unforgiving Bering Sea for their highly-prized crustacean cargo. Unalaska, Alaska's Dutch Harbor port, in the Aleutian Islands, serves as home base for the crab fleet, with the series following the boats' October king crab season and the January through March opilio crab catch. Utilizing 1 ½-ton crab "pots" (steel cages) that are baited with herring and other fish, the pots are stacked high on the crab boat decks, and then winched by crane onto a slider that drops them into the ocean, where they "soak" in the frigid ocean depths for anywhere from 24 to 36 hours. When the boats come back for their haul, a fisherman throws out a grappling hook to catch the buoy lines that mark the pot; the rope is manually hauled in and fed into a mechanical pulley, and the pot is winched up on the slider. The pot is then shaken onto a sorting table, and the acceptable crabs are then funneled into the holding tanks below decks, where they await their fate at the canneries.
Sounds easy, right? Dead wrong. First of all, re-read that description, and then imagine doing all of that on a rollercoaster boat riding sea swells of over 30 or 40 feet, with 40-knot winds, constant ice-needle sprays, bone-crushing waves, and subzero temperatures, as fisherman fight frostbite, hypothermia, and loose footing on the icy decks--not to mention avoiding all the various mechanical hazards involved in the dropping and hoisting of 1 ½-ton pots that could instantly kill them (pots that swing and break away, rope lines that tangle around a stray foot or hand, pulling the owner to the icy depths of the ocean in a split-second). Add to that the necessity of sometimes working 24 or 50 hour shifts, on deck, without sleep, when the crabbing is good...and when it's bad, too. And it can get very bad, with all that dangerous effort offering no guarantee that pots brought up will have enough of the right-sized male crabs that the canneries want (juveniles and females are tossed back to help protect the crab populations). And even if the crews do haul in a valuable load (for some of the ships, the street value of their cargo can be over 2 million dollars), there's no guarantee, what with ice flows and other various delays, that the crabs will survive long enough for the crew to get back to the cannery in time - and they don't pay for dead ones there. The potential for payoff is sizeable (deckhands alone can walk away with a year's salary for a couple of weeks' work), but the downsides are considerable, as well: crushing debt should the pots come up empty or expensive mechanical failures eat into the profits, or a watery grave should you make one simple mistake, or if the weather and sea (and fate) cruelly decide your boat won't survive the night.
SPOILERS ALERT!
I reviewed Deadliest Catch's fifth season release last March, so I won't spend a lot of time going over the same ground, detailing the appeal of the show. I've watched the series from its beginning, and certainly, this is an unusually tense season, and not only because of the loss of Captain Phil Harris, whose death made international headlines last February. Everyone seems to be on a short fuse here, with the far-more-interesting drama inside the cabins and wheelhouses taking precedence over the ultimate goal of these endeavors: a financially-successful crabbing run (as far as I can see, everybody does well this year with their hauls, even including new "cast member" Captain "Wild Bill" Wichrowski, who's beset by technical and personnel problems). As I alluded to in my previous review, long-time fans of the show may not find the crabbing sequences as intriguing as the personal stories of the fishermen, and that seems particularly true this go-around.
Right off the bat, the season starts off on a sour note, with Jonathan Hillstrand of the Time Bandit spoiling for a physical confrontation with the Wizard's captain, Keith Colburn, whom Hillstrand believes broke the "Captain's Code" by trying to poach crewmen (Keith gets a firm shove from the burly Jonathan, but cooler heads prevail). This feud continues throughout the season, apparently, as an emotional Keith tries to make up with Jonathan, only to be summarily rebuffed for his efforts--which only adds fuel to the fire of Keith's frequent manic mood swings (watch him bitch out his brother, "Mouse," for a little bit of sass-back). And it doesn't get any better for anyone else in the cast, either. Jonathan and his co-captain brother, Andy, face a couple of close-calls when their boat is endangered (believe it or not, onions spill during a sea roll, and the bilge pumps are blocked, almost causing the boat to sink). Realizing they may be getting to the point where they want to retire, the Hillstrand brothers try to decide on a successor to run their boat, first settling on funnyman Mike Fourtner, before he immediately chokes from the pressure and lets the situation go to his head, with the brothers switching to relative, Scotty Hillstrand...before they jettison the whole idea (crewman Eddie Uwekoolani gets off the best line of the season when describing the "contest" between Mike and Scotty: "It's kind of cool to watch two guys compete that ain't worth sh*t neither one of them."). The addition of "Wild Bill" Wichrowski's trials and tribulations provides the viewer with an almost Roman farce-level of unending tragedies that can't fail to achieve comedic heights, from lazy, smart-mouthed crewmembers who seemingly can't do simple counting and addition, to running out of bait, losing $20,000 dollars on D.O.A. crabs, and endlessly lousy pot counts (one snarky crewman sums up this return voyage for former legend "Wild Bill": "The Kodiak is a turd and all you've had to eat is corn...it's falling apart, but it's still floating.").
Sig's determination to either guilt or deride his brother, Edgar, into staying on the Northwestern provides an unusually rich source of dramatic tension, as well. Edgar, whose 22 years on deck have finally taken their physical and psychological toll (deteriorating vertebrae, lacerated discs and tendons and muscles, a strained marriage and zero family life), seems determined to quit, but Captain "Ahab" Sig Hansen is having none of this whining, paying lip service at first to Edgar's concerns ("It's all about family") before he piles on the abuse. It's painful to watch likable Edgar get closer and closer to his decision to leave, with the viewer rooting him on to deep-six Sig...only to have Sig pull him up short through a combination of insults and guilt trips (Edgar seems truly lost when he flatly intones on his birthday, "I got nowhere to go but downhill from here."). His sense of despair is palpable, and it's not played up for the cameras. Of course, the painful conclusion to the season is the loss of Phil Harris, who suffers a massive stroke, only to rally briefly before succumbing to complications from this event. Prior to this sad moment (almost all of it caught on camera, at Harris' insistence), the continued fighting between responsible Josh and addict Jacob provides a constant source of irritation and outright anger for Phil, who can't control his wild swings of emotions any better than Keith or Sig, going from being teary-eyed over his real love for his boys, and completely losing it, screaming at them for real or just perceived faults. It's a deeply uncomfortable family dynamic, and it makes for painful TV viewing despite Deadliest Catch producers' efforts to ameliorate it with uplifting "it's all about the family" codas. Captain Harris, one of the more genuinely interesting, complex characters to ever come out of the reality TV genre, undeniably provided an emotional anchor--sometimes good, sometimes bad--for the audience of Deadliest Catch. It will be interesting to see how the show holds up without his presence.
Exciting action sequences this season still managed to grab my attention, even though as I mentioned before in my previous fifth season review: how many times can you make hoisting up a crab pot interesting? There's a scary Coast Guard rescue attempt to airlift a heart attack victim off a nearby ship that almost sees the guardsman swung wildly into the ship's mast. And early on, there's a truly frightening water transfer of two deckhands between ships, in stormy seas, as good kid Jake Anderson almost goes under from a boat's prop wash, a dire situation that Captain Sig considers for a few minutes...before he orders the kid back to work. Indeed, that funny/horrible reaction of Sig's is certainly the most interesting aspect of Deadliest Catch for me at this juncture, when I've seen about as many variations on the same crabbing methods as I think they're going to come up with: this almost pathological aversion by the captains and crews to show or admit to weakness in any form. Yes, most everyone on the boats are allowed a moment or two where emotions of grief or sadness or love well up and the tears begin to mist (particularly when everyone learns of Phil's death) But just as quickly, the realities of this business--and it is a business first, last and always--returns, and the almost sadistic cruelty of how a crewman is allowed to show his worth, is violently reasserted. When Jake Anderson almost cuts an artery in his arm with a 6-inch cod knife, Sig unbelievingly asks, "That hurts? What?" before he laments, "Now we have to take the knife away from him." When Edgar details his serious health conditions and all-but tells Sig he's leaving the ship at some point this season, Captain Hansen sneers, "I'll try to watch it, go a little slower...for what it's worth, I don't know," before he gives a snort of disgust at his brother's perceived weakness. But all concerns for his brother's health (both physical and mental) are thrown out the window later when realizing he has to buckle down on the crew to get the pots in or else, Sig is heard, otherworldly, over the P.A., saying, "We're going to have to pick up the pace," as he laughs the strangest, most disturbing laugh I've ever heard. It's a laugh-out-loud funny moment...and creepy as hell. I don't care how many times in the later interviews or cutaways when these fishermen say they really do care about their crews and relatives working for them--I'm sure they do--they also seem to revel in sadistic pleasure over their discomfort, and all in the name of "being a man." As Captain Andy Hillstrand says without a trace of sympathy: "You do the job, or you're not a man. Period. End of story." That's almost a revolutionary concept in today's warm-and-fuzzy, make-excuses world.
Here are the 16 episodes of the 4-disc set, Deadliest Catch: Season Six, as described on the discs' slimcases:
DISC ONE
Slow Burn
The 2009 king crab season begins with tensions at an all-time high. One deckhand threatens to quit, while another sets his premature sights on the wheelhouse. When the captains gather for their annual meeting, a line is crossed.
Breaking 'Em In
It's week two of king crab season and a storm looms as the fleet hauls their first crab. One greenhorn cramps up after just a few pots, while two junior deckhands are tested on unfamiliar boats. But it's the veteran deckhands that try the skippers' patience.
Sea Tested
It's the third week of hunting king crab and Captain Phil and Captain Sig's experiment in trading junior deckhands comes to a close. The young crew members are tested by big waves and cruel pranks until the end.
Bering Sea Swim Club
Captain Sig and Captain Phil liaison to reclaim their junior deckhands with a high seas transfer. But when the young crew members submerge themselves in the bitter, treacherous tides, the plan quickly spins out of control.
Arctic Quest
It's week five of the king crab season. A monster storm stands between the Time Bandit and their final off-load. While on the Northwestern, a maniacal skipper heads into Arctic seas to hunt down the planet's most elusive crab.
DISC TWO
False Pass
A white knuckle, boat-crippling passage stands between the Time Bandit and its final off-load. A skipper risks mutiny in the hunt for a rare crab species.
When Hell Freezes Over
The Cornelia Marie runs aground and Skipper Phil faces another massive repair and anxiety about a delayed season. On the winter crab grounds, the skippers run into a huge ice storm. They're forced to dump icy pots far from their honey holes--or capsize.
We're Not In Kansas Anymore...
Days of ice bashing have the entire fleet in pain. On the Northwestern, the exhausted crew struggles to keep up with Captain Sig's maniacal pace--and one deckhand pays the price in blood.
Glory Days
The Cornelia Marie gambles on the Bering Sea's most difficult fishing grounds. The Time Bandit is in emergency mode with a starboard list. Meanwhile, a boat calls the Coast Guard for a man suffering from a heart attack.
The Darkened Seas
A Coast Guard helicopter attempts a rescue in dangerous seas. The deck of the Time Bandit becomes a deadly gauntlet of heavy, falling ice chunks. Also, on the Cornelia Marie, the skipper's son reveals a dark secret.
DISC THREE
Blown Off Course
Captain Jonathan leaves the Time Bandit for warmer waters. On the Cornelia Marie, a skipper pays a heavy price for his hard living ways. On the Northwestern, a phone call home brings heartache to Jake Anderson as he learns disturbing details about his father's disappearance.
Empty Throne
A critically ill Phil Harris is flown to Anchorage, leaving son Josh behind. On the Time Bandit, Andy trains a young deckhand to be a relief skipper as a jealous crew looks on.
Cain and Abel
As the fleet struggles through their mid-season grinds, captains turn on deckhands and deckhands turn on each other. On land, Skipper Phil battles for his life while his sons tear each other apart.
Redemption Day
The Time Bandit deck disintegrates as Mike and Scott fight for the captain's chair. Desperate to leave the deck, Edgar Hansen trains his greenest deckhand on the hydros. As the fleet faces epic weather, Phil Harris battles for his life.
Valhalla
Captain Phil Harris loses his battle for life while the boats--unaware of the news--battle the biggest storm of the season. Eventually, eldest son Josh breaks the news to the fleet and reactions are intense and unforgettable.
DISC FOUR
Endless
Tension runs high on the Northwestern. Edgar Hansen is fed up with the 22-year marathon of pain and confronts older brother sig. Josh Harris returns to the Cornelia Marie and the opilio season ends with a harrowing mayday.
The DVD:
The Video:
As with the fifth season I reviewed, the anamorphically-enhanced, 1.78:1 widescreen transfer for Deadliest Catch: Season 6 looks quite sharp, with reasonable color (limitations due to the monochromatic palette of the Bering Sea environment), a sharpish image, and no compression issues. A solid presentation.
The Audio:
Why these aren't mixed to 5.1, I don't know--it would seem the subject matter (boats crashing through violent storms) is a natural for those speaker-blowing effects. Still, the Dolby Digital English 2.0 audio track is clean and uncluttered, with minimal separation effects and a decent recording level. English subtitles are included.
The Extras:
After each disc, deleted scenes are included which further expand on events just seen in the episodes (or give glimpses of sequences dropped altogether). Over the first three discs, they total 61 minutes of additional footage. On disc four, supplemental episodes look closer still at the production of the series, as well as giving us more bonus footage. Behind the Scenes, running 43:13, has the cringe-inducing moment that a shows a new cameraman making the ultimate mistake: jokingly flipping off Captain Keith. The Phil Harris Story, running, 43:23, is a fascinating look at the famous captain's life, from buzz-cut straight kid, to long-haired, drug-taking Wildman youth, to his final days on the Cornelia Marie. Chasing the Catch, running 56:02, looks at the chase boat, Aquila, that follows and films the Deadliest Catch boats. Captains' Interviews runs a too-short 7:36, showing some brief question-and-answer filmed inserts of the captains answering some FAQs. And finally, an episode of game show Cash Cab is inserted for plugging reasons, showing Andy Hillstrand, Josh Harris, and Sig and Edgar Hansen answering questions for their charities (it runs 25 minutes). Disc Five consists of five separate After the Catch episodes, each running about 43 minutes, that gathers together the cast (this time in New Orleans), for roundtable discussions of all the events of the season--always a fun, informative bonus. All in all, that's over seven hours of bonus footage.
Final Thoughts:
A tough, on-edge season, made only more anxious and tense (and sad) by the death of Captain Phil Harris. The on-board drama outstrips the exciting crabbing scenes. An overwhelming amount of bonus features helps highly recommend the Deadliest Catch: Season 6 boxed set.
---
Paul Mavis is an internationally published film and television historian, a member of the Online Film Critics Society, and the author of The Espionage Filmography.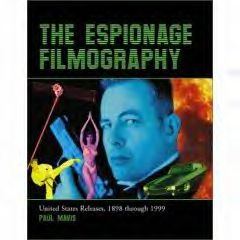 ---
C O N T E N T

---
V I D E O

---
A U D I O

---
E X T R A S

---
R E P L A Y

---
A D V I C E
Highly Recommended
---
E - M A I L
this review to a friend
Sponsored Links
Sponsored Links