Bionic Woman (1976): Season 1, The
List Price: $39.98 [Buy now and save at Amazon]
---
Bionic babe captures reviewer's heart...all over again. Beating its host series The Six Million Dollar Man to the punch on DVD, Universal's iconic 70s sci-fi/action series, The Bionic Woman, comes to disc tomorrow in an extras-loaded complete first season set that should give ecstasies of short-circuiting convulsions to the many fans who fondly remember this ratings' winner. Starring TV megastar Lindsay Wagner and Richard Anderson (along, of course, with some cross-over cameos by the Tin Man himself, Lee Majors), The Bionic Woman: Season 1 doesn't short-change fans by sticking strictly to the Wagner spin-off, but instead puts all of the original The Six Million Dollar Man episodes that first introduced the Jaime Sommers character right up front on Disc 1, correctly immersing the viewer in the mythology of this still-fun landmark series. Four commentary tracks and a new featurette including interviews with the stars are the stand-out extras here, making a purchase of The Bionic Woman: Season 1 an absolute must for fans of vintage sci-fi/fantasy and 70s TV.
The set-up. Tired and burnt-out (and no doubt in need of a complete lube job up on the rack), United States Air Force Colonel/human cyborg Steve Austin (Lee Majors) returns to his hometown of Ojai, California, to purchase a ranch and to visit his parents, mother Helen (Martha Scott), and stepfather Jim Elgin (Ford Rainey). Completely unaware that their astronaut son had earlier suffered a near-fatal accident during a test flight, and that his legs, his right arm, and his left eye are in fact robotic replacements with superhuman capabilities, Steve's parents do what any parents would do with their happily single, preternaturally-handsome son: they immediately clue him in on the hometown return of Steve's closest childhood friend and top-seeded tennis pro, Jaime Sommers (Lindsay Wagner). Jaime, the one that got away in Steve's life, is equally taken reconnecting with her best friend, and the two soon fall in love. But tragedy strikes from the heavens when, skydiving with Steve, Jaime is critically injured. With her vital signs fading, Steve asks Jaime if she'll trust him to save her and she weakly agrees before almost checking out for good. Calling up his superior and good pal Oscar Goldman (Richard Anderson), who commands the Office of Scientific Intelligence--a super-secret branch of U.S. intelligence that previously saved Steve's life with bionic replacement parts in return for Steve's espionage--smashing skills-Steve begs Oscar to do the same for the dying Jaime. Oscar, with the help of bionic surgeon Dr. Rudy Wells (Alan Oppenheimer in the first two-parter, and then Martin E. Brooks for the series), reluctantly agrees, but he warns Steve that when it eventually comes time to pay the government piper for this million-dollar repair job, Steve's love for Jaime will get in the way.
With Steve's constant support, a recovering Jaime comes to terms with her rather advanced case of body issues, before she willingly goes along with the inevitable request by Oscar to put her newly developed bionic skills to work-a move that, just as Oscar predicted, sends Steve into systems overload. Almost getting herself and Steve killed on her first mission, what the OSI team soon learns is that Jaime's body is rejecting her bionic replacements, and after a Bride of Frankenstein freak-out...she flat-lines. Steve Austin loses the love of his life (next to that trash compactor from Cleveland), and the story ends...at least until the Nielsen's came in. What Steve didn't know is that over the summer hiatus of re-runs, Jaime didn't die on that operating table, but was saved at the last second by "cryogenic therapy," with a nasty side-effect of complete memory loss. Once she regains her memory, and now free to put Steve's love aside as a pleasant-but-confusing diversion, Jaime is given a new life teaching problem children at Ventura Air Force Base, near her hometown of Ojai, where she lives above the carriage house on Jim and Helen Elgin's new ranch. And of course, in-between rapping with her students and clapping erasers together, she has plenty of time to help out Oscar with his various OSI missions.
SPOILERS ALERT!
Right off the bat: I'm not a The Bionic Woman "expert." I don't know all the trivia; I don't know the serial numbers of every replacement part that got plugged into Jaime Sommers. And I haven't seen the show since it originally aired back in 1976. Even though I never missed The Bionic Woman, I'll be honest and say that as a nine-year-old kid I probably preferred the more little boy-centric The Six Million Dollar Man (I had the works-the lunch box, the action figure, and I still have the board game floating around here somewhere...). But watching The Bionic Woman again this weekend--critically, with my two youngest daughters as co-pilots--I was reminded of what an enjoyable show it was, and how the combination of the silly-but-amusing bionic action scenes, coupled with the effortless charm and appeal of Lindsay Wagner (who appears in almost every scene), made it a knockout with kids and families back in the mid-70s. I would imagine that there may be quite a few newer sci-fi/fantasy viewers and bloggers and reviewers out there who may look down on a 35-year-old "relic" from the past like The Bionic Woman, laughing cynically at its primitive (but still effective) special effects and its relatively simplistic storylines-particularly when you see how self-serious and self-important the genre has now become in both execution and reception (to the point where "simple entertainment" like The Bionic Woman can be perversely seen as a drawback).
But I didn't get any of that from my 4 and 8-year old daughters who have been raised on the very latest cutting-edge technology and special effects in movies and TV. Simply put: they loved The Bionic Woman, responding to its comparatively child-like simplicity with an immediacy that surprised me. As a nine-year-old boy subconsciously steeped in the politics and sociology of 1970s TV, I was certainly aware of the growing feminist influences that were finally making themselves known on network TV (Mary Tyler Moore was my dream girl, and even Edith stood up to Archie). But I'm also pretty sure I wouldn't have been able to (or even want to) articulate those ideas, nor necesarily see them in such a show as The Bionic Woman. However, as a father now, a show like The Bionic Woman suddenly seems rather influential, at least on a stealth level. Indeed, what I found most appealing about The Bionic Woman at this second viewing was how matter-of-fact its "feminist" (if that's even the word for it at this point in history) outlook is. Never wearing a political viewpoint on its sleeve concerning Jaime's "worth" compared to a man, it's presented as a given that she's just as capable an undercover agent as arguably the world's strongest man, Colonel Steve Austin. Hard-line feminists may scoff that it took bionics for Jaime Sommers to be taken seriously by men (don't mess with her or she'll crush your head like a tin can), but the show never presents it that way, taking instead a relatively realistic approach to Jaime's bionic conversion (Wagner's scene where she first realizes she may be a medical "freak," is well-acted), and then going from there, assuming she's just as capable as Steve not because of her bionic powers, but in addition to them.
Granted, many of the scripts for The Bionic Woman lack any in-depth exploration of these potentially rewarding dramatic conflicts (at least in this first season; we'll see for the second), and it's always important to remember that the show is primarily aimed as an entertainment for young viewers and families. But too often that admirable goal, then and now, has been looked down upon as somehow "lesser" to more serious-minded fare...which of course is nonsense. The Bionic Woman, taking into account its sometimes iffy construction and a few simplistic scripts (again, I would imagine, by design), still delivers the goods as far as serving up tight-running little drama/espionage playlets, anchored by old-fashioned (not a pejorative here) sci-fi/fantasy elements that give it a little additional spark, a little oomph. Aided by the instantly recognizable production services of Universal Studio (the famed backlot; the Universal "house style" for 70s network TV series; all of that marvelous stock footage-you can play "spot the movie" with every episode), The Bionic Woman not only hits the older viewer with a heavy dose of nostalgia for the way TV looked and played back then, it also shows newcomers how to deliver a consistently reliable, entertaining one-hour adventure drama with a minimum of fuss and a maximum of entertainment value--something that is sorely needed on today's dying Big Three networks.
I vividly remember the original two-parter The Six Million Dollar Man episode, The Bionic Woman, featuring the love story of Jaime and Steve and her traumatic death, when it aired in March of 1975. And obviously, I wasn't the only one. The Bionic Woman series creator and head writer Kenneth Johnson, on one of the commentary tracks included on this disc set, credits this episode with kicking The Six Million Dollar Man into the ratings' stratosphere, and obviously initiating the move to create a spin-off (I would argue that these two episodes returned The Six Million Dollar Man to ratings success, as you'll see below). Again, not having seen these shows in 35 years, what came up through my memory most was the palpable chemistry between Lee Majors and Lindsay Wagner, and to their credit, it still works today. Now, to be fair, it's entirely acceptable to laugh a little bit at Majors' odd, gruff warbling on the classic, hilarious Sweet Jaime song that threads through their romance montages, where he sounds like a combination of William Shatner and Clint Eastwood from Paint Your Wagon (a delightful bit of fun not exactly helped by Majors' leisure suits unbuttoned to the chest hair, and the gold chain). But Majors (a funny actor who wasn't really stretched that often by his material) has never been better than when he's interacting with the natural, charming Wagner (something Johnson alludes to, as well--Majors is excellent during her death scene), and it's easy to see that Wagner's future on TV was assured with her initial appearance here. TV was my life as a kid, and I was a very aware little viewer, and I remember what an impact this little bionic romance had on the public's imagination. So, it was hard (then and now) to let those initial good feelings go when watching the rest of The Bionic Woman series unfold. Either unwilling (from a thematic angle), or unable (from a storytelling or simply production logistics standpoint), to consistently link the two series with an on-going romance (at least in this first season...), the producers and writers don't come up with an entirely satisfactory resolution to Jaime's relationship with Steve, having her ping-pong back and forth from having no feelings for him anymore, to pally-pally, non-committal drop-ins during a mission, to Jaime worrying like Sandra Dee about whether or not Steve mentions her when he talks to Oscar. That connection between Majors and Wagner was, by all rights, the primary source of the resulting The Bionic Woman series, so to see that chemistry half-heartedly ignored does put a bit of a pall over the proceedings (not helped, either, by the several unconvincing stabs made to give Jaime new romances in these 13 episodes).
Still...there's Wagner, and she's endlessly interesting here, even if she's basically asked to do the same few set-ups over and over again (a briefing from Oscar, a bit of espionage derring-do, some humorous "pocket bionics" sprinkled throughout the episodes to keep the kids happy, before the big action conclusion). Sporting an all-American, fresh-scrubbed, youthful "girl next door" appeal filtered through an engagingly open and warm spontaneity, Wagner can do no wrong here, defining the very notion of "star" (someone the viewer finds instantly likeable and attractive and emulation-worthy), while retaining an intelligence that only hints at what she could do as an actress with some weightier material. Again, though, that's not to discount what she's given here: anchoring an action-adventure/sci-fi/romance drama requires an actor who can move between these genre requirements, and Wagner does so with admirable ease (Anderson takes his role dead-seriously...and he's a delight doing so). Perhaps a bit shaky in tone at first due to some of the early episodes' scattershot approach (bringing Jaime back to life in Welcome Home, Jaime doesn't really work...and why is multi-million dollar bionic spy Jaime protecting a lion, ferchrissakes, in the miscalculated Claws, or helping school bus driver Donald O'Connor in the thoroughly familiar mob/blackmail story, A Thing of the Past?), The Bionic Woman picks up speed as it finds its footing, eventually knocking out one entertaining episode after another. The Deadly Missiles features tons of fun bionic action as Forrest Tucker hot-wires Jaime's injured leg (he asks her if they sent an owner's manual along with her), before Jaime digs up a buried junction box like a hound on crack (the sound effects cues are uniformly excellent here-and always amusing). Bionic Beauty rushes firmly into "camp" territory (hate that inexact term, but it fits here) as Wagner enters a beauty pageant and instead of bending iron bars for the talent portion of the contest, sings the single-most hated song of the 1970s: Feelings (when she did that, I got the whim-whams). And what would a TV episode about a beauty pageant be without Bert Parks, who shows yet again how subversively funny his whole pageant shtick was all along (when told about Goldman's threat, Bert sneers, "There's also an Oscar Meyer who makes weiners." Classic). Winning is Everything gives Jaime a shot at her first post-Steve Austin romance, with dreamy manic/depressive race car driver John Elerick chickening out during some gnarly rally sport action (Jaime kisses him...but you can tell there's no bionic "boiiiinnngggg"). Canyon of Death has an intriguing subplot concerning Indian identity amid the hijinks with a stolen jet pack, while Fly Jaime combines Airport '75 with Lost (or more accurately, Gilligan's Island) as Jaime plays a stew (I'm feeling faint...) and helps Dr. Rudy who's critically injured. The Jailing of Jaime could have done more to play up the rogue agent element of the plot, having Jaime unfairly accused of treason before she breaks out of jail, but the plot is solid, and the action credible. Mirror Image gives Wagner a chance to shine in a dual role, dredging up one of TV's favorite goofy plots--the evil twin, in this case, a plastic surgery duplicate--for delightful results (watch the funny, farcical elevator sequence that's perfectly timed by director Alan J. Levi). And finally, the seasonally-appropriate The Ghost Hunter, written and directed by series creator Kenneth Johnson, is a low-key but thoroughly enjoyable (and extremely well-directed) little ominous psychological/occult thriller, with Jaime encountering a very real supernatural presence troubling Kristy McNichol and her dreamy/angry scientist father.
The Six Million Dollar Man premiered way back in March of 1973, with the made-for-TV movie of the same name. A ratings-winner for ABC, this adaptation of the popular sci-fi novel Cyborg was followed by two more made-for-TV movies in November of 1973, before the series itself debuted as a mid-season replacement in January of 1974, where it managed the not-inconsiderable feat of becoming the eleventh-most popular series on the air for the entire 1973-1974 season (kids and families switched over from NBC's huge hit Sanford and Son at 8:00pm to see Steve in action). Ominously, though, NBC counter-programmed this threat by moving Sanford and Son back to 8:30pm--directly against The Six Million Dollar Man--followed by the 12th biggest show of the year, The Rockford Files, and The Six Million Dollar Man took a huge hit in the ratings, dropping out of the Nielsen Top Thirty for the year. Luckily, enough viewers were still watching when Wagner did her two-episode stint at the end of this 1974-1975 season, resulting in a significant spike in the ratings, and interest in the upcoming third season of The Six Million Dollar Man (which opened in the fall of 1975 with the two-parter, The Return of the Bionic Woman). Another two-part The Six Million Dollar Man episode, Welcome Home, Jaime, was split, introducing The Bionic Woman as a mid-season replacement on January 14, 1976 (replacing the marvelously funny-but-little seen Mel Brooks Robin Hood spoof, When Things Were Rotten). With only thirteen episodes for the remaining half-season, The Bionic Woman astoundingly became the fifth-most watched series for the entire 1975-1976 season (right behind Maude, Laverne & Shirley, Rich Man, Poor Man, and All in the Family), elevating interest in The Six Million Dollar Man (dodging a bullet by moving to Sundays) which climbed back to 9th for the year. Premiering on Wednesday nights at 8:00pm, the bionic latecomer to the season not only easily knocked out Tony Orlando & Dawn over on CBS (it had been a respectable 26th for the previous season), but also shockingly, heavyweight kids' favorite Little House on the Prairie on NBC, which had been 13th for the previous season, but which fell out of the Nielsen Top Thirty altogether against the onslaught of Jaime Sommers. The following season would see a slight drop in the ratings for The Bionic Woman...and an inexplicable cancellation order.
Here are the 18 episodes (including the five crossover episodes from The Six Million Dollar Man series that introduced Jaime Sommers) of the 4-disc set, The Bionic Woman: Season 1, as described on the back cover of the disc holder case:
DISC ONE
Bionic Woman
The original second season The Six Million Dollar Man episode where Jaime Sommers becomes the Bionic Woman.
Bionic Woman, Part II
Jaime Sommers is sent on her first assignment for the OSI in this second season The Six Million Dollar Man episode.
The Return of the Bionic Woman
Steve Austin learns that Jaime Sommers is still alive after seeing her die from a Bionic rejection. However, Jaime has suffered brain damage and no longer remembers anything about her past life, including Steve.
The Return of the Bionic Woman, Part II
In an attempt to restore Jaime Sommers' memory, Steve Austin takes the recuperating Jaime to their hometown of Ojai, California. However, facing her past results in violent headaches and confusing flashbacks.
Welcome Home, Jamie
The Six Million Dollar Man episode that launched The Bionic Woman spin-off series. Oscar Goldman arranges a job for Jaime as a schoolteacher, but she also insists on taking on missions for the OSI.
DISC TWO
Welcome Home, Jaime, Part II
Oscar arranges a "falling out" with Jaime so that she can go undercover in businessman Carlton Harris' shady organization and determine whether he is trading illegal government secrets.
Angel of Mercy
When Jaime is sent to Costa Brava with ace helicopter pilot Jack Starkey to rescue the U.S. ambassador and his family, the mission becomes infinitely more complicated when the ambassador's wife is trapped in a collapsed building.
A Thing of the Past
Jaime is the only one who can help an old friend and bus driver when thugs discover that he has been hiding out in Ojai since witnessing a murder years ago. Lee Majors co-stars.
Claws
Fur is sure to fly when Jaime protects a lion and the other creatures of a wild animal ranch from ranchers out for blood.
The Deadly Missiles
Jaime is forced to investigate her friend, J.T. Conners, after a missile is launched from his property at the very moment the U.S. missile warning system breaks down. Lee Majors co-stars.
DISC THREE
Bionic Beauty
Beauty and brawn are on display when Jaime enters a Miss United States pageant in order to infiltrate a nefarious espionage plan.
Jaime's Mother
Jaime's dream about her mother leaves her feeling disturbed--especially when she receives word that her parents' graves have been vandalized.
Winning is Everything
Hoping to obtain vital information from a foreign country. Jaime becomes a navigator in an international desert auto race.
Canyon of Death
When she is captured by a group that is scheming to steal an atomic-powered device, Jaime's life depends on a small boy who has "cried wolf" in the past.
DISC FOUR
Fly Jaime
In an effort to protect a doctor and his top-secret formula, Jaime heads to the skies and goes undercover as a flight attendant.
The Jailing of Jaime
Jaime fights to clear her name after the valuable decoding instrument she delivered is discovered on the international market.
Mirror Image
A woman undergoes plastic surgery in order to become Jaime's double and steal privileged information from Oscar's files.
The Ghost Hunter
Jaime poses as the governess for a small-town girl when supernatural forces disturb the classified project being developed by the child's father.
The DVD:
The Video:
Overall...not bad. Some of the full-frame, 1.33:1 video transfers for The Bionic Woman: Season 1 vary in quality (The Return of the Bionic Woman, Part 2 looked particularly dark and yellowy and grainy), but for the most part, the elements used here are clean, with correct (if unexciting color), a sharpish image, and no artifacting. Not fully restored, apparently, but better than you've seen it before.
The Audio:
The Dolby Digital English 2.0 stereo audio mix is serviceable, with a decent recording level and minimal hiss. English subtitles are available.
The Extras:
Aside from the five The Six Million Dollar Man episodes included here as extras, there are four commentary tracks. Parts 1 and 2 of The Bionic Woman are hosted by series creator Kenneth Johnson. Vintage TV fans will love these well-spoken, well-though-out commentaries because the personable Johnson doles out a ton of behind-the-scenes production history on the show and personnel involved-that's what we vintage TV lovers crave. Good show. Director Alan J. Levi and screenwriter James D. Parriott's comments for Mirror Image may not be as detail-filled or even accurate (they're kind of iffy on some dates and names-stuff that could have been looked up simply enough before doing the commentary), but they're very amusing and good-natured talking about the series, and it's an enjoyable track. Kenneth Johnson returns for the season finale, The Ghost Hunter, and again, he's right on the money with detailed info and some great background stories. In addition to the commentaries, there's a brief gag reel (a little under two minutes), and a new featurette, Bionic Beginnings, running just under 25 minutes, and featuring all-new interviews with Wagner, Anderson, Brooks, Johnson, and other artistic personnel who worked on the show (seriously...whose idea was it to include Robbie Rist?). A solid doc on the origins of the show, and it's good to see Wagner (who's still a doll) and Anderson looking so well and happy.
Final Thoughts:
With the pain of Watergate and Vietnam and acrimonious social disorder ripping apart the country in the late 60s and early 70s, it's not surprising that America would turn to fantasy and escapism in its media for a little psychological relief. With the success of sci-fi films like 2001: A Space Odyssey and the Planet of the Apes series, along with the burgeoning "disaster" cycle of films that also emphasized special effects, it was inevitable that TV would follow suit. And arguably, The Bionic Woman was the most successful example (at least in terms of ratings) of this trend. Still fun after 35-years, with Lindsay Wagner effortlessly charming and natural in the role of the bionic teacher/spy, The Bionic Woman works as an effective adventure drama that kids and families should still find entertaining. Lots of extras here, The Bionic Woman: Season 1 is must-have TV. I'm highly, highly recommending The Bionic Woman: Season 1.
---
Paul Mavis is an internationally published film and television historian, a member of the Online Film Critics Society, and the author of The Espionage Filmography.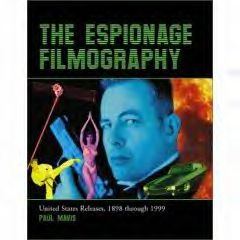 ---
C O N T E N T

---
V I D E O

---
A U D I O

---
E X T R A S

---
R E P L A Y

---
A D V I C E
Highly Recommended
---
E - M A I L
this review to a friend
Sponsored Links
Sponsored Links