List Price: $26.98 [Buy now and save at Amazon]
---
"I left...but now I'm back."
It sure as hell ain't Trinity, but it's not terrible...I guess. Lionsgate has released Doc West, a pared-down feature film version of what apparently was two episodes of a proposed Italian TV series from 2009, starring spaghetti western icon, Terence Hill. Looking remarkably well-preserved, it's a nostalgic jolt to see the affable Hill ride the range again, but I wish the makers of Doc Hill--and that would include its co-director...Terence Hill--had ratcheted up the shootin' and the laughs in this well-meaning but tame family oater. Lack of extras doesn't exactly help, either.
The American West. Mysterious cowboy Minnesota West (Terence Hill) has just transferred by wire some serious cash from the Santa Fe post office to one of the finest boarding schools for girls in Boston...right before the post office is robbed by desperados. Unable to give rapid chase because of his horse's split hoof, West tracks the robbers, until he comes upon Silver (Benjamin Petry), a young boy suffering from a dislocated shoulder (his horse threw him and ran off), and a more immediate concern: a rattler moving in for a strike. West carefully draws down on the rattler, and from 300 yards, shoots his tail off...as a warning to the other snakes, he later tells Silver. Utilizing a bit of positive imagery misdirection, West re-sets the boy's arm, causing Silver to suspect that West is not only a hellava shot, but also a physician--a theory West quietly (too quietly) denies. Taking Silver back to his small desert town, Holysand, West immediately makes himself known to the wrong people, including taking vicious henchman Garvey (Alessio Di Clemente) in a poker game. Garvey works for town big wheel Nathan Mitchell (Boots Southerland), who's ruthlessly acquiring farmland for his expanding cattle herd. Sheriff Basehart (Paul Sorvino) locks up West for his own good (after Garvey accuses him of cheating at cards) as much as for the chance to talk to someone interesting for a change. Denise Stark (Clare Carey) isn't a doctor, but she knows one when she sees one, especially after the jailed West gives her the correct prescription for an ailing patient. The arrival of Millie Mitchell (Mary Petruolo), Nathan's daughter, sets into motion a final showdown between her father and farmers the Baker family--with "Doc" West caught right in the middle.
SPOILERS WARNING!
Fans of westerns and specifically Italian spaghetti westerns certainly hold Terence Hill as one of the icons of the genre, if for nothing more than his two Trinity comedies that proved so popular all over the world in the early 1970s (a triple feature of those and Hill's best movie, My Name is Nobody, is one of my favorite drive-in memories from that time). So it's great to see him back in a duster and saddle after all these years...although to be honest, for all I know, he may have been making Westerns in Italy this whole time and I haven't seen them. I'm not sure where Hill's career is at this point; the last time he was on my radar was the late seventies, when his bid for American stardom sort of fizzled out (the lead in the all-star flop Mr. Billion--which I saw in an empty theater--and a major role in Gene Hackman's ill-advised French Foreign Legion picture, March or Die). Looking remarkably the same at 70 years of age (but sounding somewhat tired), it's not hard to imagine Hill getting up to his old Trinity silliness whenever he flashes that goofy, ingratiating, slightly crazed smile of his, which he does quite often here in Doc West. And at several points in the film, we hope against hope that that's precisely what he'll do....since so much of the movie seems tentative and overly-cautious. A good example comes right at the beginning of the film. Looking every bit the Western movie legend, Hill has a nice trucking shot showing him entering a bar in Holysand, his spurs jingle-jangle-jingling, as he bellies up to the bar and orders...iced tea, and we think, "Hoo boy! Here it comes!" as he smiles that uniquely charming/comedic smile. The film, which started out slow, is finally going to come alive, we trust.
But unfortunately, not much happens after that great set-up, nor does the rest of the film take advantage of the good will engendered by Hill's presence, with potential pay-offs either missed or flubbed. After ordering the tea, he plays a game of cards, we're treated to some fun-but-familiar card shuffling tricks, and he heads off to jail. That's it. No payoff in line with our expectations, expectations that aren't unreasonable when we see the film obviously trading on Hill's iconic stature within the conventions of the spaghetti western. Dishearteningly, Hill's western here (and it should be called "his western," because he co-directed it) is pokily warm and fuzzy--exactly not the qualities I want to see when this particular actor returns to this particular genre. Far too reverential in stance, with soaring faux-Morricone music cues (his morose ones, not his wonderfully weird electric guitar ones) and lingering "meaningful" shots of Hill looking emotional, we get that the filmmakers what to celebrate Hill's legacy. But after awhile, it's enough. Get on with the story and make it mean something not with phony bathos posturing but with some impact, with some verve and energy. Doc West isn't an example of the genre--it's a memorial service to it.
What the filmmakers here are waxing nostalgic and almost weepy-eyed about, the western and the spaghetti western, were innovative and original and vigorous before all this cannibalistic mythologizing leeched the blood out of them. I'm not saying a "family film" western has to be bloody; if Doc West wants to be suitable for all ages, so be it, and more power to you. But christ it has to move a little bit, doesn't it? Can't it have some grit? Doc West is all easy clichés, from the lonely little boy who comes to love the stranger in town, complete right down to the boy yelling after the cowboy as he rides away into the sunset (can we all please agree to stop aping that scene from Shane?), to the lonely town marm who comes to love the stranger in town (every Western ever made), to the lonely mutt who comes to love the stranger in town (every dog movie ever made), to an emergency surgery at the end of the film where the lonely, once-alcoholic doctor/stranger in town comes to love himself again (every submarine picture ever made). It's not that Doc West is actively a bad film. It isn't. It's tolerable...just. What it is, is entirely too facile, too pat, and far too predictable compared to what it could have been, if everyone involved had taken still-handsome, still-spry Terence Hill, and roughed him up a bit. Screw the mythology. Stick the reverence. Just get on with making an honest-to-god oater that either plays straight and tough with the conventions, or which delightfully perverts them (like the Trinity films did so wonderfully). Just don't make Terence Hill star in a Hallmark Channel western, with pretty pictures and "safe" violence, and zero energy. Please don't do that to Terence Hill...Mr. Hill.
The DVD:
The Video:
The anamorphically enhanced, 1.78:1 widescreen transfer for Doc West looks very nice, with rich, warm colors, a sharp image, and no compression issues. Nice-looking transfer.
The Audio:
The Dolby Digital English 5.1 audio track is expansive, with plenty of separation effects to the rear speakers, and a healthy recording level. Crystal clear dialogue. English and Spanish subtitles are available.
The Extras:
There are no extras for Doc West.
Final Thoughts:
This really could have been something...but instead, it's ready for basic cable. Doc West puts Terence Hill on a saddle again, but it doesn't let him do much except look into the camera meaningfully, while poor Paul Sorvino tries to manage up a bluster in the background. Entirely too respectful and bloodless (both in attitude and in actuality), Doc West sure is safe enough for families--but look out for kids dozing off. A rental is about the best I can do for Doc West...and that's strictly for Terence Hill completists.
---
Paul Mavis is an internationally published film and television historian, a member of the Online Film Critics Society, and the author of The Espionage Filmography.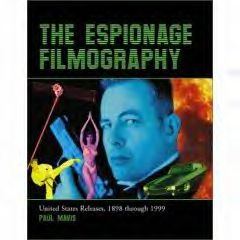 Sponsored Links
Sponsored Links