Mind to Kill: Series 2, A
List Price: $69.99 [Buy now and save at Amazon]
---
Acorn Media has released A Mind to Kill: Series 2, another terrific set of episodes from the Welsh detective series starring Philip Madoc as Detective Chief Inspector Noel Bain. Unrelentingly grim and downbeat, A Mind to Kill is the perfect palette cleanser for British TV fans who, when they think of murder in the U.K., automatically conjure up a cozy drawing room, a body discreetly lying by the fireplace, and an eccentric, funny amateur detective formulating a fool-proof theory of whodunit. Nothing could be further from that comforting mythology here, where grisly murders are committed out of the basest of emotions (or worse: blind bad luck and crushing fate), while a copper is forced to admit that his efforts are, essentially, meaningless. Very light on extras, but the episodes are strong.
Working for over two decades for the Mid-Wales Police Department, 57-year-old Detective Chief Inspector Noel Bain (Philip Madoc) has seen it all. As the department's senior investigator for homicides, Bain ceases to be surprised at the depths to which human beings will fall when money or pride or love or ego or sudden, inexplicable rage are involved...nor does he cease to be depressed by that knowledge, either. A widower for twelve years now (he wife was killed by a drunk driver--an event that will have serious repercussions for Noel this season), Noel lives with his headstrong, emotionally damaged daughter, Hannah (Ffion Wilkins), who now lives at college. It's a difficult relationship because Hannah wants things back the way they were when her mother was alive, and resents what she feels is Noel's controlling influence on her life. For his part, Noel is well-aware that his job's inconvenient time constraints are adversely affecting his relationship with his emotionally-needy daughter. Noel's work away from his troubled home life only adds further emotional suffering for the world-weary detective. While he's acknowledged to be the area's best homicide detective, being successful at his job means he's privy to daily acts of barbarity and senseless cruelty that weigh heavily on his mind (and then effect the way he interacts with his daughter, for whom he fears out in the world--and rightly so, during this season). His colleagues present challenges for the detective, as well, with divorced Detective Sergeant Alison Griffiths (Gillian Elisa) experiencing difficulties as she makes her way up the male-dominated police ranks, and hot-headed Detective Sergeant Carwyn Phillips (Geraint Lewis) frequently pushing the boundaries of accepted police work. Noel's superior, Superintendent Jack Bevan (Meic Povey), is ever-reminding Noel of the stealth politics that are involved with most cases (considerations that irritate Bain no end). Newly-separated pathologist Professor Margaret Edwards (Sharon Morgan), who banters knowingly with Noel on their cases together, presents a potentially rewarding emotional relationship with Noel, but an increase in intimacy this season is fraught with problems...as usual.

SPOILERS' WARNING
I wrote about A Mind to Kill back in January, so I won't go into detailed background on the series again (you can read my review of Series 1 here). Having reviewed many, many British TV titles here at DVDTalk over the years (and admitting to have a partiality for them), I'm always on the look-out for a solid series I haven't heard of before, and certainly, A Mind to Kill fit that bill back when I first reviewed it. Luckily, the strengths of the series continue with these seven episodes that originally aired back in 1997. Watching this second series (or "season" converted from BritTV-speak), I was again taken with the show's determination to be utterly dour. There is no light in this show, and by that I mean not as a matter of cinematography (the predominant color is a depressing gray), but that there is no alleviation of hope or happiness for the villains and the heroes. Wales is still presented as a defeated nation, almost, filled with unemployed or underemployed people who look enviously upon the few who have wealth, while individual, private passions--many of them unsavory--play out to murderous effect against the backdrop of this sociological turmoil. And watching over this unforgiving Welsh landscape, reluctantly at best, is DCI Bain, who feels that his efforts at "keeping the peace" mean nothing, and that he will never find personal peace after experiencing this cesspool everyday.

Tantalizingly, Bain is given a shot here at perhaps a new love: the progression of his flirtation with pathologist Margaret from the first series. In a rare show of happiness, Bain even meets her in the second episode, complete with a tux, for a romantic evening. But almost inexplicably, he throws this relationship away when, in Game Plan, working undercover, he sleeps with a tourist "for his cover," and then later, in Head of the Valleys, Bain continues to push Margaret away until she blows him off for good, embarrassing him in public with her final break-off. Bain's troubled relationship with his daughter gets a work-out here, as well, with Hannah miscarrying an unwanted pregnancy (she was afraid to tell Bain because he's so closed-off and hostile in his emotions, she says), getting used sexually by an older university professor, and being threatened not once but twice by suspects in the cases Bain is working on. Apparently, Bain's overprotective nature, a controlling force that Hannah resented, was right all along: the world outside their home is unforgiving and cruel. As a thoroughly exhausted, beaten-down Bain (Madoc just gets better and better in the role) mournfully exclaims in Head of the Valleys, "we shall cancel each other out" in this sick world.
World-weary and frequently looking frazzled and put-upon, Bain at 57 knows he's never going to be anything more than a DCI--even though he's the best on the force. Ability and honesty in your job means nothing in this world; playing politics and kow-towing to the rich and powerful gets you ahead. So all he has left are his crime-solving skills (as he dejectedly tells his subordinate, "Know your strengths to stay sane")...and even they fail him from time to time. The deliciously creepy Strange Territory finds an "innocent" man--who beat a girl senseless--killed by a revenge-seeking parent for a daughter's murder...while the real killer dies at the hands of his father--all of which Bain suspects, but can't prove. In the first series, Bain had a healthy contempt for the legal system he works for, and that certainly continues here. Cops have to worry not about doing their job, but about satisfying the convoluted, debilitating limitations and restrictions put on them by lawyers that do nothing for the victim, and only aid the criminal. Recognizing that modern "civilization" is fragmenting with the public not respecting or believing in the police's efforts to control crime, Bain knows it's a matter of justice denied--true justice, where the criminal is thoroughly punished for his deeds, and not just an abstract concept or slogan glibly bandied about by the "suits."
Indeed, that kind of thinking appears to weigh more heavily on an increasingly frustrated Bain as this second series plays out. In the second episode, a vigilante who, after losing his son to a hit-and-runner driver, accidentally kills a neighborhood punk, asks Bain why he's arresting him when he the father has already meted out justice: "Don't you care about justice?" "Oh, yes--I do. But justice is an imperfect commodity. And if I didn't do my job, I know that its imperfection would be even greater. That's why I'm arresting you." However, by episode six, Bain is entertaining far darker feelings about justice and specifically, revenge, when he talks with Hannah about the drunk driver who killed his wife and her mother: "Revenge, it's a natural impulse." "There is no place for that in a civilized society." "Oh, there's a place for revenge, all right. I think it's part of justice. It makes people feel better, and that gives popular support for the rule of law. Retribution. Let's people feel something has been done." Increasingly haunted by the memory of his wife being killed, Bain crosses over to the criminals' side in the final episode, Green Wounds, when he tracks down his wife's killer (David Warner, doing his usual shtick: blubbering confusion), slashing the man's tires, drugging him, and setting him up for...I won't tell you. But regardless of the final scene that seems to make light of the incident (or at least ameliorate it in deference to the audience's acceptance of Bain's actions), there's no going back on the fact that Bain becomes no better than the criminals he disdains--no matter how much we may sympathize with his actions, or even agree with them. That's a potentially fascinating development in the series, and I'll be curious to see how (or if) they address it in the upcoming season.
Here are the 7 episodes of the 4-disc set, A Mind to Kill: Series 2, as described on the on-screen episode menus:
DISC ONE
Bloodline
What looks like a suicide pact between brothers gets complicated when another body is found. Bain uncovers a family saga of blackmail, abuse, and revenge and also copes with disturbing news from his daughter, Hannah.
Death Watch
When the charred remains of a body are found inside a burned-out, Bain travels to a town where vigilante justice prevails. Despite the locals' disrespect, he attempts to unravel an unsettling chain of events that led to murder.
DISC TWO
Game Plan
Bain goes undercover at a seedy seaside resort to investigate a young woman's murder. Then Hannah shows up for her own holiday, much to her father's chagrin.
Head of the Valley
Called in to investigate a five-year-old corpse found beneath a parking lot, Bain suspects a local crime dynasty and their ruthless matriarch. While tracking down leads, he confronts his own attitudes towards wealth and power.
DISC THREE
Head of the Valley
A wooded sanctuary in a small rural village has become a battleground between big business and local environmentalists. Investigating a string of violent killings, Bain is caught between two militant and potentially dangerous groups.
Strange Territory
When a teenager turns up dead in a Celtic burial ground, the top suspects are her scorned boyfriend and the local psychic who discovered her. Inconsolable with grief, the victim's family decides to take justice into their own hands.
DISC FOUR
Green Wounds
Plagued with nightmares about the death of his wife--killed 12 years earlier by a drunk driver--Bain takes a leave of absence to seek revenge against the man who ruined his life.
The DVD:
The Video:
I could be wrong...but some of the framing looked a little tight on these 1.33:1 full-screen transfers. Was A Mind to Kill shot wide for British TV, and then cropped for viewing on U.S. television (I believe PBS showed these)? Are those the elements used for these transfers? Perhaps a fan from Britain could email me and clear this up (the title card for the Welsh version clip that's included as a bonus is widescreen, so...). Otherwise, the transfer look about the same as the first series' release: colors have muddied a bit, scenes are a bit dark, and scratches and other screen anomalies are present but not distracting. This is about par for the course for this kind of show from this time period and country.
The Audio:
The Dolby Digital English 2.0 stereo mix reflects the original materials used, including a bit of hiss and some variable recording levels, but with some nice separation effects. All dialogue is heard clearly. English subtitles are included, thankfully, for those thick Celtic accents.
The Extras:
In my previous review, I wrote it might be cool if Acorn included some scenes of A Mind to Kill that were originally recorded in authentic Welsh dialogue...and lo and behold, one such scene makes it as an extra here (give me a call, Acorn--I've got tons of marketing ideas for you...). On disc 2 you can sample a 7 minute clip from Heliwr (the Welsh title of A Mind to Kill) from the episode, Head of the Valley. Pretty cool.
Final Thoughts:
One of my new U.K. TV favorites. A Mind to Kill isn't going to uplift your spirits on a rainy Sunday night: it's dour, depressing, violent and fairly hopeless in outlook. And that's just fine by me. Philip Madoc takes the character of DCI Bain in a new direction at this series' end, so I'm anxious to see where he goes from here. Moody, atmospheric direction and scripting help elevate this one into the top ranks of British TV imports. I highly, highly recommend A Mind to Kill: Series 2.
---
Paul Mavis is an internationally published film and television historian, a member of the Online Film Critics Society, and the author of The Espionage Filmography.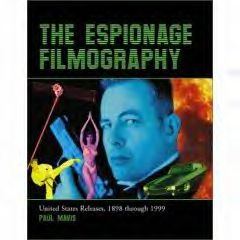 ---
C O N T E N T

---
V I D E O

---
A U D I O

---
E X T R A S

---
R E P L A Y

---
A D V I C E
Highly Recommended
---
E - M A I L
this review to a friend
Sponsored Links
Sponsored Links