Fugitive: The Fourth and Final Season, Volume One, The
Other // Unrated // November 2, 2010
List Price: $39.98 [Buy now and save at Amazon]
---
September 13th, 1966: the day the running continued...in COLOR!
Existentialism "out"...running "in." It yet another split-season release from Paramount (making it almost impossible to judge a season's and series' aesthetic direction), The Fugitive: The Fourth and Final Season, Volume One has been released, and as far as I know (fingers crossed), there are no controversies surrounding this release (I'm sure all the "Fugitive fanatics" will let me know if there any). Yes, Paramount has included their standard warning about music being changed for this vintage release, and no, I'm no Fugitive music expert, so I can't tell you what four bars are missing from the stanza in Episode 4, 38:22 into the show. What I can tell you is that this first half of the last season of one of television's finest anthology dramas gains almost nothing from its switch to color (if anything, it loses a great deal of its atmosphere), while the new emphasis on Dr. Richard Kimble running and jumping and smashing all about the country does indeed make for exciting television...albeit fairly conventional television. Paramount delivers the goods as far as the video presentation, and lo and behold, an extra finally pops up after six volumes: a short featurette on composer Dominic Frontiere. If you've come this far with The Fugitive, you're not going to bail on the last go-around here.
I written extensively on the mythos, the sociological impact, and the aesthetic structure of The Fugitive in my previous six reviews of the show, so I won't retread too deeply into the show's powerful construction (you can access those past reviews--for better or worse--here). For the uninitiated, The Fugitive, loosely based on a combination of the Victor Hugo novel, Les Miserables, and the infamous Dr. Sam Sheppard murder case, follows the harrowing plight of convicted wife-murderer Dr. Richard Kimble (David Janssen) of Stafford, Indiana. Falsely accused, tried, and found guilty of a crime he didn't commit, Dr. Kimble narrowly cheats death when the train carrying him and Lieutenant Detective Gerard (Barry Morse) to the death house derails. Kimble escapes, and has been on the run for the three years, with the grim, relentless, brilliant Gerard breathing down his neck at every turn in the road. Gerard vows to bring in Kimble no matter what his own personal feelings are concerning Kimble's innocence or guilt, while Kimble vows to keep running at all costs until he can find the one-armed man, "Fred Johnson" (Bill Raisch), he saw leaving the vicinity of his home on the night of his wife's murder. Finding temporary help--and hindrance--from people he encounters all over the country, Kimble has changed his appearance and toils in menial jobs, following the slimmest of clues concerning his prey, while trying to eke out a pathetic existence of loneliness and despair, sure that at every turn he's going to be captured and returned to the death house before finding the infamous one-armed man--the only chance he has of clearing his name.
MAJOR PLOT SPOILERS!
In the season opener, The Last Oasis, Richard Kimble, hiding out at an Indian reservation school, devises a science experiment where two rats run through a maze. In a battle between "speed" and "smarts," the speedy rat wins out...and one might generalize (at least for this first half of the season) and apply that theory to The Fugitive itself at this juncture. With new producer Wilton Schiller on-board for this final go-around, the emphasis switches to action and speed, and in the process, the almost dreamlike (or more correctly, nightmarish), elegiac quality of the first season has been all but eliminated. It's not that The Fugitive doesn't "think" anymore; it does. There are numerous good episodes here that try and plumb some depth with the complex characters that inhabit Kimble's world of moral ambiguity. But it's obvious to anyone who has followed the show from the beginning that action now trumps psychology. It's not that The Fugitive hadn't always "moved," though. The second season saw a noticeable uptick in Kimble getting on with the search for the one-armed man (and that was a terrific season); action for action's sake isn't an inherently "lesser" goal compared to supposedly higher-minded drama, either. But the balance that The Fugitive so gracefully maintained between thoughtful drama and high-gear excitement is now decidedly tipping in favor of colorful action and suspenseful moments of Kimble trying to elude the police, rather than long passages of Kimble and his various acquaintances discussing the moral implications of their actions in a world of dark shadows and blind alleyways.
And that's cool, I suppose...but it doesn't make for nearly as memorable TV. If I had to make a guess, I would imagine the switch to more action might have been motivated by the catastrophic drop in ratings The Fugitive experienced in its third season, going from the 5th most-watched show in the country during its second season, to out of the Nielsen Top Thirty altogether for its third. Certainly the move to color, a deciding factor with all the networks concerning their product in 1966, was also motivated by the numbers, so what better way to grab viewers' attentions than with fast, bright action, punctuated by a color-soaked palette (talking heads in color are still talking heads, when you get down to it). The only problem with the addition of color to The Fugitive is that it does nothing to aid the series, while it eliminates the gray-scaled, ambiguous twilight world of shadows and voids and abysses--both physical and emotional--that the series created with its evocative, chiaroscuro black and white lensing. In a sentence: it's difficult to create a tense, sickening nightmare world in Day-Glo® color. Don't get me wrong: The Fugitive certainly looks beautiful in its big-screen quality 35mm color cinematography (most of the vintage TV shows back then could pass muster on the giant screens). It's just that color doesn't make "sense" for the show's zeitgeist, particularly since nothing is really done with it to suggest ideas or moods or to define characters. It's bright and attractive, sure...but hardly aesthetically expressive. And worse, it works against the central core of the show: in this otherworldly black and white American universe, where there is no pity, just absolutes, the shades-of-gray plight of Richard Kimble finds no succor.
As for the quality of the episodes in this first half-season (I hate split seasons, 'cause sure enough, the minute I commit to this review, the second volume will differ big time...), they're decidedly hit-or-miss, with the worst by-product of all of them being you just don't seem to care too much what happens to Kimble at this point. In my third season review, I hinted that maybe audiences had already "got" The Fugitive, and that's why they started to peel off from the show. Certainly the abrupt switch to dazzling, eye-hurting color here, and the right-turn to make the show more action-oriented, only helps, ironically, to point out the series' conventions, and how they're mostly played out by this point. Without the ambiance of an unforgiving black and white and gray world, and without the benefit of enough screen time to really flesh out and get to know the supporting characters that come to interact with Kimble, the skeleton of the show becomes more obvious: Kimble comes to town; an attractive woman in trouble is immediately drawn to him; against his better judgment he overstays his welcome to help someone out; and then here come the cops, with Kimble nimbly slipping away. I just didn't feel any sense of urgency over Kimble's plight by this point, even though the production is obviously trying to ramp up suspense over the final showdown with Kimble, Gerard and Johnson. It's admirable, after the sometimes tentative third season, for the series to get back to the chase, as it were, but without the level of scripting we've come to expect from the series, hampered further by more action scenes and less character motivation, we find Kimble's plight more a matter of mechanics, rather than of the mind (it doesn't help, either, that Janssen seems even more detached here than he was in season three; if he doesn't look like a TV star with the big screen on his mind, I don't know who does).
The first two episodes don't exactly bode well for this "season of change," either. The Last Oasis, written by Barry Oringer, tries for topicality, with an Indian character spouting good-natured racist jibes against whites while every stock Fugitive situation and character is trotted out. We have the frustrated cop (Mark Richman), stuck in the backwaters of rural America, who thinks he's smarter than Kimble and who also sees a way of making up for a mistake his father made in the past--a double-header for familiar Fugitive themes. Beautiful Hope Lange falls immediately for Kimble (I mean like...in an afternoon), imploring him to trust her and not run away from his feelings while we see "IRONY" spelled out in big neon letters, before she conducts surgery on Kimble, extracting a bullet out his leg with a bored Janssen reacting as if she's pulling out a splinter. None of this is in the least bit surprising after three seasons of similar set-ups, but Death is the Door Prize is one of the series' most illogical, wasting the glorious Lois Nettleton (probably the most effective actress on 1960s TV) in a shallowly characterized part of a demonstration model (for VTRs!) helping out Kimble. The Fugitive has been so smart so many times before, it's always rather shocking to see such an inept episode (even more shocking when you see it was directed by series regular, Don Medford). The logistics of the prolonged search for Kimble make absolutely no sense (he keeps prowling around the same thirty tiny yards of hotel courtyard while the police, supposedly crawling all over the place looking for him, mysteriously vanish), nor do most of Nettleton's actions, since we never really learn what she's all about anyway (when Kimble specifically tells her not to take his torn jacket in for tailoring, we know right away that she's going to--and that's sad). A glacial exercise in too-familiar, unrealized suspense. Approach with Care, written by Lee Loeb and directed by William Hale, absolutely wastes the grungiest, most menial job Kimble ever held--the infamous carny roustabout--on an equally too-familiar tale of a mentally challenged adult whose childlike perceptions prove deadly (I love Denny Miller, but when he was finally gunned down in the end, the whole room lightened). The Evil Men Do has an intriguing set-up--Gerard is marked for a Most Dangerous Game-like hunting from a psychotic ex-mobster, with only Kimble there to help him--but we never believe the central crux of the story from the get-go (I don't blame James Daly for not selling a mobster who's pathologically committed to making amends to life-saving Kimble; hell, I didn't even believe Daly's life was in danger from that horse, so ineptly was the scene filmed). And most telling for the change in direction for this season (at least so far...) came during Run the Man Down, when the scripter, Fred Freiberger, failed to give us any significant insight into the fight between Georgann Johnson and James Broderick, the whole point of which sets up her character being at the deserted mountain cabin. What would have been a perfect opportunity in earlier seasons to explore a complex female character having trouble with her husband, or society, or her own self-image, is pushed aside with the breeziest of explanations so we can get to the "good" stuff of Kimble trying to get off that mountain. A waste, particularly for the talented Georgann Johnson.
I really don't want to be too negative about these first fifteen episodes, though; it's just a sense of disappointment that the series seems to have lost its way (or perhaps more accurately, gone in a different direction than I would care for it to go). A Clean and Quiet Town, scripted by Howard Browns and directed by Mark Rydell, is a beautifully-realized little film noir gem, vaguely reminiscent of Point Blank, where Kimble comes across a town were the law is totally bought off, and no one trusts anyone else (imagine if it had been in b&w?). I don't care if The Sharp Edge of Chivalry makes little sense, stretching our sense of incredulity (the killer dyes his hair--linking him to Kimble--because he hates his fair-haired ancestry???); it's a lot of fun watching Janssen's stunt double crawl all over the window ledges and parapets of Paramount's New York backlot. Second Sight, scripted by Daniel B. Ullman and directed with verve by Robert Douglas, may not make a whole lot of sense, either, but it's great fun to see Janssen play blind, stumbling along, inches away from putting his hands on a 130,000 volt transformer (it's a pity the script had plenty of time for that kind of entertaining shenanigans, and none to explore the potentially interesting side characters, like Ned Glass' and Crahan Denton's not-so-helpful winos). Nobody Loses All the Time has a nicely tricky set-up for Kimble--he has to play doctor again at a hospital to get information from Fred Johnson's girlfriend--with director Lawrence Dobkin turning the screws of suspense expertly. My favorite episode this half season has to be The Devil's Disciples, written by Jeri Emmett and Steven Carabatsos, and directed by Jud Taylor. Coming off like a mini-American International Pictures biker flick you never heard of before, badass Bruce Dern takes sexy biker mama Diana Hyland away from sissy Lou Antonio, before they all take Kimble along for a ride he does not want. Some good, subtle observations about freedom versus morality here, along with some early references to the debilitating effects of Vietnam ("This is Vietnam and we're the Vietcong," Dern helpfully offers), before the center is reaffirmed and Antonio agrees that his buddy, killed in 'Nam, "did real good." If only they hadn't finished off that shovel fight too quickly.
As I wrote in my third season review of The Fugitive, it's always a guessing game when you're trying to go back 45 years and divine just from ratings numbers and line-up schedules alone why a series falls out of favor with audiences. Out of the Nielsen Top Thirty the previous season, The Fugitive didn't climb back there for the 1966-1967 season, either, even though we all know the two-part season finale roared back with the single biggest rating for a scripted hour of primetime television in the medium's history up to that time (it scored a staggering 72 share of all households with television sets on that night in 1967). So why wasn't the rest of the season higher in the ratings, if so many people tuned in for the series' finale? Indeed, that phenomenal rating (the finale was expertly hyped by ABC to create a "TV event") just further indicates to me that people hadn't forgotten The Fugitive...they just weren't tuning in on a regular basis. They wanted to see how the mystery finally resolved itself...but they had long since got the point of the show. Still in its Tuesday 10:00PM timeslot, The Fugitive had an even worse lead-in schedule this year than the previous season, with once-popular, now-dead Combat! ending its run, and three new sitcoms--the big-screen spin-off of the Henry Fonda/Glenn Ford Western The Rounders, Phyllis Diller's notorious bomb, the inverted Beverly Hillbillies knock-off The Pruitts of Southampton/The Phyllis Diller Show, and the tame "young marrieds" sitcom, Love on a Rooftop with Peter Deuel and Judy Carne--all failing miserably to connect with audience. The Fugitive's direct competition may have been light on CBS--The CBS News Hour--but with lead-ins Daktari (7th for the year), The Red Skelton Hour (2nd), and Petticoat Junction (23rd), it didn't matter; audiences were either too tired to stay up, or they were tuning into the last hour of steady performer The NBC Tuesday Night Movie. Until the must-see resolution of the series, audiences could take or leave this final season of The Fugitive...even with the added color and the action.
Here are the 15 episodes of the four disc set, The Fugitive: The Fourth and Final Season, Volume One, as described on the inside cover:
DISC ONE
The Last Oasis (9/13/1966)
After he is shot during a police chase, a wounded Richard Kimble seeks shelter at an orphanage near an Indian reservation, where he is offered a job as a teacher.
Death is the Door Prize (9/20/1966)
While visiting a shopping plaza in the city, Kimble is mistaken for someone else, and later is the sole witness to the accidental shooting of a teenager.
A Clean and Quiet Town (9/27/1966)
Kimble travels to a town run by the mob and discovers that the one-armed man, Fred Johnson, is there as well. Later, Johnson puts a contract out on Kimble.
Sharp Edge of Chivalry (10/4/1966)
While working as an apartment building janitor, Kimble is accused of murder when a troubled youth bludgeons a young woman to death.
DISC TWO
Ten Thousand Pieces of Silver (10/11/1966)
As farmhand Kimble develops a special relationship with a young autistic girl, a newspaper publisher offers a $10,000 reward for the fugitive's capture.
Joshua's Kingdom (10/18/1966)
Kimble helps an unwed mother whose infant is sick. However, the girl's father adheres to religious beliefs that prohibit the use of medicine.
Second Sight (10/25/1966)
After Kimble discovers the one-armed man working in a nearby chemical warehouse, he goes there to surprise him--but is then blinded in an explosion.
Wine Is a Traitor (11/1/1966)
The wealthy son of a winery owner tries to stop a labor strike by killing a union leader, but then Kimble gets involved and complicates his plan.
DISC THREE
Approach With Care (11/15/1966)
While working at a carnival, Kimble tries to help another worker, a mentally disabled young man whose sister wants him put away due to a history of violence.
Nobody Loses All the Time (11/22/1966)
At the scene of a fire, Kimble helps a woman struck by a car, then realizes she is the girlfriend of the one-armed man. Meanwhile, Lt. Gerard lays a trap for Kimble.
Right in the Middle of the Season (11/29/1966)
While working for fishermen, Kimble becomes embroiled in a union strike and is arrested. After he is released, his boss offers him passage to Mexico on his boat.
The Devil's Disciples (12/6/1966)
Kimble is taken in by a motorcycle gang, whose members promise to keep his secret if he'll help avenge the death of one of their own--a young man killed in Vietnam.
DISC FOUR
The Blessings of Liberty (12/20/1966)
The police stake out the upholstery store where Kimble is working, and where another fugitive doctor is also employed--a man wanted for performing an abortion.
The Evil Men Do (12/27/1966)
Kimble saves the life of a mobster who then offers to kill Lt. Gerard. Now Kimble is put in the position of determining whether his pursuer should live or die.
Run the Man Down (1/3/1967)
After he meets a wounded criminal on a train, Kimble takes him to a mountain hideout where they are joined by three men who want their share of stolen money.
The DVD:
The Video:
The full-screen, 1.33:1 video transfers for The Fugitive: The Fourth and Final Season, Volume One are as impressive as they were from the previous volumes. Blacks are solid and velvety, and except for the expected grain and some very small, minor scratches here and there, this is one of the sharpest looking transfers I've seen for a vintage television series. Beautiful job again, from Paramount.
The Audio:
The restored Dolby Digital English mono mix accurately represents the original broadcast presentation, and is clear as a bell. As for any possible music substitutions, I'll let the Fugitive experts thrash that out. English subtitles are available.
The Extras:
The first extra included on any Fugitive set...and I swear they did it to fend off more screaming fans complaining about substituted music. Composer Dominic Frontiere: Season of Change, runs a short 7 minutes or so, but it's quite informative about his part in composing the music for The Fugitive (did I misunderstand him, or did he say he went to London to record the music for the series?). Too bad it wasn't longer--or even better, a commentary track with the well-spoken composer would have been great.
Final Thoughts:
The running continues...but it takes up a lot more time than talking. A new producer for this final season of The Fugitive helps push the series more into the action/adventure mold, and that's fine...but I miss the delicate shadings of the existential nightmare that is Kimble's world, featured prominently in the earlier seasons. And color does more harm than good here, too. Still...the series does move again (at least it knows where it's going, even if we don't like the destination), and enough entertaining episodes show up to make The Fugitive: The Fourth and Final Season, Volume One highly recommended...for fans.
---
Paul Mavis is an internationally published film and television historian, a member of the Online Film Critics Society, and the author of The Espionage Filmography.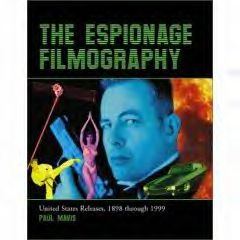 ---
C O N T E N T

---
V I D E O

---
A U D I O

---
E X T R A S

---
R E P L A Y

---
A D V I C E
Highly Recommended
---
E - M A I L
this review to a friend
Sponsored Links
Sponsored Links