Classic TV Christmas Collection (Warner Archives - Dr. Kildare, Alice, ''CHiPs'', Eight is Enough, Welcome Back, Kotter, MORE)
List Price: $34.95 [Buy now and save at Wbshop]
---
Thank you, Warner Archives. You've forced me to watch a complete episode of Veronica's Closet. I hope you're happy.
I feel so...unclean.
An utterly bizarre compilation that somehow works in the aggregate, Warner Bros.' Warner Archives direct mail order service offers up Classic TV Christmas Collection, an amusingly-titled four-disc, 11-episode gathering...'amusing' since it's without a single, solitary "classic" TV Christmas moment in it (along with one episode that has nothing to do with Christmas at all--must be a bone to the P.C. "holiday" crowd). Series sampled here are: Dr. Kildare, The Courtship of Eddie's Father, Welcome Back, Kotter, Eight is Enough, Alice, "CHiPs", Perfect Strangers, Mama's Family, Suddenly Susan, and the aforementioned abomination, Veronica's Closet. The episodes are, to put it kindly, hit-and-miss (a good rule of thumb for the set: the newer the episode, the worse it is), but anyone who grew up loving those Nick-at-Nite Christmas marathons back in the 80s or who waited for the syndicators to line up Christmas episodes of your favorite afternoon strips around December 25th, won't mind the sometimes tarnished tinsel that passes for silver and gold here. Let's look very briefly at each show.
DISC ONE
First up is An Exchange of Gifts from NBC's smash medical drama, Dr. Kildare, an episode that premiered on December 24, 1964. Young, earnest, caring Dr. Kildare (dreamy, slightly otherworldly-looking Richard Chamberlain) can't not help misanthrope Rip Torn, a formerly successful businessman-now-turned derelict who wants to confirm his dyspeptic view of human kind by giving away all his money...to the other hospital ward patients who had earlier cursed his existence. Efficiently directed by future Vanishing Point helmer, Richard C. Sarafian, and sporting a fine supporting cast of familiar character faces (John Qualen, sans his put-on Scandinavian accent, is particularly good), this Kildare episode may have not reached as many viewers this season as previous go-arounds (the show's heat had subsided by this fourth season, with the show dramatically dropping out of the Nielsen Top Thirty). However, it's nicely drawn, with a quiet, measured tone and a largely unsentimental approach that marks it as the best effort here in this collection.
The same can most decidedly not be said for the next episode, Gifts Are For Giving, a December 23rd, 1970 episode from The Courtship of Eddie's Father's second season. It's not that this episode is poorly written or constructed; on the contrary, it's quite nice and even touching in spots (as this series often was), with a good story about Eddie (Brandon Cruz) learning from his father (Bill Bixby) and his extended family of Mrs. Livingston (Miyoshi Umeki) and "Uncle" Norman (James Komack), the true meaning of giving a gift out of love (an annoyingly bright, shiny, hard-as-nails Jodie Foster shows up, too--god was she ever a cold fish of a child star). However...this episode does not take place during Christmas. And while you certainly can extrapolate and say, "But the story is about 'giving' and its air date means it was intended as a Christmas episode," I'm saying if it doesn't have the tree, or the snow, or even just a picture of Santa somewhere in it, it ain't a Christmas show (one of my youngest kept asking when were they going to put up the tree--enough said).
The last episode on disc one is A Sweathog Christmas from December 15, 1977, and if I have to tell you what series is comes from, you have a serious lack of culture (...or you're the smartest person on the planet). This Welcome Back, Kotter Christmas episode is perfect for one reason: it's a clip show. The best moments from the first and best two seasons of the series are trotted out, and we get just enough hokum inbetween to whet our Christmas cheer as the Sweathogs invade the Kotters' (Gabriel Kaplan and Marcia Strassman) new apartment on Christmas Eve (John Travolta, Robert Hegyes, and Ron Palillo are the reindeer pulling a heavy sleigh bearing Santa Lawrence-Hilton Jacobs). Even Mr. Woodman (John Sylvester White) joins in on the fun. A sample of the Yuletide humor here? "Up your nose with some mistletoe." (of course it reads stupid...but it sounded funny).
---
DISC TWO
Disc two is devoted to a two-part Eight is Enough episode, Yes Nicholas, There Is a Santa Claus, that originally aired on December 14th, 1977. As befitting an hour-long comedy-drama (with a laugh track, no less, popping up at the most incongruous moments) consisting of 10 regular cast members, multiple storylines make up his holiday offering, including young Tommy Bradford (Willie Aames) refusing to celebrate Christmas after the death of his mother (actress Diana Hyland had died after filming only four episodes for the first half-season, so Betty Buckley was brought in as the new stepmom for this 1977-1978 go-around), David Bradford's (Grant Goodeve) efforts to spend Christmas with his girlfriend away from his family, and guest star Will Geer, pissed at reading about columnist Tom Bradford's (Dick Van Patten) nice life, stealing their Christmas, tree and all (a not-so-amusing steal in itself from The Grinch Who Stole Christmas). I was a regular viewer of Eight is Enough (mainly because I had a big adolescent thing for dreamgirl Dianne Kay, of 1941 infamy), but I don't think I've seen it since it went off the air in 1981. Watching it today...it's a big mess, with bathos (I know it's sick, but I was laughing when they were all standing around crying their glycerin tears) mixing uncomfortably with one-liners and soft, sentimental scenes, creating not a layered dramedy, but a calculated, false schmaltz-fest. And that's just the kind of episode I want in a Christmas TV marathon, so chalk this one up as a success, believe it or not.
---
DISC THREE
Disc three starts out well with the return of Alice, an always-reliable "go to" show on CBS's strong Sunday night line-up back in the 70s and 80s (and popular as hell, too, often resting in the Nielsen Top Five or Ten during its long, long 9-year run). A Semi-Merry Christmas, originally airing on December 18th, 1977, is solid. Phoenix waitress Alice Hyatt (Linda Lavin), wants a white Christmas for her son, Tommy (Philip McKeon), so she lets boss Mel Sharples (Vic Tayback) drive her and her co-workers/friends Florence Jean Castleberry (Polly Holliday) and Vera Gorman (Beth Howland) up to her cousin's house in Colorado Springs. There's only one problem: a snowstorm strands them. Fast-moving and tightly scripted, all the characters here deliver on their expected turns (Vera is annoyingly scatterbrained, Mel is gruff and slightly dim, pistol Flo is funny and brash), while the message stays light and not at all heavy-handed. "Genial" is the best way to describe this smart, deceptively simple episode from a series that should come back on DVD "pron-toe," as Flo might say.
I've written extensively about "CHiPs" before...and I love the show, but there's no getting around the fact that Christmas Watch, from December 15, 1979, is sub-par. Ponch (Erik Estrada) doesn't like missing his mommy at Christmas time, while Officer Jon (Larry Wilcox)...well, Officer Jon never did anything on this series, anyway, so who cares? Some Noel hooey about a stolen bell and crying kids at a church mixed in with the only element that demanded by constant attention: a possible sighting of Randi Oakes in her form-fitting uniform. Otherwise, this "CHiPs" Christmas special is one big skid mark. Even worse was The Gift of the Mypiot, a Perfect Strangers episode from December 16th, 1988, where Larry Appleton (Mark Linn-Baker) and Balki (Bronson Pinchot) decide their snotty, mean boss, Sam Gorpley (Sam Anderson) needs a little holiday cheer at their Christmas party. Hard to imagine this utterly forgettable sitcom lasted six years on ABC (I remember it well--it was the show I always remembered not to watch), and this paltry offering seems right in line with what I remember about this wispy little nothing that seemed like a bad amalgamation of Laverne & Shirley and Latka from Taxi.
---
DISC FOUR
Disc four is where the "Bah humbug!" vibes realy become intense. First up, Mama Gets Goosed, from a December 23rd, 1989 episode of Mama's Family, doesn't deliver on the promise of its title (oh, if only...with a jumbo 747), but as I've written before...I sometimes find the show funny. What can I say; it's a sin I carry alone. Here, a few amusing one-liners pop up ("What is that on TV?" "It's "An Andy Williams Christmas in Somaliland!"), and some of the gags are good (Mama, played by Vicki Lawrence, gets a vacuum cleaner cozy), but too much time is taken up with that live goose she gets for Christmas dinner, and none of that is very funny at all. I got a goose of my own when I realized that crap like Suddenly Susan and Veronica's Closet--no doubt through some serious soul-selling to the Devil on the producers' parts--actually garnered heavyweight Nielsen ratings during their runs (they both hit series' highs of 3rd most-watched show of the year, in '96 and '97, respectively). All I can say to that is: the Clinton era apparently caused far greater damage to the national psyche than we all previously realized. Suddenly Susan's The Walkout, from December 19th, 1996, and Veronica's Closet's Veronica's Christmas Song, from December 18th, 1997, both thrash about in search of machine-manufactured laughs from their mean-spirited scripts, with incompetent performers striking pouty poses, or making grotesque funny faces (or in the case of one of the performers here, keeping one eye on the craft services table) as we're asked to find all this vile nonsense amusing. Well...it isn't. And let's just leave it at that.
The DVD:
The Video:
The full-screen, 1.33:1 video transfers for Classic TV Christmas Collection vary according to the original sources used. Anything shot on film looks very, very good, like Dr. Kildare (which looks sensational) and The Courtship of Eddie's Father, while the 70s video stuff varies, with Kotter and Alice looking just as grungy as they did when they were brand-new. The transfers themselves are fine; if anomalies crop up (picture noise, scratches, dirt), it's from the source materials. All in all, not bad at all.
The Audio:
The Dolby Digital English mono audio track is entirely serviceable, recorded at a respectable level, and with all dialogue cleanly heard. No subtitles or close-captions available.
The Extras:
No extras in the stocking for the Classic TV Christmas Collection.
Final Thoughts:
True lovers of TV--I don't just mean the shows themselves, but the whole gestalt of watching television--will know what I mean when I write: it doesn't matter that only four of the episodes here in the Classic TV Christmas Collection are any good (The Courtship of Eddie's Father episode doesn't count, guys--nice try). When it's Christmas Eve night, and you want to settle back in your leather wingback chair, your brocaded smoking jacket lightly belted, your pipe freshly filled, with your faithful hound silently at your feet as dozens of kids run screaming pell-mell through the house, even crappy Christmas-themed episodes from largely marginal shows will do the trick in creating that happy Yuletide spirit...bathed, of course, in the glow of your 55" widescreen. But not Suddenly Susan or Veronica's Closet. No one should have to endure those nightmares. I'm recommending Warner Archives' Classic TV Christmas Collection for the hard-core Christmas TV fan, while a rental might be in order for someone more casual and curious.
---
Paul Mavis is an internationally published film and television historian, a member of the Online Film Critics Society, and the author of The Espionage Filmography.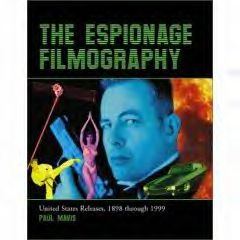 ---
C O N T E N T

---
V I D E O

---
A U D I O

---
E X T R A S

---
R E P L A Y

---
A D V I C E
Recommended
---
E - M A I L
this review to a friend
Sponsored Links
Sponsored Links