Mister Ed: The Complete Fourth Season
---
"Bless you, buddy boy; that's why I love you: you think like a dumb animal."
A sad goodbye to Larry Keating and Edna Skinner, but a welcome addition of the equally delightful Leon Ames and Florence MacMichael. And best of all, head writer Lou Derman seems to be back in rare form. Shout! Factory keeps the laughs coming with the release of Mister Ed: The Complete Fourth Season, a four-disc, 26-episode collection encompassing the classic CBS sitcom's 1963-1964 season. To die-hard fans of the show, several of the entries here are series' bests, including two celebrity-driven outings titled appropriately enough, Leo Durocher Meets Mister Ed and Mae West Meets Mister Ed (one of the all-time strangest half-hours of vintage TV you'll see). If the formula seemed like it might be running out of gas in season three, you'd never know it here in this funny, funny season.
As I wrote in my extensive first, second, and third season reviews of Mister Ed, a synopsis of Mister Ed's central story line seems absurd by this point--who doesn't at least know what this show is about? But here goes. Young Southern Californian architect Wilbur Post (Alan Young) has moved out of the city and into the hills overlooking the San Fernando Valley. Living in his beautifully appointed country house (at 17230 Valley Spring Drive) with his sweet, charming wife Carol (Connie Hines) by his side, Wilbur has converted the ramshackle barn out back into his drafting room and office. However, way back on moving day, both he and Carol discovered something in the barn that wasn't there when they first bought the house: an equally ramshackle palomino horse. Wilbur, remembering his childhood days growing up in a similar house--but without the pony he always wanted--was all for recapturing his youth and keeping the horse, something his wife Carol was against...and with good reason, as the years wore on and Mr. Ed took up more and more of Wilbur's time and attention. Mr. Ed, convinced of Wilbur's kindness, shocked Wilbur into wild-eyed incredulity by talking to him (while convincing his bickering neighbors, Roger and Kay Addison, played by Larry Keating and Edna Skinner, that they sold their adjacent property to a certifiable head case). Wilbur wasn't hearing things--Mr. Ed the horse--could really talk. And to top off that miraculous feat, Mr. Ed was also a bit of a smart-ass and very probably more intelligent than the kind-but-fumbling Wilbur. Soon, new neighbors Gordon Kirkwood (Leon Ames), Wilbur's former Colonel in the Air Force, and his slightly daffy wife, Winnie (Florence MacMichael), get in on the act, too...the act of thinking there's something seriously wrong with Wilbur. And that context sets up the myriad number of gags and misunderstandings that will follow in Mister Ed, because Mr. Ed, out of a combination of stubbornness and laconic, needling perversity, will only speak to Wilbur--no one else.
SPOILERS ALERT!
After three extensive reviews on Mister Ed, there's not much more I can say about the show's format or its aesthetics, so if you'd like context on those elements of the show, please click here to read my previous reviews. As for what's new this season, obviously the death of Larry Keating during initial production of the fourth season was a blow to the series, particularly since equally talented Edna Skinner, by necessity (or at least because the producers refused to properly address Roger's sudden disappearance), was let go, as well. In my first season review, I raved about Keating's and Skinner's act together. I know there are Mister Ed fans who don't cotton to the Addisons' acerbic manner, but I always found their bitchy, catty verbal sparring a nice counterpoint to Wilbur's and Carol's more loving, more newlywed-ish "misunderstandings." Keating and Skinner seemed liked they dropped out of some arch 30s screwball comedy (rich and abrasive and verbally cutting), and they provided a sharp tang to the Posts' more palatable suburban politeness. For whatever reasons, the producers felt that they couldn't explain Keating's absence (unless I missed a line a dialogue, I heard no one mention his whereabouts when it's just Skinner and later Jack Albertson as her brother Paul, hanging around the house again). He's just there one minute and gone the next, and sorrily, so goes Skinner, as well.
That had to be jarring for loyal fans of the show back in 1963, but networks routinely ignored such continuity gaps, believing (falsely) that audiences simply weren't that "tuned in" to notice such things. I doubt Albertson was ever intended as a permanent replacement for Keating; the idea of a grown brother and sister living next to the Posts, complaining to each other like a married couple, wouldn't have worked for long, but it's too bad more room couldn't have been made for Albertson, who has a nice, scammy spryness to his comedy here. Luckily, the addition of Ames and MacMichael worked well, creating an entirely different tone from the Addisons, while still maintaining the necessary tension required for suspicious neighbors next to the Posts. Ames, a veteran performer who could switch easily from dramatic to comedic roles, is quite good as Wilbur's former Air Force C.O. who tries valiantly to believe Wilbur is sane, before he quick-marches Wilbur out of his house after one of Wilbur's spectacular slapstick screwups-with Colonel Gordon always on the receiving end. MacMichael is also quite different than Skinner, coming up with a charmingly daffy wife who apparently wouldn't release Wilbur had a talking horse even if Mister Ed spoke directly to her. That kind of comically naive character is often portrayed too broadly or outsized by actors playing to the stalls, but MacMichael has an easy-going manner that makes her ditzy observations that much more humorous. They're a good match for the show; if the Posts had to have new neighbors, Ames' and MacMichael's casting was inspired.
Reviewing the third season, I couldn't help but feel Mister Ed was wearing on a bit, but happily, and despite the drastic changes in the cast, this fourth go-around seems more in line with the second season: solid jokes, solid gags, and good energy from the cast. Opening with a bang, Leo Durocher Meets Mister Ed certainly contains a signature sight gag for the series: the image of Mr. Ed sliding into home at Dodger Stadium (through the magic slo-mo clarity of DVD, check out how disturbing that dummy/horse corpse? looks going into home plate). Written by Lou Derman (who else) and Michael Fessier, Leo Durocher Meets Mister Ed is a heavy hitter with the laughs, with memorable bits like Wilbur putting his foot down with Carol about not going on a trip to Palm Springs...before she immediately tells him to start packing, Carol's arresting swimsuit diversion that goes nowhere with oblivious dimwit Wilbur (Connie Hines, looking terrific as always), Durocher himself getting the episode's best line, when Wilbur mentions Archimedes ("Archimedes? What team is he playing for?"), and of course, all those Dodgers, including long looks at Sandy Koufax, John Roseboro, Willie Davis, and Bill "Moose" Skowron (an earlier typing error of "Bill 'Mouse' Skowron" landed me a whole bunch of emails from Dodgers fans). Wilbur Post, Honorary Horse, has Keating getting off one of his best world-weary cynicisms, "Behind every man is a little woman destroying him," while Young memorably impersonates a horse (complete with feather duster for a tail). The marvelous Leo Fuchs knocks it out of the park as a near-blind agent for the Bureau of Animal Regulation in Patter of Little Hooves (that guy could do more with a double take than just about anyone in the business), while Stanley Adams, Frank Scannel, and Kay Kuter make memorable hobos who latch onto kindly Wilbur and Ed (Adams' "I'm a professional hobo. I was unemployed before people were paid for it," should resonate today).
Co-producer George Burns does an amusing audio drop-in during Don't Laugh at Horses, when Mister Ed impersonates the legendary comedian, Connie Hines vamps the then-current Cleopatra craze...to no discernable effect on Wilbur ("What would thou have of me, Marc Antony?" she breathes as she tries not to bust out of her form-fitting gown, to which that imbecile Wilbur replies, "I would have a pair of dry socks."). Spring Byington has a funny supporting turn in Oh, Those Hats!, while familiar character actor Lee Goodman gets the biggest laughs as a door-to-door salesman reacting--favorably--to Wilbur in drag ("Wear what you want," he leers, with a wink). There's some funny slapstick in Ed Gets the Mumps, where Wilbur smashes into a table, gets socked by Carol, and has a bottle thrown at him by a baby provided with a hysterically funny, fake cry. Ed the Shish Kebab is a treat for magic fans, considering Harry Blackstone makes an appearance (while head writer Lou Derman also shows up for a good trick). Ed the Chauffeur has some funny old stock footage during Ed's joyride in a stolen van (Hal Roach stuff, maybe?), while The Prowler has Wilbur in drag again (the movie that frightens Ed on "Goosepimple Theatre" is Teenage Bride of the Mexican Mummy Monster Creature from Outer Space). Saddles and Gowns has "Devil Ed" showing up over Ed's shoulder, complete with a hysterically funny evil laugh from Rocky Lane, while I quite enjoyed the semi-pilot try-out of Moko, a live-action/animation combo featuring familiar character actor Dave Willock as the voice of Martian Moko, who flies into people's ears, taking over their bodies. It's a silly, one-note idea that probably wouldn't have worked over a full season, but it makes for a very funny episode here (an atypical one where Mister Ed isn't front and center--I'm surprised they didn't have Moko fly into Mister Ed's big ear).
But clearly the stand-out episode this season has to be the utterly bizarre Mae West Meets Mister Ed, an absolutely unfathomable exercise in crypto-camp (hate that word...but it fits here) that starts out hilariously, seriously weird, only to get more off-the-wall as it goes along. Mae West, acting exactly like a bad Mae West drag queen impersonator, puts one hand on her bumping hip and the other patting up her hair, and throws out lines like, "Believe it or not, I've got to see a man about a barn," and "I even choke up when I see a Good Humor® Man," a positively filthy line concerning Mae's love of men in uniform. You could probably write a good thesis paper for your Psych 101 class when pondering the uncomfortable tone that deepens as it's suggested that Mae may be...interested in Mister Ed ("Not a man, not a monkey...he must be a cool cat!"), culminating in a flabbergasting bathtub scene where Mister Ed is...prepared for something, god help us, with Mae approvingly looking on as two of her barbell boys lovingly bathe and groom the frankly nervous-looking palomino (to Mister Ed's credit, he runs like a bat out of hell back to Wilbur). Mister, it just doesn't get any more outlandish than that for 1964 network television, and for this episode alone, this fourth season of Mister Ed is required viewing.
The DVD:
The Video:
With the exception of Home Sweet Trailer, which looked terrible (tons of video noise), as with season two and three, the full-screen, 1.33:1 black and white transfers for Mister Ed: The Complete Fourth Season look quite good, with a mostly creamy gray scale, blacks that hold, a bright, sharp picture, and minimal screen anomalies such as dirt and scratches. I didn't notice any distracting compression issues, and overall, this looks as good as any Paramount vintage TV release.
The Audio:
Again, on Home Sweet Trailer, the sound quality matches the poor video. Audio is frequently muffled. For all other episodes, the English mono audio track has some up-and-down levels that did distract from time to time (minor, though). Overall, though, the dialogue came through. Subtitles are available.
The Extras:
No interviews this time around, but there is a cool little 19-minute P.S.A. episode for the Treasury Department's U.S. Savings Bond drive, co-starring George O'Hanlon as an electrician who teaches Wilbur how to be a bonds super-salesman. No laugh track, but you won't need one when Wilbur looks right into the camera and assures future bond buyers, "They're backed by the government. You can't lose!" Uh....yeah.
Final Thoughts:
A return to form. Season three's draggy feel is gone here as episode after episode sets up solid gags and laughs in these speedy episodes. Some series' bests here, including the mind-boggling Mae West Meets Mister Ed, one of the single strangest half-hours in network television history (thank god). I'm highly, highly recommending Mister Ed: The Complete Fourth Season.
---
Paul Mavis is an internationally published film and television historian, a member of the Online Film Critics Society, and the author of The Espionage Filmography.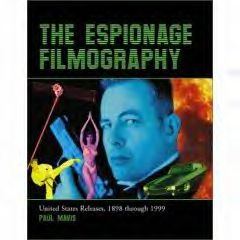 ---
C O N T E N T

---
V I D E O

---
A U D I O

---
E X T R A S

---
R E P L A Y

---
A D V I C E
Highly Recommended
---
E - M A I L
this review to a friend
Sponsored Links
Sponsored Links