Dennis the Menace: Season One
List Price: $29.93 [Buy now and save at Amazon]
---
A genuine delight. Shout! Factory, that little dickens of a DVD releasing company, has come up with another must-have set for the vintage TV fan: Dennis the Menace: Season One, a five-disc, 32 (!) episode set featuring the complete episodes from the series' 1959-1960 premiere. Several fun extras round out this first season of the beloved Boomer sitcom, based on the internationally popular comic strip.
Suburban Hillsdale, America, circa 1959. If you round the bend on Mississippi Street, you won't have to get too close to 627 Elm to hear a strident, "Helloooooooooooo, Mr. Wilson!" called out by little Dennis Mitchell (Jay North). A rambunctious, inquisitive, tow-headed walking disaster zone in stripped shirt and overalls, Dennis means well, but this red-blooded, all-American boy simply can't help but lay down a path of destruction wherever he goes...particularly when he visits "good ol' Mr. Wilson" (Joseph Kearns), the Mitchell's next-door neighbor. Retired to the good life of 1950s suburban America, George Wilson wants nothing more than to putter around his house with his various hobbies, including astronomy, coin collecting and especially his garden, before settling down every afternoon for a quiet snooze on the couch. Unfortunately, Mr. Wilson is driven to gulping straight out of his nerve tonic bottle, such is the ruckus caused by hero-worshipping Dennis, who likes Mr. Wilson so much that he's very probably going to kill George with hyper-kindness. George's saintly wife, Martha (Sylvia Field), thinks Dennis a dear, sweet little boy, but even she knows there are times when Dennis shouldn't be around grouchy George...and those are precisely the times that Dennis strikes with completely innocent mayhem. The parents of such a child could rightly apply for sainthood, too; however, engineer Henry Mitchell (Herbert Anderson) and lovely housewife Alice (Gloria Henry), get exasperated with Dennis, as well―until they realize he's just a boy with good intentions...and low impulse control skills. Rounding out the gang are Dennis' good-natured, willing best friend Tommy (Billy Booth), and that "dumb ol' Margaret" Wade (Jeannie Russell), who is forever trying to wrangle a horrified Dennis into playing house as her "husband."
SPOILERS ALERT
A syndicated staple on afternoon TV when I was growing up in the early 70s, the first season of Dennis the Menace holds up remarkably well 52 years (!) after its first season premiere. A "kiddie" show that plays as well with adults as it does with the small fry, Dennis the Menace is yet another example of beautifully-crafted entertainment that was the norm in television's golden past, a fact that shouldn't, but does, continually surprise me the more I re-visit these often-maligned treasures. Based of course on cartoonist Hank Ketcham's phenomenally popular comic strip of the same name, Dennis the Menace was an immediate hit with the public (a great time slot helped, no doubt), and it's easy to see why, even after all these years. An interviewer in the 1980s once asked Jackie Gleason why the "classic 39" Honeymooners were still revered by audiences after 30 years, and he said quite plainly, "Because they're funny," a deceptively simplistic statement that actually sums up their intangible appeal quite nicely. When Jay North starts rattling off a machine gun-fire line of questions at some exasperated adult, it's still funny...and it's going to be funny for as long as people recognize the humor in a peripatetic kid who can't help but say the wrong thing at the wrong time, or whose actions cause bigger calamities than he was trying to avert. "Funny" is funny, as the saying goes, and deeper meaning is fine if you can find it...but it's not necessary. It's enough to laugh at Dennis' well-intentioned sincerity, marred by his incredibly bad judgment of his actions' consequences, along with the surrounding adults' mortification as they watch this well-intentioned train wreck in action.
With crack lead writers William Cowley (Hazel), The Eve Arden Show) and Peggy Chantler (apparently every sitcom ever made, from Bewitched to Leave it to Beaver) penning many of the 32 episodes here, and with solid support from most-often used directors William D. Russell and Charles Barton (one of my favorite studio comedy directors), Dennis the Menace is simply and cleanly constructed, episode after episode...and invariably funny. In the brilliantly-realized pilot episode, Dennis Goes to the Movies, the premise is simplicity itself: Dennis' parents want to see a movie without him...and he's having none of that. The situation is set, so Cowley and Chantler expertly build complication upon complication, until Dennis uses his friend Joey (Gil Smith) as a Dennis-substitute for an unwitting babysitter, so he can sneak out of the house and sneak into the movie house. There, he causes havoc, firing his six guns (they're watching Cowboy, with Glenn Ford and Jack Lemmon), asking the projectionist to play back a good part, eating out of a guy's popcorn, and even shushing his in-the-dark parents. The evening culminates with Alice and Henry, looking down on their adorable child...who's faking sleep (Buehler, anyone?). It's a hilarious episode, expertly built and timed and performed, and even though the Dennis character would never be quite this conniving or scheming again, Dennis Goes to the Movies sets the bar high for the series, a standard it maintains remarkably well throughout this first season (apparently, too-cautious CBS and some no-good do-gooder groups complained about this Dennis, and his character was immediately softened in subsequently-produced episodes).
Unlike similar sitcoms like Leave it to Beaver or The Donna Reed Show, Dennis the Menace usually avoids scenes of overt sentiment (or sentimentality) to concentrate on the basics of the genre: situational comedy. Of course there are sweet, tender moments, such as Dennis singing Silent Night in The Christmas Story, or Mr. Wilson feeling guilty about possibly destroying the neighborhood kids' world of fantasy in Innocents in Space, and Dennis' actions, no matter how destructive, always come from impeccable motivations; his Mom is the "best Mom in the whole world!", and "good ol' Mr. Wilson" is always sought out for renewed friendship after their last disastrous encounter. But by and large, the show sticks with carefully-designed slapstick (which is never overt or crude), and surprisingly witty scripting for what is often dismissed as merely a "kiddie" show. A great example of the two in action comes in the opening teaser sequence (where Dennis is ready to―or has already―done something terrible) for Grandpa and Miss Cathcart. As Alice, distracted by her housework, absentmindedly tells Dennis, "no clothes," when he asks to run through the sprinkler, the camera then fades to Alice coming downstairs, picking up one article of Dennis' clothing after another...until she grabs his crumpled-up underwear on the floor. Racing outside, she screams his name in horror as we imagine the sight of (off-screen) naked Dennis running through the water.
While Dennis' problems with his parents balance as much screen time as his pesterings of Mr. Wilson, I would imagine most people, when they think back on this comedy, remember best the conflicts between Dennis and his crotchety next-door neighbor. Of course, chemistry is everything, and luckily, Kearns and North are an inspired pairing. No matter how funny the lines and the situations are from Cowley and Chantler (and also frequent contributor George Tibbles), they wouldn't work if we didn't buy Dennis and Mr. Wilson, and North and Kearns are letter-perfect from episode one. With North bright and chirpy to the point of metallic screechiness, and Kearns―hands flapping ineffectually and eyes goggling out past his lens-less glass―in dyspeptic despair of mythological proportions, their teaming is comparable to other great TV teams, like Denver and Hale, Jr., Griffith and Knotts, and Nabors and Sutton. North in particular is an accomplished little comedian. There's something very strange and almost otherworldly to his overly-emphatic delivery. It's sometimes insanely direct and intense...and always hysterically funny in contrast to everyone's barely-sustained horror at his irrationally insistent tone. Watch North's eyes when he really starts up; if ever a kid had the devil in his eyes, it's North. Uniquely, though, he can switch right back to a sweet little boy with his delivery―a realistic, naturalistic, curious kid who looks believably happy when he's interacting with his screen parents or the sometimes-kindly Mr. Wilson (I love the moment in The Christmas Story where Dennis and Tommy pile on-top of napping Henry, bouncing up and down on him unselfconsciously). It's a testament as well to the acting skills of lovely Gloria Henry and gentle Herbert Anderson (who looks exactly like his cartoon inspiration) that they come across as well as they do here; they could have easily been lost amid the gags and set pieces.
There isn't a single misfire in the bunch here for this first season of Dennis the Menace, but memorable episodes include Grandpa and Miss Cathcart, where the magical Mary Wickes introduces her husband-hungry down-the-street neighbor to great effect (the scripters do a brilliant job of mirroring Dennis' and Grandpa Mitchell's, played by James Bell, flight from Margaret's and Miss Cathcart's attentions). Innocents in Space is a sweet, funny story about the wonder of children's imagination, as amplified by an afternoon kiddie show starring Parley Baer's "Captain Blast." Dennis' Garden is perfectly constructed in its back-and-forth gags about dahlia bulbs being removed and reburied constantly. Exquisitely-built episodes of mounting comedic misunderstandings―some of them of Seinfeldian proportions...just another indication of how muchthat "groundbreaking" show owed its hipness to mining long-since forgotten TV comedy conventions―appear with regularity, including Mr. Wilson's Award (when Mr. Wilson learns Dennis may be moving to New York, he giddily exclaims, "I feel exactly the way I did the day the war ended."); Dennis and the Cowboy, a funny spoof of TV cowboys of the day (Brad Johnson is hilarious as the cowboy with "sensitive feet," and Isabel Rudolph is simply marvelous as the drama matron who passionately implores, "Realism! Realism!" to Dennis and his gang as they rehearse a town pageant); or Dennis and the Open House, an expertly-staged "comedy of attrition" that finds every freeloader in town showing up at the Mitchell's business "open house," courtesy of Dennis' unwelcome help (Dub Taylor is great as the unpretentious fix-it-man, Opie Swanson). Director Charles Barton contributes some of the season's best, too, particularly Alice's Birthday, where the boys hassle Charles Lane as the owner of a five-and-dime that has the misfortune of Dennis as a customer, and certainly my favorite episode this season, Dennis and the Swing, written by George Tibbles, Paul West and David Schwartz, where Dennis sets into motion multiple comic misunderstandings that result in a series of beautifully simple-yet-hilariously staged set pieces.
Snug in its permanent 7:30pm Sunday night slot it would occupy during its four-year run, Dennis the Menace proved to be a monster hit right out of the gate this 1959-1960 season, landing at an impressive 16th for the year in the Nielsen ratings (impressive because of the implication that it was merely a "kiddie" show). Following strong lead-in Lassie at 7:00pm (a combination that must have pleased families, considering it brought Lassie back into the Nielsen Top Thirty), Dennis' direct competition over on NBC, Darren McGavin's Riverboat, didn't stand a chance, while over on ABC, the previous year's massive hit, the comedic Western Maverick, took a direct hit from the percousious little monster Dennis, dropping from 6th overall for the 1958-1959 season, to 18th this year―two notches lower than its "kiddie" competition. With The Ed Sullivan Show as its lead-out (roaring back into the Nielsen Top Fifteen, at 12 for the year), and other big hits later in the night (Alfred Hitchcock Presents at 25th for the year; What's My Line? at 27th), Dennis the Menace was set up for an even better showing in the Nielsen's, next year.
Here are the 32 (!) episodes of the five-disc set, Dennis the Menace: Season One, as described on the set's enclosed episode guide:
DISC ONE
Dennis Goes to the Movies (10/4/1959)
Dennis eludes his babysitter to go to the movie that his parents are seeing.
Dennis and The Signpost (10/11/1959)
Dennis and Tommy replace a fallen street signpost but fail to notice they've put it up with the street names facing in the wrong direction.
The Fishing Trip (10/18/1959)
Henry and George try to go fishing without Dennis.
Grandpa And Miss Cathcart (10/25/1959)
Dennis tries to fix up his Grandpa Perkins with Miss Cathcart.
Innocents In Space (11/1/1959)
Mr. Wilson thinks he has discovered a spece satellite.
Dennis' Garden (11/8/1959)
Dennis mistakenly raises Mr. Wilson's expensive dahlia bulbs, while Mr. Wilson ends up raising ordinary sweet potatoes.
The New Neighbors (11/15/1959)
Dennis helps Mr. Wilson sell a neighbor's house.
DISC TWO
Tenting Tonight (11/22/1959)
When Dennis and Tommy camp out in the backyard, Mr. Wilson suspects wild animals are going to attack them.
Dennis Sells Bottles (11/29/1959)
Dennis thinks his dad is broke, so he sells bottles in an attempt to make some extras money.
Mr. Wilson's Award (12/6/1959)
In order to keep Mr. Wilson in town for an award he is due to receive, Dennis led to believe he and his family are moving to New York.
The Christmas Story a.k.a.: Dennis & Christmas (12/20/1959)
Dennis goes crazy trying to find his gifts.
Dennis and The Cowboy (12/27/1959)
Dennis meets Whip Crawford, his cowboy idol, after Mrs. Webster tells Dennis that Whip will be in the community pageant.
Dennis Haunts a House (1/3/1960)
Mr. Wilson becomes suspicious when he hears noises caused by Dennis and his friends, who've set up their clubhouse in a crawl space underneath his house.
Dennis' Tree House (1/10/1959)
Mr. Wilson attempts to teach Dennis about bird-watching, and Dennis takes care of a sick bird.
DISC THREE
Dennis and The Rare Coin (1/17/1960)
Mr. Wilson purchases a rare coin for $250, but Mrs. Wilson, without realizing it, lets Dennis take it to use in a wishing well.
Dennis and The Bike (1/24/1960)
When his parents won't buy him a bicycle, Dennis attempts to get one of his own.
Dennis and The Open House (2/7/1960)
The Mitchells are having an open-house party and are worried that Dennis may, somehow, make trouble.
Dennis and The Duck (2/14/1960)
Dennis' duck causes problems in Mr. Wilson's garden, and Mr. Wilson warns Dennis to keep him out.
Dennis and The Swing (2/21/1960)
Henry tries to take Alice out for their anniversary. Meanwhile, Dennis tries to build a swing in his yard and ends up chasing a cat up a tree in the process.
Dennis and The Dog (2/28/1960)
Dennis cares for a dog named Charlie who turns out to be quite an artist!
Mr. Wilson's Sister (3/6/1960)
After being read Treasure Island, Dennis and Tommy become fascinated with buried treasure.
DISC FOUR
Dennis and The TV Set (3/13/1960)
Dennis uses his friend's remote control to operate Mr. Wilson's television from his house, and Mr. Wilson can't understand what's happening.
Dennis Creates a Hero (3/20/1960)
Dennis asks a reporter to write a story about his dad with hopes of getting his picture in the paper.
Dennis' Paper Drive (4/10/1960)
Dennis and Tommy collect newspapers for a paper drive that will reward the boy who collects the most with a silver dollar.
Dennis and The Bees (4/17/1960)
Dennis and Tommy learn that Opie might have to move because his bees can't find honey. So the boys move Mr. Wilson's indoor flowers outside to attract the bees, and Dennis has a plan to attract even more.
Alice's Birthday (4/24/1960)
Henry will be out of town for Alice's birthday, so he gives Dennis some money and tells him to see that his mother has a nice day.
Dennis Becomes a Baby Sitter (5/1/1960)
When Henry and George mistakenly both cancel their respective sitters, Dennis and another boy are left alone to wreak havoc.
Dennis and The Starlings (5/8/1960)
Mr. Wilson has a bunch of starling in his tree and wants to get rid of them. In his attempt to help out, Dennis only incites a whole new problem.
DISC FIVE
The Party Line (5/15/1960)
The Driscolls are new neighbors, but problems arise because their phone is on the same line as the Mitchells'.
Bennis By Proxy (5/22/1960)
After hearing that the city is tearing down Mr. Dorfman's "Postman's Rest" bench in favor of a parking lot, Dennis and Tommy offer him use of their private bench they plan to build.
Dennis Runs Away (5/29/1960)
When Dennis has no one to play with, he decides to walk to his grandfather's house, which is miles away!
Miss Cathcart's Sunsuit (6/12/1960)
Dennis and Tommy try to sell Valentine's Day cards in July to buy swim fins.
The DVD:
The Video:
The black and white, full-screen, 1.33:1 video transfers for Dennis the Menace: Season One, look about as good as I've ever seen the series, with a sharpish picture and generally decent black values. Contrast does fluctuate from episode to episode, though, and scratches do show up from time to time (moire effect does crop up, too, during some of the more visually busy frames).
The Audio:
The Dolby Digital English mono audio track is true to the original broadcast experience, with a strong re-recording level and minimal hiss. No subtitles or close-captions, though.
The Extras:
Several nice extras. First, a new interview (2010) with Gloria Henry (still lovely) and Jeannie Russell, where they hit some of the highlights of the show's production. It runs 38 minutes. Even better are four 25 minute segments from The Stu Show's 2007 interview with Henry and Russell, where they go into great detail about their own careers and Dennis' production (they also basically shoot down those stories about any alleged abuse towards Jay North on the set). Fascinating. Next, an original CBS promo for the show is included, along with two commercial bumpers for Skippy and Bosco, the two Best Foods brands that sponsored the show. And finally, the cross-over The Donna Reed Show episode, Donna Decorates, which features Jay North as Dennis, is included. Terrific set of extras.
Final Thoughts:
A beautifully written and constructed sitcom...that also just happens to be a "kiddie" show. Featuring witty scripting and inventive direction, Dennis the Menace delivers laughs with a consistency matched by the perfectly-drawn performances―particularly Jay North's intensely funny, insistent turn as the well-intentioned but mischieveous devil, Dennis. A wealth of info on the production in the extras, Shout! Factory's Dennis the Menace: Season One comes highly, highly recommended.
---
Paul Mavis is an internationally published film and television historian, a member of the Online Film Critics Society, and the author of The Espionage Filmography.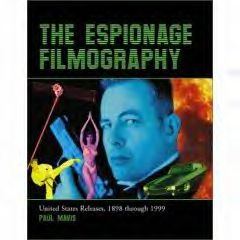 ---
C O N T E N T

---
V I D E O

---
A U D I O

---
E X T R A S

---
R E P L A Y

---
A D V I C E
Highly Recommended
---
E - M A I L
this review to a friend
Sponsored Links
Sponsored Links