Dennis Miller: ''The Big Speech''
Kultur // Unrated // February 22, 2011
List Price: $19.99 [Buy now and save at Amazon]
---
"Alright, he's a great speaker...let him sell Sham-wows. We've got a country to save."
What can I tell you, babe? He's funny. Standing Room Only Entertainment and Kultur International has released Dennis Miller: "The Big Speech", political and social commentator, stand-up comedian, and radio talk show host Dennis Miller's eighth HBO special. One of the most interesting, truly thoughtful guys out there in the media, Miller's stances on social issues, politics, religion, and pop culture cause no end of consternation for those ideologues who seek to pigeonhole him on the right or wrong side of the culture wars...and those audience expectations only serve to add an element of tension and genuine danger to his deceptively laid-back, smirky, wise-ass observations. Not much in the way of extras here (just some deleted jokes), but fans of the comedian will enjoy this outing.
Having been in college (and thus, the prime demo target) when Dennis Miller first gained national attention with his stint as the Weekend Update anchor on Saturday Night Live, that particular "Dennis Miller" of the mid-1980s, the gloriously vain, overly-confident, feathered-haired, cooler-than-cool jerk-off who dismissed anything and everyone with a cynical put-down and a smirk into the camera, will forever embody for me the zeitgeist of that time and place in America. To be the supreme smartass for the youth generation in the funniest, most irreverent country on Earth―even if just for one night a week for a few years―is pretty heady stuff for any young comedian. Admirably, the Dennis Miller of today has apparently made no attempts to hang onto any phony youthful image of his past glories; he's instead aging gracefully into his now-57 years, growing a scruffy beard, cutting his graying hair shorter, wearing suits that are a tad more generously let-out, and allowing his maturing, quasi-curmudgeonly inner self share equal time with his still-impish, wise-assed goofball side.
Having shown an equally admirable desire to keep working in the public eye, whether for his Emmy-award winning Dennis Miller Live, or doing color commentary for Monday Night Football, or hawking M&Ms® (you say, "sellout?" When the rent's due, are you gonna pay off Miller's mortgage? No? Then shaddup), Miller has stayed relevant by voicing his opinions through his humor regardless of the current, prevailing mood of the country. Certainly many (liberal) former fans, remembering the Dennis Miller who took particular delight in puncturing the pomposities and absurdities of Republican and conservative leaders during the 1980s, were shocked to see the Dennis Miller of 2002, noticeably more serious after 9/11 (like so many of us), siding with President George W. Bush's war on Iraq―a daring political position publicly declared by almost no other celebrities once the first few days of patriotic fever wore off, and the grim business of toppling a brutal dictator truly began. There's been argument among observers who question Miller's sincerity in this seeming shift to the right, particularly since his regular appearances on the highly-rated The O'Reilly Factor (something Miller acknowledges in this special, when he asserts his sincerity in defending the positive vision of America he holds). But according to others who have worked alongside Miller, he's always had left/right opinions (again, Miller flatly states in this special that he holds many socially liberal beliefs, an honest declaration that is usually met at first with silence from his newfound conservative fans...until they start to laugh again). Having watched the clearly passionate Miller over the years in the various projects he's helmed, I can't see how someone can come away from one of his discussions/rants, believing that he's somehow shilling for something he doesn't believe in. It's just the message they don't like hearing...from a stand-up guy who not only isn't afraid to argue his point, but who may do so by ridiculing the ridiculousness of your position.
And these days for right-leaning libertarian Miller, that ridiculing falls more along the left than the right. Still, when it comes to calling bullsh*t on everything from liberal politics to moderate Islamists to the softening of America ("The last time I saw the bar set this low, I was at a dwarf's wake"), Miller's rants exasperate culture war absolutists and ideologues on both sides of the aisle who refuse to acknowledge his thinking doesn't fall lock-step with a particular dogma or political party. That makes him a potential target for everyone. And when you have the balls to call it like you see it in the public arena, without bowing and scraping to the soul-stifling, thought-crushing political correctness that's absolutely killing this once-great country, you get a comedian who can't be "tracked" by the audience―and that's where the tension comes. Watching Miller during the hour's running time of Dennis Miller: "The Big Speech", I was alongside him for about eight out of ten swings. But even for a reviewer that simpatico with the reviewee, I found myself tensing up when he paid some left-handed lip service to the present pretender to the throne. And that's why I find Miller so interesting. You're grooving along with him, laughing at his never-miss jabs, and all of the sudden, he stops your ideologue love-fest up short with an observation that blindsides your expectations. Now, that doesn't mean I agree with him when his libertarian leanings steer him back to the left, but I give him credit for obviously believing in what he says, and more importantly, for making those observations funny. I'll forgive any sh*t if it cracks me up.
And Dennis Miller: "The Big Speech" is hilarious. Floating around political, sociological, and pop culture concerns without a rigid game plan, Miller can flit from lamenting the state of affairs in his native California ("We're losing jobs like a children's party clown with Tourette's Syndrome."), to bashing totally irrelevant magazine Newsweek's assertion that Finland is a better place to live than the U.S. of A. ("Finland is that sh*tty little plastic village you put up under your Christmas tree―we're the big f*cking train that comes through and makes it interesting."), to riffing on that infamous "flaccid hootenanny" Viagra® commercial ("You ever see guys happier about broken dicks, for God's sake?"). Politics, however, and specifically the Democrats, the man who claims to be President, and their policies, provide much of the fodder for Miller's common-sense and vicious put-downs. I wasn't sure how Miller could have topped himself when he opened up with, "Obamacare...wow―what a massive goat-f*ck that's gonna be," with the Orange County crowd going nuts with their applause. But he does, as he laments about the few remaining believers in that bill ("You also believe Paris Hilton has never tasted cranberry juice."), before asserting that the only people happy about "kids" staying on their parents' insurance plans until they're 26 years old are "the inventors of X-Box® and weed." Laughing openly at the notion that we're safer against terrorists with the Democrat party in control ("I don't think radical Islam understands it when you open up a big ol' can of whup-nuance on 'em."), Miller then shoots at other Dem targets like Hillary Clinton, whom he actually likes ("She's been cheated on more than a blind woman playing Scrabble® with gypsies."), to the dreaded Nancy Pelosi ("Cruella Demented...the whistle on that train of thought is barely audible."), while sprinkling in little asides about cherished (and insane) liberal notions like so-called "man-made global warming" ("One man's end of the world is another man's, 'It's nice out.'").
All of that is delivered with Miller's welcome insouciance, particularly since other mainstream "comedians" like Letterman and Leno play faux-confident softball with the current administration in disgustingly non-threatening, "geez, aren't those politicians all dopey!" riffs that have about as much bite as a 1960 clip of Bob Hope sneering at Nikita Khrushchev. It's when Miller takes on the terrorists and radical Islam that his comedy becomes genuinely brave. At a time in our history when half the world can burn when a newspaper prints a cartoon deemed "offensive" to a religion, it takes guts for Miller to tell the jokes he does, such is the self-imposed fear that grips the P.C.-crippled West. When Miller says that America doesn't really care about Muslims' faith, it's like a breath of fresh, hands-off, American air (the recent, all-too-transparent attempt to suggest rampant and dangerous "Islamaphobia" somehow infecting America, comes to mind). What Miller (and I would suspect most Americans) cares about is radical and even moderate Islam ("Time to tighten up your own sh*t, because we can't do it," he tells the moderates), before he passionately says how we don't like how women are treated in the religion...or how Islam "f*cked up Cat Stevens." Responding to the rather astounding news that NASA's number one mission―as directed specifically by "the One"―is "Muslim outreach," Miller first questions how many rocket scientists one might see in those seemingly endless street demonstrations in the Middle East, before he gets off the single best joke of the night: "Muslims will want to go to the moon when the Jews set up Israel there." The other night, I watched the latest episode of Family Guy, which featured yet again their utterly "played" jokes attacking Christianity and Judaism that this once-edgy series loves to routinely trot out. Of course, there wasn't a peep about Islam. That's because the writers and producers of Family Guy know that the good people of Battle Creek, Michigan, and Des Moines, Iowa, and New York, New York, won't sue Fox...or take to the streets and burn everything in sight because their religions were slandered for a cheap laugh. That's just another example of why Miller's set in Dennis Miller: "The Big Speech" is so important: he's joking about stuff that can get you killed.
The DVD:
The Video:
The anamorphically enhanced, 1.78:1 widescreen image for Dennis Miller: "The Big Speech" looks good enough, with the videography coming across sharpish, and color moderate. Contrast is acceptable.
The Audio:
The Dolby Digital English 2.0 stereo is all you need for this straight-ahead dialogue-driven feature. Dialogue is clean and easily understood. No subtitles or close-captions, though.
The Extras:
The only extras are 7:04 minutes-worth of edited-out jokes, including this gem: "Reagan said we were a shining city on a hill...and now we're 'Cash for Clunkers,' we're Fred Sanford's front yard."
Final Thoughts:
A must-have for people who are tired of today's pusillanimous, weak-kneed, "comedian toadies" in this age of lily-livered appeasement and fear. Dennis Miller: "The Big Speech" lets the smart-assed hipster Miller vent about exactly what's wrong with this world...and you may not like it. But you better listen up. I'm highly, highly recommending Dennis Miller: "The Big Speech".
---
Paul Mavis is an internationally published film and television historian, a member of the Online Film Critics Society, and the author of The Espionage Filmography.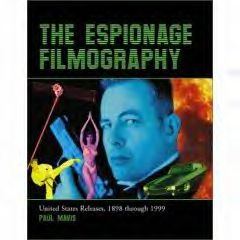 ---
C O N T E N T

---
V I D E O

---
A U D I O

---
E X T R A S

---
R E P L A Y

---
A D V I C E
Highly Recommended
---
E - M A I L
this review to a friend
Sponsored Links
Sponsored Links