Ernie Kovacs Collection, The
List Price: $69.97 [Buy now and save at Amazon]
---
The best DVD release of the year, for television's first true genius. Shout! Factory, which for my money is the most important releasing company out there for vintage television fare, has released The Ernie Kovacs Collection, a six-disc collection that samples rare episodes and specials from Kovacs' influential―and far, far too short―career. Shout! Factory has outdone itself this time, producing a handsome disc collection chock-full of extras―as if Kovacs' material wasn't incentive enough to buy this set. A must-have for anyone interested in television comedy.
Since this is a review of the The Ernie Kovacs Collection and not Kovacs himself, I'll resist the temptation to write a small book on the masterwork of this deeply-gifted artist. As a small boy, I knew Kovacs from his various movie roles; his television work (what remained of it) had long since disappeared from the dials. With films like North to Alaska, Bell, Book and Candle,Wake Me When It's Over, and particularly Operation Mad Ball in regular TV syndication, Kovacs, with that distinctively rubbery punim and matching moustache and eyebrows, was a familiar presence on afternoon and late, late show movie programming. Fortunately, in 1977, my father alerted me to a PBS series that showed clips of Kovacs' television work, and it was immediately apparent to this 11-year-old television addict that Kovacs was much, much more than a visibly bored foil to the Duke. Watching Shout! Factory's The Ernie Kovacs Collection, all of those feelings of first discovery for Kovacs' comedic and technological genius came flooding back―with the benefit of seeing hours and hours of previously unreleased material to deepen that appreciation. Let's look very briefly at each disc's offerings.
DISC 1: THE EARLY YEARS
I know for many admirers and scholars of Kovacs, his later work in television―particularly the monthly specials he did for ABC in his last years―are considered his most important, at least from the standpoint of establishing Kovacs as a genuine artist whose innovation and mastery of television technology established the bar for all those who followed (I crack up when I read blog comments praising pale, pale Kovacs imitators like Conan and Letterman as "innovators"). However, those earliest days of television still hold the greatest fascination for me, and seeing a gleeful Kovacs' first forays into live TV generate the largest laughs for me. Of course, it's mesmerizing (and funny) to watch Kovacs in his later "Eugene" character, making his way through a surrealistic television universe where the laws of physics don't apply. But those last forays into auteurist comedy are rigidly controlled by the meticulous Kovacs; they're as much expressions of iron will as inspired comedy. The "early" Kovacs, though, is fast and loose and ad-libbing like a fiend, laughing with his rowdy off-camera crew, and reacting with a measure of searching puzzlement when he encounters laughter from his lagging-behind live audience. That's the early television, the "early" Kovacs, that brings that period of history alive to me―and the one that makes me laugh the hardest.
Three incarnations of Kovacs' first television efforts are included here on disc one. First up are two episodes from It's Time for Ernie, from March 7th, 1951 and June, 1951. According to the informative episode guide booklet included in this set, these are the earliest-known kinescopes that survive of Kovacs' work. A fifteen-minute network pick-up (at 3:00pm) from Philadelphia that aired weekly from May to June in 1951, Kovacs filmed It's Time for Ernie at the same time he was shooting his ground-breaking Three to Get Ready morning show that was adapted by NBC into their still-airing morning show, Today. Right off the bat, you can tell Kovacs was coming from a unique comedic perspective, offering the audience the chance to "tune" his face as if it were their troublesome TV sets―a self-reflexive gag that not only poked fun at the then-emerging medium, but one that also sets the aesthetic footprint for everything Kovacs was going to strive for: making his comedy come from the technological possibilities of television. Kovacs's penchant for playing to his crew, and talking to this (small) audience as if they're hipper to the realities of television production than they probably were, make these first efforts impossibly fresh and spontaneous and delightful. You can wonder what Kovacs is doing, taking that dress off Gertrude the Giant Rag Doll...followed by a bullwhip demonstration, but anyone watching Kovacs break away from his format to walk out of the studio and down the hall for a drink out of the fountain, will see every "in house" joke Steve Allen ever stole.
Two episodes from Ernie in Kovacsland (July 6th, 1951 and August 23rd, 1951) show Ernie moving up on the NBC schedule, filling in for summer vacationing Kukla, Fran and Ollie on Monday nights at 7:00pm. Described as a "short program...it just seems long," Ernie in Kovacsland shows Kovacs at his most manic, whether he's selling the "Briefie," the suspiciously-enjoyable "short, hot smoke," or (literally) tossing a salad and making a mess. Maybe my favorite Kovacs bit from this disc comes in the second episode where a camera, pointed outside Kovac's Philadelphia studio, catches the performer arriving late for work. Walking down the street....dragging Gertrude by the hair, before he randomly strangles a hot dog vendor and gets Gertrude a drink. And it's all done live. Can you imagine Kovacs small-but-enthralled audience catching these goings on, and wondering just what in the hell they were actually watching (only about 10% of the population had TVs in 1951)? A January, 1952 episode of NBC's Kovacs on the Corner, Ernie's late-morning (11:00am) half-hour "kid's show," shows Ernie dealing with a format he apparently didn't choose, but one that he effectively spoofs, creating a surreal cardboard neighborhood where women cluck opera songs and Al the pantomime dog buries bones in concrete driveways ("I like them that way," he matter-of-factly states). Of note, too, is leggy, beautiful singer/dancer/comedienne Edith Adams' increasing facility with ad-libbing comedy with her soon-to-be husband, Kovacs. Finally, a May 28th, 1952 episode of CBS' Kovacs Unlimited is featured. A 45-minute midday series originating now from New York City, Kovacs' audience increased, as did his repertoire of comedic characters, including Herr Ragu, the French fairy tale reader (who caters to the majority of kids watching TV...who speak French and Latin), and Harwood Boxcar, who appears on a What's My Line? parody and who, despite his intimate knowledge of trains, is correctly sussed-out as a concert pianist. When Kovacs' Oriental Blues theme song kicks in, you know you ain't watching Berle.
---
DISC 2: THE NBC MORNING SHOW
Disc two concentrates on five episodes of Kovacs' The Ernie Kovacs Show, which aired on NBC from December, 1955, to July, 1956. According to the episode guide, Kovacs wasn't happy working in front of a live audience...but you wouldn't know it from the laughs and genial good humor he shows towards the people laughing out there. I'm not sure I buy the theory that states general audiences didn't like Kovacs; if that were truly the case, he wouldn't have continued to be signed to work in TV and movies with increasing regularity...and higher budgets. I often think that theory comes from historians who want to make Kovacs "exclusive" to themselves and to people like themselves who "get" a guy like Kovacs...while stating the "mob" out there didn't. That view enhances the "misunderstood, underappreciated genius" take on him. In these episodes from December 19th, 1955, and February 20th, March 15th, April 12th, and June 12th, 1956, Kovacs is flying, throwing off ad-libs with abandon as he tries to execute his increasingly imaginative gags. And if they bomb, or flub technically, he laughs and moves on without a care. In today's television, where even the most innocuous local Sunday morning public service program is homogenized and produced down to somnambulance, the looseness of these early network shows are breathtaking; TV will never be that innocent and fun and dangerous again. Sitting in his faux-dungeon set, complete with animated knight's armor behind him, Kovacs waggles his cigar and squints out into the lights, constantly checking the time and cursing the lack of it because he can't fit in another gag he has prepared. This is television at its most elemental and primitive, and it's exciting as hell.
Highlights from these five episodes include Kovacs' spoof of kiddie puppet shows and Captain Video, with The Kapusta Kid in Outer Space (the key joke you need to know to "get" this spoof is that "kapusta" is a traditional Polish sausage-and-cabbage dish). Ernie's overtly sexual peeping through the lens of the camera at "the lady in Flatbush who takes a shower every day at this time" I'll bet gave some pause to a few of the less technically-savvy viewers out there. When Ernie's interview with a kid in the audience goes long, he has a tech put a skunk into frame so Ernie can introduce his "producer." One of Kovacs' most popular character appears, Mr. Question Man (ripped off by both Steve Allen and Carson), where Kovacs is simply brilliant giving non-sequitur answers to announcer Bill Wendell's ridiculous letters from viewers (my favorite skewed response comes when a viewer asks who said, "You can fool some of the people, some of the time...", and Mr. Question Man laughs and answers, "Practically everyone has said it."). Goldfish-in-a-bowl Alice and Henry is a good recurring bit, commenting snarkily at the in-studio viewers as the camera mercilessly pans from nervous audience member to audience member. Kovacs' Mr. Science is an hilarious spoof of Don Herbert's NBC series, Watch Mr. Wizard, where Kovacs continually gets distracted by his smart-assed neighbor, little Johnny, who has the deadpan comedic timing of Borscht Belt pro, and who continually asks questions Mr. Science simply can not answer. Modern critics and historians prefer the largely silent Kovacs who used music and silent film gags filtered through the technological advancements of videotape to great effect...but I love the Kovacs of Mr. Science, who's reacting in real time to a fellow performer and an audience who loves what he's doing. That Kovacs is alive, man.
---
DISC 3: THE NBC EVENING SHOW
During the summer of 1956, Ernie was again given a summer replacement prime time slot, when he filled in for the hit Caesar's Hour show on Monday nights at 8:00pm. The final flowering of Kovacs' relationship with his live audience, The Ernie Kovacs Show as it was named, shows a Kovacs supremely confident in his craft, with a budget that finally matches his aesthetic ambitions, and a professional poise that only comes when you know serious money is finally backing you. Three episodes are included here: the opener, July 2nd; July 30th, and September 3rd. The opener is particularly interesting to watch, as Kovacs first executes a beautifully-built gag about a blindfolded chess champion who supposedly can play four international champions simultaneously (he of course smashes into their tables), before my favorite Kovacs character, poet laureate Percy Dovetonsils, reads one of his lisping odes: Thoughts While Falling Off the Empire State Building (I would imagine today's hair-trigger, humorless P.C. goon squads will take a particular disliking to this Kovacs invention). Kovacs' delight is open when he pulls off a remarkably good (for the time period and the limitations of television effects) bit about animated suits of armor (Kovacs' obvious relief that the gag went off is infectious), before Edie Adams does a funny bit as the over-sexed Clowdy Faire, Your Weather Girl, and Kovacs' longish Superman spoof, Superclod, winds up the show.
The July 30th episode gives Kovacs free reign to indulge in his penchant for that Mad magazine (he actually found the time to contribute in the mid-to-late 50s)/"sick" humor that first appeared during this period of American pop culture when Kovacs plays host to game show, Whip the Wristwatch (obviously Beat the Clock), where the super-animated, super-insane Ernie makes the game more interesting for contestant Mr. Cosnowski by shooting him the arm before his already-impossible physical task (his consolation prize? A quart jar of black widow spiders). Edie has a funny live moment when the mop breaks during her commercial parody (perhaps spoofing Betty Furness, complete in full-scale ball gown and white gloves?), before Ernie shows again his fascination with the medium's technology by having a Hungarian cimbalom played with glow-in-the-dark tape attached to the strings and hammers, to give a surrealistic visual accompaniment to the music. The final episode here shows Kovacs' playfulness (or is it secret malice?) when he instructs the viewers out there in television land to send him...or Pat Weaver, the president of NBC, one live frog to replace the one his daughter lost, before we get the classic Matzoh Hepplewhite bit ("Curse Caster: Have Spells, Will Travel") where Kovacs gets a surprise with his prop liquor: it's real.
---
DISC 4: THE LATE 1950s
Three projects are included here: the Saturday Color Carnival: The Ernie Kovacs Show (which became known as the celebrate Silent Show), from January 19th, 1957; the special, Kovacs on Music, from May 22, 1959; and an episode of his ABC game show, Take a Good Look, from July 25th, 1960. Certainly watching the Silent Show now, it's almost impossible to experience its importance afresh, considering how many times its audio and visual comedic innovations have been reworked (not only by other comedians, but Kovacs himself). Still, any viewer who has grown up on television comedy will notice the ripple effect Kovacs had on subsequent performers once they see his signature "Eugene" set pieces, including the classic sequence where the silent, Keatonesque Eugene invades a stuffy private men's club, first looking over the library where the books sell their gags through audio drop-ins (an edition of Camille coughs and dies, for example), and then later when Eugene tries to enjoy some olives and coffee in a universe no longer under the rules of physics (Kovacs achieved this trick utilizing the old Hollywood method of tilting the camera and set, such as in the celebrated Dancing on the Ceiling sequence in Fred Astaire's Royal Wedding). When Kovacs reworked and elaborated on this routine in a later ABC special, there was no audience laughter on the soundtrack; here, it's just as much fun to hear the delighted gasps of the viewers as they discover Kovacs' art along the way.
Kovacs on Music, Kovacs' last NBC special (after he went to Hollywood), is a delightful mishmash of Kovacs influences, all wrapped up in a loose format highlighting his love of comedic visuals married to music. Shot entirely on videotape, Kovacs on Music may not have had a studio audience, but the audible laughter of the crew gives the show an air of early TV spontaneity that's quite amusing (as well as an indication that Kovacs wanted to have fun before he created "art"). There's a funny sequence where Kovacs executes variations on scenes from Romeo and Juliet which culminate in pratfalls and rimshots amplified by funny-sounding musical instruments (a kettle drum "barooooms" when Romeo falls off the balcony). Swan Lake performed by real ballerinas...dressed as gorillas...is pure Kovacs/Mad magazine, while the slightly longish spoof of how TV commercial jingles are scored and sung is pulled out by Kovacs' expert timing. The special rounds out with a beautifully timed "comic opera" set piece where the first day of broadcasting at an Italian television station turns into an oversized disaster zone, complete with firehoses and gorillas, before Kovacs rolls his gag-filled credits ("Me see big white iron bird!"). Last on the disc is an episode of Kovacs' panel show, Take a Good Look, which ran for two years on ABC (1959-1961), airing on Thursdays at 10:30pm, right after The Untouchables. Apparently, Ernie was amenable to taking this game show to help pay off his crushing debts to the government due to his chronic hatred for paying unfair, exorbitant taxes (bless you, Kovacs), and thus, this gig has been lumped in with some other questionable film roles and TV guest spots as less-than-desirable projects done strictly "for the money." However, I found this episode of Take a Good Look absolutely hilarious, not only for the devilishly obscure "clues" that Kovacs filmed for his guests (much like What's My Line?, the panel had to guess who someone was; here, they were given film clips shot by Kovacs to lead them along), all of them beautifully obtuse and indecipherable, but also for Kovacs' complete disregard for the game itself. The panel here―Edie Adams, of course, Jack Carson, and Cesar Romero―never get anywhere near guessing who the person is, as Kovacs has their timer bells ringing in faster and faster until the whole enterprise is finally taken for what it is: an elaborate spoof of the panel shows on the air at that time (if more episodes are available, I'd love to see a set of these). As well, it's terrific to see Kovacs so loose and informal with his guests and panel, laughing and ad-libbing without a care since his "clue" spots are already in the can. This is the Kovacs I find the most fun.
---
DISC 5: THE ABC SPECIALS
Sponsored by Dutch Masters® cigars, these five last specials of Ernie's for ABC are considered by many of his admirers to be his finest, most artistically sustained work. From these once-a-month specials that aired from April, 1961 until his death in January, 1962, are taken many of the clips that people are most familiar with when referencing Kovacs' work (if I'm remembering right, most of that 1977 PBS special used this ABC specials material). Re-reading some of my earlier comments, I don't want to give the impression that I don't like or enjoy these later specials, over the more spontaneous, ad-libbed, live segments from Kovacs' earlier shows. Far from it; it's just a different Kovacs seen here (many times, he's not even in the sequences he's showing, such as the animated/syncopated kitchen and bathroom medleys he orchestrated). It's a Kovacs steeped in technology, and "canned," for lack of a better word, by the elaborate visual special effects required for the gags to work. You can admire these set pieces as much for their engineering as you can for the actual humor in their situations, and that's fine, too. They are remarkable works of art within this still-fledgling period of technological experimentation with television's possibilities. But that very "engineering" puts a bit more distance between the artist and the viewer...and maybe that's why some viewers and critics found these exercises a trifle "cold" (on the other hand, you could say they're remarkably prescient representations of the increasingly mechanized, technologically-driven modern society Americans were experiencing at the beginnings of the '60s decade).
This disc's first special (Kovacs' fourth for ABC) originally aired on September 21st, 1961, and it features a rather remarkable montage of three gorgeous women getting dressed to go out, syncopated to driving music, with Kovacs indulging in borderline-fetish shots of the actresses putting on pantyhose and almost shooting up their dresses through a glass floor. The sequence ends on a disturbing note when the final girl's date doesn't arrive, and we zoom up into the studio's rafters to watch her, pitilessly, like a rat in her two-room maze/apartment, as the walls fall away from her. The next special (from October 28th, 1961), recycles a funny bit about an interviewer knowing more about his interviewee's story than the interviewee himself, before we're given some classic Kovacs visual gags, like the school for skin-divers (it's Ernie, typing away at a desk, underwater), and a submarine that "up scopes" in a bathtub with luscious Jolene Brand (lucky sub, the male viewers must have mused back in '61). Brand, a longtime Kovacs actor, is even better as the sexy weather girl who discusses the climate in breathy hipster lingo as she seductively lounges on a chaise.
The following special (from November 24th, 1961), elaborates on the "Eugene" skit from the celebrated Silent Show...which may be taken as a warning sign that Kovacs was having difficulty coming up with new material (more than likely, he probably just wanted to improve it). Eugene now gets to create his own world by drawing it on blank walls (he draws a lamp, and it lights up behind the wall), before Kovacs recreates the olive and coffee gags, along with the "talking" books. The last special Kovacs would see broadcast, from December 12th, 1961, is one of his best, with a host of Dali-worthy surreal comedy gags. I particularly liked the phone with its own finger to dial itself, along with the exceedingly violent golf tee-off, where Kovacs smacks the head (below camera range, of course) of a beautiful girl who's holding the ball in her mouth. Kovacs then goes on to spoof Westerns with a wild montage of visually bizarre takes on the traditional high-noon gunfights (I love the slo-mo bullet going right through the villain―a terrific effect). The final special, aired posthumously on January 23rd, 1962, ten days after Kovacs met his end when his station wagon skidded on wet pavement into a utility pole, was aired without commercials (a rare tribute from a respectful network), with the final segment a clip of one of Kovacs' favorite bits: his immortal Nairobi Trio. There's no way I can adequately describe why The Nairobi Trio is so funny; its humor is entirely visual and audio. But I do distinctly remember when I first saw them, at 12 years old, and how I was fascinated by the utterly bizarre combination of the truly ugly ape masks and wigs and overcoats, contradicted by the upbeat music of Robert Maxwell's Solfeggio, and the true, hilarious suspense of wondering what was going to happen (the drumsticks to the head, man)...and then waiting for it to happen again and again. It's such a simple, even silly gag. And why it's so funny, I don't think I can explain; you just have to see them yourself. Perhaps it's because it's the perfect visual embodiment of Kovacs' humor: at once joyfully childlike (and violent), and surrealistically, self-mockingly, hipster cool. Once seen, you never forget them.
---
DISC 6: CLASSIC PIECES
A grab-bag of 19 skits and sequences from Kovacs' morning and evening shows for NBC back in 1956, this sixth disc contains some paralyzingly funny moments from Kovacs' career. We get another dose of Percy Dovetonsils (who lisps, "I should smash you," when he's told he's out of time), along with Mr. Question Man. A character I had never seen before, drawing artist John McGee, was beautifully conceived, where the somewhat limited artist (he can only draw cones, triangles, and squares), tries to sell the viewers an amazing array of add-ons to teach them, too, how to draw...cones, triangle, and squares. The Crossed Skillets gag, reused later in one of the ABC specials, is very funny, showing a loose Kovacs expertly getting gags with his live slapstick routine of trying to make a soufflé. Another dose of Percy Dovetonsils shows Kovacs getting snookered by his crew when they spike his prop martini with 2 ½ ounces of straight gin―much to the shock and then absolute delight of the hilariously ad-libbing Kovacs. A Mr. Science bit is even better than the first one we saw on a previous disc, with little Johnny fearful of the angry Kovacs ("You burned me last week!" Johnny grouses). And certainly one of my favorite moments from this entire set comes in the form of a brilliant parody of Howdy Doody, showing up here as Howdy Deedy, as Hungarian grouch Miklos Molnar frightens his peanut gallery audience of little kids by cutting Howdy's puppet strings and telling them jokes about drunks staggering down the street (a mean, grumpy Kovacs has never been funnier than in this skit). Can you imagine how cool that spoof must have been to some hep kid, with a Mad magazine stuck in his back pocket, staying up past his bed time?
The DVD:
The Video:
The full-screen, 1.33:1 black and white kinescope transfers (not including the color transfer of The Silent Show, which looks quite good) for The Ernie Kovacs Collection look about as good as one would expect, considering the rarity of the original materials. Not nearly as bad as the third and fourth-generation knock-offs you see in public domain titles, but also not quite as good as some of those "boosted" kinescopes I've seen, such as the restored Elvis kines from The Ed Sullivan Show, these transfers are in the upper range, with sharpish pictures, solid blacks, and little video noise. It should be noted here, that Shout! is up front on every disc that musical numbers have been edited out for clearance purposes. If you're a "baby with the bath water" type, you'll find this troublesome. If you're the type who'll take the best that you can get, you'll be okay with this necessary compromise.
The Audio:
The Dolby Digital English mono audio tracks are acceptable, as well, with all dialoge cleanly heard. Fluctuations in recording levels are from the original materials, not the transfers. No subtitles or close-captions, though.
The Extras:
If all that basic content wasn't enough, each disc has extras. On disc one, an 11-minute clip of the 1987 ATAS Hall of Fame Induction for Ernie is featured, with Carl Reiner, Jack Lemmon, and Edie Adams remembering Kovacs. Remembering Ernie with George Schlatter and Jolene Brand, running 20:46, features the still-gorgeous Brand and her husband, Laugh-In creator Schlatter, giving some good insight into Kovacs' productions. Kovacs' celebrated Baseball short is included twice, one with Kovacs' narration from his 1951 Ernie in Kovacsland show, and narration from when he re-aired it during his 1956 show. Making of "Baseball" Film runs 2:46 minutes, and includes incredibly rare, behind-the-scenes color footage of the location shoot for Baseball. Kovacs' other short film, The Mysterious Knockwurst (not as good as Baseball), is included; this spy spoof runs 7:52. Andy McKay 8mm Home Movies, running 6:44, includes fascinating behind-the-scenes silent footage of Kovacs working on his Philadelphia television show.
On disc two, five terrific bonus skits from Ernie's NBC morning show are featured, including my favorite Percy Dovetonsils appearance, where he opens with, "So knock it off on the harp," as the florid live music is cut off, before he states how nice it is "to link pinkies over the orthicon tube." His Ode to Stanley's Pussycat is a brilliant, brilliant piece, where Percy describes his friend's efforts to analyze his cat through Freudian means ("And then that awful Stanley put the pussycat on the couch, and psychoanalyzed the poor pussycat and made him such a grouch!"). Martin Krutch, Public Eye shows how carefully Garrison Keillor must have watched Kovacs before he "thought up" his Guy Noir character. In Rock Mississippi in "Fingers Under Weskit", one might assume Ernie is secretly alluding to Rock Hudson (or Mississippi, both rivers) when he shows his fey, made-up movie action hero. Howard, the World's Strongest Ant shows the cult character golfing (apparently, this invisible little creature was Ernie's most popular character during his New York morning show). And J. Burlington Gearshift is an amusing skit on the mumbling, whiney inventor.
Disc three is comparatively skimpy with the extras, featuring only a special effects test for the Superclod skit. On disc four, there are some fun interactive selections of filmed "clue" sets from Ernie's Take A Good Look panel game show. Try figuring these out; logically, they make sense. But ho-boy are they (delightfully) obscure (I particularly love Ernie, in full drag, recreating illustrator George Petty's calendar pin-up poses, with Edie Adams laughing hysterically over the soundtrack). A sales film for the prospective (and unfortunately, unsold) third season of Take a Good Look is included, with a decidedly dirty joke tone to it (for all those salesmen), with Ernie imploring an unseen watcher to "zip up" after he mentions the show's original format: naked twins. Several filmed intros for Ernie's Silents Please summer replacement show are included (these are a bit rough visually), while some cool behind-the-scenes footage for Ernie's Our Man in Havana film are included.
Disc five may only contain Ernie's celebrated Dutch Master cigar commercials, but that's enough (in a word: they're hysterical). And on disc six, a trailer for Operation Mad Ball (written by Kovacs) and a promotional teaser for It Happened to Jane entitled, It Happened to Ernie (were we see Kovacs getting his head shaved...with Jack Lemmon's help), are included, along with the stylish Muriel Cigars commericials Edie Adams starred in in the 1960s. Along with all that extra material, there's a glossy little booklet, 42 pages in full color, that features interesting articles and tons of stills.
Final Thoughts:
Part child-like prankster and part hipster satyr, Ernie Kovacs would have been a significant part of early television history had he only stayed a host of his funny, ad-libbed chat shows. However, Kovacs' ambition drove him into the realm of television auteur where his fascination with the technological possibilites of TV informed his visual slapstick with a surrealistic weirdness that has never been duplicated. He is truly television's first genius, and Shout! Factory has done him proud with this amazing boxed set of over thirteen hours of his little-seen work. It is must-have viewing for anyone interested in the evolution of television, comedy and American pop culture during the mid-20th century. The Ernie Kovacs Collection receives our highest award here at DVDTalk: the DVD Talk Collectors Series.
---
Paul Mavis is an internationally published film and television historian, a member of the Online Film Critics Society, and the author of The Espionage Filmography.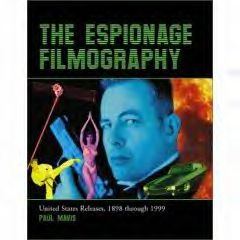 ---
C O N T E N T

---
V I D E O

---
A U D I O

---
E X T R A S

---
R E P L A Y

---
A D V I C E
DVD Talk Collector Series
---
E - M A I L
this review to a friend
Sponsored Links
Sponsored Links