Cheyenne - Season 2: Parts One and Two
List Price: $69.95 [Buy now and save at Wbshop]
---
Cheyenne,
Cheyenne,
Where will you be campin' tonight?
Lonely man, Cheyenne,
Will your heart stay free and light?
Dream, Cheyenne, of the girl you may never love,
Move along, Cheyenne, like the restless clouds up above.
For wind that blows, that comes and goes, has been your only home.
But will the wild wind one day cease,
And you'll no longer roam?
Move along, Cheyenne, next pasture's always so green.
Driftin' on, Cheyenne, don't forget the things you have seen.
And when you will settle down,
Where will it be?
Cheyenne!
Cheyenne!
Another terrific series from the golden age of Western television drama. Warner Bros.' essential MOD ("manufacture-on-demand") direct mail order service, the Archive Collection, has released Cheyenne - Season Two: Parts One and Two, a two-volume, 20-episode collection (five discs per volume, two episodes per disc) of the hit ABC Western's sophomore 1956-1957 season, starring man-mountain Clint Walker as cowboy drifter Cheyenne Bodie. Vintage TV fans know that all those Westerns that get lumped together by writers and historians who discuss "trends" rather than content, actually contained some of the best dramatic television of the 1950s and 1960s...and Cheyenne is no exception. Zero extras, as per usual with the Archive Collection releases, and the price is hefty as a result of splitting the season. However, the series is beautifully produced, sharply written and performed, and entertaining as hell...making it a must-have for Western TV lovers.
The synopsis for Cheyenne may very well be the shortest I've ever written for a review. 6' 6" jack-of-all-trades drifter Cheyenne Bodie (Clint Walker) travels from town to town, from job to job, encountering cowardly, venal men and heaving, lusting women at seemingly every turn of the path. Orphaned as a boy by marauding Cheyenne Indians, Bodie was subsequently raised by the tribe, acquiring an acceptance of their ways that few other white men share in the post-Civil War Old West. Working such diverse occupations as fur trapper, bodyguard, range rider, cattle drive foreman, scout, and secret government Indian agent (with plenty of time off to strip down shirtless for the surrounding mere mortals), honest, kind, brave Cheyenne makes friends wherever he goes...but he never stays for long. He just keeps...drifting.
SPOILERS ALERT!
We didn't receive the first season of Cheyenne here at DVDTalk, so I'm at a slight disadvantage reviewing this second go-around, mainly because I missed any explanations those episodes may have provided for Cheyenne's backstory―a key element to "getting" the series since Cheyenne apparently is the whole series. In War Party, Bodie states he lived with the Cheyenne until he was 12, but that's about it for biographical detail on the character this season. Did the Cheyenne become surrogate family to him? Or is the loss of his parents still a wound that hasn't healed? How did he reconcile the Cheyenne murdering his parents, with his acceptance and defense of Indians and their culture today? All unknowns to me, unfortunately (if they were ever spelled out in the first season). That being said...Bodie's taciturn demeanor and his ever-wandering nature (suggested, perhaps, by producer Roy Huggins, who would craft the similarly-structured The Fugitive?) don't exactly lend themselves to deep psychological discussions with the people he meets, so a newcomer to the series can pretty much dive right in with these self-contained little "B" Westerns, without a hitch.
For lovers of television history, Cheyenne has a particularly fascinating production background. In 1955, ABC, the smaller, struggling network of the "Big Three" in TV, approached Warner Bros. with a deal to buy their backlog of motion pictures that hadn't yet aired on TV. Having seen the success that Walt Disney had with his promotional Disneyland program, Warner Bros. suggested creating original programming (based on past WB hit movies) within a rotating anthology format, with time left over at the end of each episode to plug upcoming WB movies. Warner Bros. Presents premiered on ABC on September 13th, 1955, hosted by Gig Young, who introed the three revolving series as well as hosted the promo segments at the end of each episode (you've probably seen the famous one he shot with James Dean, dangling a rope, talking about highway safety and Giant). The three series were Kings Row, starring Jack Kelly, Casablanca, starring Charles McGraw, and Cheyenne, network television's first hour-long Western, shepherded by future superstar television producer William T. Orr, and starring newcomer Clint Walker. Not surprisingly, considering the growing audience demand at that time for adult Westerns on the networks, Cheyenne proved far more popular than Warner Bros. Presents' other two spokes of its anthology wheel (King's Row was cancelled in January; Casablanca in April), garnering Nielsen Top Twenty ratings whenever it aired every third week or so during this 1955-1956 season. Seeing the writing on the wall, Warner Bros. dropped the Warner Bros. Presents framework at the beginning of the 1956-1957 season (nobody had liked the Gig Young-hosted promos, either), expanded Cheyenne from 40 to 51 minutes to fill up that missing time, and alternated it with a new, independent anthology show, Conflict, which provided Warner Bros. with a vehicle to not only work off contract player obligations, but also to test ground for possible new series (characters that later showed up on Sugarfoot and 77 Sunset Strip first appeared here). Conflict only lasted this second season of Cheyenne, creating yet another drag on the Western's overall year-end ratings. Slotted in at a kid-friendly 7:30pm on Tuesday nights, whenever Cheyenne was on, it benefited obviously from its popular Western lead-out, 18th-ranked The Life & Legend of Wyatt Earp. However, Conflict couldn't hold its own against heavy competition over on CBS (30th-ranked Name That Tune and rising The Phil Silvers Show at 22nd), unfairly keeping Cheyenne out of the overall Nielsen Top Thirty during its sophomore season. Much more behind-the-scenes turmoil was to come for Cheyenne (the big man wasn't happy, that's for sure)...but we'll wait to discuss that when and if the Archive Collection sends us more seasons....which I hope they do.
In my previous reviews of 1950s and 1960s Western anthologies like Rawhide, Gunsmoke, Dick Powell's Zane Grey Theater, The Life & Legend of Wyatt Earp, The Big Valley, Wagon Train, and Bonanza, I've noted that this often-maligned genre actually showcased some of the best dramatic writing on television at that time, which shouldn't really be a surprise when you factor in how popular Westerns were with audiences. Popularity equaled ratings, which equaled money, and money bought the best talent (or at least it used to in Hollywood). A solid, straightforward Western, Cheyenne may not rank at the very top of the heap of these and other examples; however, it more than holds its own in the genre, with tight, concise scripting, beautifully clean and economical direction (god, those old guys could tell a story well), big screen-worthy production values (courtesy of Warner Bros.) sterling supporting casts, and an assured, star-making turn by handsome Clint Walker.
One of the frequent complaints about these early TV Westerns is that the heroes are far too idealized to be believable, a notion that may be true in Cheyenne's case if you only look at the lead...and not too closely. Certainly the depiction of how men lived during these times is romanticized (Bodie doesn't just look immaculate here; he positively glows with a high-buffed, healthy sheen), and Bodie almost always virtuously turns down the offers of reward money or more dangerously, the hinted-at sexual favors from the panting married women who lust after him the minute he thunders into town (all the tuckered-out 1956 moms watching Cheyenne with the small fry must have enjoyed that fantasy). But looking closer, you can see some humanizing elements to this fantasy figure. In The Long Winter, villain Bob Wilke sneers at our hero who's too good to be true (because Cheyenne won't avail himself of near-by married neighbor Fay Spain, as Wilke unsuccessfully tries to do). However, in War Party, Cheyenne makes no bones about wanting married Angie Dickinson (what man in their right mind wouldn't), admitting to her, while in a passionate embrace, that he's no "stronger" than she is―he just can't forget that he shot and wounded her husband. And in the wonderfully perverse The Trap, there's every indication that Bodie actually sleeps with villainess Iris to facilitate his escape from her sliver mine slave camp (he goes to her room, she offers herself sexually, they embrace, and the camera fades out to the next morning: universal film code in 1950s Hollywood for the sex act). And as for being a "cleft chin and true hearts" hero who never makes a mistake, in Lone Gun, Bodie feels responsible for the death of a little boy during a hunting expedition, even though the father absolves him of any guilt. As for all the people Cheyenne meets out West, they're as fallible and psychologically mixed-up a group of people as one could ever find anywhere, embodying some of the worst human traits imaginable. So much for the idealized TV West.
And as always, it's fascinating to see more examples of 1950s network television's positive treatment of Native Americans...during a time when many pop culture critics insist they didn't. In The Iron Trail, Bodie looks at a racist, cowardly Army officer with contempt as the officer generalizes about Indian behavior, with Cheyenne ending the conversation with a disgusted, "I've lived with them." In War Party, it's Cheyenne's overriding respect for Indian ways―regardless of how cruel they may seem to Whites―that saves Walter Barnes, Angie Dickinson, and himself from being tortured and killed. In Big Ghost Basin, Cheyenne is working as an undercover agent for the government's Indian Bureau in an effort to stop White rustlers from running Indians off their lands―not exactly a popular stance to take with many settlers at the time. And in The Broken Pledge, Cheyenne, after saving an Indian unfairly accused of murder, talks to no less than Sitting Bull (Frank DeKova) about how Whites have broken the latest treaty, while General Custer (Whit Bissell) makes a cameo, here portrayed as a vainglorious, obstinate killer. Cheyenne's exceedingly fair-minded equanimity extends to everyone, though, exemplifying the very best of non-judgmental, innocent-until-proven-guilty Americanism. In The Bounty Killers, Bodie counters a disparaging description of an outlaw with, "No man's as black as he's painted," while in The Iron Trail, a former burly-Q dancer, passing herself off as a lady of quality, gets just that confirmation from Cheyenne at the end of the story ("I think she's a real lady," he offers, refusing to spill the beans on her). In The Broken Pledge, he talks kindly to newspaper woman Jean Byron―even after she indirectly caused an ambush of innocent Indians―because he states he doesn't hold grudges for past misdeeds. Most importantly, you believe these fine ideals coming from Cheyenne, because of the absolutely sincere delivery of Walker, whose laconic steadiness is enormously appealing.
Stand out episodes this season include The Long Winter, written by Montgomery Pittman and directed by veteran Western helmer Leslie H. Martinson, where Cheyenne endures a lonely winter alone with a herd of cattle (his sad little Christmas, talking to his mule, is a scene worthy of Ford). The Bounty Killers, written by Berne Giler and directed by Walter Doniger, has a terrific supporting turn by Andrew Duggan as a seemingly straightforward lawman whom Cheyenne discovers is really a twisted, perverse killer. Mustang Trail has some spirited direction by Richard L. Bare, including a fine shoot-out at the end, and a cool stomping-death-by-stallion for Bob Wilke. War Party, with another script by Berne Giler and direction by Joseph Kane, is beautifully crafted, with Angie Dickinson adding yet another erotically intriguing performance to her resume. Big Ghost Basin (Kane directs Wells Root's screenplay) may make some newer, cynical viewers snicker, but I grabbed a couple of my youngest kids to watch this one, and they were hooked from the start about this story of Cheyenne battling a scarred grizzly bear who hideously maims anyone starting a fire (I know, I know...it's Night of the Grizzly Meets Smokey the Bear, and that fake melted bear head is laughable...but my little kids hid their eyes). Born Bad has a fun, energetic performance by Wright King as a laughing psycho, the "Pocatello Kid," who has some serious "daddy" issues. Decision at Gunsight, with Franklin Adreon directing Berne Giler's script (Giler really racks up some great episodes this season), lets you enjoy Walker pretending to be a bad guy for once (and he's good at it, too), as he goes into the "protection" racket―he even charges five bucks a head down at the schoolhouse!― to goad a cowardly town into taking back their town (watch how much Marie Windsor seems to enjoy breathily telling huge Walker, "Well...muss me up a bit," before their clinch).
The Spanish Grant lets Walker indulge in some humorous reaction shots, with his massive frame comically contrasted against the little baby he's forced to care for...and carry around (Walker spanking veteran wiseguy Hal Baylor is a classic). Fans of Dennis Hopper will want to check out The Iron Trail, a nervy, entertaining little actioner concerning a group of hopped-up, wise-ass kids trying to kidnap the President of the United States (Hopper finds all kinds of interesting things to do here with what could have been a routine role). But hands down, the kinky, perverse The Trap is the stand out episode this season. With yet another excellent script by Berne Giler (from actor/writer Leo Gordon's story), and fetish-knowing direction by Walter Doniger, The Trap is a hysterically-pitched winner that lassoes Cheyenne into a silver mine slave trap, shackling him with big cartoon chains and stripping him half-naked for much of the episode (plenty of shots of Walker giving his sweaty muscles a workout, ladies), as Maggie Hayes, literally panting, eyes him up and down like a bitch in heat. No less than three men vie for Hayes' attention here (including a psychotic gunslinger and a sexless, weakling husband) as she beds Walker before he finds out she's a black widow spider, mating and killing her servicers at her whim. A delightfully bizarre episode that plays like one of those short stories from a 1950s men's adventure magazine like Argosy or True, The Trap is surreal, erotic filmmaking at its best...masquerading as clean, wholesome network entertainment, of course.
The DVD:
The Video:
Very nice. On par with vintage TV releases from Paramount, the full-screen, 1.33:1 video transfers for Cheyenne - Season Two: Parts One and Two look quite good...when the original materials hold up. A sharp image, mostly decent contrast levels, and reasonable blacks can make some very nice transfers here, but noticeable print damage does crop up at times (there's a major hair clump in the gate for a scene in Lone Gun―that brought back memories), including quite a bit of white pop scratches. If you're concerned about the run time of that first episode, The Dark Rider, don't be; it looks to be timed for broadcast under the Warner Bros. Presents anthology (whatever Gig Young-hosted material was planned for this episode, isn't presented here).
The Audio:
The Dolby Digital English mono audio track is okay, with fluctuating recording levels at times, particularly some squelchy stuff on Born Bad (no doubt the fault of the original materials) and hiss, but lovers of vintage TV won't mind. No subtitles or close-captions, as per Archive Collection standards.
The Extras:
No extras, either, as per those same standards.
Final Thoughts:
Solid, entertaining Western fare, on a par with the best Western anthology series of the 1950s. If you can get your eyes off that pair of shoulders handsome Clint Walker has (seriously...is that chest for real?), you'll see the accomplished, engaging star work his way through one tightly-constructed, beautifully-mounted "B" Western story after another here in Cheyenne - Season Two: Parts One and Two. Essential viewing for fans of TV Westerns...so let's hope Warner's Archive Collection keeps 'em coming. I'm highly, highly recommending Cheyenne - Season Two: Parts One and Two.
---
Paul Mavis is an internationally published film and television historian, a member of the Online Film Critics Society, and the author of The Espionage Filmography.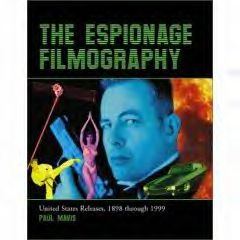 ---
C O N T E N T

---
V I D E O

---
A U D I O

---
E X T R A S

---
R E P L A Y

---
A D V I C E
Highly Recommended
---
E - M A I L
this review to a friend
Sponsored Links
Sponsored Links