List Price: $20.95 [Buy now and save at Amazon]
---
"This is America. A girl this pretty isn't supposed to be poor."

A Lifetime movie with its head so far up its ass it doesn't know where to look. Sony has released The Client List, an superficially entertaining but seriously compromised Lifetime made-for-TV movie that premiered this past July, starring bouncy Jennifer Love Hewitt as, what else, a hooker with a heart of gold. Very loosely based on a real-life case down in Odessa, Texas, The Client List can't decide what it's about: does it blame society for nice suburban mom Hewitt having to turn tricks, or is it because of those stupid, infantile men, or is it all, ultimately, her own fault? The Client List won't tell you--at least not right out loud...nor will it show you anything of substance when it comes to its difficult themes. No extras here for this bare-bones presentation.
Western Texas, today, where god, country, football, trucks, and guns all run poor seconds to discussions about the rapidly-tanking economy. Former cheerleader and beauty pageant winner Samantha Horton (Jennifer Love Hewitt) has sass and grit (just like her mamma, Cassie, played by Cybill Shepherd), and no shame when it comes to displaying her ample assets to the local banker...if it will help her get an extension on the eminent foreclosure of her comfortable suburban home. Her husband, Rex (Teddy Sears), a former star college football player whose knee injuries have forced him to quit his once high-paying construction job (jobs that are drying up, anyway, in this economy), is at a loss as to what to do, as well (although getting drunk at the local bar seems to temporarily help). So with thirty days left, and bills stacking up to the point where the family will never get out from under them, Sam, a licensed massage therapist, decides to make her own luck: she sees an ad for the Kind Touch Health Spa, located about an hour outside of town, and goes to see if they're hiring.
As luck would have it, the minute the stacked Sam enters the shop, partners Jackie and Doreen (Lynda Boyd and Chelah Horsdal) offer her a job. Sam is shocked, however, when she observes, behind a two-way mirror, what a "massage session" is really like at the Kind Touch, and she resolves not to go back. But the reality of her dire financial situation finally sinks in, and she bows to the inevitable: to support her Texas beauty pageant/suburban mom lifestyle, she must allow men to degrade her for money. But this is Texas, y'all, and everyone knows that a frisky Texas filly with sass and grit can turn horny, stupid men into bashful little boys, and soon, Sam is the most popular hooker in the county. But it takes a lot of time on your back to earn those baubles and $1,000 tips and marriage proposals, and soon Sam is financing a substantial blow habit-one that will eventually lead to grave consequence for her and her family.
MAJOR PLOT SPOILERS
It's too many times to count now, but I've written repeatedly about my fondness for the Lifetime Movie Network, where cheap, coarse, vicarious thrills are to be had on a 24-hour basis through the endlessly recycled machinations of cliched sexual stereotypes and "modern" thematic conventions that are about as new as a bodice-ripping Victorian melodrama. So I'm coming to The Client List as a believer, not a crank. And on a purely undemanding level, The Client List meets most of the criteria loyal Lifetime viewers have come to expect from that network's movies. The heroine is beautiful (or at least here, sexually erotic); her character arcs from a relatively naive young housewife to a sadder but wiser woman who's been wounded by first, circumstances beyond her control, and second, her own actions; she's allowed to redeem herself and of course is forgiven by those she's hurt (always a must with deeply traditional Lifetime); the men who surround her are portrayed at best, as trusting, dumb puppies or at worst, using, hypocritical liars (again, a Lifetime staple); and most importantly of all, the reality of this situation as you and I might experience it, is scrupulously held away at arms' length. The Client List may open with a title card that states, "Inspired by a true story"--an amusing caveat that's almost entirely meaningless if you understand how fragile the terms "inspired" and "true" are in the hands of Hollywood filmmakers. However, you don't have to worry yourself with taking any of The Client List too seriously if you're just in the mood to cruise along with its overly-familiar and somewhat tired jabs at Texas, Texas moms, Texas lifestyles, and Texas religion, while waiting for the inevitable spectacle of top-heavy Hewitt finding first laughs, then tears, in a Texas strip mall hooker parlor. On that level, The Client List, directed with smooth, slick (maybe too slick) assurance by Eric Laneuville (Richie from The Omega Man!!), succeeds in what it aims to do.
...just don't look too closely at it. Because if you do...you might find The Client List's relentless self-justification and scattershot, faux-anti-moralizing stance if not off-putting, then at least incomprehensible. You might be tempted once or twice in The Client List to think that its finally playing relatively straight with the blame game whenever Sam's bartender friend Dee (Sonja Bennett) comes on and lays it out straight: Sam's hooking because she likes the money. But that only once or twice here. You can buy the DVD's front cover come-on line if you want ("A mother will do anything for her family," a statement that promises titillation rather than moral ambiguity when it's pasted over the nude, half-smiling body of Hewitt...as an anonymous john waits in the background). And you can go with Suzanne Martin's buckshot-wide casting about for blame for Sam's actions, from the banks "tricking" these whipsmart adults into taking out an ARM, to Cassie, her mother who emphasized "pretty" over "smart," to the selfish childishness of her husband's actions (they run out of gas because he drank up their cash, a moment that somehow tips her over the edge towards accepting her new job), to hypocritical "pillars of the community" who make up the hookers' market (the film's utter contempt for men is notable even for Lifetime: "I'm hungry, I'm thirsty, I'm horny. That's men."), to even the bitchy, snooty wives who somehow aren't satisfying their men emotionally or sexually (a particularly scurrilous notion for a Lifetime movie). Everyone is to blame for Sam's hooking and her downfall except, it would seem, Sam (Martin even has a throwaway from a newscaster who states the spa was raided--thus humiliating Sam on TV and wrecking her marriage--in a cynical political move by a "family values" mayoral candidate).
Of course, movies like The Client List never want you to cast judgment on their heroines, just on everyone else...particularly if "everyone else" fits into cliched representations of traditional values and institutions. The simple, common sense fact that the overwhelming majority of people out there in similar circumstances would never resort to hooking to pay the bills (because it's not only physically but morally repugnant) is an inconvenient truth that doesn't bother the makers of The Client List a whit. And the easiest way around that truth, is to not show the realities of that hooking. Hooking is a big joke in The Client List, with Sam getting laughs and hugs and gifts and presents from her bashful, aw shucks clients who act not like men paying a woman to service them, but rather as eager prom suitors, anxious to impress their dates. Sam isn't a hooker in The Client List as much as she's a marriage counselor, and we're supposed to not only believe this ridiculous notion, but also applaud it (while thus also mitigating her own behavior). And naturally, no sex act is even remotely simulated, because the minute you imply the physical realities of the sex act, sympathy for Sam would go right out the window. Better to keep things on a fantasy level in The Client List, not at all unlike Dee's favorite film: the execrable Pretty Woman. If we don't see Hewitt rinsing out her mouth, or uttering encouragement to one of her physically unattractive clients who's buggering her from behind, or her douching in the toilet, well, then...everything is okay, right? Just as it's okay at the end of the film, when Cassie apologizes for Sam's upbringing, and Sam's husband forgives her for letting her body be used like a Kleenex®, and when the Sunday church ladies come not to forgive Sam after hearing a sermon on the subject, but to cynically glean the sexual secrets that captivated their cheating husbands (a ridiculous scene that could only come from Hollywood). That's why Sam has to become a drug addict halfway through the film, so she can be morally absolved from her hooking; her addiction to drugs is viewed as corrosive, affecting the good times she had hooking. She takes the drugs to keep going for her family, we're told. And a bullshit bust on the spa by the crooked cops conveniently orchestrates her removal from a job she loved, while adding another layer of deniability for Sam's own moral culpability. And for The Client List's filmmakers, too.
The DVD:
The Video:
The anamorphically-enhanced, 1.78:1 widescreen presentation for The Client List looks fairly slick, with a bright, sharp image, correctly-valued colors and reasonable blacks. Not at all a bad presentation.
The Audio:
The Dolby Digital English 5.1 is hefty for such a disc, with some discreet directionality from time to time...but there's not much going on her except dialogue, so don't expect fireworks. English subtitles and close-captions are available.
The Extras:
No extras for The Client List.
Final Thoughts:
Compromised and surprisingly shallow. I have a lot more respect for the Lifetime movies that stick to their tired conventions and then overload them with coarse, pulpy imagery and a tone of unapologetic moralizing. At least those movies aren't mealy-mouthed, stealth snarks that falter both in their social commentary and in delivering the melodramatic goods...like The Client List. Hewitt looks good in lingerie, but her performance is ultimately for naught, because it comes from an inherently dishonest construct. You can rent The Client List if it isn't on this week on Lifetime Movie Network...but you won't buy a word of it.
---
Paul Mavis is an internationally published film and television historian, a member of the Online Film Critics Society, and the author of The Espionage Filmography.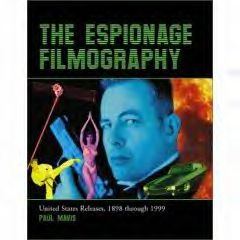 Sponsored Links
Sponsored Links