List Price: $19.98 [Buy now and save at Amazon]
---
"Son, what ain't foolishness in this life is misery. But we gotta hold ourselves together somehow. Or we'd always be crying."
A remarkable Western, unfairly dismissed by the critics and unfortunately missed by the ticket-buying public. 20th Century-Fox, through their new M-G-M Limited Edition Collection MOD service ("manufactured on demand" discs), has released The Spikes Gang, the 1974 Richard Fleischer-directed coming-of-age actioner starring Lee Marvin, Gary Grimes, Ron Howard, and Charlie Martin Smith, that rates as one of the best Westerns of the 1970s. Scripted by legendary writing team Irving Ravetch and Harriet Frank, Jr., The Spikes Gang should be far better known than it is today, not the least of which because it contains one of Marvin's finest performances. An original trailer is included in this solid-looking presentation.
The Old, hard West. Neighboring teen farmhands Will (Gary Grimes), Les (Ron Howard), and Tod (Charlie Martin Smith), come across what they think is the shot-dead body of cutthroat bank robber Harry Spikes (Lee Marvin), who momentarily rouses himself to implore the teens: "Help me, boys. Save me. Hide me." Good boys who live sheltered, hard-scrabble existences with equally hard, unsparing parents, the novelty-starved teens hide Spikes in Will's barn, where they nurse him back to health. Mesmerizing the boys with his silky, seductive, dangerous romanticizing of his outlaw exploits, Spikes leaves the hero-worshiping boys, thanking them and telling them he owes them a favor. When Will's moralistic father finds out what Will did (including giving his horse to Spikes), he despairs of the boy's contrary behavior and viciously whips Will...before tenderly putting the unconscious boy to bed. Unwilling to forget his savage beating, and refusing to lead a life of back-breaking drudgery like his father, Will lights out for adventure, eventually picking up Les and Tod along the way, were the boys vow to "go get lucky."
The reality of their situation, however, soon hits them hard in the face. Unable to find work, with all three boys literally starving, Will asks himself what Spikes would do in a similar situation...and determinedly walks over to a tethered horse, lifts the owner's pistol, and robs the town bank. Unfortunately, the robbery goes bad, with mild-mannered Tod of all people accidentally killing a State Senator who struggles with the escaping robbers. Losing what cash they stole in their hurried getaway, the boys flee to Mexico, where they wind up with nothing to show for their outlaw efforts but eight weeks in jail (for the attempted theft of Will's hocked gold pocket watch) and a $1500 bounty on each of their heads, dead or alive, for the killing of the U.S. Senator. When it looks like they're never going to get out of the Mexican jail, salvation comes in the form of Spikes, who bails out the grateful, loyal boys, eventually inviting them to become his "gang"―a decision that will have grave consequences for all involved.
MAJOR, MOVIE-RUINING SPOILERS ALERT!!!
Coming out amid one last studio volley of traditional (anything with John Wayne, for instance) and "revisionist" Westerns, before production of the genre petered out drastically by the 1980s, 1974's The Spikes Gang seems to have gotten lost in the shuffle, achieving neither the grosses of Wayne's later Warner Bros. efforts like The Cowboys or Cahill: U.S. Marshal, nor garnering the critical acclaim of "revisionist" Westerns like Bad Company or The Culpepper Cattle Company. It's always guesswork to try and determine why a movie failed to click with audiences and critics, but it's possible that The Spikes Gang's plot sounded quite similar to previous efforts like The Cowboys and Culpepper (which already starred Grimes and Smith) to viewers who were, by '74, thoroughly sated with newly-violent Westerns inspired by the Italian "spaghetti" imports of the '60s and Peckinpah's successful transformation of that foreign trend, The Wild Bunch.
Luckily, Western fans now have the chance to re-discover this overlooked gem, one that holds its own against the very best examples of the genre in the 1970s. Beautifully hard and unsentimental, The Spikes Gang takes one of the Western genre's favorite sentimental themes―a young man's search for a mythical father figure (Shane may be the best example)―and thoroughly yanks it out from under the feet of unsuspecting viewers primed for a simple rip-snorting actioner. Put simply, one could say The Spikes Gang's central theme is concerned with Grimes' character losing one bastard of a father...only to gain an even worse one, while Ravetch and Frank, Jr.'s script thoroughly debunks cherished Hollywood Western clichés that glorified life in the Old West (to be fair, I've never read Giles Tippette's original novel upon which The Spikes Gang is based, so how much is from the book or from the screenwriters, I can't say). The scripters and director Fleischer build carefully to the central sequence that fools the audience: Spikes' rescue of the boys in Mexico and his subsequent surrogate father duties of feeding, washing, and clothing them, while teaching them to be bank robbers. However, the filmmakers make sure that all the signs and sequences leading up to this joyful, funny central section are grim with foreshadowing.
We the audience may want to go along with the charismatic Spikes' blarney about the joys and sensuous luxuries of being a professional bank robber, because it's so easy to get sucked in by Marvin's seductive, knowing cadence (indeed, for quotable lines, The Spikes Gang is hard to beat, with most of them going to Marvin, whose sly line-readings show what an underrated actor he was). However, considering how grim Spike's situation was prior to the boys finding him―laid-out in the broiling sun, with no friends or partners to help him, bleeding to death with a posse hot on his trail―deep down we know he's shining on the gullible boys. The script makes it very easy for us to root for first Grimes and then the rest of the boys to leave their homes, because the portrait painted of family life on the frontier is exceedingly bleak and severe. Grimes' father, once he discovers what the boy has done for Marvin, whips him into unconsciousness, telling Grimes he's been a disappointment to him morally and spiritually. Even though his father gently pats down his son's hair when he lays the beaten boy in bed, it's back to plowing for the father when Grimes, in tears from his injuries, surveys the bleak prospects of staying at home (Howard later says he wants to leave home, too, not mincing words when he claims his father sees him not as a son, but as a mule). The frontier life of The Spikes Gang is harsh and depressing, and unimaginably difficult; no wonder even an honest farmer like Grimes' father would have little compassion left over after his daily sun-up to sun-down toil. Giving the boys an exciting (and deliberately suspicious) send-off, the scripters have Howard and Smith meet up with the departing Grimes, who rouses the boys with a empty pledge never to kiss another man's boot, before they hoot and holler and ride off to Grimes' cry, "Let's go get lucky!"
Reality, however, immediately sets in, as the boys literally starve (they hungrily consume stolen communion wafers and wine at one point, with Howard telling a disapproving Smith, "Tod, tonight this is nothing but crackers and elderberry wine."), pushing them in desperation to the point where Grimes takes Spikes as an inspiration and spontaneously robs a town bank. A scene that could have been "heroic" had the boys been "naturals," or comedic had their ineptitude been exaggerated, is here portrayed by the impassive Fleischer as sickeningly ordinary: the boys have no idea what they're doing; a passer-by gets killed in an accidental struggle with Smith (unluckily for them, he's a State Senator), and they even lose their ill-gotten booty in the street as they barely make their way out of town. So many Westerns use the easily plugged-in "romance" convention of having outlaws steal down to Mexico to hide out, but in The Spikes Gang, Mexico is no more hospitable (or inhospitable, for that matter) than the States. The boys aren't besieged by banditos, nor are they welcomed as guests. They're either ignored, or barely tolerated as they move from one menial job to the next, before they're fired for incompetence. And when they try and steal back Grimes' gold watch, they're thrown into jail to rot away for good. Life on the run in The Spikes Gang is neither glamorous or dangerous―it's chillingly blank and detached.
Once Marvin arrives and rescues the boys, Fleischer and the scripters keep the level of dread high, as the boys fail miserably at their menial jobs. It's only when they agree to join up at Marvin's invitation to become his gang, do Fleischer and the scripters turn on the audience and trick them into forgetting all that previous doom and gloom, substituting instead a light-hearted romp that shows the boys bonding with their amiable, new-found father figure who promises to be their "deliverance and salvation"―a perversely incorrect statement. Here, the comedic Marvin really shines, showing off for the boys as he parades around his battle scars, or buys glasses for nearsighted Smith (a beautiful moment...and a deeply ironic one, too), or has a tooth pulled without gas (the tooth is "rotten to the core," were told prophetically), or teaching the boys how to shoot, or horsing around with them in a water pond. However, the scripters and Fleischer are clever in leaving behind little telling moments that briefly unsettle our enjoyment of this conventional sequence, such as Marvin's chilling description of what happened to his wife, the woman he owed everything to, the woman who taught him how to be a man ("What became of her, Mr. Spikes?" "I killed her."), or Marvin, sitting still with his reptilian eyes showing no emotion, as Grimes dreams of his father's rejection, hiding his face in shame as Marvin impassively watches him.
And almost as sudden as this brief reverie began, it ends, as Spikes shepherds the boys to the planned bank robbery. The arrival of Arthur Hunnicutt's pathetic-yet-deadly old timer bank robber Billy, who wants cut in on the deal, shows the boys exactly what kind of father figure they've chosen. Unmoved by the pathetic Billy's story of having to work for a living now (the naïve boys take Billy's tale of woe at face value), Spikes cruelly"―and correctly"―cuts him down to size: "You smell of liniment and old pee, Billy. Why don't you drag your ass up on a porch somewhere and eat your mush and let your grandchildren take care of you. What we got is beyond you," a hard-but-true assessment of Billy's chances with the gang. Even worse, when Hunnicutt gets it in his head that he's going to draw down on innocent Smith to prove he can still cut the mustard, Fleischer is careful to show Marvin sitting right behind Hunnicutt, not moving a muscle to save the boy. It's up to Grimes to kill Hunnicutt, a prophetic moment met with a terrible organ blast by composer Fred Karlin that underscores the awesome transformation in Grimes: he's now a killer, just like Marvin.
Not letting up one bit on the grim realities of being an outlaw in the Old West, the filmmakers give the boys (and the audience) one last chance to enjoy the fruits of their ill-conceived education and their disastrous apprenticeship with Marvin's bank job...but it comes off no better than the first, culminating in Smith getting shot in the back. Committing the worst sin imaginable, Marvin demands that they leave the fading boy to die by the riverbed ("Let's hope the ground that covers his grave will always be green...he's a goner; put a hat over his face,"), something Grimes and Howard can't believe their hero-figure would suggest. This betrayal, regardless of the "logic" of Marvin's cutthroat code ("I've left men dead behind me. I've left men dying behind me. And I've left them calling my name. What you do is shut your ears and close your eyes and run like hell. If you boys were older or had been at it longer, you'd know that's the only way to stay alive,"), will only be heightened later when Grimes learns that Marvin, going south of the border, has turned bounty hunter and shot Howard as he sleeps in bed. Having entirely become Marvin's pupil, forgetting the equally cruel lessons of his father, Grimes goes to confront Marvin in his hotel room, where Fleischer stages one of the most scary, realistic, painful-looking gunfights I've ever seen. Separated by only a few feet, Grimes and Marvin start blasting, with Grimes yelling, "Ow!" in pain as he's shot, with Marvin jumping up and down as the bullets tear into him. Staggering outside (Fleischer lets the roomful of gunsmoke pour out into the dark hallway―another great touch), Grimes dies, eyes open, by the train depot, dreaming of running into his father's forgiving arms. It's one of the most futile, deeply sad finales I've ever seen in a Western, showing a remarkable completeness of aesthetic vision from Ravetch, Frank, Jr., and Fleischer.
The DVD:
The Video:
Print damage (particularly during the opening reel) is noticeable from time to time (mostly scratches), but overall, the anamorphically enhanced, 1.78:1 widescreen transfer for The Spikes Gang looks quite good, with eye-popping color, a sharpish image, and acceptable edge enhancement.
The Audio:
The Dolby Digital English 2.0 stereo audio track is transferred here with at an acceptably loud range, with all dialogue heard clearly, and hiss at a minimum. No subtitles or close-captions.
The Extras:
There is an original theatrical trailer included here; it's very well done, by the way.
Final Thoughts:
One of the best Westerns of the 1970s, unfortunately missed by the critics and ticket-buying public. Lee Marvin gives an assured, knowing performance as a ruthless, cutthroat bank robber who seduces three naïve boys into a life of crime...just for the fun of it. Working from a beautifully self-contained script by legendary screenwriters Irving Ravetch and Harriet Frank, Jr., director Richard Fleischer paints an unrelentingly grim, unsentimental vision of outlaw life in the Old West, deliberately undercutting all of our cherished, hokey Hollywood oater conventions in the bargain; it's one of his best works from this underappreciated director. I'm highly, highly recommending The Spikes Gang.
---
Paul Mavis is an internationally published film and television historian, a member of the Online Film Critics Society, and the author of The Espionage Filmography.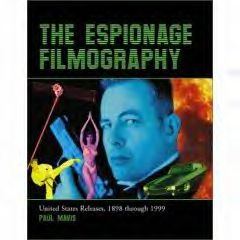 ---
C O N T E N T

---
V I D E O

---
A U D I O

---
E X T R A S

---
R E P L A Y

---
A D V I C E
Highly Recommended
---
E - M A I L
this review to a friend
Sponsored Links
Sponsored Links