List Price: $19.95 [Buy now and save at Amazon]
---
Engrossing science fiction romance. ITV Studios Home Entertainment and Scorpion Releasing have released Quest for Love, the 1971 U.K. effort based on a story by Day of the Triffids author John Wyndham, and starring Joan Collins, Tom Bell, and Denholm Elliott. Beautifully underplayed by the talented cast, Quest for Love is that rare sci-fi effort that largely eschews the more obvious trappings and hardware of the genre to focus instead on surprisingly effective love story. Some fun vintage trailers from Scorpion are the bonuses for this release.
London, England, 1971. Imperial Physical Industries' resident genius and physicist Colin Trafford (Tom Bell), is ready to demonstrate the latest prototype. Watching in the wings are Tom's schoolboy friend and science journalist for the BBC, Tom Lewis (Denholm Elliott), and mentor Sir Henry Larnstein (Laurence Naismith), an eminent physicist with some interesting (but unproven) theories about time and space. Initiating the experiment, almost immediately something goes drastically wrong, and Colin is overcome by a strange force. Waking up on the floor of his club, Colin is perplexed to find himself there, as well as confused to see that his clothes and hair seem rather old-fashioned. People he doesn't know congratulate him on his upcoming "big night," and most shockingly off all, his friend Tom, who lost an arm covering the war in Vietnam, is whole again, because there never was a Vietnam War...nor a World War II, for that matter. Reading a current 1971 newspaper, Colin is stunned to see that John F. Kennedy has been appointed head of the League of Nations, and genuinely confused to see that his workplace, Imperial Physical, has never heard of him, but that he is known not as a physicist, but as a famous London playwright and author. However, nothing can prepare him for the sight of the lovely Ottilie (Joan Collins), his wife of four years―a wife he's never laid eyes on before, and one who is sick and tired of her husband's cruel games.
MAJOR MOVIE-RUINING PLOT SPOILERS WARNING!
Other than seeing the movie adaptations of The Day of the Triffids and Village of the Damned, I'm not familiar with John Wyndham's works, so I had never heard of this relatively obscure sci-fi/romance from 1971. Looking at the cover of this Scorpion DVD release (I'm assuming that's the original poster artwork?), one might take Quest for Love as something more akin to Collins' later work in soft-core Eurotrash-fests like The Stud and The Bitch (I certainly thought that at first glance); however, Quest for Love couldn't be more different. A surprisingly effective romance with just the barest sci-fi framework, Quest for Love could just have easily been constructed with a supernatural or religious subtext, such is the near-complete sublimation of the sci-fi elements. Only the two or three brief shots of Colin undergoing his split in time, where he crosses over to his parallel worlds, suggest conventional sci-fi moments, and they're of the utmost simplicity (Bell merely rolls his eyes, as if experiencing some rending pain, before the camera fades out). And that's it: no elaborate special effects of any kind; no wonders of production design to convince us of a startlingly different world. Only a subtle alteration of the costumes and hairstyles to suggest a continuation of the more formal styles of Edwardian England (since WWII and the sixties revolution never happened) are used to effectively demarcate the parallel universes. And apart from an exceedingly simplified explanatory scene with Naismith for audience members not up on parallel physics, "science fiction" as a raison d'etre is absent here (as Naismith neatly sums up the movie's point for Tom: you win back a girl you love with your heart, not logic). So without the outsized sci-fi markers, the impetus for Quest for Love's touching love story could just have easily been of a more spiritual nature, without affecting the central plot one bit (and who's to say that both are incompatible?).
So that leaves the romance angle to dominate, and it's deftly and at times, quite movingly, handled. Working from a script by Terence Feely, director Ralph Thomas (the funny Doctor series starring Dirk Bogarde, Deadlier Than the Male) keeps Quest for Love at a very low boil, letting the nicely-integrated story line speak for itself. I have no idea how much of Wyndham is in this script, but there are some fascinating subcurrents that are briefly alluded to, before they're whisked away not unpleasantly by the compelling romance. I was particularly interested in a short outburst from Colin when he verbally attacks his (other universe) guests at a celebration, accusing them of not being on the same plane as he is (clever), because they haven't fought WWII or put a man on the moon. Nothing more is done with this idea, and it's written off as the "other" Colin's drunken rudeness, but clearly, Thomas is more interested in bringing off the relationship between Colin and Ottilie (and later, Tracy Fletcher, played also by Collins), than in exploring more sci-fi-friendly ruminations on the differences in cultures and politics in parallel universes.
As for the film's love story, it succeeds in large part due to the two leads' believable underplaying. Bell is on the right note from the beginning of the film, never overplaying his hand once he realizes he's in a different world―a set-up that a more careless actor might have exploited for showy theatrics of lapel-grabbing and yelling at the top of the lungs, trying to convince unbelievers. Bell lets you see the intelligent character (a physicist) act intelligently in such an emotionally irrational situation; he's cagey and smart about keeping his cool, lest he wind up arrested or locked away for observation. Collins, whom too many people know only from TV's Dynasty, is simply wonderful here, creating a fully-dimensional character here who at first is disgusted with her "husband" whom she thinks is hurting her yet again with some cruel game, before she tentatively wants to believe his story (even an explanation from rational Naismith doesn't really help), until direct physical evidence (this Colin has no boyhood scar on his shoulder) finally convinces her and she gives herself over entirely to this new/same man.
The script takes its time in establishing Ottilie's emotional turmoil causes by her "other" Colin, just as it takes its time in having her come to believe the "new" Colin's origins, and her acceptance of his unconditional love. And Collins executes each of Ottilie's evolving levels with consummate skill and a tender, honest loveliness that I found remarkable in her canon (one could include her turn in one of the most iconic Star Trek episodes: The City On the Edge of Forever). Again going back to Dynasty, Collins' hilarious, bitchy, scheming Alexis finally and forever cemented a recognizable image for the actress, one that unfortunately, though, colors all her previous work for the expectant viewer. That's why it's such a treat to see her here, in a beautifully acted scene where she makes breakfast for Bell after they make love, where Collins, free of most of her makeup, looking heartbreakingly lovely, runs through a gambit of emotions including fear, tentative hope, and grateful love, as she realizes her life can be different with this "different" Colin. The movie rises or falls on whether or not we believe Ottilie believes and loves Colin, and Joan Collins doesn't miss a step in revealing that arc. When we figure out that just as Ottilie finds true love, she doesn't have much time to live, and Joan Collins swoons in Bell's arms, dying from an ironically "happy" but broken (ill) heart, you have to be a pretty tough customer not to be moved by the swell of producer Peter Roger's dreamy "Ottilie's Theme," and Collins' heartbreaking request: "Promise me you'll find me in the other world...I know I'm there." It's a wonderfully tragic, unabashedly romantic moment in a film filled with smaller, yet equally resonant moments, and it satisfies on a level that all romantic films should strive for: it catches in your throat. Does Colin find Ottilie's other self back in the 1971 world he used to inhabit? Watch the picture and see.
The DVD:
The Video:
The anamorphically enhanced, 1.78:1 widescreen transfer looked a little grainy, with color in the mid-range (some slight washing out), and a medium-sharp image. Totally acceptable for the age and relative obscurity of the title.
The Audio:
The English split mono audio track is re-recorded here at an acceptable level; hiss is noticeable but not distracting. No subtitles or close-captions.
The Extras:
Some fun trailers are included: Homo Faber (yawn); Sextette (yeah!); Where the Boys Are '84 (boring trash); Fools (wonderfully gawd-awful); Say Hello to Yesterday (good performance by Jean Simmons); The Girl in Blue (reviewed it...); Sweet William (lovely Jenny Agutter); and Nothing But the Night (interesting Christopher Lee/Peter Cushing effort).
Final Thoughts:
Totally unexpected romance, with sci-fi overtones. Quest for Love is quietly, beautifully mounted, with two great lead performances by Tom Bell and Joan Collins (never lovelier and never better). A real sleeper. I'm highly, highly recommending Quest for Love.
---
Paul Mavis is an internationally published film and television historian, a member of the Online Film Critics Society, and the author of The Espionage Filmography.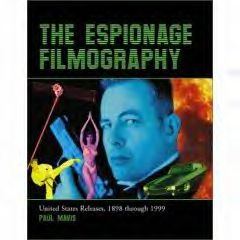 ---
C O N T E N T

---
V I D E O

---
A U D I O

---
E X T R A S

---
R E P L A Y

---
A D V I C E
Highly Recommended
---
E - M A I L
this review to a friend
Sponsored Links
Sponsored Links