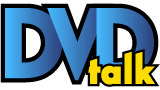 List Price: $35.99 [Buy now and save at Amazon]
---
THE FILM:
The horror genre hasn't exactly been on fire lately with great new releases. Other than Scream 4, I can't remember the last time I really enjoyed a recent horror film. When I heard the director of Saw had made a PG-13 thriller about a possessed child, I dismissed Insidious as an inevitable stinker ripe to join the long line of bad horror films. But when the film started making money, I dug a little deeper and discovered that two of my favorite actors, Patrick Wilson and Rose Byrne, were in the film and that reviews were surprisingly good. When the Blu-ray finally arrived in my mailbox, I was excited to see where all the creepy images from the film's "Insidious is..." marketing fit into the story. Perhaps I was starved for decent horror, but I found Insidious to be not only an impressive mix of dread, jolts and camp but a hell of a lot of fun, too.
Josh and Renai Lambert (Wilson and Byrne) move into a new house with their two young sons, Dalton (Ty Simpkins) and Foster (Andrew Astor). Dalton is frightened by something unseen in the attic and falls from a ladder. His injuries are minor, so Renai sends him to bed with a kiss, but when Josh tries to wake Dalton the next morning he is unresponsive. Doctors cannot explain Dalton's comatose state, and the film jumps forward in time three months to when the Lamberts hire a nurse to care for Dalton. As expected, unnatural things start happening around the house. Renai hears whispering from the baby monitor placed in Dalton's room that climaxes in harsh, demonic yelling. Human-like shadows appear on walls, doors close on their own and Renai finds a bloody handprint on Dalton's sheets. This supernatural onslaught proves too much for Renai, who convinces Josh to move again.
With Insidious, Director James Wan has created a three-part chiller that begins as Vincent Price haunted house horror before exploring the realm of demonic possession and finally concluding as rollicking camp. When their move fails to end the disturbances, the Lamberts call paranormal expert Elise Rainier (Lin Shaye) for help. After she tours their home, Elise tells the Lamberts that it's not the house that is haunted but Dalton. Apparently Dalton can astral project, which basically means he has out-of-body experiences, and has gotten stuck in a dark realm called "the Further."
Above all else, a horror movie must be scary. Wan proves himself competent at building tension, and Insidious makes the most mundane objects malevolent. I watched the first half of Insidious with various objects in front of my face. There are a number of jump scares, but more effective are the shocks that don't hit you until you notice something off about the setting or character in play. Aside from the jolts, Insidious pays homage to haunted-house classics with visual cues like the roaring boiler. Wilson and Byrne do good work here, and I liked their characters' reactions to the situation. Renai is scared as hell and gets out of the first house as quickly as possible. Josh can barely focus at work and spends all day worrying about his sons and wife. When Renai accuses him of not believing her about the disturbances, Josh says the reality is quite the opposite, as he packed up and moved for her without argument.
Things do get a bit silly toward the end of Insidious. At first I was disappointed that the film gave my nerves a break, but I quickly warmed to the new tone, the humor of which reminded me a lot of Drag Me to Hell. Everything comes full circle for Dalton and his family, and, while the intense images are still there, Wan releases the steam and turns Insidious into a macabre funhouse in the final reel. Speaking of Wan, I'm glad to see he's evolving as a director. Saw is an accomplished but flawed film that kicked off the torture porn craze. The Kevin Bacon-starring Death Sentence is an entertaining B-movie, but Wan took three giant steps backward with Dead Silence, a poorly developed thriller about the ghost of a murdered ventriloquist. Insidious is easily Wan's most accomplished film. His shots are more confident, and he gets solid, grounded performances from all the actors, including nine-year-old Simpkins. Insidious throws a lot at you, but it makes for excellent midnight entertainment in the home theater.
THE BLU-RAY:
PICTURE:
Sony Pictures picks up the Blu-ray distribution for Insidious, which receives an excellent 2.40:1/1080p/AVC-encoded transfer. Shot with the RED digital camera system, Insidious is a crisp, highly detailed film. Although backgrounds are not especially deep, detail and texture are abundant for faces and objects in range. Wan sucks most of the color out of the image, giving the film a cold, sharp appearance disturbed only by violent reds and oranges, and color saturation is spot-on. Insidious is a dark film, but each observable shock remains visible in the inky surroundings. There is nice contrast between the dark void and the actors caught within, and digital banding is only a minor issue. Insidious retains a nice film-like appearance despite being shot digitally, and I observed no instances of digital manipulation.
SOUND:
The film's 5.1 DTS-HD Master Audio track is also excellent. Sound design is very important in a horror film, and Wan knows how to layer effects to maximize the chills. The bumps, creaks and screams of terror reverberate throughout the sound field, and the track is full of directional sound effects. The sweeping orchestral soundtrack is rich and appropriately overpowering, and things get downright deafening during the film's earth-shattering convergence with the spirit world. Effects and score never overwhelm dialogue, which is always crisp and clean. English, English SDH and Spanish subtitles are available.
EXTRAS AND PACKAGING:
Insidious arrives on Blu-ray as a single-disc offering housed in a standard blue case. Sony's double-sided artwork replicates the film's poster and one of its creepier images.
Extras include Horror 101: The Exclusive Seminar (10:27), in which director Wan and writer Leigh Whannell discuss the different types of horror films that inspired Insidious. Both are clearly passionate about the genre, and I enjoyed their remarks on authentic scares, production design and updating the haunted-house thriller. On Set With Insidious (8:15) is a short vérité piece about the production, and Insidious Entities (6:32) discusses the film's ghostly characters. Some bonus previews and a BD-Live portal are also included.
FINAL THOUGHTS:
An effective horror concoction comprised of haunted-house jolts, demonic possession malevolence and campy fun, Insidious is a rare winner for the oft-maligned genre. Director James Wan builds the tension, and reliable actors Patrick Wilson and Rose Byrne give strong performances as the parents of a child lost in a dark realm. Sony's Blu-ray features excellent picture and sound and some interesting extras. Highly Recommended.
William lives in Burlington, North Carolina, and looks forward to a Friday-afternoon matinee.
---
C O N T E N T

---
V I D E O

---
A U D I O

---
E X T R A S

---
R E P L A Y

---
A D V I C E
Highly Recommended
---
E - M A I L
this review to a friend
Sponsored Links
Sponsored Links