Get Yourself a College Girl
List Price: $19.95 [Buy now and save at Amazon]
---
A good-looking, mildly amusing Sam Katzman cheapie for M-G-M, helped considerably by some socko musical numbers. Warner Bros.' Archive Collection, which manufactures on demand (M.O.D.) library titles that normally wouldn't see the light of day, has released Get Yourself a College Girl, the 1964 musical/sex comedy starring Mary Ann Mobley, Chad Everett, Joan O'Brien, Nancy Sinatra, Chris Noel, and featuring musical numbers by The Animals, The Dave Clark Five, Stan Getz & Astrud Gilberto, The Standells, and The Jimmy Smith Trio. The girls look great, the guys are handsome duds, and the music rocks and sways...but more laughs would have helped. An original trailer is included in this great-looking disc.
America, 1964, where women like Terry Taylor (Mary Ann Mobley)―if they want to simultaneously go to college at the conservative Wyndham College for Women (founded 1912) and write hit songs like Help Stamp Out Men―have to live a double life of shame and secrecy. As long as Terry can keep a lid on her million record-selling alter ego, "Joannie Harper," she can stay in school...but if the Board of Trustees, led by the stuffy dean, Miss Martha Stone (Dorothy Neumann), ever found out, she'd be expelled. Enter her helpful music publisher, Gary Underwood (Chad Everett), who lets the cat out of the bag one night when he's trying to get a hold of Terry at school. Instant scandal. To cool things out, Terry's hot, hot ballet teacher Miss Endicott (Joan O'Brien) offers to take Terry and her friends Lynne (Nancy Sinatra) and Sue Ann (knockout Chris Noel) up to Sun Valley, Idaho for a little Christmas ski break. Little does Terry know that two men await her there: Gary, hoping to convince the steaming-mad Terry to pose for a revealing portrait for her next single cover, and State Senator Hubert Morrison (Willard Waterman), the grandson of Wyndham's founder, and a nervous candidate who wants to do a little research at the ski resort to see if he's "stuffy," as Miss Stone suggests. With all that hilarity, it's a good thing The Animals, The DC5, The Standells, Stan Getz, and all the rest are on hand to give us a breather.
SPOILERS ALERT
If you have to rank best to worst in the "snow and ski musical romantic comedy" subgenre, Get Yourself a College Girl ranks fairly high up on that list...but only because it's a pretty small list. AIP's Ski Party has fewer performers―James Brown and the Fabulous Flames, Lesley Gore and Frankie Avalon, of course―but it's also much funnier than Get Yourself a College Girl, with actual location shooting of the AIP regulars frolicking in the snow. Legendary cheapskate Sam Katzman (and brilliant filmmaker in his own right, I might add) solves that tricky problem (anything is a problem for Katzman if it costs extra money) by largely staying off the slopes and concentrating on the songs and the tacked-on story of Mobley and Everett's romance that bookends the musical numbers. Get Yourself a College Girl may have a Christmas-time backdrop, but you'd hardly know it from the claustrophobic, set-bound look of the film.
Employing the old standby of his and other exploitation cheapies of giving the young viewers what they want while reassuring any oldsters in the crowd that they're okay, too (the opening song, The Swinging Set, says it all: "Come on and join the swinging set! It doesn't matter how old you get!"), Katzman keeps Get Yourself a College Girl family-friendly while putting out enough lewd clues to keep young and old interested. When the opening shot shows a couple of stacked co-eds aggressively swinging their backsides as they climb the school's steps, father and son, regardless of generation gap, get the message. It's a formula that explains the curious (to some) music selections, as well, here. While at first glance it seems utterly bizarre to have The DC5 and The Animals rub elbows with Stan Getz and Freddie Bell and Roberta Lynn, it actually makes perfect sense if you follow Katzman's formula: any performer, song, or musical trend that seems "hot" or ready to break out, needs to be exploited now...and the rest is filler that may appeal to the squares in the audience. With huge chart toppers in 1964 like House of the Rising Sun, Glad All Over, and Bits and Pieces, newcomers The Animals and The Dave Clark Five were naturals for the movie: new flavors of the month who could still be bought on the cheap (The Beatles were already way out of his price range). And with Astrud Gilberto's The Girl from Ipanema still charting after a year, why not sign her and Stan Getz to generate a few more royalty checks―the parents out there liked that song even more than the kids. Jazz was still considered a viable intellectual alternative for college eggheads back in '64, so plug in The Jimmy Smith Trio while hoping that not-quite-yet one-hit-wonders The Standells break out before the movie opens (that wouldn't happen until a year and a half later with the classic Dirty Water). Then throw in Steve 'n' Edie wannabes Freddie Bell & Roberta Linn for the Vegas crowd and the novelty act The Rhythm Masters for variety act filler, and the scattershot approach should appeal to the broadest possible range of ticket buyers (I'm only surprised Katzman forgot to throw in a country act).
As for the story "laced with early feminist and sexual-revolution sentiments," as the back of the DVD case states, you can make a case for such sentiments showing up in Get Yourself a College Girl...but you're going to have to reconcile them with Katzman's far-more dominant (and refreshing) leering sexism. Those that may be startled hearing Mary Ann Mobley's title song (an ode to the sexually liberated woman), or her wish that women could set the sexual agenda, should look elsewhere for earlier signs of similar political sentiments (certainly M-G-M's better-known inspiration for Get Yourself a College Girl―1960's Where the Boys Are―had them, while you can pick up earlier signs of discontent even in heretical places like Father Knows Best and The Donna Reed Show). If Katzman instructed screenwriter Robert E. Kent (Where the Sidewalk Ends, Don't Knock the Rock, Twist Around the Clock) to specifically include such a viewpoint, no doubt it was because Katzman read an article on how feminism was ready to explode into the American consciousness. Far more pervasive is Katzman's insistence on looking at pretty girls in various stages of undress. The opening scene sets the tone: shapely Mobley, Noel, O'Brien and Sinatra all frug and watusi in skin-tight leotards (you've come a long way, baby). Later, the statuesque, lynx-eyed Noel gives an extended prance around her ski lodge in a skimpy bikini, while the married Sinatra (in tasteful lingerie lest Frank smash someone's face in) enacts a running dirty joke that implies her husband is making love to her so often she doesn't know what day or time it is. If, as some critics might have it, Katzman and Kent are trying to slip in some "subversive" feminist politics (by 1964 Hollywood standards), it's counterbalanced by all that skin and sin (it's amusing that chief exhibitionist Noel is the one that rightly calls Mobley a hypocrite: don't write about the aggressive sexual freedom of women―and shake your ass up on a stage for men to ogle― if you don't really want men's attention).
Luckily, director Sidney Miller (The 30 Foot Bride of Candy Rock, numerous TV series such as The Addams Family, My Mother the Car (!), The Monkees, Get Smart) focuses on movement over message, and keeps the ball rolling. Mobley is saddled with a truly awful dirge of a folk/rock title song (a big weakness for the film, and probably the reason The Swinging Set plays over the opening titles), and she attacks her simple lines with the ferocious chipperness of Ted Bundy at a Girl Scout jamboree. However...she's sexy in a sweet, girl-next-story sort of way, and when they let her laugh with handsome, stiff Chad Everett in front of those deliciously fake snow backdrops, they look right together (Fabrizio Mioni actually seems to know how to do romantic comedy...but he's not given much attention). Joan O'Brien (looking glum) and Chris Noel (looking sensational) are the main eye candy here, with energetic Noel at least getting into the spirit of things. Mild comedic support comes from The Great Gildersleeve's Willard Waterman and the delightful James Millhollin (The Ghost and Mr. Chicken, TV's The Odd Couple), who gets in one of his classic disgusted reaction shots (truth be told, shaky-voiced Percy Helton gets the most laughs here in a ten-second role by just being himself).
Once the music starts, though, most of this filler is forgotten, and you can bet that's what producer Katzman was counting on in the first place. The DC5> score with a dreamy Whenever You're Around and a rocking Thinking of You Baby (it's funny to watch the guys looking off-camera for their reminders to keep smiling), while Eric Burdon forgets to lip synch during Blue, Blue Feeling (their Around and Around hits home). The Standells hold their own with spirited takes on Bony Moronie and The Swim, and The Jimmy Smith Trio lay down some cool licks with Comin' Home Johnny and The Sermon. And of course, Astrud Gilberto glides nicely through The Girl From Ipanema as Stan Getz blows his sax (there's not much to say about The Rhythm Masters except...aren't they clapping out of rhythm?). With a solid group of performances like those...who cares if Get Yourself a College Girl is only ho-hum in the romantic comedy department?
The DVD:
The Video:
The anamorphically enhanced, 1.85:1 widescreen transfer for Get Yourself a College Girl looks terrific, with saturated, primary color, a sharp image, and little grain (a few scratches and anomalies pop up, but they're negligible). Good-looking transfer.
The Audio:
The Dolby Digital English mono audio track no doubt replicates the original presentation, and it's got a healthy re-recording here...but it is too bad we can't hear those tunes in some form of stereo. No subtitles or close-captions included.
The Extras:
There's an original trailer included here―nice.
Final Thoughts:
Solid musical numbers by The Animals, The Dave Clark Five, The Standells, Stan Getz & Astrud Gilberto, and more help sell this Sam Katzman cheapie. Get Yourself a College Girl may not be all that funny, but it's amusing here and there, the tiny, fake sets are eye-poppingly colorful, and the girls are pretty. So what else do you need? I'm recommending Get Yourself a College Girl.
---
Paul Mavis is an internationally published film and television historian, a member of the Online Film Critics Society, and the author of The Espionage Filmography.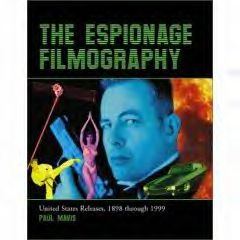 ---
C O N T E N T

---
V I D E O

---
A U D I O

---
E X T R A S

---
R E P L A Y

---
A D V I C E
Recommended
---
E - M A I L
this review to a friend
Sponsored Links
Sponsored Links