List Price: $20.95 [Buy now and save at Amazon]
---
Maybe they screwed around with it in post-production. Sony's own line of M.O.D. (manufactured on demand) disc raids their old Columbia Pictures vaults for Hammerhead, the appropriately titled 1968 spy picture starring Ben Casey's Vince Edwards and the adorable Judy Geeson, with a whole slew of familiar British faces like Diana Dors, Peter Vaughan, Michael Bates and Patrick Cargill filling up the colorful frames. "Dopey" doesn't begin to describe Hammerhead, but if you're like me and grew up on Bond rip-offs like this showing up on Saturday night TV ("Get your elbow out of my popcorn! I'm watching the Hammerhead spy thing!"), you'll feel an affectionate nostalgia for such goofiness.
American soldier-of-fortune, art lover, and occasional spy Charles Hood (Vince Edwards) has some pornography to sell. And international criminal Hammerhead (Peter Vaughan) wants to add it to his extensive collection. What Hammerhead doesn't know is that Hood is watching him, fully aware that Hammerhead is orchestrating some plot to sabotage a super-secret NATO meeting, headed by Sir Richard Calvert (Michael Bates). Hood's controls, Condor (Patrick Cargill) and Huntzinger (Patrick Holt), want Hood to infiltrate Hammerhead's organization, but that's going to be difficult with daffy British bird Sue Trenton (Judy Geeson), popping up at the most unexpected times, hanging all over the hang-dog, hairy Hood, hoping for a snog. Hood has other female trouble in the form of two of Hammerhead's "associates": nightclub owner Kit (Diana Dors), and plaything Ivory (Beverly Adams), who wants Hood to drop the hammer on her in the worst way.
SPOILERS WARNING!
I'm not going to viciously attack Hammerhead because all in all...it's just a goof, and why would anyone get upset by something so innocuous and inept? Confusion would seem to be the appropriate response to this lightweight piffle, after seeing the relatively heavyweight talent responsible for this (enjoyable) misfire. Clearly, someone at Columbia―most probably producer Irving Allen, who already had a hit with the Dean Martin Matt Helm spoofs―thought good writer Stephen "James Mayo" Coulter's espionage novels featuring art-loving Charles Hood would make a promising cinematic spy franchise, since everyone and their brother were trying to ride the Bond gravy train in the mid-to-late 60s. Enter future Oscar-winning screenwriter (Gandhi) John Briley for the book's adaptation. Having already delivered a couple of funny Spike Milligan films (Invasion Quartet and the delightful Postman's Knock) as well as the creepy sequel, Children of the Damned, Briley would go on to write movies like Marie and Cry Freedom (and more enjoyable fare like The Medusa Touch and the howler Christopher Columbus: The Discovery). Now enter William Bast and Herbert Baker for the Hammerhead screenplay proper. Bast would write for that iconic TV masterpiece, The Prisoner, as well as TV fare as diverse as The Outer Limits, Perry Mason, Alfred Hitchcock Presents, and to my mind a masterpiece of the TV movie genre: 1975's The Legend of Lizzie Borden, starring Elizabeth Montgomery. Baker wrote for Martin and Lewis (Jumping Jacks, the brilliant Scared Stiff, and Artists and Models), as well as iconic 50s flicks like The Girl Can't Help It, Presley's Loving You, and a couple of the Matt Helm pictures in the 60s. Enter the director David Miller, who could turn out anything from solid studio fare (Billy the Kid, Flying Tigers), to intriguing classics (the brilliant Sudden Fear and Lonely Are the Brave), to enjoyable pap, like Midnight Lace, Back Street, and Captain Newman, M.D..
So...with people like that behind Hammerhead, in the inimitable words of Ricky Ricardo: "Waaa haaaapen?" And the answer is: who knows? Considering the overall choppy, herky-jerky, sometimes nonsensical feel to Hammerhead, I'm still going with post-production tampering (not an uncommon occurrence in an Irving Allen cheapie production), including an edit job that looks like it was done with a hacksaw, and an exceedingly annoying music soundtrack by David Whitaker that actively hurts the film. And let's be honest, too: hirsute, slump-shouldered Vince Edwards, no matter how much we loved him in hospital scrubs, isn't Sean Connery, or James Coburn, or Dean Martin (he's not even Dick Martin, for that matter). Those are fairly large obstacles to overcome if you're looking for a "good" movie. Hammerhead certainly isn't a "good" movie by any stretch of the imagination, but you can still have fun with it...if you turn off your interior criticism and turn on your pleasantly bemused "what the hell is happening now?" vibe.
Hammerhead is so lazy that it doesn't even tell us who Charles Hood actually is (a spy? An adventurer?), or how he hooked up with British Intelligence, or why he's taking orders from them. While it's true that we don't really need to know what "Operation Watchdog" is all about (the secret report that Sir Charles is going to deliver at the NATO meeting), it might have been helpful to get the audience rooting for some kind of purpose to Hood's mission. We don't even get to know the title character, Hammerhead, or why he wants to mess with NATO. Actor Peter Vaughan, one of my favorite British character actors (see Chancer and you'll know why), pops in once or twice and leaves the film for great big sections―a disservice to the movie and to such an interesting actor: what's a spy film without a villain to root against? Even worse is Vince Edwards' shuffling, head-down approach to Hood, where he's either looking to see if his loafers are tied, or cracking an entirely inappropriate grin at something no one else thinks is funny. Edwards may have been a limited actor, but I blame director Miller for letting such a strange, furtive performance come through here; he could have told Edwards to stand up straight (put your shoulders back; cripes that looks uncomfortable), face the camera, wipe that stupid smirk off his face, and deliver his lines without staring at his navel.
Still...there is a lot of 60s ephemera here in Hammerhead that you can enjoy. The funniest sections of the movie are when the filmmakers drop in footage of (staged?) "happenings" at the beginning and end of the film. Who cares that Vince Edwards looks pole-axed; Douglas Wilmer is playing avante garde artist Pietro Vendriani for god knows what reason, as we watch him blow the heads off mannequins as his little Manson Family minions hack the bodies apart with hatchets. Ain't nothing wrong with that. Some funny throwaway lines can be heard throughout the film, many of them sounding like leftovers from Baker's Matt Helm flicks. You can even hear tired old Dino saying, "You got the answer to empty churches," when Edwards watches stacked Beverly Adams do a raunchy "prayer dance"―certainly a highlight of the movie (the best line is probably the caged hippie who says, "Dig that crazy Valentine," as Hammerhead is punctured with a spear gun...before the filmmakers promptly drown the hippie in the ocean!). A couple of fight scenes are awkwardly funny (I'm guessing they didn't spend too much on a fight choreographer), while the final chase is kinda funny (I love the coffin being ejected out of the hearse like a rocket), with a spectacular shot of Judy Geeson's bum bouncing up and down as she rides a motorcycle up some stone steps (watch Geeson's face as she leaves the frame―she's having a ball). Indeed, Geeson is the most positive element of Hammerhead. Never looking more thin and attractive than here, the utterly captivating actress mugs outrageously for the camera to get our attention, and she does so with ease, modeling one of her fab "mod" outfits before stripping down to a swimsuit or just a towel. Who cares if her character makes no sense whatsoever―neither does the movie itself for that matter. It's enough just to enjoy the energy she brings to her silly performance. And you can probably say the same thing for Hammerhead, if you want.
The DVD:
The Video:
The 1.85:1 anamorphically-enhanced transfer is beautiful, with those saturated 60s color, little print damage, and a sharp picture. Looks great on a big monitor (except for a few of the darker scenes where grain crept in noticeably).
The Audio:
The Dolby Digital English mono re-recording is quite loud―which is cool...until that awful music plays. No subtitles or close-captions.
The Extras:
No extras for Hammerhead.
Final Thoughts:
So goofily inept and misconstructed, it's quite fun. Despite some talent behind the scenes, Hammerhead has to coast on nostalgia and amusement at its drawbacks to entertain audiences today. Vince Edwards is more than a bit of a stiff, but Judy Geeson makes up for him and the movie's shortcomings by just being herself: adorable. I'm recommending Hammerhead for anyone out there like myself who can enjoy this kind of movie for exactly what it is...and isn't.
---
Paul Mavis is an internationally published film and television historian, a member of the Online Film Critics Society, and the author of The Espionage Filmography.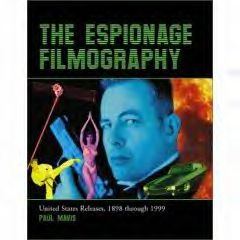 ---
C O N T E N T

---
V I D E O

---
A U D I O

---
E X T R A S

---
R E P L A Y

---
A D V I C E
Recommended
---
E - M A I L
this review to a friend
Sponsored Links
Sponsored Links