List Price: $20.95 [Buy now and save at Amazon]
---
Calling Dr. Earnest! Dr. Hysteria! Dr. Soapy! Lovers of vintage medical dramas still waiting in vain for dreamy Drs. Casey or Kildare to return will no doubt take to The Interns, the 1962 drama from Columbia Pictures, made available through Sony's own M.O.D. (manufactured on demand) on-line service. Starring a cast of future TV and movie stars like Cliff Robertson, Buddy Ebsen, Telly Savalas, and Stefanie Powers...along with a few almost-wases like Nick Adams and Haya Harareet, The Interns will probably get laughs from anyone who thinks the hilariously self-conscious E.R. is the be-all end-all of hospital dramas. But for those who like their doctoring straight-up platitudinous and faux-revealing, then The Interns' soapy prescription is positively therapeutic. No extras for this okay transfer.
New North County Hospital: vast, taxpayer-funded citadel of the art of human healing. Into its white-marbled halls now pour the interns, those recent graduates of medical school who come into the arena to tentatively test their sawbones skills. Smooth operator Dr. Alec Considine (Michael Callan) knows just what he wants: a residency with one of the top head shrinkers in the country, so he makes time with Nurse Vicky Flynn (Katharine Bard), a sadder but wiser veteran nurse with connections to the shrink...and no knowledge of Considine's rich, pouty girlfriend, Mildred (Anne Helm). Dr. John Paul Otis (Cliff Robertson) has a cynical squint in his eyes that says he's got the whole doctoring game figured out―a jaded point of view that hasn't yet infected Otis' best friend, Dr. Lew Worship...that's right, "Worship" (James MacArthur), the painfully naïve, earnest do-gooder of the group who bores everyone to tears with his screeds on the higher calling of medicine. Dr. Sid Lackland...that's right, "Lackland" (Nick Adams), has no such illusions; he's in medicine for the money, hoping to score a sweet, fat deal as some country club physician―too bad he falls for conveniently dying Asian girl Loara (Ellen Davalos).
And Dr. Madolyn Bruckner (Haya Harareet) is that rarity in 1962 hospitals: a woman, for god's sake, who isn't a nurse, candy stripper, or cafeteria worker. She's got a kid and an absolutely wild hairdo, but that doesn't impress arch, deadly lady-hater Dr. Dominic Riccio (Telly Savalas), who doesn't want to waste time training a scatterbrained girl, only to lose her to pots and pans and screaming kids once she comes to her senses―a view not shared by folksy Chief of Staff Dr. Sidney Wohl (Buddy Ebsen), who wants Dr. Telly to lay off the already-terrified interns. Other marginalized women here include Lisa Cardigan (Suzy Parker), a gorgeous model with baby problems that only slick Dr. Otis can solve, Nurse Gloria Mead (Stefanie Powers), who wants to go, man, go as a "tramp" nurse, and Nurse Didi Loomis (Kaye Stevens), who doesn't seem to realize she's starring in a movie...not a vaudeville review.
SPOILERS WARNING!
Most if not all of the dramatic conflict in The Interns is going to seem awfully familiar to anyone who grew up on TV doctor shows like Ben Casey, Dr. Kildare, Medical Center, or Marcus Welby, M.D.. For that matter, even a "cutting edge" medico series like E.R. reworked many of these same themes, distinguished only by a greater sense of "realism" in its depictions (i.e.: more blood and guts). Witnessing a woman dying after a botched abortion attempt, or seeing a woman ask for an abortion, or seeing a young woman bravely face a terminal disease, or listening to a soon-to-be-paralyzed old man beg for a mercy kill, isn't going to raise a yawn from most viewers today, such has been the overkill of their repetition in other projects. However, seen in context, such scenes were still a long way down the line from anything that 1962 reviewers remembered from their old Dr. Kildare movies, no doubt contributing to the success of The Interns (along with everybody going nuts over ABC's Ben Casey in 1962). I'm guessing that events were a little bloodier, a little sexier in Richard Frede's best-selling novel, but for mainstream 1962 Hollywood films, The Interns wasn't tame.
If you want to find a central problem with The Interns (and I write "if" because it's not enough of a substantial movie to concern yourself too deeply with it), it's the wavering tone employed by co-script writer (with Walter Newman, of Ace in the Hole, The Man With the Golden Arm, and Cat Ballou, if you can believe it) and director David Swift to illustrate the lives of a big city hospital's interns. At the beginning of the film, one begins to wonder if the semi-documentary feel of the location work (at L.A.'s imposing Los Angeles County/USC Medical Center) will lead The Interns into potentially rich territory, giving the viewer a relatively unvarnished look at the decidedly unglamorous lives of these talented, complicated individuals. However, that semi-gritty approach vanishes almost immediately as we quickly delve into the soapy entanglements of the doctors, or wander around the Blake Edwards-esque "wild" New Year's Eve party which was apparently sold in the marketing as the film's centerpiece. Mind you, I'm not knocking that party sequence or the phony histrionics of the doctors' love lives. Those have their own puerile pleasures, and director Swift (two Disney classics: the lovely, underrated Pollyanna and the entertaining original The Parent Trap) orchestrates them competently. It's just that these abrupt switches in tone aren't successfully meshed (as Altman was able to do in M*A*S*H, to stay with doctors). One minute you have a woman screaming that her child can't be dead from choking on such a small piece of apple (a harrowing moment), and the next you're watching Kaye Stevens mugging grotesquely for the camera (god, she's awful here). That approach works in M*A*S*H and The Hospital because both the drama and the comedy are so starkly effective. Here, those clashing juxtapositions fall flat because too many of the scenes are either awkwardly constructed and scripted, or ineptly acted.
The Interns is much better viewed as a glossy, romanticized sudser, a cinematic "page turner" where we can live vicariously through the easily identifiable "types" here. Once you accept that framework, the tentative, clichéd scenes actually work because they're satisfying our genre expectations: all we have to do is see if they're faithful to the established conventions, and enjoy the performances (if possible). Weirdly, The Interns's central soap opera elements―the romantic/sex lives of the young doctors―are probably the film's least convincing scenes. We never actually buy that Robertson would get such easy access to Parker's secrets, nor do we see Callan's, MacArthur's, or Adams' relationships as anything more than the most rote compendium of warmed-over hash. But ironically, as with any good "soap," the actual quality of the construction is secondary to the construction itself: we want the conventions paraded before us in a predictable manner, and we find pleasure in the implementation of that machinery. It doesn't particularly matter what the product looks like as it goes down along the line; we just enjoy watching it being made. So if we cringe every time James MacArthur screws up his mouth as if he just sucked a lemon in an attempt to convey all two the emotions he has at his command ("confusion" and "puppydog enthusiasm"), it's okay, because he's just standing in for the "naïve idealist who's going to grow and change due to his experiences in the operating room and in the bedroom." We know that guy from a hundred other soaps; the doctor's smock is the only variation here.
The cast is as deeply divided as the movie's atmosphere. As for the interns, shifty-eyed Cliff Robertson may be second-billed, but he's probably the best match-up with his callow character who wipes his ass with the Hippocratic Oath and ruins his career (although, getting the stunning Parker―a seriously underrated actress, probably because of her extreme beauty―seems like a fair trade). The other actors, however, fail to make much of an impression, with Adams doing his usual annoying shtick (he radiates insincerity and "process" from every pore), Callan walking through his sitcomy turn until he badly misjudges a Dexies-fueled flip-out (screeching isn't acting), and MacArthur hopelessly bad at everything he tries here. It's too bad someone didn't give future Where Eagles Dare and Kelly's Heroes director Brian G. Hutton more to do as Dr. Joe Parelli, though: he's a breath of fresh Bronx car exhaust in a very funny turn.
The lower-billed pros deliver most of the goods in The Interns. Ebsen shows how low-key fine he could be in a dramatic turn, right before he indelibly alloyed himself to his comedic Jed Clampett creation. Gregory Morton is alternately playful and stern as the caring OB-GYN chief, while Telly Savalas, deliciously snotty and imperious, brings out some fire in Harareet―something even Charlton Heston couldn't do. Even better, some of the smaller unbilled parts provide the movie's best moments, like Peter Brocco as a pathetic sufferer of a degenerative motorneuron disease, begging for someone to show him mercy by killing him (Angela Clarke as his distraught wife is equally fine here), or Sondra Blake (the original, superlative Helter Skelter), who achieves a truly remarkable stream of consciousness turn as a woman in labor (the filmmakers honor her honesty in this scene by showing the just-born baby with umbilical cord and all―probably a first for a mainstream Hollywood studio release). It's the best scene in The Interns, coming out of the blue amid all the (enjoyably) phony posturing and hysterics, giving us a brief glimpse of what The Interns might have been if soap considerations had been left out of the equation.
The DVD:
The Video:
The anamorphically-enhanced, 1.85:1 widescreen transfer for The Interns is okay...if a little contrasty, with fair blacks, a medium-sharpish picture and some print damage. Grain is apparent, but that may have been in the original look of this lower-budget effort.
The Audio:
The Dolby Digital English mono audio track is fine, with a decent re-recording level and clear dialogue. No close-captions or subtitles available, though.
The Extras:
No extras for The Interns.
Final Thoughts:
Dated, perhaps, if seen against more recent medico efforts...but they're all reworking the same basic dramatic set-ups seen here. Lovers of vintage multi-character, episodic dramas/soapers will be the best bet for the all-star The Interns; it satisfies those expected conventions quite nicely. I'm recommending The Interns.
---
Paul Mavis is an internationally published film and television historian, a member of the Online Film Critics Society, and the author of The Espionage Filmography.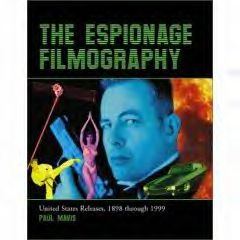 ---
C O N T E N T

---
V I D E O

---
A U D I O

---
E X T R A S

---
R E P L A Y

---
A D V I C E
Recommended
---
E - M A I L
this review to a friend
Sponsored Links
Sponsored Links