Bionic Woman: Season 3, The
List Price: $39.98 [Buy now and save at Amazon]
---
NBC equals "Not Bionic Compatible." Universal has released The Bionic Woman: Season 3, a five-disc, 22-episode collection of the final go-around for bionic babe Lindsay Wagner. Unceremoniously dumped by ABC despite rather remarkable ratings, The Bionic Woman was picked up by drowning NBC in 1977...and what was once a Nielsen Top Ten and Fifteen hit, slowly faded away. These last episodes are a mixed bag, and you can feel that everyone was flailing around, trying to find some kind of consistent tone...but it's still fun viewing for fans of vintage 70s TV. Some nice extras help put this good-looking collection solidly in the plus column.
Former tennis pro, ex-girlfriend of bionic stud Steve Austin (he was on another network, so we're not going to mention his name), and super-secret bionic agent for the Office of Scientific Investigations, Jaime Sommers (Lindsay Wagner), has apparently the longest-running in-service day at her Air Force Base school...because we never see her teach there anymore. She still lives in that cool carriage house apartment of hers in Ojai, California...but the landlords, Steve's parents, are conveniently never seen or mentioned. Indeed, in this season, it's all about the missions and the boyfriends, as Jaime boooiiiiiiings from one dangerous assignment to the next, while making out with anything pretty in pants. Incredibly competent civil servant Oscar Goldman (Richard Anderson), Jaime's boss, still calls her "babe" (where's that OSI employee handbook on sexual harassment...), and Jaime's mechanic, Dr. Rudy Wells (Martin E. Brooks), when he isn't rebuilding her carburetor, has provided her with a pet: agent Maximillian, a bionic German Shepherd who can chew through a 100 Milk Bones® in ten seconds flat.
Last year, I wrote a pretty detailed look at The Bionic Woman for the Season 1 DVD release, so I'm not going to go into a lot of background on the aesthetics of the show again (you can read that review here). Unfortunately, I didn't get to review Season 2, so it's tougher to evaluate Season 3 within the context of the series as a whole without having been able to see the show's progression (Season 3 isn't as successful as Season 1, that's for certain...but how does it stack up against 2?). So, we'll just jump in and look at these 22 episodes as best we can.
I'm pretty sure that by 1977-1978, I was over the whole "bionic" thing on TV. It's a hard fact, but kid viewers are fickle as hell. Stuff gets old but quick (just ask all those Hannah Montana fans). As I wrote in my Season 1 review of The Bionic Woman, I was more of a Six Million Dollar Man fan, anyway, so except for remembering that I checked out the bionic dog Max in this season opener (that sounded cool to an 11-year-old), I don't think I was clicking the dial over to creepy NBC all that often to watch Jaime in action (where the "house style" transmission literally looked...darker and more glum, depressing). Apparently, I wasn't the only one. Now, one can debate why ABC dumped The Bionic Woman when it was still charting as the 14th most popular series on the air―"trending down ratings" was probably the culprit―but you can't argue with the fact that its replacement on Wednesday nights at 8:00pm, the family dramedy, Eight is Enough, satisfied the network's primary goal: higher ratings (Eight is Enough finished 12th overall for the 1977-1978 season). But as pathetic as NBC's line-up was in 1977-1978 (only four shows in the Nielsen Top Thirty), you can't blame them solely for the demise of The Bionic Woman (Wagner had a hand in it, too). The simple fact is: the premise, at least as it was played out this season under new producer James D. Parriott and his string of writers, was, well...played out.
As I wrote in my Season 1 review, even the one or two pop-ins by fellow bionic agent Steve Austin were an important linking element for viewers to see those two shows as complements to each other. Lindsay Wagner certainly didn't need Lee Majors to hold her own in the ratings (she beat him handily in her first half-season)...but for viewers, that romantic connection was always in the back of their minds (after all, it was the Steve-Jaime romance that put both series on the Nielsen map in the first place). With The Bionic Woman now on NBC, and without even the possibility of mentioning ABC's Six Million Dollar Man, the show felt just a little bit more...insolated (as did The Six Million Dollar Man, frankly). As well, the decision to drop other reference points, such as her teaching job at the Air Force base, further collapsed and reduced the original premise.
Now, as cool as Max the bionic dog is here, had that season opener/pilot lead to Max's own series, it would have shown even more how The Bionic Woman's time was probably close to being up. After all, what better way for the network to eliminate the pesky requests from its human star for better, more meaningful scripts, than to just concentrate on a dog doing all the bionic stunts that most of the kids tuned in for, anyway? So what if Max, paired off with Jaime's old forest ranger boyfriend, Dale Robinette, seemed an awful lot like those last few seasons of Lassie? There's plenty of room in that forest for bumbling spies and thieves and little lost kids who need a dog to pull a tree off them. As it stands, though, as sweet as it is to see that bad-assed German Shepherd latch onto a runaway VW Bug bumper and stop it, or walk around with loose wires pulled out of his noggin, it's a plot device that goes almost nowhere here in this third season. Max shows up quite a few more times, but frankly, to very little effect. By the end of the season (once the network knew he wasn't getting his own series), he's used as little more than comic relief, jumping up on Oscar to kiss his face for a slapstick throwaway in his last episode. If they went to the trouble of creating the character, why not use him more actively in the stories with Jaime (if I had to guess, I'd put it down to the expense of training...and someone not wanting to play Timmy to robot Lassie)?
So then that leaves Jaime and her various missions...and various boyfriends. As I wrote above, I haven't seen Season 2 (since it originally aired), so I don't know what the romantic angle was, but anyone watching these shows in broadcast order (and that's how we all saw them originally, after all), would have to wonder what the hell was up with Jaime. Quite a few of the episodes show her romantically paired off with whomever happens to be her male co-star (even Evil Knievel, the poor girl), and yet new semi-regular co-star Christopher Stone keeps popping up, saying he's her main guy. But wait...I thought the coma/ghost/alive Indian kid was the love of her life in Out of Body? Hey, all's fair in television sex, as far as I'm concerned. If Jaime Sommers wants to have as many casual partners as Joe Mannix, that's cool with me. This was, after all, the 70s, and Wagner was (and still is, believe me), fine. But then don't make the mistake of having her get serious about anyone. Because kids get that distinction (my 10-year-old daughter said, quite seriously, "She's cheating on the moustache guy," when we watched Out of Body). You can't have good actor Wagner believably fall in love with multiple guys, and then just rotate and drop them, and expect the audience to either follow...or sympathize.
Luckily, the bionic gimmicks still work...although they seem slightly petered out by this point, too (lower ratings equal smaller special effects budgets, I guarantee it). There's a podcast commentary track on this collection that makes a point of declaring The Bionic Woman as "meaningful" because its stories are grounded in life-lessons the viewer can relate to. I don't have a problem with that, if you want to see The Bionic Woman that way, and for all I know, I may have taken a lesson or two away from the show when I watched it as a TV-obsessed 10-year-old. But let's be honest: it's the bionics and the action/spy/shenanigans elements of the episodes that caught most kids' eyes back then―and now. The two-part Fembots in Las Vegas sounds better than it is, although there's a cool fight between Jaime and a fembot where they make that Jack Webb "Mark VII" pinging noise whenever they hit each other. Which One is Jaime> features that annoying Jennifer Darling as semi-regular Callahan (she sounds like a Rainbow Sprite® on helium), she of the perpetual low self-esteem, passive/aggressive, love/hatred for perfect specimen Jaime, who gets kidnapped instead of Jaime (how does Jaime throwing a soft, 5-oz. teddy bear knock a guy out of a helicopter?). Good actors do occasionally show up here, with Richard Erdman putting in a funny turn in Over the Hill Spy. But veteran Dan O'Herlihy misses the boat entirely in the unfunny African Queen knock-off, African Connection. The Antidote has a sweet action sequence at the finale, with Max dodging laser cannons out in the desert (and whoops! get another Max on the set pronto when that poor thing rips his nose off going through the chain link fence). All for One actually had a pretty intriguing little pre-War Games computer hacker storyline, until grating Franklyn Ajaye wears out his welcome with increasing ridiculous lines (my favorite is when he states that if he had only been white, he would have gotten a scholarship―show me that college, Franklyn). More goofy, one-sided bias (distressingly more prevalent than ever on network TV) is on display in Out of Body, where Charlie Hill gets to throw out, "He's just another lying, cheating White man!" unchallenged (if a screenwriter on a network show had written a line that read, "He's just another drunken Indian," it may have gotten through, but that character would have been punished as an ignorant racist for uttering it). Brain Wash steals the old gag from In Like Flint―hair and brain washing at the same time―while Wagner walks around in a deliciously slutty shirt (no bra) and gets a Hanna-Barbera Hair Bear Bunch perm.
And what would a 70s sci-fi/fantasy show be without UFOs and aliens? The Martians Are Coming, The Martians Are Coming may trick you with a fake UFO, but it is funny when Jaime brings down the camouflaged helicopter with nothing more than a rock (at least it beats the teddy bear). Sanctuary Earth has little Helen Hunt as a visiting alien princess chased by Hee Haw's Hager Brothers (dudes, let those bangs grow out), wearing, I'm sure, Hagger® polyester pants. The Pyramid is even goofier, like a pre-Stargate actioner as envisioned by Sunn Classic Pictures, with a buried pyramid, powerful crystals, and Eduard Franz sealed up in a giant Creepy Crawlers® mold. Surely, though, the season's worst (and therefore, best) episode for 70s kitsch fans must be Motorcycle Boogie (my god, the title says it all), co-starring none other than Evel Knievel, just months away from complete obscurity. A veritable explosion between two towering pop culture icons of the 1970s, Evel, looking bloated and puffy and thoroughly pissed off with his wild hair and angry, red face, trades lame banter with the Bionic Woman in their behind-the-Iron-Curtain adventure, before Evel blows a jump and sheepishly states, "I don't make it all the time." You are so right, Evel. You don't. There are a lot of theories out there about why Wagner wanted to leave The Bionic Woman, but I would imagine the decision was made right here, when she had to let Knievel fondle her while wearing a hideous leather leisure suit (she even busses him briefly, before nausea immediately sets in). This is what TV should be all about. This is art.
This "art," however, didn't convince enough people to tune in to The Bionic Woman on a regular basis, and that's why NBC didn't exactly push back when Lindsay Wagner, fed up with all the slow-motion ping-ponging all over the Universal backlot, and the damned dogs, and the aliens, and Evel Knievel, decided she wanted out. NBC was in such dire straits back in 1977 that it must have seemed like a godsend when ABC cancelled The Bionic Woman, despite its ending the 1976-1977 season as the 14th-most watched show in the country (I don't care how the ratings were trending―that had to take some brass balls at ABC to pull the trigger on a Nielsen Top 15 show). However, NBC couldn't have picked a worse night to try and relaunch the show: Saturdays at 8:00pm. Now, Saturdays, despite the common misperception, wasn't always a network graveyard: CBS had just finished a remarkably popular run of shows on that night in the early-to-mid 70s (including the king, All in the Family). But for 1977, at least, only one show on all three networks managed to crack the Nielsen Top Thirty that year, and it wasn't The Bionic Woman (ABC's The Love Boat, at 14th for the year). What direct competition The Bionic Woman faced was slight, but it still couldn't take the series firmly off the cancellation bubble. Wagner's old network countered with two new sitcoms, the Barney Miller spin-off, Fish, and the movie-inspired Operation Petticoat―both non-starters, while CBS had the last, limp season of once-popular The Bob Newhart Show and new Tom Poston sitcom, We've Got Each Other (the title was prophetic: two's about all who watched it). Even The Bionic Woman's lead-out, the venerable NBC Saturday Movie (occupying the same time slot since 1961!) didn't help: NBC yanked it, too, along with The Bionic Woman, at the end of the year.
Here are the 22 episodes of the third and final season of The Bionic Woman, as described on the inside disc holders:

DISC 1

The Bionic Dog

When Jaime learns of another bionic prototype―a German Shepherd named Max―who's suffering from many of the same setbacks she and Steve Austin experienced, she makes it her mission to rehabilitate the animal.

The Bionic Dog Part II

Jaime and Max take refuge with a former flame of hers, forest ranger Roger Grette, but it's Max who puts his life on the line to save the woods from an overwhelming threat.

Fembots in Las Vegas

While Jaime and Oscar try to negotiate with a reclusive and terminally ill scientist over the fate of an energy ray weapon, the son of the Fembot's creator, Carl Franklin, remotely activates the killer female robots.

Fembots in Las Vegas Part II

After launching the weapon into Earth's orbit, Franklin demands that Washington turn over Jaime, Oscar and Dr. Rudy Wells to him as ransom for not destroying the planet.
DISC 2

Rodeo

Jaime's mission to protect OSI computer expert Billy Cole from a deadly foreign power is complicated by the daredevil's overwhelming passion to become a rodeo champion.

African Connection

Jaime's mission in Africa to stop a potentially rigged election takes an unusual twist when she hires Harry Walker and his WWII tank to help her traverse through treacherous jungle terrain.

Motorcycle Boogie

While on the trail of a stolen computer tape in West Germany, Jaime relies on the assistance of Evel Knievel to get her across the border...even though she steadfastly refuses to believe he is whom he claims.

Brain Wash

Someone's playing dirty at OSI when Jaime overhears industry secrets spilled, but Oscar refuses to believe it has anything to do with his trusted secretary, Peggy.
DISC 3

Escape to Love

Romance complicates rescue when Jaime is assigned to help Dr. Arlo Kelso and his son, Sandor get across the Iron Curtain, and Sandor begins to develop feelings for his gorgeous rescuer.

Max

Everything quickly goes to the dogs when a bionic check-up incapacitates Jaime and Max is kidnapped by opportunistic foreign agents.

Over the Hill Spy

Jaime and retired OSI agent Terrence Quinn reluctantly team up to catch Oscar's long-time Soviet nemesis, Vilmos Vanovic, in a heart-racing international game of cat-and-mouse.

All for One

It's back to school for Jaime when she enrolls as a college student to find out who has been stealing thousands of dollars by connecting the campus computer into the OSI system.
DISC 4

The Pyramid

Jaime finds herself trapped in an underground pyramid with an alien sentinel who claims that a ship from his world is headed to Earth...and that the consequences will not be good for mankind.

The Antidote

Man's best friend becomes especially important to Jaime when she and a Russian diplomat are poisoned and Max must find the doctor who can provide the antidote and save her life.

The Martians Are Coming, The Martians Are Coming

When Oscar sees what appears to be a U.F.O. abduct a scientist who is working on a top-secret project, Jaime sets out to find the man and has her own encounter with the spacecraft.

Sanctuary Earth

Jaime is first on the scene when a satellite crashes into a lake, and she meets a girl who claims to be a princess from the planet Zorla and says that she is being pursued by trackers from another planet.

Deadly Music

A doctor isolates a sound frequency that makes sharks attack anything he wants, and Jaime becomes the first human test subject when she joins a diving team that is deploying a submarine detection system.
DISC 5

Which One is Jaime?

Oscar learns that Jaime is under some kind of investigation and takes her to OSI headquarters for protection, but then the culprits mistake Callahan, who is dog-sitting Max, for Jaime and kidnap her.

Out of Body

During a break-in at the OSI labs, a Native American is electrocuted and falls into a coma, but his spirit remains intact and desperately tries to save Jaime from being destroyed by the most deadly bomb ever created.

Long Live the King

Posing as the social secretary for a Middle Eastern king who is visiting New York, Jaime works to stop an assassination plot...but soon finds herself in the crosshairs.

Rancho Outcast

On a mission to find stolen currency plates, Jaime assumes the identity of a crook known as Blondie Malone and heads to Central America with a convicted criminal who is working with OSI in the hopes of getting paroled.

On the Run

Terrified of becoming more machine than human, Jaime retires from OSI, but Oscar's superiors move to put her in a special compound because they believe her bionics are government property and that she knows too much confidential information.
The DVD:
The Video:
Much like Season 1, the full-screen, 1.33:1 video transfers for The Bionic Woman: Season 3 are serviceable, but no more, with muted color, a sharpish picture, and just a few screen anomalies.
The Audio:
The Dolby Digital English split mono audio track is also serviceable, with a decent-enough re-recording level, and minimal hiss. English subtitles are available.
The Extras:
On disc one, a commentary track from producer James D. Parriott is included on The Bionic Dog (he seems pretty laid back about the whole thing). Disc two includes a podcast commentary with "fan and collector" James Sherrard, who throws out a lot of trivia about the episode. Disc three has a continuation (I would bet) of the interview featured on Season 1 with Lindsay Wagner, where she discusses the final season of the series (still looks fab). Disc four has a photo gallery, and disc five features a commentary with scripter Steven E. De Souza, who has some excellent insights into the nuts and bolts of actually shooting these episodes (stick to the show, though―political asides about the Patriot Act are about as topical and meaningful as my outrage over the Teapot Dome scandal).
Final Thoughts:
It's probably for the best that it ended when it did. Fads burn out quick, and the whole bionic thing was great for kids...for awhile. But clearly, one can see from the scattershot efforts here that there wasn't much left for the premise. Lindsay Wagner looks bored half the time (and Max, too, for that matter), and the bionics, while still fun, are fairly skimpy by now. Still, there's a lot of 70s TV goofiness to amuse you here, so I'm recommending The Bionic Woman: Season 3.
---
Paul Mavis is an internationally published film and television historian, a member of the Online Film Critics Society, and the author of The Espionage Filmography.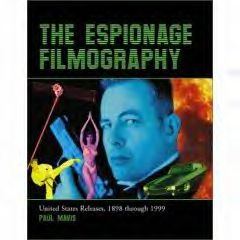 ---
C O N T E N T

---
V I D E O

---
A U D I O

---
E X T R A S

---
R E P L A Y

---
A D V I C E
Recommended
---
E - M A I L
this review to a friend
Sponsored Links
Sponsored Links