Rise and Fall of Legs Diamond, The
List Price: $26.99 [Buy now and save at Amazon]
---
Humorous, ice-cold "B" gangster flick with a knock-out central performance. Warner Bros.' Archive Collection, the online mail-order service that presses M.O.D. (manufactured on demand) discs of their library titles, has released The Rise and Fall of Legs Diamond, the 1960 actioner helmed by cult director Budd Boetticher and starring Ray Danton in his signature role. A nasty little homage to earlier Warner Bros. gangster classics, The Rise and Fall of Legs Diamond pulls off the neat trick of denying the audience any sympathy for its psychopathic villain―and that usually doesn't happen in these types of movies. A clean anamorphic widescreen transfer, showing off the film's beautifully flat cinematography, is a plus.
"This is the way it happened," reads the title card...so you know it's mostly made up. New York City in the Roaring Twenties. Philadelphia petty crooks Jack Diamond (Ray Danton) and his consumptive brother, Eddie (Warren Oates), newly arrived in town, witness an unsuccessful robbery, with smart-guy Jack immediately figuring out the failed crook's mistake: "He didn't use his head." Getting close to dance instructor Alice Scott (Karen Steele), 'Legs' takes her to a movie house to use her as an alibi while he hops out the john window to rob the jewelry store next door. Once he's eluded suspicious Lt. Moody (Simon Oakland), he dumps the equally suspicious Alice cold. Prison, however, has a way of loosening up Legs' tough-guy persona; he cries and begs her to provide a phony job title for him to facilitate his parole hearing. Alice, against her better judgment, gives in, and the couple become a successful dancing team. However, once Legs gets it into his head to steal only from other thieves―particularly underworld gambler and kingpin Arnold Rothstein (Robert Lowery)―he dumps her again so he can get close to Rothstein. Rothstein won't bite, but "Little Augie" (Sid Melton) admires Legs' moxie and hires him. Too bad for "Little Augie," though, who gets drilled soon after, while bodyguard Legs miraculously survives three bullet wounds. Emboldened by this astonishing turn of events, Legs begins to believe he's invincible, and that messianic megalomania drives him to ruthlessly eliminate all his foes as he grasps at controlling the entire New York underworld.
MAJOR SPOILERS ALERT
An unusual foray into the well-worn gangster genre, Budd Boetticher's The Rise and Fall of Legs Diamond plays far better today than when it was released to average business and fewer reviews back in 1960. No doubt put quickly into production due to everyone wanting to capitalize on the incendiary publicity over the violence (and strong ratings) of Desilu's and ABC's smash retro-gangster television hit, The Untouchables, I would imagine that most mainline critics ignored or dismissed this outing because of its small budget, B-level stars, and its marketing that screamed "exploitation programmer." Today, one can see that director Boetticher and screenwriter Joseph Landon (Johnny Cool, Rio Conchos, Von Ryan's Express) were trying for something quite a bit different than the more conventional gangster movies like King of the Roaring '20s and Pretty Boy Floyd that popped up with frequency in 1960 and 1961.
What I found most interesting about The Rise and Fall of Legs Diamond was its unfaltering determination to keep Legs a complete bastard, with absolutely no redeeming qualities for the viewer to latch onto. It isn't uncommon for some outsized gangster films to encourage audience empathy, identification and even in extreme examples idolization, for characters whose violent actions and amoral outlook should at the very least be abhorrent to the average viewer. How else do you explain people's romanticized view of the Corleones in The Godfather films, or the outright veneration from some movie fans that followed the appearance of Al Pacino's Tony Montana in DePalma's Scarface remake? The Rise and Fall of Legs Diamond is having none of that, painting this highly fictionalized portrait of Legs Diamond as a cowardly psychopath who repeatedly uses and abuses a woman who loves him in an all-out effort to gain control of the vice racket in New York City. When Legs is first confined to prison, he actually whines and cries to Alice to help get him out―not exactly the cinematic image of a he-man gangster. And when he no longer needs Alice, he dumps her flat, not once but twice, only to take up with her again when nothing better comes along. Ruthless to the point of psychosis, Legs first humiliates and then eliminates his enemies (he makes rival Leo 'Butcher' Bremer, played by Jessie White, beg and crawl like a dog to save his life), even going so far as to let his own brother die when Legs gets tired of paying Eddie's hospital bills. At the film's conclusion, when the newly-formed Syndicate threatens Alice's life, Legs, without hesitation, yells for them to go ahead and kill her: it won't stop him.
This Legs Diamond cares nothing for a single solitary soul, and the emptiness of his anger and brutality leaves the viewer completely without sympathy for him when he's finally pumped full of lead. Perhaps that's why the viewer feels nothing but a cold fascination when watching this amoral monster first rise and then fall. Most gangster films at least try to give a grounded context for the criminal's actions; for example, in The Godfather, we're told Don Corleone became a criminal because there was no protection for vulnerable Italian immigrants at the turn of the century. Whether or not you buy this as an excuse is up to you (and one would think that director Coppola didn't exactly intend for viewers to look so positively on the Corleones by the film's sad, final fade-out), but The Rise and Fall of Legs Diamond offers no such amelioration. Legs is presented as a scheming, indifferent criminal from the first frame, with no justification for his actions other than he seems to enjoy committing these offenses (importantly, Boetticher doesn't show us any big scenes of Legs living it up; we don't even get the excuse that it's for the money here). Leg's fatal flaw―his utter ruthlessness and desire to hurt people―triggers no response in the viewer other than repulsion; Boetticher makes sure we hate Legs, and that we don't feel sorry for his ignoble end.
What makes this particular aesthetic choice even more remarkable, considering how successfully it plays out in The Rise and Fall of Legs Diamond, is how ingratiating Ray Danton is in the role. How can we find Danton so funny and charming and magnetic here...if he's playing such a monster? Watching the skillful Danton here, I was reminded of Martin Ritt's Hud; both he and star Paul Newman felt they ultimately failed with the character because women wound up loving that amoral bastard. Here, even though Danton is handsome and sexy (the script makes no bones about Legs' ability to keep Alice on a string strictly through sexual domination), and quite funny in this grotesque "comedic" role, he doesn't pull any tricks that wink to the audience, asking them to like the character on the sly. Danton is almost reptilian in his amusing charm; the fascination we have for Legs is the same for a swaying snake―we can't look away...but we don't want to hug it, either.
Matching this witty but cold, cold performance is director Boetticher's detached yet comic book-popping style. Shot with a flat, blown-out look by cinematographer Lucien Ballard, Boetticher keeps The Rise and Fall of Legs Diamond rolling along like one of those "sick" jokes first popular in the 1950s. Playing not at all unlike the later, more influential Bonnie and Clyde (did Penn and Beatty watch this flick beforehand?), The Rise and Fall of Legs Diamond could very easily have been billed as a black comedy if the studios and audiences had been hipper in 1960, such is Boetticher's punchy, black-out delivery here. Set on the obviously fake Warner backlot (which Boetticher and Ballard seem to stylize even more by reducing the set dressings to the barest minimum), the violence erupts without warning inbetween the dialogue scenes that play like comedy, heightened by overemphatic sound effects and the jazzy framing...before we move on again to another set piece punctuated by Danton's sneering delivery. The Rise and Fall of Legs Diamond is all humorous movement and gags, yet it wants us to think it's a straightforward gangster film.
Nothing brings home this notion of jokey spoof more clearly than the film's final section, where Legs and Alice, away in Europe, watch a series of newsreels showing how America is cracking down on its rogue gangsters. Indulging drunken Alice's penchant for moviegoing (a nice self-reflexive bit by Boetticher), Legs' nightly agitation at seeing his empire crumbling bit by bit is pitched increasingly (and ever-more humorously) high, with Danton doing everything but having cartoon steam come out of his ears to express his impotent rage. Brilliantly, though, just when we expect Legs to spring into action upon his return home, Boetticher and Landon invent a completely fictitious, downbeat ending for Legs, who's deemed passé by the newly-formed, modern Syndicate (the boardroom scene is a terrific audience deflator, with the once charismatic, commanding Legs laughed at and humiliated just when he should be swinging). Failing to win over Alice one final time, Legs, now finally and truly alone, gets drilled on the floor of his hotel room before Alice delivers the coup de grace: he's dead, because he never loved anyone. That sounds like a sappy exit line for such a tough gangster flick, but it resonates because we've known that about Legs all along, and we feel absolutely no pity for him. Now that's tough.
The DVD:
The Video:
The anamorphically-enhanced, 1.85:1 widescreen black and white transfer for The Rise and Fall of Legs Diamond looks quite snazzy, with solid blacks, a good gray scale, and a sharp image. Grain is apparent, but not distracting.
The Audio:
The Dolby Digital English mono audio track is strong, with a reasonably steady re-recording level and low hiss. No close-captions or subtitles are available.
The Extras:
No extras.
Final Thoughts:
Much better than the critics thought back in 1960, The Rise and Fall of Legs Diamond is a terrific "B" gangster film that plays around with genre expectations, giving us a perverse, blackly humorous, violent good time (Bonnie and Clyde, anyone?), while memorably denying us the opportunity to find one crumb of redeeming virtue in the title character. Ray Danton is simply brilliant in a criminally neglected performance. I'm highly, highly recommending Budd Boetticher's The Rise and Fall of Legs Diamond.
---
Paul Mavis is an internationally published film and television historian, a member of the Online Film Critics Society, and the author of The Espionage Filmography.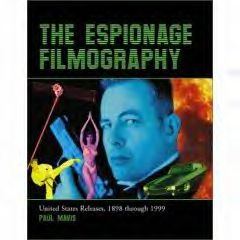 ---
C O N T E N T

---
V I D E O

---
A U D I O

---
E X T R A S

---
R E P L A Y

---
A D V I C E
Highly Recommended
---
E - M A I L
this review to a friend
Sponsored Links
Sponsored Links