List Price: $26.99 [Buy now and save at Amazon]
---
Thoroughly enjoyable, if a tad long, M-G-M glossy. Warner Bros.' fun, fun Archive Collection, the online service that provides M.O.D. (manufactured on demand) discs of some Warner's and M-G-M's library titles, has released The Hucksters, the 1947 all-star, cleaned-up adaptation of the blockbuster best seller by Frederic Wakeman that took a cynical look at the worlds of radio and advertisement. The King, Clark Gable, returns to form here, and he's ably supported by Deborah Kerr, Sydney Greenstreet, Adolphe Menjou, Ava Gardner, Keenan Wynn, and Edward Arnold. An original trailer is included as a bonus.
The Big Apple, right after The Big One, WWII. Returning vet Victor Norman (Clark Gable) knows he wants to get back into radio advertising, but he also knows he's got to play it cool with ad agency owner "Kim" Kimberly (Adolphe Menjou) if he's going to score that $25,000-a-year salary. Going the soft-sell route, Victor acts like he wouldn't take a position with Kim if he was begged to...but he'll handle that pesky little sponsor problem of signing up some society matrons for a Beautee Soap endorsement, just to show he's indispensable. First on the list is Kay Dorrance (Deborah Kerr, in her American film debut), a British-born aristocrat and war widow with two small children. In spite of Victor's subterfuge in scoring an appointment with Kay, he's amused by Kay's willingness to not only sign up for the print ad...but to take the salary for her favorite charity: herself. What does not amuse Victor is dealing with Beautee Soap's tyrannical, unhinged owner, Evan Llewellyn Evans (Sydney Greenstreet), a crude misanthrope who demands abject servility from his employees, and who employs domination and humiliation for sport. When Evans demands that Victor produce a radio program with third-rate burlesque candy barker Buddy Hare (Keenan Wynn), Victor will have to check his personal ethics at the door when dealing with Buddy's manager David Lash (Edward Arnold)...while trying to decide between love with Kay, or lust with gorgeous torch singer Jean Ogilvie (Ava Gardner).
SPOILERS ALERT!
A forerunner of similar New York City/Madison Avenue-based business dramas like The Man in the Gray Flannel Suit, Executive Suite, The Best of Everything, and certainly TV's Mad Men, The Hucksters limns that age-old dilemma (at least in hurly-burly, capitalistic America's brief history) of personal integrity butting up against the soulless demands of big business. I haven't read the original novel, but from what research I've dug up, the book was apparently a little rougher and sexier in its approach to hard-sell radio advertising than what shows up here courtesy of Louis B. Mayer―and that's certainly no surprise for a Metro literary adaptation, considering the restrictions of the Production Code at the time, and Mayer's demands for morally "redeeming" entertainment. That's how Kerr's character becomes not simply a cheating wife but a war widow in the film, and Gable's unscrupulous operator eventually opts to put his values above working for an amoral tyrant.
The film's script, by Luther Davis (from an adaptation by Edward Chodorov), plays it smart right from the beginning in re-establishing Gable's pre-war "regular Joe"/cavalier adventurer/stud credibility. With the movie's visuals of Gable returning to the U.S. with his military uniform pressed, ready to take on New York City, one can almost ignore his disastrous return to the screen in 1945's Adventure with Greer Garson, and take this role as a sort of "reboot" of the star to American audiences after his valorous WWII military service. And while he looks every single day of his 46 years here (and maybe a few more), the pre-war Gable is presented fairly intact (only that delightfully dense, hambone goofiness of some of his earlier "regular Joe" characters is missing in this creation). Upon arrival at his old apartment building, the service employees greet him as if he were a combination of long-lost, wayward son and a prince deserving of unstinting, paean loyalty (he hugs and kisses the phone operator Betty, played by Connie Gilchrist, calling her his love). He then receives a call from an unnamed woman, thanking him for the previous evening's activities (Gable arrived in the morning at the apartment building still in his evening clothes). Supplying only a series of suggestive "hmmmms" and groans, Gable gets across exactly what happened the night before, and smugly takes the caller's admiration as his due. Finally, when he attempts to tip his loyal valet, played by Aubrey Mather, the valet refuses (as a point of honor), to which Gable then throws the bill out the window, cavalierly saying that rounds him down to his last fifty bucks because it's "neater" that way. This is the Gable that audiences loved: the guy who had it made but whom the "regular" folks adored; the cocksure stud who not only scored with women (back when you weren't supposed to have illicit sex) but had them calling him to say thanks; and the adventurer who could blithely throw money out the window in an attempt to laugh at fate.
As the film progresses, though, the screenwriter has trouble maintaining a believable balance between Gable the heel and Gable the honest Joe, with Gable's own desire to maintain a positive image winning out. If Victor scores an easy win with Kay in signing her up for an ad, he's got to get her more money to justify his non-efforts. If he falls for Kay who's already willing to be with him, he has to justify the relationship with marriage. If Victor has to blackmail Buddy Hale's agent to get back Buddy's contract, he has to immediately offer his apologies for doing so, and abjectly regret his actions. It's as if the film never wants to indict Gable's suspect-but-grounded-in-the-end morals―only the corrupt world he operates in. Kerr's character fares even worse; whenever we're intrigued by her suggestive behavior―she willingly takes the money for herself and not her charity; she goes off with Gable even when she knows a "proper" lady wouldn't dare do that; she follows him out to California just to be with him―we remember that Metro isn't going to tell us that she's sexually active or mercenary. We have to fill in the blanks there. Eventually, the romantic angle in The Hucksters boils down to a rather conventional triangle, with gregarious, gorgeous Ava Gardner (finally pushed out in front by Metro after scoring in Uni's The Killers) coming up short against regal-yet-smoldering Kerr. The film's "Blue Penguin Inn" sequence, central to the romantic subtext, is played more for laughs than drama, coming over like a lifted scene from one of Gable's earlier romantic comedies, rather than from a supposedly hard-hitting, glossy melodrama soaked in sin and sex. Its implications are as sanitized as Gable's character.
For all the glossy emphasis on Gable and his leading ladies, The Hucksters is much better at mildly savaging the radio and advertising businesses. From the garish, horribly funny jingles for Beautee Soap that make Gable wince, to the monstrous creation that is Greenstreet's Evans, The Hucksters' take on the shill game isn't too terribly different than what you'd see on Mad Men today. The jabs at the industry's insincerity, the inherent silliness and offensiveness of the advertising world, the media's indifference towards the public's welfare, and Gable's last minute attack on media conglomeration are telling...yet tellingly brief, too, when stacked up against how much screen time is romance-focused. Menjou's ad agency owner is perhaps the most resonant character in the movie. Outwardly blasé with Gable until he goes craven at the mere mention of his client Evans, this bundle of nerves puts on a sickly, bright smile during emergency meetings with Evans and mechanically answers, "Right!" or "Check!" as he obsequiously acquiesces to his cruel master. Later, when Victor and Kay stop by for dinner after Victor has sold Evans on a new commercial, Menjou's Kim is smashed, celebrating/agonizing over his having dodged a bullet for another day, his wife politely mortified at the image he's projecting. Later at a club, overcome with guilt and self-hatred, Kim tells the secret of his success: he turned in his boss and father's friend to the FBI, so he could start his own agency. It's a memorable portrait by the talented Menjou, matched if not in subtlety than in intensity by the massive Greenstreet's beautifully grotesque caricature of a maniacal monster of a businessman. Creating one of the most disgusting entrances in movie history―he snorts and hawks back a huge glob of spittle on the boardroom table to impress Gable with his fierce repulsiveness, a visual which prim, proper M-G-M amazingly leaves in―Greenstreet's bellowing millionaire is a sight you won't ever forget as he pounds the desk yelling his credo for advertising: "Irritate! Irritate! Irritate!" It's such a gross, fascinating performance that you wish the movie had been about him rather than the predictable Victor, so much does he put the film off-balance when he's not on camera. Still, The Hucksters' irresistible appeal of a mature, confident Gable romancing two beautiful women amid existential angst―angst expertly mollified and nullified by Metro gloss―trumps any regrets concerning what The Hucksters could have been about....
The DVD:
The Video:
The full-screen, 1:33:1 black and white transfer for The Hucksters looks good, with decent-enough blacks, a solid, sharp image, and minor imperfections. One or two transitions looked a little contrasty, but nothing to really notice.
The Audio:
The Dolby Digital English mono audio track is similarly acceptable, with a loud-enough re-recording, and some minor hiss. No subtitles or close-captions.
The Extras:
An original trailer―employing the very advertising techniques the movie is disparaging―is amusingly included as a bonus.
Final Thoughts:
Sanitized, perhaps, and too much romance for the long running time...but Gable is King, and the swipes at the media and advertising worlds are as true today as they were over 70 years ago. I'm recommending The Hucksters.
---
Paul Mavis is an internationally published film and television historian, a member of the Online Film Critics Society, and the author of The Espionage Filmography.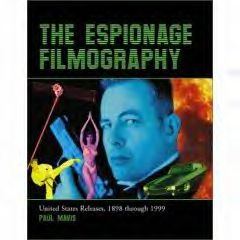 ---
C O N T E N T

---
V I D E O

---
A U D I O

---
E X T R A S

---
R E P L A Y

---
A D V I C E
Recommended
---
E - M A I L
this review to a friend
Sponsored Links
Sponsored Links