List Price: $29.95 [Buy now and save at Wbshop]
---
"Deep in the heart of the Amazon,
the Butler family was exploring an uncharted river canyon.
Suddenly caught up in a violent whirlpool,
they were propelled through an underground cavern and flung into a hostile world of giant prehistoric creatures.
A world that time forgot.
Now, befriended by a family of cave dwellers, each day is an adventure in survival for the Butler family,
in the Valley of the Dinosaurs."
Enjoyable, fast-moving Hanna-Barbera 70s toon. Warner Bros.' Archive Collection of M.O.D. (manufactured on demand) discs has dug into their Hanna-Barbera Classics Collection vaults and released Valley of the Dinosaurs: The Complete Series, a two-disc, 16-episode gathering of the 1974 Saturday morning animated series' entire run. I would imagine most people are more familiar with Sid and Marty Krofft's live-action/stop-motion Land of the Lost, which premiered on the same day as cell animation Valley of the Dinosaurs, and which tells almost exactly the same story of a family lost in a prehistoric land. However, Valley of the Dinosaurs holds up pretty well against other H-B offerings from that time, with action-filled scripts and better-than-average animation. No extras for this good-looking set.
The opening narration (voice talent of Don Messick), quoted above, pretty much tells the whole story. The plucky, scrappy, American Butler family consists of ingenious school teacher John (voice talent of Mike Road), slightly smug wife, Kim (voice talent of Shannon Farnon), wisecracking teen and real looker Katie (voice talent of Kathy Gori), and rambunctious adolescent Greg (voice talent of Jackie Earle Haley). Digger the dog (voice talent of Frank Welker) is also on hand to provide comedic relief (which frequently entails getting bitten or scared by some prehistoric animal). The cavepeople family consists of stern father Gorok (voice talent of Alan Oppenheimer), his completely humorless wife, Gara (voice talent of Joan Gardner), blonde, hunky, Jan-Michael Vincent clone Lok (voice talent of Frank Welker), and adolescent cavegirl, Tana (voice talent of Melanie Baker). Digger's counterpart in Gorok's family is Glump (voice talent of Frank Welker), a baby brontosaurus (or something). How the families met we're never shown, nor are we told how Gorok and his clan happen to speak English. But in the best spirit of your local neighborhood Welcome Wagon, Gorok and his tribe decide to throw their lot in with the Butlers, helping them to find a way out of the Valley of the Dinosaurs, while putting up with their headstrong ways...and gaining significant advances in their primitive technologies from the scientifically-minded family in the bargain.
SPOILERS ALERT
It's getting to be a long time ago to remember what my regular viewing routine was for Saturday morning TV way back in the fall of 1974, so I had to go and check out the networks' schedules again...and it all came flooding back to me. No wonder looking at the local TV listings―in those pre-VCR/DVR days―induced such a sweaty panic: how the hell was an eight-year-old supposed to pick out a line-up when there were so many cool shows on all at once? I'm supposed to pick CBS' Valley of the Dinosaurs over ABC's Evel Knievel knock-off, Devlin? Or the almost identical Land of the Lost over on NBC? We didn't have a remote for our black and white Curtis-Mathes (yes, such a thing was possible back then), so you actually had to haul your ass off the davenport to change the channel every half hour, and who wanted to do that when you had your Lone Ranger horse blanket wrapped around you, Indian-style, with your Disney comics and a bowl full of Freakies® balanced all around? So it was "easier" to pick and stick with an entire line-up, and that was always a nail-biter. Should I go with classy CBS's sched (yes to Speed Buggy, Scooby-Doo, Where Are You!, Shazam!, The U.S. of Archie, Fat Albert and the Cosby Kids, and of course The CBS Children's Film Festival...but no to Jeannie, The Partridge Family 2200 A.D., The Harlem Globetrotters Popcorn Machine, and especially no to The Hudson Brothers Razzle Dazzle Show)? Or what about glitzy ABC's fast-moving run (yes to The Bugs Bunny Show, Hong Kong Phooey, Devlin, Korg: 70,000 B.C., The Super Friends, and The Waltons-esque These Are The Days, but no to Yogi's Gang, The New Adventures of Gilligan and American Bandstand)? Or how about NBC's completely successful line-up (it all works: The Addams Family, Wheelie and the Chopper Bunch, Emergency +4, Run, Joe, Run, Land of the Lost, Sigmund and the Sea Monsters, The Pink Panther Show, Star Trek: The Animated Series, and The Jetsons)? What was a boy to do?
I'm pretty certain I chose the live-action/stop-motion Land of the Lost most Saturdays over Valley of the Dinosaurs (it was that damn Deliverance-style bango pickin' that got me every time...), but with such short order runs for these kinds of series, you were pretty sure to see most of them by the end of the summer ("Rerun! Switch it!"). By eight years' old, I (and millions of other little kids) was sophisticated enough in TV viewing to know that a certain "house style" existed for each of the various producers of the networks' Saturday morning product (even if I couldn't exactly articulate that to my head-scratching brothers), so Valley of the Dinosaurs's familiar H-B look and feel was just as comfortable to me then, as it is nostalgic today. Certainly, not everything that caught our adolescent fancy back then is going to work for us today, so it can be dangerous ground you're treading on when you go back and try and enjoy something like Valley of the Dinosaurs from your very early youth.
Happily, Valley of the Dinosaurs goes down a treat some 35-odd years later, with zippy, action-filled stories that move right along, and pleasing visuals that compare well against other H-B product from that time period. There are some later H-B toons that seem to consist of nothing more than random movement and noise (some of those god-awful Scooby-Doo spin-offs); however, Valley of the Dinosaurs consistently comes up with solid storylines, punctuated by surprisingly well-engineered action sequences. Valley of the Dinosaurs's "hook" is the second act "invention" of some modern device that Frank Butler introduces to Gorock and his family to help resolve a conflict, and the writers, although locked into a fairly rigid construction each episode, come up with ingenious ways of bringing some fun science into the stories (I particularly liked the episode where Frank submerges a huge tortoise shell so they can swim a long distance under water). I suppose you could have some fun pointing out the sly cultural differences between Gorock's tribe and the Butler family the writers just edge up to...before the scripters achieve a properly safe and "educational" even-steven compromise between Gorock's primitive ways and John's scientific approach (the most boring aspect of the show, frankly). But you'd probably be missing the boat on what Valley of the Dinosaurs is really all about: action.
The stories are busy: there's always something to do, something to build, something to improvise, before the adventurers are threatened by prehistoric beasts, warring tribes, and the harsh conditions of this hidden world (volcanoes seem to be erupting all the time). The producers don't screw around showing how the two families met, or how the cavepeople speak English, or even the scientific logistics of where they are (it's a hidden world accessible by a vortex whirlpool...but modern planes can fly over it...and the pilots don't see the giant creatures below???). They just get on with it, and the result is a relatively exciting little cartoon, with reasonably interesting characters (I like the contrast between the plucky, smartass American family―Katie sometimes sounds like a cross between Rhoda's sister Brenda and Phyllis Diller―and the super-serious cavepeople), and a visual design that reminds you ("reminds you," not replicates) of more carefully-mounted H-B productions like Johnny Quest. Just to be sure it wasn't nostalgia talking, I grabbed two of my youngest kids (raised on the very latest and hippest toons) and had them watch a few episodes―they liked Valley of the Dinosaurs just fine (and there have been some vintage H-B stuff they didn't cotton to...so they weren't being polite). I'm not sure what else you can ask of a 37-year-old cartoon than that.
The DVD:
The Video:
The full-frame, 1.37:1 color transfers for Valley of the Dinosaurs: The Complete Series look quite bright, with a sharp picture and the expected grain. Most of that dirt and screen anomalies on the screen, however, were present in the original materials, owing to the typically hurried H-B production methods.
The Audio:
The Dolby Digital English mono audio track is serviceable, with mildly fluctuation levels and no subtitles or close-captions.
The Extras:
No extras.
Final Thoughts:
Surprisingly energetic Hanna-Barbera outing, with good scripts, lots of action, and a pleasing visual design. I'm highly recommending Valley of the Dinosaurs: The Complete Series for lovers of vintage television animation...and little kids who like dinosaurs.
---
Paul Mavis is an internationally published film and television historian, a member of the Online Film Critics Society, and the author of The Espionage Filmography.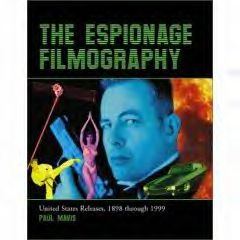 ---
C O N T E N T

---
V I D E O

---
A U D I O

---
E X T R A S

---
R E P L A Y

---
A D V I C E
Highly Recommended
---
E - M A I L
this review to a friend
Sponsored Links
Sponsored Links