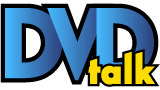 List Price: $19.98 [Buy now and save at Amazon]
---
The Movie:
The final film directed by Riccardo Freda, 1981's Murder Obsession begins with a fairly typical giallo set piece in which a killer stalks a beautiful woman (Laura Gemser) and murders her on screen. Fooled you! This is a movie within a movie, and once that scene has been shot, we meet leading man Michael Stanford (Stefano Patrizi), who is obviously starting to feel the pressure from his occupation taking its toll on him as he almost killed his poor co-star in that opening scene. As such, he decides to get away from it all and head off, with his girlfriend Deborah (Silvia Dionisio) in tow, to his old family home, a place he has been hesitant to return to for some time now. Why? Because apparently he murdered his own father there when he was a kid, something that's understandably left his mother, Glenda (Anita Strindberg) a bit of a mess all these years.
Things seem to be going well at first, despite some jealousy from dear old mom and some bizarre incestuous overtones on the part of Michael, but then members of the film crew show up looking for some locations to use. From here, things just start to get weird, as one of the female characters starts to have nightmares about a cult, some giant killer spiders and murder most foul!
A decidedly bizarre mix of standard giallo trappings and elements of more traditional gothic horror, Murder Obsession is a strange film to be sure, but despite a slow start after that attention grabbing opening set piece, by the time the film hits its middle part, it turns out to be a pretty entertaining genre mash-up. Freda cut his teeth on gothic horror, having directed films like The Horrible Doctor Hichcock and The Ghost before jumping on the giallo band wagon and offering up oddball entries like The Iguana With The Tongue Of Fire (which still needs a good domestic release on DVD). Here, as with a few of this other films, Freda seems more interested in combining the two genres he was best known for than in creating a story that makes a whole lot of sense, but you've got to give the guy points for trying something new here, even if it doesn't always work.
As fun a the movie is, and it is a blast once it picks up, the story jumps around. A lot. Logic is frequently thrown out the window and character motivations don't always make sense but it always looks great and features some slick cinematography and some memorable set pieces. On top of that, the film doesn't shy away from the sex and violence that seem like giallo prerequisites. Featuring early work from Sergio Stivaletti, there's a great 'death by chainsaw' scene and a few decent murder set pieces - and if that weren't enough, Gemser and Dionisio both spend a lot of time nude or at least scantily clad. You'll be scratching your head when the end credits roll, but at least you'll have fun with the film.
Video:
Raro's 1.85.1 anamorphic widescreen transfer is a good one, showing nice color and reasonably strong detail. Like a lot of early eighties Italian films some scenes were shot soft, but generally the image is sharp and it's always quite colorful. Black levels look good, there are no problems with compression artifacts and all in all, the movie looks very good here.
Audio:
The only audio option on the disc is the English language track (the packaging touts an Italian track but it's not there) which cuts into Italian (with automatic English subs) for the scenes that were never dubbed. It would have been nice to have the Italian track included and to have English subs for the entire movie but such is life. The English track sounds decent enough, though there are a few spots where the levels run a little hot in the mix. Overall though, the dialogue stays clear and the score sounds good.
Extras:
Extras are slim, limited to a menu and chapter stops and a ten minute interview with special effects guru Sergio Stivaletti who talks about how his relationship with Lamberto Bava developed, what it was like working with Dario Argento, how he got into doing effects work and what it was like working on Murder Obsession, which was an early project for him. Inside the keepcase is a nice booklet of liner notes which detail the plot and provide some background information on the film and the people who worked on it in addition to some biographical information in its director.
Overall:
Murder Obsession is a bizarre and sleazy late period giallo that doesn't always make a whole lot of sense but which never fails to entertain. Raro's uncut DVD is a good one. Recomemnded.
Ian lives in NYC with his wife where he writes for DVD Talk, runs Rock! Shock! Pop!. He likes NYC a lot, even if it is expensive and loud.
---
C O N T E N T

---
V I D E O

---
A U D I O

---
E X T R A S

---
R E P L A Y

---
A D V I C E
Recommended
---
E - M A I L
this review to a friend
Sponsored Links
Sponsored Links