List Price: $19.95 [Buy now and save at Amazon]
---
Neat, compact little B-western with a solid psychological underpinning to its vengeful story. M-G-M, as part of their own M.O.D. (manufactured on demand) service of library titles, the Limited Edition Collection, has released Rebel in Town, a post-War Between the States Western drama released by United Artists in 1956, starring John Payne, Ruth Roman, J. Carrol Naish, Ben Cooper, Ben Johnson, and John Smith. If you're a fan of Payne's, then you'll know his career after his A-list leading days with 20th Century-Fox was filled with interesting little Bs...and Rebel in Town certainly fits that description. A good transfer for this rarely-seen gem.
The American West, right after the War Between the States. In the hills surrounding a small, anonymous prairie town, a family band of ex-Confederate bank robbers wait out the posses in search of them. Father Bedloe Mason (J. Carrol Naish) may understand that his family's time has passed, but to survive, they must steal. His four sons―Gray (Ben Cooper), Frank (Ben Johnson), Cain (Cain Mason), and Wesley (John Smith)―do as they're told, but importantly, Bedloe always puts the gang's actions up for a democratic vote...after he carefully sways the consensus among the boys. On a nearby farm, ex-Union officer John Willoughby (John Payne) can always be counted on to lend a hand to town marshal, Adam Russell (James Griffith), to round up renegade Confederates who roam the land, stealing and killing. John's wife, Nora (Ruth Roman), however, wishes John would stop with this obsession, worrying that it's infected their child, Petey (Bobby Clark), who hero-worships his father to the point where he wears a pint-sized Union uniform, carries a sword, and calls his father, "Major." These two families' paths will cross when fatefully, little Petey is accidentally shot dead by jittery Wesley...and when John unknowingly gives aid to wounded Gray.
SPOILERS ALERT
A tight little B-western that hits exactly what it's aiming for, Rebel in Town was another nice surprise for me as I discover more and more later-career movies from actor John Payne. Having just recently reviewed Payne's The Boss, one of the best Bs from the 1950s, Rebel in Town shows yet again that Payne had impressive instincts for picking worthwhile projects, regardless of their budgets. Beginning like High Noon, complete with a theme song that basically lays out the film's central storyline ("I want something more than the lies told to me," "Living like my father."), Rebel in Town structures its story on a solid psychological framework that's Biblical in its primary appeal. Not unlike the Anthony Mann Westerns that helped mature the Western in the 1950s, Payne's character is consumed by an obsession; in this case, it's capturing or killing renegade Confederate rebels. Director Alfred L. Werker (The Adventures of Sherlock Holmes, Shock, He Walked By Night) and screenwriter Danny Arnold (Fort Yuma, The Caddy, the TV series Barney Miller) position Payne as a paragon of Western manhood...as envisioned by all those young boys at the afternoon matinees with their idealized images of true-blue, manly cowboys. John Willoughby is shown to be impossibly strong-willed and even-tempered, a man of few words, a dedicated citizen of the town (always volunteering his time―to the detriment of his wife―to track down Rebel thieves), and the kind of buddy/father who not only laughs at his son's "you know how women are" jokes, but also teaches his son the manly arts, including how to use his own sword, and even allowing Petey to address him as "Major."
Almost immediately, though, Arnold and Werker complicate our admiration for Payne's idealized 1950s movie Westerner. His wife is clearly unhappy with not only his frequent absences from their homelife, but also with his code of military manliness that she deems unhealthy for her little boy, Petey. Sure enough, it's Petey's determination to be just like his father, to "shoot" with his new cap pistols the Rebels he sees ride in town―just like his Pa, the "Major" would―that gets him killed (Werker stages this shocking death with a special effect right out of Peckinpah: Petey's blown away on the street, yanked back by a hidden wire―that oughtta show those little punks in the theaters what it means to be shot the next time they play cowboys and Indians). And once Petey is gone, and the enormity of that loss sinks in with John, his obsession to capture the Rebels responsible for the death supersedes all entreaties, not only from his wife, but from the town marshal and the posse members. Later, when Nora, fully aware that wounded Gray is one of the Confederates involved in Petey's death, keeps his identity secret from John, she's proven right to have worried what that knowledge would have done to John: when he discovers the truth, John's ready to kill Gray with an ax rather than listen to reason, even accusing faithful Nora of knowing that Gray was the murderer. At the film's climax, John still hasn't let go of his "madman" rage (as Nora puts it), willingly pushing the situation with the lynching mob that wants to hang Gray until Gray's father, Bedloe Mason, defuses the situation by voting out Wesley to the law (John still gets his personal revenge by knifing Wesley).
The Mason subplot is equally fascinating, with Bedloe dealing with several issues, including his place in society as a thief (conflicting with his decent Southern upbringing, where he makes certain the boys understand they were "brought up right"), and his pride as a Southerner in the face of being on the losing side of the War Between the States, and how that complicates this post-war period, where he's supposed to be entitled to equal treatment by a still-resentful populace. Screenwriter Arnold doesn't make it easy for the viewer, showing Bedloe to be a reasonable, even tolerant paternal figure, with a deep understanding of the contrary, conflicted place he occupies, and yet at the same time, he's called out on his hypocrisies, particularly by the logical, empathetic Gray, who dismisses his father's facile, self-serving reliance on "God's will be done" when it comes to explaining their thieving lifestyle, and the unnecessary death of Petey. As well, the notion of brothers with vastly different approaches to life is hardly new, but Arnold and Werker display a sharp, cold-bloodedness about this perverted 1950s family (the scene of Bedloe whipping his own son Wesley is graphic as well as thematically complicated), with Wesley and Cain more than willing to stab their brothers in the back for money, or to elude the hangman's rope. For such a low-budget, fast little Western with a seemingly familiar story, Rebel in Town has deep waters running beneath its surface.
The DVD:
The Video:
Premiering in 1956, it's entirely possible that 1.37:1-shot Rebel in Town (there's no listing in the opening credits for a widescreen process) was shown in some widescreen theatres with a cropped open matte. As presented here, it's windowboxed during the credits, and then zooms in a little for a 1.33:1 full-frame image. You can matte it off on your monitor if you prefer (1.66 looked okay), but you'll blow up the noticeable grain even more. As it stands, the print looks fairly decent for such an obscure title, with okay blacks, a sharpish picture, and some grain.
The Audio:
The Dolby Digital English mono audio track is serviceable, although hiss is apparent, and levels fluctuate at times (no doubt due to the original materials used for the transfer).
The Extras:
No extras for Rebel in Town.
Final Thoughts:
A surprisingly nimble, efficient B-western with a lot going on under the surface. John Payne is effective, as usual, in this interesting, psychologically-complex little western. I'm highly recommending Rebel in Town.
---
Paul Mavis is an internationally published film and television historian, a member of the Online Film Critics Society, and the author of The Espionage Filmography.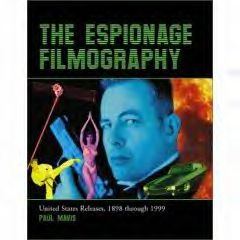 ---
C O N T E N T

---
V I D E O

---
A U D I O

---
E X T R A S

---
R E P L A Y

---
A D V I C E
Highly Recommended
---
E - M A I L
this review to a friend
Sponsored Links
Sponsored Links