List Price: $19.95 [Buy now and save at Amazon]
---
Like one of those 1950s men's adventure magazine stories come to life. M-G-M, as part of their own M.O.D. (manufactured on demand) service of library titles, the Limited Edition Collection, has released The Steel Lady, the 1953 desert action film released through United Artists, starring Rod Cameron, Tab Hunter, John Dehner, Richard Erdman, and John Abbott. With heavyweight talent behind the cameras, and a solid cast up front, The Steel Lady delivers the adventure goods without any pesky navel-gazing: it tells its fast, action-filled story and that's it, thank god. An original trailer, luckily, is included here as a welcome bonus for this okay transfer.
Somewhere over the Sahara desert. Trans-African Oil company employees Mike Monahan (Rod Cameron), Jim Evans (Richard Erdman), Sid Barlowe (John Dehner), and Bill Larson (Tab Hunter), have just found a promising spot for oil exploration...but they're warned off it by their boss, Gus Sanderson (Dick Rich), who radios the team that that caliph-controlled land is taboo for American oil companies. So it's up in the air again for pilot Mike and co-pilot Jim, as "rock hound" geologists Sid and Bill scan a desert the size of the United States. Suddenly, a sirocco-level sand storm chokes off engines "Becky" and "Mabel," and the Trans-African Oil plane is forced down into the desert, some 800 miles off-course from their intended target: Casablanca. With a busted radio, and not nearly enough food and water to survive the days needed for a search plane to eventually find them, the group has to get lucky, and fast. Miraculously, they stumble upon a buried German Afrika Korps Panzer tank...complete with two mummified soldiers inside. Scavenging the batteries, oil, and water out of their kaput plane, the men decide to fire up the tank and blast their way out of the dunes, but obstacles persist: chief among them being Mustafa el Melik (John Abbott), loyal to Sheik Taras (Frank Puglia), who decides he must have their tank...or kill the men trying. You see...there may be lost treasure on-board Die Eiserne Jungfrau....
SPOILERS ALERT
The Steel Lady passes my simple "thirst test" for these kinds of desert survival pics: if I start to feel thirsty when the characters are dying for water, the movie's working. This isn't going to be a long, involved review; not because The Steel Lady isn't a good B-actioner deserving of analysis, but because this meat-and-potatoes adventure eschews almost all talk of psychology, refusing to dwell on anything more complex for character motivation than calling someone a "boozer," or a "ladies' man," or a "tough guy." Unlike comparable desert survival flicks like Flight of the Phoenix (the original, of course) or Sands of the Kalahari, The Steel Lady isn't interested in anything that takes away from its action-filled storyline. John Dehner's character is a boozer because the story needs him to be weak and cowardly during the desert trek, and heroic during the slam-bang finale. We don't know what made him a juice head, because nobody thinks it's important enough to tell us. And it isn't. Richard Erdman's "ladies' man" co-pilot isn't pondered over to see if he loved his mother or not; he's there for sardonic comic relief, and that's all. And Rod Cameron's pilot is about the straightest, no-nonsense action hero lead you're ever going to encounter―we never learn a goddamned thing about him. He flies the plane; he helps fix the tank; he shoots the Bedouin, and he helps rescue his crew. Simple and neat and completely uncomplicated when it comes to characterization...and thank god for that nice respite from constant movie navel-gazing.
Looking at the people behind the camera, it's not surprising that The Steel Lady, despite a small budget, works so well. Producer Edward Small specialized in bringing in low-budget movies that moved. And if they happened to become classics of their genres later on, that was fine, too...but not necessary to the box office: I Cover the Waterfront, The Count of Monte Cristo, The Man in the Iron Mask, The Black Arrow, Raw Deal, T-Men, Kansas City Confidential, It! The Terror from Beyond Space, Diary of a Madman, and many more. The Steel Lady's director, A.E. Dupont, may have been past his silent film prime (the sublime Varieté) by 1953, but he could still deliver a clean, uncomplicated narrative, despite the budget, with credible action goods, to boot (his shots are unerringly on the money, from the funny dolly-in on Erdman's stacked blonde photo, to the appropriately forbidding shots of the vast desert, to the shock-shot of the mummies at the bottom of the tank).
As for the script, 72-year-old veteran screenwriter Richard Schayer produced a bouncy, busy storyline that doesn't define 1950s macho heroics (that would imply commentary on the script's part) so much as accept it completely without restraint or note. Schayer, with hard-core classic titles like the original 1931 Frankenstein and 1932 The Mummy to his credits (as well as stout actioners like Kim and The Texas Rangers), keeps the mocking, derisive wise-cracks coming as these straight-shooters try and first, figure their way out of the desert, and second, escape with their lives from the pursuing Bedouins (even the throwaways are amusing; Erdman can't start the tank, and the viewer is deflated, until Hunter figures out the problem: the ignition was off). Erdman gets most of the funny lines (which he delivers expertly); when he tells Cameron he's got a girl waiting for him back in Casablanca, Cameron asks, "With what: a warrant and a .45?" to which Erdman drawls back, "No, with a smile and a 36-24-38." And solid-as-a-rock Cameron gets most of the tough guy jabs, including my new favorite for setting up bad news: "You want it hard and dried, or sunny-side up on toast?" The few critics who did see the miniscule-budgeted The Steel Lady back in 1953 dismissed it as B-picture hokum; considering how today a hundred million dollar budget can't even guarantee a coherent story in an action flick, The Steel Lady plays like a little miracle.
The DVD:
The Video:
The full-frame, 1.33:1 black and white transfer for The Steel Lady is passable, with a somewhat contrasty image, only okay blacks, and a medium sharp image (stepping down in monitor size will help). Grain is apparent, but it's to be expected.
The Audio:
The Dolby Digital English mono audio track is serviceable, with hiss apparent but not too distracting, and slightly fluctuating levels. No subtitles or close-captions.
The Extras:
Nice: an original trailer that sells the action.
Final Thoughts:
High adventure on a low budget: a clean, efficient actioner, without an ounce of head-scratching psychology to its beefy proceedings. The very definition of a competent B-movie adventure, The Steel Lady, within its parameters, is perfect. I'm highly, highly recommending The Steel Lady.
---
Paul Mavis is an internationally published film and television historian, a member of the Online Film Critics Society, and the author of The Espionage Filmography.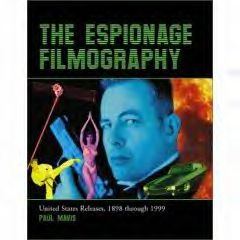 ---
C O N T E N T

---
V I D E O

---
A U D I O

---
E X T R A S

---
R E P L A Y

---
A D V I C E
Highly Recommended
---
E - M A I L
this review to a friend
Sponsored Links
Sponsored Links