List Price: $19.98 [Buy now and save at Amazon]
---
"If the Lord ever calls me, I'm not going. There's one thing I'll never be, and that's a minister!"
A fairly standard fictionalized biopic, but done with feeling. M-G-M, through their Limited Edition Collection line of M.O.D. (manufactured on demand) library titles (and 20th Century-Fox), has released One Man's Way, the 1964 United Artists biopic of The Power of Positive Thinking author, Norman Vincent Peale, based on the book, Minister to Millions by Arthur Gordon, and starring Don Murray, William Windom, and Diana Hyland. I would imagine followers of the author (if there still are any), and those of a philosophical bent, would be the best bet for this earnest film about one man's religious journey.
According to One Man's Way, young Norman Vincent Peale (Mickey Sholdar) had no intention of growing up to be a minister, having had a difficult time with his role as the son of a Methodist minister, Reverend Clifford Peale (William Windom). Flash forward to Norman (Don Murray) as a young reporter for a Detroit newspaper, working with cynical hotshot, Evelyn Grace (Carol Ohmart). Touched by the plight of a murder suspect (and sickened by his role in exploiting her obvious mental anguish for the sake of a sensationalized newspaper story), Norman begins to wonder of what use his role as a newspaperman is to the world. Walking home from a bar, Norman is transfixed by the sight of a young girl, Mary (Veronica Cartwright), trapped in a crumbling building that just exploded. Taken over by some force, Norman implores the child to cross a narrow board set up from an adjacent building, willing her across by telling her that God is with her, and that with his help, she can do anything. Mary makes it across safely, and Norman is changed: he decides to follow in his father's footsteps after all, and become a minister. However, Norman has difficulty conforming to the established seminary ways at Boston University, and he eventually decides he must impart the Scriptures in his own unique voice. His romance with free-spirited Ruth Stafford (Diana Hyland) is also difficult: she has no intention of becoming a preacher's wife and living a "dull" life. But perhaps Norman's greatest challenge comes when he's at the pinnacle of his success with his bestseller, The Power of Positive Thinking: he's accused by theologians and newspaper columnists of being a charlatan and a con man.
SPOILERS ALERT
I'll be honest: I've never read The Power of Positive Thinking (I did a fast search on Wikipedia, but the article was nothing more than a thinly-veiled attack on the conservative, Christian Peale...no surprise there for that left-wing site). I of course remember Norman Vincent Peale when I was a boy back in the 70s; he was still a leading figure in theology at the time (although I suspect Billy Graham was a lot bigger by that point), and as an Ohio boy who grew up Methodist (just like Peale), his name was known in our house. That was a long time ago, both in years and personal philosophy, and this reluctant non-believer, in regards to religion, takes the line that Churchill once stated about being a buttress rather than a pillar of the Church of England: he supported it from the outside, not within. So although I don't believe the messages espoused in One Man's Way, I do support them, and value them, and any problems I have with One Man's Way are cinematic in nature, not philosophical (hopefully, that takes care of the inevitable angry emails, thank you).
With that all written...I rather liked One Man's Way, not because it's a particularly scintillating piece of moviemaking, or because it "converted" me. It follows a fairly standard Hollywood biopic formula―psychological conflict set up during youth, maturation as the historical figure finds his or her way in the world, accomplishment of noteworthy works, a complicated romantic pursuit, a personal crisis, and then redemption―and it's certainly not technically dazzling or even visually interesting, to be honest (pretty square filmmaking, really). One Man's Way may convert someone out there, or reinforce what they already believe in, but as with most overtly religious films, even if the specific intent is to produce a genuine transcendental experience, that rarely (if ever) happens.
No, I enjoyed One Man's Way simply because it was a positive story, told with a straight-faced earnestness that I found appealing...in a square sort of way. The opening of the movie is perhaps One Man's Way's best part; young Norman, fed up with being called a "sissy" because he can't ever "act up" as a minister's son, fires back at his tormentors, and his father―in church―vowing that he doesn't even believe in God. Norman's father (William Windom is excellent, as always) reacts angrily, but both eventually come to an understanding, and even though Norman vows never to be a minister, his father hugs him, proud that he's an independent thinker. It's a heartwarming scene, and a nice tonic against the current prevailing view of Christians in mainstream Hollywood and television entertainments, where they're more than likely to be painted as intolerant, bigoted zealots.
There's also a highly effective scene where Murray talks and prays Veronica Cartwright over a suspended plank between two buildings. Beautifully edited for maximum suspense, this sequence really brings home the notion of Norman and this emerging...passion for his religion, a passion to do something with it to help people. Stridently calling out to the terrified girl, "With God's help I can do it! With God's help I am doing it! God and I are doing it! You and God have done it!" Murray is fervent and completely unself-conscious (he really anchors the entire film), helping to make this sequence an effective dramatization, I would imagine, of Peale's entire philosophy. Following this scene, when Norman declares to Evelyn that he's going to be a preacher, she contemptuously challenges him, saying that any sensible person would have crossed that plank. Notably, the movie doesn't shy away from this; it goes right to Peale's self-confidence in why he believed he was put on earth: to help remind people that they have guts and common sense, and that with God's help, anything is possible. He states whatever came over him to help that girl, Evelyn may call it luck, but he calls it God. The movie is careful (and clever enough) to provide disbelievers throughout to keep the message balanced, which gives the script opportunities for Peale to counter with his beliefs, such as the father of the little girl in a coma for whom Peale prays; even at the end, when the girl awakes, the father doesn't believe...but Peale does, and it restores his faith.
It's kind of a weird effect, but I rather liked One Man's Way's scenes where Murray preaches straight into the camera. It may come off stagey and not particularly cinematic, but when one thinks about it, it's probably the most honest way (maybe the only way) to dramatize this preacher's life. He was a preacher, after all; what are you going to show him doing? Bowling? He preached for a living, so anyone interested in seeing his life portrayed up on the big screen would expect a few scenes with him in the pulpit. Now, I suspect a low budget nixed "crowd" shots or multiple camera set-ups like over-the-shoulder ones (where we could see his parishioners), or maybe a camera down in the pews for more varied visual effect, for director Denis Sanders (Elvis: That's the Way It Is). But again, I took this limited design as a plus: he's preaching head-on to masses, and the movie isn't avoiding it.
Of course, as with any Hollywood biopic, there are going to be inventions and deliberate omissions (the film doesn't go near Peale's disastrous tangle with JFK's nomination for President), but then again, you expect that with a typical Hollywood biopic. Anyone going into one of these movies for a history lesson is kidding themselves. It's best to experience a movie like One Man's Way as a separate, fictionalized entity, divorced largely from the real deal. Again, I don't know Peale's teachings, but looking at One Man's Way's message...I couldn't see anything wrong with it. It was positive, humane, and understanding, so what's the beef, Wikipedia? You have something against self-sufficiency, and the will to try and take charge of situations and obstacles, all with a positive outlook on life because God is with you (if you believe in him)? In a scene where Peale officiates over his mother's funeral, there's an explanation of death and rebirth (from screenwriters Eleanore Griffin and John W. Bloch), that I found quite moving and beautiful, where the analogy is how a baby, experiencing "life" in a womb, would see its birth away from that safe womb as "death"―and so, too, with us when we leave this earth. It's not very often you get such serious ruminations on religious belief in a Hollywood studio pic, let alone one so touching as in One Man's Way.
If only it were all true.
The DVD:
The Video:
The anamorphically enhanced, 1.85:1 black and white transfer for One Man's Way is a tad dark, with a scratchy, grainy look that gets better as it goes on. The image is sharpish, and edge enhancement is minimal.
The Audio:
The Dolby Digital English mono audio track is adequate, with low hiss and a reasonable re-recording level. No subtitles or close-captions.
The Extras:
No extras for One Man's Way.
Final Thoughts:
Fictionalized, to be sure, but quite earnest and appealing in a square-headed way. Don Murray gives it his all here as Norman Vincent Peale, and the results, at times, are surprisingly moving. Biopic lovers and those looking for a good family picture centered around a religious theme will find One Man's Way recommended.
---
Paul Mavis is an internationally published film and television historian, a member of the Online Film Critics Society, and the author of The Espionage Filmography.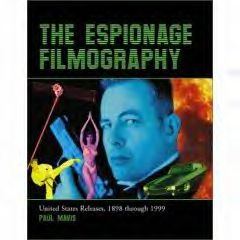 ---
C O N T E N T

---
V I D E O

---
A U D I O

---
E X T R A S

---
R E P L A Y

---
A D V I C E
Recommended
---
E - M A I L
this review to a friend
Sponsored Links
Sponsored Links