---
It gets a little silly towards the end...but the dog attacks are great. Warner Bros.' essential Archive Collection of M.O.D. (manufactured on demand) library titles has released The Pack (also known as: The Long Dark Night), the 1977 "man versus nature" reworking of The Birds and Jaws, starring Joe Don Baker. Directed with a lot of verve by Enter the Dragon's Robert Clouse (who also wrote the screenplay based on the better book by David Fisher), The Pack may have its seemingly obligatory lapses of logic when it comes to the final battles between man and dog, but those battles are pretty cool. No extras for this okay widescreen transfer.
Seal Island, a remote vacation spot off the upper Eastern coast. With fall fast approaching, the last of the summer holiday families are leaving, including little Bobby (Steve Butts), whose mother and father (Peggy Price, Rob Narke) have no intention of keeping the collie pooch they picked up at the pound as a playmate for Bobby during the long summer months. Tying up the poor doggie out in the woods, they leave, and Lassie breaks free, only to find shelter with...The Pack!, a bloodthirsty, ferocious, rabid band of similarly abandoned pets who now roam the land, searching for food. Widower Jerry (Joe Don Baker), a marine biologist who's just finishing out a two-year state assignment to study shrimp, has decided to stay on at the island with his teenaged son, Guy (Eric Knight), where he's going to build a home for his girlfriend, school teacher Millie (Hope Alexander-Willis) and her young son, Paul (Steve Lytle). Island store owner Hardiman (Richard B. Shull) has some last-minute guests staying over at one of his cabins: banker blowhard Jim Dodge (Richard O'Brien), his weakling son, Tommy (Paul Willson), Jim's vice president, wimpy Walker (Ned Wertimer), Jim's main squeeze, Marge (Bibi Besch), and secretary (?) / hooker Lois (Sherry Miles), who's been brought along to make a man out of Tommy. Trouble starts for the island holdouts, though, when blind hermit McMinnimee (Delos V. Smith, Jr.) is ripped apart by...The Pack!, and soon it's man versus rabid doggies in a fight to the death.
SPOILERS ALERT!
Deciding whether or not The Pack "works" as a movie doesn't have to be too terribly complicated, because the appeal of this low-to-mid-level budget exploitation shocker is narrow and obvious: showing the viewer some dogs ripping the sh*t out of their human victims. That's pretty much it for The Pack―if the dog attacks don't scare you, then the movie fails. It doesn't really matter if characters are two-dimensional, or if they operate at times according to the necessarily illogical laws of this particular genre of movie (characters splitting up when they're not supposed to, leaving doors open when they're not supposed to, not firing guns when they're supposed to, etc.). If anything, those kinds of plot missteps can be entertaining in their own right (do you understand that, Roger?); we get a bit of a laugh at the silliness inbetween the scary parts. No, the only thing that matters in The Pack is whether or not we buy that the dogs are scaring us as they flash their fangs on-screen. And luckily, they do here.
Growing up in the '70s, I've always had a soft spot for those then-popular "man versus nature" drive-in flicks. Certainly Hitchcock didn't invent the genre, but he gave it A-picture class (and boffo box office) when he directed The Birds in 1963, and it proved to be a tempting template for other filmmakers to strike over the decades, with movies like Willard (oh please when is someone going to release that masterpiece on DVD?), Frogs, The Day of the Animals, Grizzly ("18 Feet of Gut-Crunching Terror!"), Tentacles, The Swarm, The Food of the Gods, Prophecy, Cujo, and of course, Spielberg's Jaws, keeping millions of kids like me happy with the very latest in human dismemberment techniques. Of course now, these older efforts look almost quaint in comparison to the gore quotient available in even the lowest-budget efforts, so anyone looking to see something startling in the way of special effects or splatter in The Pack will be disappointed.
Anyone looking for originality in scripting will have to look elsewhere, too, since The Pack keeps things fairly in line with the conventions of this subgenre. Baker, a better actor than most of his vehicles have allowed for, may not sell me that he's a marine biologist, but he's good at getting across his protective father/leader character from director Clouse's thinly-motivated script. To Clouse's credit, he doesn't overdo "Baker-as-hardass-father," or "Baker-as-take-charge-leader," or thank god, "Baker-as-lover" (listen to those icky sounds Baker makes when kissing Alexander-Willis, and seriously, dude―no tongues for you...). The characters may be relatively cardboard (I never bought any of the "bankers" like Dodge or his wimpy son), but Clouse doesn't insult us by trying to play up their more clichéd aspects (it's a real shame the brilliant R. G. Armstrong doesn't have more to work with here than a thinly-drawn, half-assed Quint knockoff...who's then bumped out of the picture just when he should be taking charge). Even better, Clouse doesn't go in for any suggestion that...The Pack! is somehow "evil" or supernatural in their powers. The opening sequence of showing Bobby's nice doggie tied up out in the woods (awwww...look at him putting his paws up and whining) grounds us into remembering that these savage killers were once pets. We're scared of them in a straightforward manner―they're hungry and rabid and they want to rip the flesh off our faces―without any supercanine or otherworldly taint to screw up the crude immediacy of the attacks.
As for...The Pack!, you can certainly asks some questions about why so many people are leaving dogs behind on Seal Island (Baker says some of them get lost, too), or why the dogs aren't tearing into each other more often, or why they suddenly start attacking people as a food source...but then you wouldn't have much of a movie, would you? Frankly, I don't care at all why the dogs start attacking, but I do mind when the movie gets extremely silly at the finale, when people start acting in very dumb ways. Why the hell doesn't Baker shoot the lead dog when he's fighting him at the window? I mean...it's a shotgun you're using to poke him in the face with―you can shoot it, you know. Why doesn't Walker start blasting away at the dogs when he's cornered on the dock, armed with the shotgun? And you're telling me Baker could only squish one dog when he runs his truck down that narrow dock? And seriously, why doesn't everyone just pull themselves up into that attic with that hideaway ceiling staircase and wait for the next ferry, picking off the dogs one by one if they're dumb enough to come into the office/home? They're dogs, after all, not giraffes.
But again, none of that really matters once the dogs start biting (if anything, that kind of willful illogic makes the movie experience more fun), and to Clouse's and the animal trainers' credit, those sequences are top-flight. I don't know how they get a dog to act like it's flipping out (the end credits say the dogs were monitored by some animal group during filming...hmmmmmm), but it's done convincingly here. When Baker gets the first glimpse of...The Pack!'s leader, that's one scary looking dog. Later, when the old blind hermit is attacked in his kitchen, Clouse doesn't shy away from the close-ups as the dogs really get in there and start chomping away (the gore's not bad). The attack on Millie in the cloth-topped VW is probably the film's best, with Alexander-Willis looking believably scared-sh*tless as one of the dogs comes this close to snatching out her eyeball as he lunges too close to comfort to her through the car window. And the finale, while dopey in design, is nonetheless choreographed for maximum impact, with Baker having a hell of a time keeping that dog from biting through the metal bed springs. Delivering on the money shot that every viewer wants by the end of the film, Clouse gives us a full shot of the lead dog impaled on a water heater pipe, expending his last breath (how'd they do that? Was it a stuffed dog with an air bladder in there somewhere?). That's how The Pack should have ended, instead of that weak final image of Baker reaching out to Bobby's still-nice-but-completely-freaked-out pooch, to reestablish the bond between hound and human. Too bad Clouse didn't have the dog sink his fangs into Baker's hand―The Pack, Part II: The New Awakening!
The DVD:
The Video:
The anamorphically-enhanced, 1.85:1 widescreen transfer for The Pack does tend towards the red a bit, but nothing too distracting. Dirt and scratches are apparent, too, and the image is semi-sharp. Not the best; not the worst.
The Audio:
The Dolby Digital English mono audio track is okay, with a decent-enough re-recording level, although some of the dialogue gets a bit muddy at times (that's the fault of the original materials used, no doubt). No subtitles or close captions available.
The Extras:
No extras for The Pack (I remember the original trailer was kind of cool for this title).
Final Thoughts:
Lassie Come Home...So You Can Rip My Face Off!. The Pack may not deliver the gore we've become accustomed to for this kind of film, and its 70s genre conventions may amuse us...but it's suspensful enough, and the dogs deliver the goods. Perfect fall/Halloween viewing for the nostalgic out there. I'm recommending The Pack.
---
Paul Mavis is an internationally published film and television historian, a member of the Online Film Critics Society, and the author of The Espionage Filmography.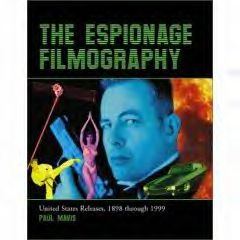 ---
C O N T E N T

---
V I D E O

---
A U D I O

---
E X T R A S

---
R E P L A Y

---
A D V I C E
Recommended
---
E - M A I L
this review to a friend
Sponsored Links
Sponsored Links