List Price: $19.95 [Buy now and save at Wbshop]
---
Necessarily sanitized but extremely effective, accurate account of one of America's most notorious serial killers. Warner Bros.' on-line M.O.D. (manufactured on demand) Archive Collection service has released The Deliberate Stranger, the 1986 NBC miniseries starring Mark Harmon as Ted Bundy, who admitted to murdering at least 30 women during a horrific four-year killing spree in the mid-1970s. Directed by veteran television helmer Marvin J. Chomsky, and with a superlative supporting cast including Frederic Forrest, George Grizzard, Ben Masters, Glynnis O'Connor, John Ashton, Bonnie Bartlett, Billy Green Bush, and M. Emmet Walsh, The Deliberate Stranger still frightens, in no small part due to the remarkable change of image orchestrated here by handsome lead, Mark Harmon. No extras for this solid transfer.
Seattle, Washington, 1974. A young, attractive woman, with long, dark hair parted in the middle, walks down a deserted nighttime street, shadowed by an unseen man...and disappears without a trace. Theodore Bundy (Mark Harmon), after greeting his visiting girlfriend Cass (Glynnis O'Connor), who's in town earlier than expected, takes off to attend a political fundraiser party for Ken Wolverton (Lawrence Pressman). There, Ted sees his friend, Richard Larsen (George Grizzard), a journalist who remembers Ted from an incident involving a legal―but slightly shady―political "dirty trick." All of these upstanding people know Ted Bundy to be a smart, warm, personable, attractive go-getter with a bright future ahead of him as a law student―Richard even feels "wistful" for his own youth when he sees Ted's boundless energy and winning smile. What all of these upstanding people don't know is that the "Ted Bundy" they're acquainted with is merely a carefully orchestrated façade, a mask that hides a chillingly blank sociopath who feels no guilt for the horrendous sex crimes he commits against women.
As young girls continue to disappear in Washington state, Ted moves to Utah, ostensibly to go to law school, where his killing spree continues and into Colorado. Washington detectives Bob Keppel (Frederic Forrest), Sam Davies (M. Emmet Walsh), Roger Dunn (John Ashton), as well as Colorado detective Mike Fisher (Ben Masters), frantically searching for a phantom who leaves no trace of his crimes, finally, through the innovative use of a computer, narrow the search to Ted, and he's soon convicted on a lesser charge of kidnapping and assault (for one of his failed murder attempts). However, knowing that the police are closing in with multiple murder charges against him, he executes two jail breaks, making his way down to Florida...where young women, with long hair parted in the middle, begin to disappear all over again.
The Deliberate Stranger caused a bit of a stir when it premiered on NBC during May "sweeps" in 1986, not only because its real-life subject was still fighting his death penalty convictions down in Florida (always good publicity), but also because of Mark Harmon's highly praised performance, where the actor, heretofore known mostly for his nice guy, easy-going on-screen persona, surprised everyone by inverting that charm and creating a truly scary portrait of a psychopathic killer. I'm no student of Bundy, but apparently, this mini is quite accurate in what it shows about Bundy's crimes, with name changes being the only inventions employed by screenwriter Hesper Anderson (The UFO Incident, Children of a Lesser God) in her adaptation of journalist Richard Larsen's book, Bundy: The Deliberate Stranger. I hadn't seen The Deliberate Stranger in years, but it held up remarkably well, despite its necessary 1980s network reserve; it ranks with some of the best classic made-for-TV true-life crime movies and minis, such as The Marcus-Nelson Murders (the pilot for Kojak), Foster and Laurie, Murder in Texas, Fatal Vision, Helter Skelter, and The Executioner's Song.
25 years after The Deliberate Stranger premiered, one of the unfortunate side effects of the ramped-up violence and even gore routinely displayed on some network TV shows today is that newer viewers accustomed to rapid cutting and lots of blood may watch this mini and come away saying it's slow or tame (and that's not even factoring in no-holds-barred cable productions). Certainly, the filmmakers back in 1986, due to still-strict network censorship guidelines, couldn't even allude to what Bundy really did to his victims―before and after they were murdered―let alone visualize them, so necessarily, The Deliberate Stranger presents a "sanitized" vision of Bundy that isn't going to jibe with the true nature of his crimes. That reserve, however, doesn't invalidate the mini. Forced to leave out salient details of Bundy's crimes (some of which were still not known in 1986, prior to Bundy's last-ditch efforts to trade information for his life when Florida's electric chair loomed large in 1989), solid craftsman Marvin J. Chomsky (Evel Kneivel, The F.B.I. Story: The FBI Versus Alvin Karpis, Public Enemy Number One, Victory at Entebbe, The Billionaire Boys Club), treats Bundy's killings, perversely enough, like those in a traditional "monster" movie. For almost the first half of the movie, Bundy's murders happen off-screen, building up suspense and the viewer's dread, before Chomsky actually shows Bundy in a failed attempt to abduct a young woman. It's a violent, unsettling moment in the movie (former football player Harmon is scary manhandling that actress), made all the more so because Chomsky was smart enough to "tease" the audience beforehand. Once Chomsky comes to the central murder sequence in the storyline―Bundy's assault on four women in a Florida dormitory―he lets loose with everything he could show back then, with a blood-splattered, vicious attack that was quite shocking for TV viewers back in 1986.
This necessary avoidance of showing the true nature of Bundy's crimes allows Anderson's script to explore other aspects of the cases, and the victims and police officers involved, too. There's an almost epic sweep to The Deliberate Stranger, aided by the geographic route/timeline of Bundy's crimes, that gives the movie an unexpected heft. There's enough time in this three-hour adaptation for the viewers to feel like they're participating in an emotionally exhausting pursuit that takes years to complete, as Bundy's crimes are slowly discovered, and the cops inch tortuously closer to him, before he escapes to Florida for a final orgy of violence. The script takes time to show the agony of the victims' families (the Eleanor Rose sequence is particularly sad), as well as the frustration of the police pursuing this animal, and their eventual unmitigated hatred for him. Grizzard's Larsen character may seem at first glance to be the viewers' surrogate, but instead he's really designed as the viewers' stooge, buying into his own idealization of Bundy's fake persona, wishing him not to be guilty as the evidence piles up, and then trying to rationalize and explain those actions by first attacking the press and then believing that "mixed messages" as an illegitimate child set Bundy off. It's the cops here who are really the viewer surrogates (unusual for this kind of mini); they, like we, get that Bundy is evil right from the start, and that no amount of useless psychobabble can excuse one person's "needs" creating so much pain and loss for others, as Forrest's character puts it. When Grizzard tries out his "mixed messages" defense to Forrest, Forrest sneers and quite rightly, quite logically replies, "Lots of people grow up with mixed messages; they don't go around cracking girls' heads open." Admirably, The Deliberate Stranger creates no sympathy whatsoever for Bundy.
Utilizing cinematographer Michael D. Margulies's cold, drab, largely blue/gray/brown palette, director Chomsky takes his plain, unremarkable framing to create a lifeless, flat world for Bundy and his obsessions (the '80s synth musical score by Gil Melle is absolutely the correct choice here: mechanical, abrasive, spooky). I've always enjoyed Chomsky's ability to tell a story cleanly and simply, but he's also clever enough to add nice little directorial touches to fill out the subtext. Of course, Anderson's script uses ironic little transitions such as characters saying how much they like Ted...right before Chomsky cuts to Bundy on his way to killing someone. However, Chomsky gets his own small moments in, too, such as Ted hesitating before "choking" Richard when he bids him goodbye for Utah, or the black cat that crosses a victim's path―right by a 'STOP' sign―before she's fated to meet Bundy, or the heartbreaking effect of just hearing the father of a victim cry out in anguish when identifying his daughter's body, as the camera focuses instead on the mother reacting to the cry outside the morgue.
Chomsky also scores with the performances, directing his unusually talented cast with sensitivity. Forrest brings just the right amount of outraged humanity to his soft-spoken character to anchor our empathy, while O'Connor's warmth-turned-to-suspicion-turned-to-incomprehension helps explain a character that many viewers will have a hard time understanding. As for Mark Harmon, he's scarily effective here. Perfectly cast to convey the wholesome, handsome façade Bundy presented to the world, Harmon overplays his perfect, all-American gee whiz patter expertly, making us distrust slimy Bundy right from the start as we watch other characters use him as a mirror to reflect their own desires to believe such a person exists. Whether he's laying in bed with O'Connor, suddenly opening his darting eyes with bloodlust, or seething at the sight of little girls jumping rope, or happily brushing his teeth as the news in the background announces another body found (a very sick allusion that got by the censors somehow), Harmon skillfully creates a Ted Bundy that chills you with bland good humor and Rotary-worthy polite manners, until the monster is finally unleashed. In the Florida dorm attack sequence, Harmon's physicality is put to good use, as he channels something to achieve the truly scary effect of Bundy bashing and strangling without pause, without reason. It's a remarkable, frightening sequence, in a cold, off-putting, chilling miniseries.
The DVD:
The Video:
The full-frame, 1.33:1 transfer for The Deliberate Stranger looks exactly how I remember it being broadcast back in '86, with a diluted color palette. The image is sharp, screen anomalies are minor (some scratches and dirt), and compression issues over the two discs here are nonexistent. Good transfer.
The Audio:
The Dolby Digital English mono audio transfer has been re-recorded at a decent level, with little hiss or fluctuation. No subtitles or close-captions included.
The Extras:
No extras, unfortunately, for The Deliberate Stranger.
Final Thoughts:
Harrowing, epic account of serial killer Ted Bundy. Mark Harmon has the role of a lifetime here, making the most of his good-guy image by turning it inward and creating a deeply unsettling portrait. With solid support from an unusually high-powered supporting cast, and sensitive scripting and direction, The Deliberate Stranger is one of the best examples of the TV true-crime genre. I'm highly, highly recommending The Deliberate Stranger.
---
Paul Mavis is an internationally published film and television historian, a member of the Online Film Critics Society, and the author of The Espionage Filmography.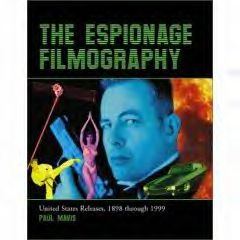 ---
C O N T E N T

---
V I D E O

---
A U D I O

---
E X T R A S

---
R E P L A Y

---
A D V I C E
Highly Recommended
---
E - M A I L
this review to a friend
Sponsored Links
Sponsored Links