List Price: $19.95 [Buy now and save at Wbshop]
---
Pretty rough, and not all that scary...but interesting, nonetheless. Warner Bros.' on-line M.O.D. service, the Archive Collection, has released A Return to Salem's Lot, the 1987 in-name-only sequel to the original 1979 Stephen King TV miniseries. Co-written and directed by Larry Cohen, and starring Michael Moriarty, director Sam Fuller, Andrew Duggan, June Havoc, and Evelyn Keyes, A Return to Salem's Lot grooves along to its own quirky rhythms (not surprising considering its writer/director), offering up mild pleasures for those who may be looking for something outside the ordinary low-budget horror conventions. No extras for this good-looking transfer.
Anthropologist Joe Weber (Michael Moriarty) videotapes a Peruvian human sacrifice and worries only about the tape's picture quality; "morality" has no place in this scientist's universe. So imagine his dilemma when he's called back to the United States by his ex-wife to take care of his rebellious punk teenager, Jeremy (Ricky Addison Reed), who describes himself as "f*cked up." In an effort to help straighten the boy out, Joe decides to take the difficult teen back to his Maine home town of 'Salem's Lot, where he inherited a decrepit old farmhouse from his Aunt Clara (June Havoc). However, something's...off in the quaint little village, such as the fact that only a handful of people seem to be around during the daytime, like a-hole Constable Rains (James Dixon). Later that night, when everyone in town seems to be up and about, terrified Sherry (Jill Gatsby), having just witnessed her friends set upon by vampires in 'Salem's Lot, runs to Joe's house. He takes the girl to Judge Axel's (Andrew Duggan) home...where Sherry is immediately killed and Joe learns the truth about the town: it's infested with vampires, vampires who have lived there since the Pilgrims came. Joe also learns that Aunt Clara isn't dead; she left the house to Joe in Judge Axel's plan to lure Joe back to 'Salem's Lot. The Judge's plot? To have Joe write the vampires' "bible" to convince outsiders to accept them. What Joe doesn't count on is Jeremy getting sucked into the vampire way of life, or the efforts of visiting Nazi hunter Van Meer (Samuel Fuller), to bring Joe to his senses, so they can both bring the town down.
PLOT SPOILERS WARNING!
I recently re-visited Larry Cohen's It's Alive, a movie that scared the life out of me as an eight-year-old, sitting in the very front row of our local movie house way back in '74. Unfortunately, it didn't live up to the my memories, and as for my eldest teen son, he bailed after ten uneventful minutes with a casual, "Lame," thrown over his shoulder. So truth be told, I didn't have high expectations for Cohen's A Return to Salem's Lot, which I'm pretty sure I saw on video when it came out...but of which I had zero memory. Not surprisingly, it wasn't really scary at all, but the notions and themes Cohen put out there were intriguing...if not entirely well thought-out.
Completely abandoning the characters and storyline from King's original book and the subsequent TV miniseries from director Tobe Hooper (one of my favorite King adaptations), Cohen takes King's notion of a New England town succumbing one by one to vampirism, and inverts into a New England town that has always been a hive for vampires, right along with the Pilgrims. And it's a promising framework for satire. If Cohen can't quite make the leap of fully lampooning starchy New England culture through these vampires (probably an irrelevant, out-of-date notion, anyway, by 1987), he has fun with individual scenes of New England soberness and propriety, like the Judge and his wife, played by Evelyn Keyes, primly and properly settling down into their own twin bed coffins, or the Judge proudly declaring that the town takes not a penny from the government, due to wise, centuries-long investing. Cohen's impish re-imagining of the vampires as decent, solid citizens who breed cattle for feeding...except every now and then when the Judge lets them have the human blood they really crave, is also quite amusing, giving a strange, light-hearted air to the early scenes leading up to the second half that you won't see in other low-budget horror films (I love it when Keyes states that the Judge calls her thirst for human blood a "drinking problem").
A Return to Salem's Lot's problem certainly isn't a lack of interesting ideas, with rebellious Cohen getting in riffs on everything from AIDs to the death penalty to 80s designer clothes. No, if anything, A Return to Salem's Lot has too many ideas for its own good, or rather, too many good ideas that lay underdeveloped or abandoned entirely. Chief among those is the introduction of Nazi hunter Sam Fuller. The last half of A Return to Salem's Lot is concerned with Fuller first bringing back Jeremy from the clutches of the seductive vampire culture, and then his efforts, with Joe, to destroy the town's vampires. Now, Fuller is a complete hoot as the Van Meer, and he juices the movie considerably when he shows up, with his Popeye-like grumblings and his surprisingly spry vampire-killing antics (Moriarty, a Cohen regular, is rather glum here). However, Cohen never really connects up the notions of Nazi-killer and vampire killer, making us concentrate instead on the silly coincidence of his showing up in 'Salem's Lot and then staying there. If Van Meer is there to "rescue" Joe's soul from amorality...why does Cohen go out of his way to make the vampires relatively "moral" and ethical? Where's the "battle," then? It's certainly a potent, funny visual to see the American flag used as a wooden stake to kill Duggan...but what, exactly, is Cohen saying here? Or satirizing? Or lampooning? Or commenting on? It's ironic or funny...why? We can guess what he's getting at―he's attacking old, staunch, starchy American culture, somehow, in the guise of the vampires?―but nothing jells because you begin to suspect that Cohen doesn't know here, either. Cohen is always interesting, and you welcome him bringing in ideas you don't normally see in a low-budge horror movie...you just start to wish he could organize it all a little better.
Organizing the basics of low-budget horror movie-making proves daunting for Cohen, as well. Granted, there's not much he can do when money is tight, so you can forgive the opening human sacrifice set, which looks like the other side of the lagoon on Gilligan's Island. However, why is the pacing so slow and...off here, and more importantly, why aren't the attack scenes scarier? The first attack on the visiting teens cruising through 'Salem's Lot is laughably inept, and it's compounded by the appearance of a completely silly-looking monster in the woods who is never properly explained in the context of the movie (it's supposed to be Duggan, right?). A Return to Salem's Lot should, before it does anything intellectual, scare you, and unfortunately, nothing's too scary here. Oh, there are maybe one or two scenes that pop, like the weird monster that tries to scrabble out of the coffin when Joe kills it, but overall, "fright" ain't first on A Return to Salem's Lot's list. Some see this as a virtue with Cohen, that he's willing to put thoughts and ideas first over genre conventions, but in my book, a horror can have all the ideas it wants in it...as long as it scares you, too. And A Return to Salem's Lot doesn't.
The DVD:
The Video:
The anamorphically enhanced, 1.85:1 widescreen transfer for A Return to Salem's Lot looks absolutely terrific, with deep, solid blacks and rich color, a super-sharp image, and little grain. Original elements look quite clean. No compression issues. Very nice.
The Audio:
The Dolby Digital English mono audio track is appropriately fat and loud, with little hiss and all dialogue heard cleanly. No subtitles available.
The Extras:
No extras for A Return to Salem's Lot.
Final Thoughts:
Too interesting to miss, but regrettably not very scary. Larry Cohen always has lots of intriguing ideas floating around his low-budget horror movies, but not enough of them are developed in A Return to Salem's Lot to make much of a dent against his slipshod construction and tame thrills. Certainly worth a rental for anyone interested in Cohen, though.
---
Paul Mavis is an internationally published film and television historian, a member of the Online Film Critics Society, and the author of The Espionage Filmography.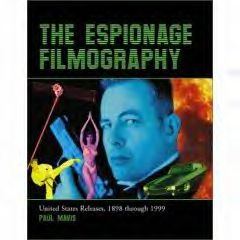 Sponsored Links
Sponsored Links