Alien Thunder (Dan Candy's Law)
List Price: $14.95 [Buy now and save at Amazon]
---
"You've become a hunter...with nothing to hunt."
Deliberate, off-beat Canadian Western, based on a true story. Scorpion Releasing, which has a knack for getting out quirky, forgotten titles, has released 1974's Alan Thunder...although in the attorneys-approved credit list on the back of the DVD case, the movie is referred to as the more macho Dan Candy's Law. Starring Canadian-born Donald Sutherland as a Mountie who'll never get his man, Alien Thunder also features Chief Dan George, Kevin McCarthy, and Gordon Tootoosis, battling each other in the inhospitable wastelands of Northern Saskatchewan. A new HD anamorphic widescreen master from the original camera negatives is touted here for this interesting Western.
The late 1800s, Northern Saskatchewan. Uptight, upright Sergeant Malcolm Grant (Kevin McCarthy) of the Royal Canadian Mounted Police, Northwest Field Force, has a job to do and he's going to do it, regardless of whether or not his kindly wife, Emilie (Francine Racette), thinks an actual crime has been committed. Cree tribe member Almighty Voice (Gordon Tootoosis), unable to feed his family, slaughters one of his own cows. The only problem? It's not really his cow, it's the Indian Agency's cow, and that means it's the Queen of England's cow, and a Cree Indian can't slaughter the Queen of England's cow without prior permission from the Mounties. So RCMP Inspector Brisebois (Jean Duceppe) wants an example made of Almighty Voice, sending Grant and his partner, wise-ass tale tale-teller, Sergeant Dan Candy (Donald Sutherland) to arrest him. While in custody, Candy decides to play a joke on Almighty Voice, telling him he's going to be hung in the morning, as per the new rules by the Queen. Almighty Voice, who apparently doesn't get Candy's smartass humor, takes the threat seriously and hightails it out of there...after which he blows away Grant when the Mountie comes after him. Now it's up to Candy to bring in Almighty Voice...but that's easier said than done, especially when Chief Sounding Sky (Chief Dan George) tells Candy he could become the hunted.
PLOT SPOILERS WARNING!
I'm not sure if I've ever seen a Canadian Western before, let alone the rather obscure Alien Thunder. There's very little info for it on the web, and the handful of reviews I read have very little good to say about it. The qualities those reviewers found irritating in Alien Thunder, however―the slow, deliberate pace, the lack of hard-charging action―I found quite interesting. About the only cinematic Mountie experience I have is with the marvelously square, fun Sergeant Preston of the Yukon and maybe Nelson Eddy, but Alien Thunder explores different territory, viewing its Mountie hero Sutherland in a relatively negative light (its depictions of the Native Indians is far less thorough or interesting, frankly), while succeeding best at capturing the mood and atmosphere of the stark, beautiful Northern Territories landscape.
Considering Sutherland's political activism at the time of Alien Thunder, it's not surprising he'd be attracted to this project. Alien Thunder's take on the Mounties' treatment of the Indians isn't exactly an attractive one, with Sutherland's seemingly good-natured, humorous Dan Candy shown finally to be a obsessed, racist, dangerously unbalanced individual. Taking into account Sutherland's previous humorous roles in The Dirty Dozen, Kelly's Heroes, and M*A*S*H, it's not difficult for the viewer to want to see him here as a comedic figure who will turn into a righteous, avenging angel when his friend is murdered. George Malko's screenplay has Dan laughing and joking at the start of the story, telling tall tales to his friend's son, and playing along with his Mountie friends outside Almighty Voice's cell. With Sutherland's natural comedic abilities, it sets the character up as essentially sympathetic, although the screenplay is subtle enough to show how his funny tale tales eventually lose their power to amuse. However, once we see the side effect his joke about hanging has on Almighty Voice―Grant is killed chasing down the man Candy scared into escaping―he quickly becomes an unstable central figure. His own superior wishes he could put him in front of a firing squad for what he did, and he soon becomes an embarrassment to his fellow Mounties with his compulsive search.
That obsession to bring in Almighty Voice―after all, that's the Mountie code: "We always get our man"―almost immediately backfires with Candy's own, and with the Cree Indians who impassively watch him breaking down. Emilie tells Dan he's going too far and that nothing will bring back Malcolm (he even ignores the overtures lovely Emilie makes to him at Christmastime, choosing to chase Almighty Voice rather than spending Christmas with her and her son), while Napoleon (Sarain Stump), an Indian guide for the Mounties, eventually thinks Dan crazy, hard-riding over the barren, wintry landscape in his wasted pursuit. And the more Candy's adversaries calmly take note of his failure to capture Almighty Voice, the more unbalanced he becomes, with his racism easily spilling out ("Stupid goddamned Indian....You red sonfabitch I'm gonna get you!"), and his judgment leaving him. When Almighty Voice begins to hunt Candy, his breakdown escalates. He leaves behind his duties with the Mounties to hunt Almighty Voice full time, and the screenplay then plays with our big-screen actioner expectations, showing us Candy waiting patiently outside the Cree tribe's tent, with the viewer thinking the movie is going to switch now in Candy's favor, with Candy becoming more savvy, more adept at hunting because he's playing by Almighty Voice's rules.
However, just the opposite happens: Candy loses against Almighty Voice, time and again. There's a beautifully-staged shoot-out between Candy and Almighty Voice, with director Claude Fournier's dispassionate camera placed high up on hill, looking down on Candy and Almighty Voice as they try to shoot each other over little barren valleys and hills, with Candy running off when he almost gets killed. Later, Almighty Voice almost burns up Candy in his cabin, with Candy, the last remnants of his civilized life gone as he escapes with only his horse and his life...and yet he laughs and hoots and hollers like he's won against the Indian. By the finale of the film, when Candy finally does manage to corner Almighty Voice in a isolated wood, the Mounties come blundering in and make a hash of it, killing off many of their own men in an ill-advised frontal assault against the well-concealed Indians, with Candy forcibly put off to the sideline, impotent to not only stop the carnage, but also to satisfy his obsession of "getting his man."
Unfortunately, there's no equally compelling characterization in the script for Almighty Voice. He, like the other Indians portrayed in the movie, have little to do but move implacably through the set-ups, giving rise yet again to another Western where the cardboard Indian characters are assumed to be unassailably noble and preternaturally calm in the face of adversity. We respond to the story's implications about relations between the RCMP and the Indians, but it doesn't really resonate on a larger level because we never get to "know" the Indians. That leaves a lot of Alien Thunder's burden on Sutherland's role for viewer interest, unbalancing the film and ultimately leaving the viewer feeling that something is missing in the story: it's hard to feel the true weight of Sutherland's obsession if the object of that obsession is a cipher. Luckily, director and cinematographer Claude Fournier compensates somewhat by showing the landscape as not an adversary of Sutherland's, but rather an impassive observer of his futile efforts. Shooting Saskatchewan's vast, bleak vistas, beautiful in their starkness, Fournier isolates Sutherland in the frames, showing his impotence against the Indians who move fluidly among the cover. That slow, meditative feel of Alien Thunder turns out to be one of its best elements, giving us time to soak in the forbidding ambiance of this unfamiliar terrain, as Sutherland slowly goes mad.
The DVD:
The Video:
Heralded on the cover as a new HD transfer from the original camera negatives, Alien Thunder's anamorphically-enhanced, 2.35:1 transfer looks quite good, with whispery, gauzy color effects, a sharp picture, and no compression issues to speak of. It's not a perfect image―dirt and some fading did pop up―but it's still impressive on a big monitor.
The Audio:
The Dolby Digital split English mono track is crisp and clean, with low fluctuation levels and some hiss. No subtitles available.
The Extras:
Some fun vintage trailers from upcoming Scorpion releases are included...although none for Alien Thunder.
Final Thoughts:
Not without faults, particularly when it comes to the Native Indian characters, but an interesting Canadian Western, all the same. Donald Sutherland gets to play a Mountie who doesn't get his man, going into the deep end of his obsession over finding his friend's killer, while director/cinematographer Claude Fournier creates, to good effect, a slow, deliberate pace amid the stunning, bleak Saskatchewan landscapes. I'm recommending Alien Thunder.
---
Paul Mavis is an internationally published film and television historian, a member of the Online Film Critics Society, and the author of The Espionage Filmography.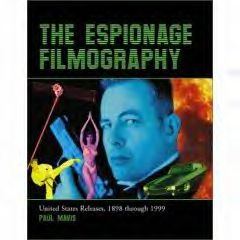 ---
C O N T E N T

---
V I D E O

---
A U D I O

---
E X T R A S

---
R E P L A Y

---
A D V I C E
Recommended
---
E - M A I L
this review to a friend
Sponsored Links
Sponsored Links