List Price: $19.98 [Buy now and save at Amazon]
---
Interesting, well-acted Rashomon knock-off. M-G-M's own M.O.D. (manufactured on demand) service, the Limited Edition Collection, has released Valerie, the 1957 Western courtroom drama from United Artists, starring Sterling Hayden, Anita Ekberg, and Anthony Steel. Directed with a steady, sure hand by Gerd Oswald, Valerie doesn't break any new ground within the flashback Western subgenre, but intriguing subtexts give this low-budget affair some spark. No extras for this okay transfer.
In the small western town of Limerock, Civil War veteran and town hero John Garth (Sterling Hayden), with his faithful ranch hand Mingo (Jerry Barclay) by his side, enters his father-in-law Louis Horvat's (John Wengraf) home and blasts away, killing Louis, his wife Lili (Iphigenie Catiglioni), a deputy sheriff, and wounding Garth's wife, the voluptuous, blonde Valerie (Anita Ekberg). Arrested for murder, Garth is put on trial, with his chief nemesis, Reverend Steven Blake (Anthony Steel), called back to town to testify against him. This situation causes intense interest among the citizens of Limerock―since the townspeople believe Garth was justified in shooting Valerie...whom they believe was having an affair with the incredibly handsome Reverend. On the stand, the Reverend tells his story, testifying that Valerie contacted him several times for help, but stood silent whenever confronted by the caring Reverend and the increasingly jealous Garth. Garth then testifies, seeing the story through the eyes of a wronged, cuckolded husband, with not only the Reverend a willing responder to Valerie's sluttish come-ons, but also Garth's ne'er-do-well brother, Herb (Peter Walker). And finally from her hospital bed, gravely wounded Valerie tells her side of the story, one where Garth is psychotically jealous of her, utilizing his talents of brutal interrogation learned during the War, to pry spurious admissions of guilt out of her. Who, then, is telling the real truth?
MAJOR SPOILERS ALERT!
I hadn't heard of or read about Valerie prior to receiving this disc, but I've always enjoyed Hayden's oddly-rhythmed anti-hero portrayals, and director Gerd Oswald usually could be counted on to deliver at the very least a solidly-crafted product (when he wasn't coming up with the odd genuine work of art, like the mesmerizing A Kiss Before Dying). Watching the low-budget, chamber piece-Western Valerie (it takes place on just a couple of sets, mostly interior, with no attempt for the expected Western pictorial sprawl), one pretty much assumes that screenwriters Laurence Heath, working here as Leonard Heideman (television's The Invaders, Mission: Impossible, Murder, She Wrote, Jacqueline Susann's Valley of the Dolls) and Emmett Murphy had to have seen Kurosawa's 1951 Rashomon at some point, considering the obvious parallels here. And while the screenwriters and director Oswald largely eschew Kurosawa's focus on the chimerical nature of "truth" in alternate viewpoints and realities, going instead for a conventional mystery/whodunit framework that concretely answers the question about Valerie's supposed "sin," it's a structure that works well here despite its more limited goals.
Broken down into three parts, corresponding to the three courtroom testimonials by the lead actors, this framework also gives the performers a chance to stretch a bit, allowing them three different reads on their characters. Popular British matinee heartthrob Steel, who moved to Hollywood with his wife Ekberg (only to fail completely in crossing over like fellow U.K. idol James Mason), is the least successful here in delineating the necessary changes to his character to convey the alternate storylines. Entirely too soft-spoken and genteel (perhaps thrown by the religious nature of his role?), Steel fails to make much of an impression outside of his dreamy good looks. As the pious, helpful reverend, he's pretty much a stiff, and when he's asked to be the seducing reverend...he can't seem to summon up any heat for his achingly beautiful real-life wife, Ekberg―a failure which isn't so much a verdict on his acting skills but rather an indication that perhaps he's clinically dead.
As for Ekberg, I've always found her a perfectly acceptable actress...whenever I snapped out of looking at her gorgeous face and body. Here, director Oswald engages in a few fetish-worthy moments for the 1950s pin-up crowd, including her first introduction on screen: the most erotically-attractive mortally wounded woman you'd ever likely see, with her full, ripe body supine over a chair, her magnificent breasts attractively key-lighted, and her heavy blonde tresses cascading down to the floor (I feel faint...). Mostly, though, Ekberg is covered up here, with Oswald asking her more for acting skills rather than her overwhelming physicality. The result is that she pulls off the character nicely, having a few good scenes of being terrorized by Hayden, as well as some memorably sluttish moments with Walker. 1957 was probably right past the cusp of her peak influence in Hollywood, with bigger-budgeted titles like Frank Tashlin's Artists and Models and Hollywood or Bust, and King Vidor's epic War and Peace, behind her, and lower-budgeted affairs like Interpol, Paris Holiday, and Valerie awaiting her, before she achieved true iconic status with Fellini's La Dolce Vita. It's too bad she couldn't have parlayed her notoriety into better roles that showcased her acting chops.
Valerie was one of six movies Sterling Hayden had in release in 1957 (Zero Hour! is probably the best known of that group), proving that he must have had some kind of fan base that ensured his continued bankability in modestly-budgeted programmer fare. And as usual, his intense combination of quirky, sometimes even squirrelly line readings and emoting, and a barely-suppressed violence within his threatening 6′ 5″ frame, helps make him a truly unique Western performer. He's at his best in the final act of Valerie, where he lets loose with a sick, mean portrayal of a murderously jealous husband who enjoys smacking around his wife (Oswald helpfully dollies in so we can see Hayden smiling), and putting out cigars on her back, a technique that no doubt showed up in the book he wrote about his Civil War interrogation/torture techniques (Hayden is excellent in this scene were he manhandles a terrified Ekberg, discussing his role in the Union Army, letting the viewer guess whether he agonizes over his deeds...or enjoys the memories). Hayden brings a real sense of sadistic thuggery to these scenes, giving the thematically-interesting Valerie a jolt that Oswald and the scripters see through to the enjoyable finale, where Oswald stages (quite well) a quick, violent conclusion that plays like a twist...but which makes satisfying sense when you realize where the movie was going all along.
The DVD:
The Video:
With no widescreen process credited at the beginning of Valerie, one would assume that by 1957, even a low-budget programmer like this was projected from an open matte to at least 1.66:1. I cropped this full-frame, 1.33:1 black and white transfer to 1.78:1, which looked too tight and which blew out an otherwise medium-sharp, relatively clean (grain but perhaps a tad dark) full-screen picture, so...you may want to enjoy the full screen here.
The Audio:
The Dolby Digital English mono audio track is clean enough, with little hiss and a steady re-recording line. No subtitles or close-captions available.
The Extras:
No extras for Valerie.
Final Thoughts:
Not as thematically deep as its inspiration, Rashomon, but still rather interesting and naturally from director Gerd Oswald, technically quite solid. Sterling Hayden gives another off-beat tough-guy performance, while Anita Ekberg is nicely effective as either the devoted wife...or the slutty whore. Only the tepid Anthony Steel throws off this triangle's balance. I'm highly recommending Valerie.
---
Paul Mavis is an internationally published film and television historian, a member of the Online Film Critics Society, and the author of The Espionage Filmography.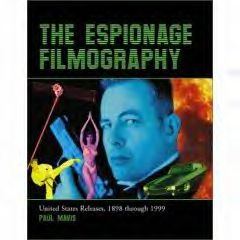 ---
C O N T E N T

---
V I D E O

---
A U D I O

---
E X T R A S

---
R E P L A Y

---
A D V I C E
Recommended
---
E - M A I L
this review to a friend
Sponsored Links
Sponsored Links