List Price: $19.98 [Buy now and save at Amazon]
---
Solid meat-and-potatoes oater with a good cast and a refreshing no b.s. attitude towards its tale of battling Whites and Indians. M-G-M's own M.O.D. (manufactured on demand) line of little-seen library titles has released War Paint, the 1953 Western from United Artists starring Robert Stack, Joan Taylor, Charles McGraw, Peter Graves, and Keith Larsen. Similarities to The Lost Patrol aside, War Paint sets up its situation―a U.S. Cavalry patrol dying out in the desert at the hands of a "helpful" Indian guide―with a no-nonsense straightness that's as hard and clean as the movie's beautiful Death Valley, California locales. A vintage trailer is included in this so-so transfer.
War drums are beating across Death Valley. A new treaty has been struck between the U.S. government and the Indian chief, Gray Cloud. Lieutenant Billings (Robert Stack), bringing in his tired, pissed-off men from patrol into Fort Kirk for some R &R, is stopped midway by Trooper Grady (Robert Wilke), who brings a message: Billings is to turn around and deliver the new treaty to Commissioner Kirby (Richard Cutting) at a nearby trading post. There, Kirby will set off to Gray Cloud's village and present the treaty before the nine-day deadline...or else war will commence. There's only one problem: Billings doesn't know that Kirby was already killed by Gray Cloud's renegade son, Taslik (Keith Larsen), who refuses to believe that the Whites will honor the treaty. Offering his services as a guide for the men, Taslik begins to "dry out" the patrol as he sabotages their supplies, leading them in circles out in the desert, while his sister, Wanima (Joan Taylor), secretly brings him water at night. As time grows shorter for the treaty deadline, Billings has not only Taslik's treachery to contend with, but also mutiny among the ranks from head troublemaker Trooper Tolson (Peter Graves), who's been itching to seize his "big moment."
MAJOR SPOILERS WARNING
War Paint was one of six movies prolific director Lesley Selander had in release in 1953 (take that, Spielberg), and it holds up today as a typical example of his clean, anonymous, efficient storytelling. That kind of self-effacing moviemaking has been forever relegated to the backburner of "film criticism" (yeech) ever since the auteur theory ascended...which is a shame since Selander usually delivered an entertaining, well-constructed product with almost monotonous regularity. Why should competent work like that be arbitrarily classed as "second best?" Of course, the qualifiers in that comparisons are "art" versus "product," but isn't there something "artful" in the way Selander puts together such an efficient, suspenseful, action-packed little package (and around we go again―isn't this how the auteur thing started in the first place?)?
War Paint doesn't achieve the elegiac or epic qualities of say, a Ford Western, nor the quirky inter-relationship rhythms of a Hawks Western, nor the psychological tension of a Mann Western...but it does tell a simple, well-grounded story in a straightforward, energetic, entertaining, suspenseful manner. So what more do you want from a Western? Working from a tight script by Richard Alan Simmons (Beachhead, Female on the Beach, The King and Four Queens) and Martin Berkeley (Tarantula, the terrific Trooper Hook), Selander doesn't waste any time getting to the main action, which is setting his troopers out into the desert to fry. After a tough, pitiless opening, where Taslik and Wanima kill and scalp Kirby and another man, War Paint drives on with little if any fat. Stack's character isn't terribly original, by any means, but it's interesting in terms of stock Western stereotypes that this hard taskmaster is shown to be generally disliked by his men, while he suffers troubles in his homelife, as well (his wife has gone back East, and she won't be returning...while Stack has failed to put in for a transfer, yet). The troopers under his command aren't wholly original characters, either, but again, it's refreshing to see them portrayed as regular grunts encompassing diverse attitudes, from by-the-book loyalty (Charles McGraw's character), to concerned family man (Paul Richards), to smartassed "regulars" (Walter Reed and Douglas Kennedy), to opportunistic traitor (Peter Graves). "Patriotism" for their "cause"―whatever that cause may be―is never mentioned here.
Westerns from this time period that involve the clash between White and Native American cultures are invariably found "wanting" by many modern critics who demand sterile P.C. amelioration or else, but War Paint yet again shows this to be a frustratingly narrow generalization. On the contrary, War Paint is quite fair in its presentation of both sides' views. Even though the movie lets us know right away that the troopers are being duped by Taslik and later Wanima, it doesn't ask us to hate the Indians for their actions. When a trooper questions Taslik's wearing of war paint, he quite rightly questions their wearing uniforms: "war clothes." When Wanima hears Billings' platitudes about peace coming with the new treaty, she throws back at him all the times the Whites broke previous treaties―a charge he can't answer. When he accuses her of being pitiless (after she killed Kennedy, an act we're again not asked to hold against her since she lives at the end of the film without punishment), she tells him she learned all she needed to know about pity from the White schools and later at the hands of soldiers who, it's implied, raped her. Tellingly, War Paint isn't lopsided in its depiction of this often brutal culture clash: Wanima tells Billings that her people were once great conquerors, too, and that they made "peace," just like the U.S. Calvary, only on their terms, with war still in their hearts (it's unlikely you'll hear anything that negative about Indians in a modern Western today).
Even better, when Wanima finally makes the decision to support Billings against his own traitors, it's not because she magically believes that peace will now come with the treaty (she makes a point of stating that clearly), but rather because she believes in Billings himself, in his dedication to his mission. She sees him as an equal, if you will, and he takes her the same way. All along, she was trying to kill him and his men, and once she was captured by Billings, even though he kept her alive to prove to Gray Cloud he wanted peace, Billings was willing to put out her eyes with matches if she didn't lead them to water (she caves...only to stick it to the troopers again). If the fast-moving, grim little actioner War Paint has any kind of message at all...besides the pleasure derived from a hard-edged, suspenseful Western, it's that this kind of war of attrition has no winners (symbolized by Billings admitting he's sick of all the killing, on both sides), but that the attempt at peace, even if it's doomed, is still a worthwhile goal.
The DVD:
The Video:
The print used for the full-screen, 1.33:1 video transfer for War Paint has quite a few scratches on it, along with sizeable grain. I'm assuming the original Pathecolor® popped a little bit more than here, where the values are acceptable but not outstanding (lost of color shifts). Image is reasonably sharp.
The Audio:
The Dolby Digital English split mono is just fine, here, with a loud re-recording level and some hiss. No close-captions or subtitles.
The Extras:
A vintage trailer is included here for War Paint.
Final Thoughts:
Fast-moving, intelligent, action-filled Western from "non-auteur" Lesley Selander. Of course it's not The Lost Patrol or The Searchers or Rio Bravo, and it may not be "art" to some critics, but I'd take Selander's sharp little War Paint any day over a failed exercise from Ford or Hawks or Mann. I'm highly recommending War Paint for Western enthusiasts.
---
Paul Mavis is an internationally published film and television historian, a member of the Online Film Critics Society, and the author of The Espionage Filmography.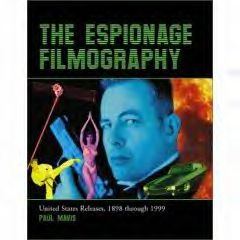 ---
C O N T E N T

---
V I D E O

---
A U D I O

---
E X T R A S

---
R E P L A Y

---
A D V I C E
Highly Recommended
---
E - M A I L
this review to a friend
Sponsored Links
Sponsored Links