List Price: $19.98 [Buy now and save at Amazon]
---
A truly terrible WWII actioner...that you know you want to see (if just for the jockstrap alone). M-G-M's own M.O.D. (manufactured on demand) program of hard-to-find library titles, the Limited Edition Collection, has released The Passage, the 1979 Hemdale production, released by United Artists here in the States, starring Anthony Quinn, Malcolm McDowell, James Mason, Patricia Neal, Christopher Lee, Michael Lonsdale, and Kay Lenz (her name is in its own separate "box" in the credits...whoopee!). Anyone lucky enough (like myself) to have seen The Passage the way it was meant to be seen―in a completely abandoned theater―will tell you it's one of the most gloriously bad WWII thrillers ever made...which makes it must viewing for anyone who craves awful moviemaking. An original trailer is included in this okay transfer.
The Pyrenées mountain range, separating France and Spain, during the dark days of WWII. Basque sheepherder Anthony Quinn (known only as "The Basque" in the credits) is approached by Résistance operative Alain Renoudot (Michael Lonsdale) at "The Basque's" lonely mountain barn, with a proposition: guide American scientist Professor John Bergson (James Mason) across "the passage" from France into neutral Spain, before the Nazis pick him and use him for their own war-making purposes. "The Basque" wants nothing to do with this trouble, but eventually he's prevailed upon to give up just four days for the mission (his unattended sheep would die after that), but to his shock, when he meets up with Bergson, he realizes he has to get out the Professor's entire family: willful, beautiful daughter Leah (Kay Lenz), ticked-off, ungrateful young son Paul (Paul Bergson), and frail, sickly wife Ariel (Patricia Neal). Complicating matters is the fact that the pursuing Nazis are led by completely insane SS officer Captain Von Berkow (Malcolm McDowell), a sadistic rapist and torturer who will stop at nothing to bag his quarry.
MAJOR SPOILERS ALERT!
As a movie-crazy kid, I knew all about The Passage by the time it came to my local movie house back in 1979, and I wasn't disappointed for a second at how awful it was. At 13-years-old, if it was a (relatively) big-budgeted, international co-production, I was already up for it (I count four producing companies listed on the back of DVD cover alone). But add in WWII as a back-drop, with the potential for explosions and espionage and name actors picking up a pay check with one hand while holding their noses with the other, and I was pre-sold (think anything from Sir Lew Grade). Back in '79, when the general media hadn't quite crossed over into obsessing about the minute details of the film industry on a level seen today (where my 10-year-old can actually quote back to me the weekend gross of a film―her proof that it's a good movie), The Passage still garnered quite a bit of ink for being a world-wide dud, universally hated by the critics, and for McDowall's truly hilarious performance. Even though almost everything in The Passage is wrong-headed, apparently the sight of McDowell whipping off his clothes to reveal a jockstrap with a swastika on it (granted: completely tame by today's standards) galvanized the critics to seize on it as the primary visual symbol of the film's bad taste, and they ran with it.
Of course The Passage is horrible for many other reasons...but the jockstrap, if you want to pick something representative from the movie, is just the kind of inexplicable lapse in judgment I find so endearing in big-budget bad moviemaking (which is way more fun than low-budget bad moviemaking, which usually has mitigating factors that temper the fun, like amateur inexperience or no money). How could I possibly rate a movie like The Passage as a "Skip It," when it's that bad? Isn't achieving complete ineptitude, perversely, a sign of "success," as well? Moviemaking isn't just about the successes, it's about the failures, too (and there are a lot more of latter than the former), and those terrible misfires can be enjoyed just as much as the stuff that's supposedly "good" for you. You say Citizen Kane is the greatest movie ever made, and that if it's on you should watch it―fine. I say, "Where's the swastika jockstrap in it?" There aren't any in Citizen Kane? Then it can wait―The Passage is on.
You could spend hours picking apart the big and small errors that plague The Passage. Like the silly opening credits that play like Where Eagles Daren't (producer Maurice Binder, of James Bond title-sequence fame, couldn't come up with a better opening sequence and credits than those?). Or how about how Kay Lenz, who's supposed to be an American speaking English, fools McDowell into thinking she's a gypsy speaking Romany...that sounds exactly like English? Or how about the notorious rape scene, which is weirdly shot and lit like a romantic scene, while aiming for puerile, tasteless Nazi sex crime titillation like those men's adventure magazines from the 1950s ("I Was a Dachau Sex Slave!" by anonymous)? And how did Quinn first arrive at the hotel to rescue Lenz after the assault...and how did they escape the apparently guarded hotel (they're in the room and then poof! they're on the mountain). Or how about Quinn's magical binoculars that give us not the viewpoint of a man standing on the side of a mountain, but from a moving helicopter? Or the ridiculously drawn-out finale, where survivor-of-outtakes-from-On Her Majesty's Secret Service's-avalanche-sequence McDowell shows up at Quinn's cabin and we're treated to multiple versions of his final moments, where he's killing them, and then they're killing him, in a hodgepodge of pointless montage that doesn't equal modernist refraction so much as the "Everything-but-the-kitchen-sink-school-of-editing-by-Cuisinart®?" (the best part of this is the final humiliation for the cast as each one is "shot" in the face with bucket-blasts of strawberry jam).
What's truly remarkable about The Passage is how much it doesn't feel like a "men on a mission" journey of any kind; individual scenes play out, but we don't feel they are even remotely connected. There's no sense of place, or geography (even the location work is blah), and certainly no resulting suspense (the sparse action is tepid, at best―certainly the worst crime a WWII thriller can commit). How is it possible that this mess, scripted by one-shot wonder Bruce Nicolaysen from his novel, was directed by J. Lee Thompson, the same man who gave us bona fide masterpieces of suspense like The Guns of Navarone and Cape Fear? True, by 1979, the once-promising director had fallen pretty far down the rung of international film directors; with fun, entertaining flicks like Return From the Ashes, or Eye of the Devil, or Mackenna's Gold, or Conquest of the Planet of the Apes, giving way to junk like The White Buffalo, St. Ives, and The Greek Tycoon (with stellar crap like Happy Birthday to Me and Caboblanco yet to come...). But how could his skills have been so diminished by this point that even within the individual scenes, a tentative, hesitant vagueness dominates?
As for the performances, well...what performances? Neal at least looks the part of someone genuinely ill (if anyone gets any credit in this mess, it's her), Lenz stares off into space, Lee gets in and out without making so much as a dent, Lonsdale looks embarrassed―which is some feat next to Mason, who looks positively chagrined (it's expensive living in Switzerland; gotta keep picking up those checks)―and Quinn isn't even given a name for his character, let alone any background or motivation for doing what he does (how about just one line explaining why a Basque wouldn't want to get involved? Just one). Seeing his bored, expressionless face here in The Passage is the very definition of an actor phoning it in for the tax man; he just isn't "there." Too bad the same thing couldn't be said for McDowell, who steals the show for all the wrong reasons. Didn't anyone think of reigning him in here (by the way: was it contractually obligated that McDowell got to show off his naked ass in seemingly every picture he made back then)? He plays his milk-drinking SS officer as if he were still in out-of-town try-outs for the road show version of A Clockwork Orange. This isn't over-the-top camp, this is outer space, for god's sake. When he says, "Chop, chop!" over and over again before mincing up Lonsdale's fingers, or when he jauntily calls, "Hey, catch!" as he throws a German potato-masher at a victim, flipping backwards off a boulder like Bugs Bunny, or when he puts a comb up to his lip and imitates Hitler, it's impossible not to shake your head in disbelief at how off-key his performance is. With his slouch fedora and cigarette holder (Marlene Dietrich didn't look half that good with the same outfit), and his bright, crazy eyes already set to "10," it's a toss-up as to whether he was purposefully trying to sabotage the picture with a comedic performance...or the director and actor honestly thought he was putting in a legitimate turn. All of this adds up to moviemaking on a colossally stupid level...and The Passage is all the more delicious for that.
The DVD:
The Video:
The anamorphically-enhanced, 2.35:1 widescreen transfer for The Passage looks okay, with decent-enough color, a bit of shimmer here and there, a semi-sharp image (the gauzy look from time to time is part of the original cinematography), and only minor print damage.
The Audio:
The Dolby Digital English split mono audio track is loud enough, with little hiss. No subtitles or close-captions available.
The Extras:
An original trailer for The Passage is included (it didn't sell me).
Final Thoughts:
Numbskulled WWII heroics, all in delicious bad taste. The Passage is notorious with WWII genre aficionados for blowing its potential (great cast, good story idea, decent budget), but if you enjoy bad moviemaking, it's a joy to behold. The Passage is absolutely rotten, through and through...and that's why I'm highly recommending it.
---
Paul Mavis is an internationally published film and television historian, a member of the Online Film Critics Society, and the author of The Espionage Filmography.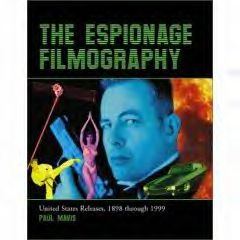 ---
C O N T E N T

---
V I D E O

---
A U D I O

---
E X T R A S

---
R E P L A Y

---
A D V I C E
Highly Recommended
---
E - M A I L
this review to a friend
Sponsored Links
Sponsored Links