List Price: $19.98 [Buy now and save at Mgm]
---
Rather goofy, simplistic retread of elements from The Searchers, with a paralyzingly funny lead turn by Alex Cord (which helps make it all enjoyable, nonetheless). M-G-M's own M.O.D. (manufactured on demand) program of hard-to-find library titles, the Limited Edition Collection, has released Grayeagle, the 1977 Western from American International Pictures, directed by none other than The Legend of Boggy Creek's Charles B. Pierce, and starring Academy Award-winning actor Ben Johnson, Lana "Plenty O'Toole" Wood, Sicilian-American actor Iron Eyes Cody, Paul Fix, Charles B. Pierce himself, and Alex Cord as Grayeagle. You can chalk up some of Grayeagle's problems to what I suspect was significant post-production tampering...but it still had of lot of problems right from the get-go―problems that perversely make it quite entertaining in this okay transfer.
The Montana Territory, 1848. Cheyenne chief Running Wolf (Paul Fix), realizing the Indians' days are numbered, prays to The Great Spirit for brave Grayeagle (Alex Cord) to fulfill his final dream: bringing voluptuous frontier girl Beth Colter (Lana Wood) by force to his camp (I have had that same dream many times, Running Wolf...). As Grayeagle stalks Beth's sod-and-log cabin at a distance, Beth's father, John Colter (Ben Johnson), and his faithful Indian companion, Standing Bear (Iron Eyes Cody), try to flush out Grayeagle, but he slips in the backdoor and snatches Beth, and their journey together begins. John vows vengeance against Grayeagle, and takes off with Standing Bear in hot pursuit, enlisting the aid of squirrelly Trapper Willis (Jack Elam) as a guide and mediator. The men's mission is complicated by the arrival of Shoshone rival Scar (Jacob Daniels), who wants Beth for himself, and Old Bugler (Charles B. Pierce), a murderous, 'teeched in the head fur trapper.
MAJOR PLOT SPOILERS WARNING
To be honest, I wasn't so much interested in Grayeagle's merits as a movie in and of itself, as I was at the prospect of this M-G-M Limited Edition Collection edition possibly spurring on the release of director Charles B. Pierce's The Legend of Boggy Creek and The Town That Dreaded Sundown, two legendary drive-in/Saturday matinee classics that truly deserve decent widescreen DVD transfers like Grayeagle's. I'm pretty sure I saw Grayeagle on cable way back in the 80s, with the only elements sticking in my memory being Cord's and Pierce's ridiculous performances. Watching it now, I'm happy to report both Cord and Pierce are still awful, with the added pleasure of re-experiencing how bad Wood is, too...while Johnson maintains his dignity, as usual.
Traditional Westerns, big and small budgeted, were getting more and more scarce by 1977, so it wasn't surprising that AIP would try and market Grayeagle closer in line with the then-popular cycle of "adventure/nature" family films, like the Wilderness Family movies and Frontier Freemont/Grizzly Adams, by emphasizing the romance and the PG-rating as opposed to any suggestion of violence (a PG-rating certainly wasn't going to appeal to the already dwindling hardcore drive-in audiences who expected gunplay and sex from an AIP release). What or how much of Grayeagle was trimmed for general release is hard to say; you can certainly see the hatchet-like cuts around Lana Wood's topless bathing sequence (a half-second of side boobage before Arkoff cuts to the PG-rating, the stupid bastard). However, its choppy, scattershot construction seems to indicate that there either was trouble with the shooting script right from the beginning...or matters were taken out of Pierce's hands after the movie was delivered for post.
Dealing, then, with what is left on the screen, Grayeagle isn't an uninteresting attempt to borrow elements of Ford's The Searchers, with scripters Pierce, Brad White, and Michael O. Sajbel fashioning an often-times predictable but solid storyline involving Wood's "capture" by Cord, and how the couple are pursued by Johnson, Cody, and Elam. When it's gradually revealed that Cord's actions aren't a kidnapping-for-rape scenario, as the Western audience has been conditioned to expect, but rather a mission of respect on Grayeagle's part to bring Running Wolf's secret daughter for the chief to see a first and last time before he dies, Pierce has the framework in place to perhaps make some meaningful comments on how American Westerns have portrayed similar set-ups. However, Pierce's storytelling technique is far too simplistic (and even childlike at times) to have much on its mind other than moving from point A to point B in the story, with commentary left to the more adventurous directors. Indeed, Pierce doesn't even address two of the most potentially intriguing subtexts of the story: Johnson's misguided, unfounded rage at Grayeagle for kidnapping his daughter, or Johnson's wife's infidelity with Running Wolf. Had the movie explored these interesting themes on even a cursory level, Grayeagle might have had some heft to it (and Pierce completely shies away from looking at Wood's and Cord's "romance" and its cross-racial implications)
That childlike minimalism of Pierce's does however lend itself to keeping the simplified story moving along, so Grayeagle can be enjoyed on the most basic level of Western storytelling. Certainly, Pierce's technique is all over the place; you never know if a particular scene is going to work or fall completely apart. The action sequence where Grayeagle faces off against Scar goes horribly wrong right out of the gate, stretching out forever with Pierce's overused Peckinpah slow motion as ungodly screams, without variation, are heard ceaselessly on the soundtrack (you laugh at the screen at first...and then you look for a pistol, Elvis-style). But then, Pierce pieces together a fine, suspenseful scene of first Elam and then Johnson enduring a cowardly, brutal Shoshone test of courage to win their freedom. A scene where Johnson prays over Elam's grave is beautifully simple and honest in Pierce's approach...but prior to that, Pierce goes the lowest common denominator route to get audience sympathy: he kills a dog (and then makes the situation ludicrous by personally delivering a hammy line over the act). Technical problems crop up as well, particularly shots matching for light (the funniest one is the introduction of Grayeagle against a spectacular fading sunset...as the camera cuts back and forth with Johnson and company in bright blue morning sunlight), but the framing is nice, with a primitive plainness in the widescreen compositions that felt right for the material (also cool to see the shots of the once world-famous Frontier Town attraction in Helena, Montana).
Where Grayeagle really steps over into mostly welcome parody ("welcome" because everything else in Grayeagle is so pedestrian after awhile) is in the casting and performances. It had to tickle someone's funny bone that Lana Wood, who made her debut in The Searchers, was hired for this semi-rehash of Ford's story. Unfortunately, the laughs don't stop there, because as an actress...Lana Wood has some very large breasts. To her credit, one or two times here it looks like she might have had a shot at a passable performance, had a more talented director been able to wrench it out of her. Instead, she mangles the simplest lines, screeching and freaking out with ungodly regularity, while failing to create even a semblance of a romantic/sexual undercurrent for Cord. Director Pierce, doing double duty as one of the supporting players, tops her, though, overacting to the point of insanity (not his, but yours), frothing and foaming and squeezing up his eyes while giggling hysterically in an approximation not of mental illness but rather an advanced case of rabies.
Good actor Alex Cord, however, fares the worst―a mind-boggling proposition when his baseline is Wood's and Pierce's turns here. Seriously: didn't anyone on this production step aside and warn Pierce that Cord was making a complete fool of himself? Sounding like Jay Silverheel's Tonto character as channeled by Bela Lugosi, Cord gives the single worst cigar store Indian impersonation in a Western I have ever seen―and I'm taking into account Howard Keel in The War Wagon and Don Knotts as an Indian maid in The Shakiest Gun in the West. This is how a Cheyenne warrior talks? Doing a 180° just for the sake of the argument, are you telling me there wasn't one Indian in the Old West who spoke like, say...Charles Nelson Riley? You say that's silly? Well, that would have been a brave choice on Cord's part compared to his grunting as if Grayeagle hadn't gone to the teepee latrine in many, many moons, never mind his borderline drag queen makeup (all painted up and powered down) and his thinly-pursed lips like he just bit into a sour persimmon. Lifting his nose high into the air and scowling like some peeved Clifton Webb-on-the-range, only to sonorously ugh-ugh his way through the stilted pigeon-English dialogue, Cord is the absolute height of mixed signals and unintentional hilarity here, putting the sometimes clunky Grayeagle firmly over into (I hate that word but it fits) camp heaven.
The DVD:
The Video:
The anamorphically enhanced, 2.35:1 widescreen transfer for Grayeagle sports quite a bit of print damage from the original materials used here (lots of scratches and dirt), but that's mostly at the head of the film; it cools out as it goes along, leaving a fairly good image, with solid color and a sharpish picture.
The Audio:
The Dolby Digital English split mono audio track is serviceable, as usual with these M-G-M M.O.D.s, with a decent re-recording level and little hiss. No subtitles or close-captions are available.
The Extras:
No extras for Grayeagle.
Final Thoughts:
Simply divine whenever Alex Cord sniffs the wind before constipation strangles off his few hilarious lines. Inbetween, you can enjoy Lana Wood almost getting naked and always blowing her lines, director Charles B. Pierce making a rabid dog look self-possessed, and Ben Johnson doing what he always does: good, solid, honest work. Perhaps under a different director, Grayeagle may have had potential, but as is, it's a botched job whose faults are undeniably fun. I'm highly recommending Grayeagle for Western completists and for lovers of bad, bad acting.
---
Paul Mavis is an internationally published film and television historian, a member of the Online Film Critics Society, and the author of The Espionage Filmography.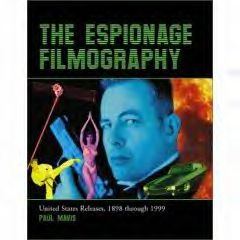 ---
C O N T E N T

---
V I D E O

---
A U D I O

---
E X T R A S

---
R E P L A Y

---
A D V I C E
Highly Recommended
---
E - M A I L
this review to a friend
Sponsored Links
Sponsored Links