List Price: $26.99 [Buy now and save at Amazon]
---
"I'm a doll and you know it!"
A charming little Christmas present for your stocking. Warner Bros.' ever-expanding library of hard-to-find M.O.D. (manufactured on demand) titles has released the delightful Susan Slept Here, the 1954 Frank Tashlin-directed romantic comedy from RKO starring Dick Powell (in his last film role), spunky Debbie Reynolds, sultry Anne Francis, and sour Glenda Farrell. A cute "will she or won't she" sex comedy with the added spice of jail bait danger, Susan Slept Here's clever, bouncy script pushes its credibility from minute one―and that's just the way we like our screwball romantic comedies: illogical. An original trailer is included in this gorgeous, eye-popping widescreen Technicolor® transfer.
Academy Award-winning screenwriter Mark Christopher (Dick Powell), according to his very own Oscar® statuette, was in a "rut" at his Hollywood studio. As Oscar® narrates it, Mark became so good at writing frothy comedies that his bosses didn't want to see anything else from him, so he packed his bags and left for the solitude of his swank Hollywood apartment, intent on writing a serious drama. His secretary, Maude Snodgrass (Glenda Farrell), however, sums up his work since then, thusly: it stinks. Even Mark's Navy buddy, Virgil (Alvy Moore), "working" as Mark's assistant, knows that this Christmas may be the last one on the rapidly-slowing Christopher gravy train. Mark's life is about to be drastically altered, though, with the Christmas Eve arrival of Sergeants Sam Hanlon (Herb Vigran) and Monty Maizel (Horace McMahon) of the Los Angeles Police Department. Hanlon, who worked as a consultant for one of Mark's previous pictures, remembered that Mark wanted to do a script on juvenile delinquents, but he had never met any. Problem solved: Hanlon, not wanting bratty 17-year-old vagrant Susan Beauregard Landis (Debbie Reynolds) to spend the holidays in the jug, decides to drop her off at Mark's―an idea that terrifies everyone, including Mark's lawyer, Harvey Butterworth (Les Tremayne). Will Mark be able to handle the brassy, willful Susan...as well as he handles his snotty, pushy girlfriend, rich Senator's daughter Isabella Alexander (Anne Francis)?
A funny little sex comedy that we know will wind up with stars Powell and Reynolds in a clinch (come on...that's a "spoiler" for you?), the slightly risqué pull of Susan Slept Here is how will scripter Alex Gottlieb (working from the original play he co-wrote) get supposedly 17-year-old punk/sweetheart Reynolds into supposedly 35-year-old screenwriter/rake Powell's arms without offending the Production Code. Cleverly, Gottlieb takes certain steps to ensure we get our dirty jollies out of the prospect of something illicit happening...while keeping everything thoroughly aboveboard. After all, that's Susan Slept Here's driving theme: will middle-aged Mark eventually crumble and nail loving-yet-illegal minor Susan before the mores of the day say it's okay to do so? First, Gottlieb makes sure we know Susan is going to turn eighteen soon, so in the back of our minds, we're pretty certain that before Susan and Mark actually do anything, she'll be "legal." Second, he makes sure that Mark, right from the start, is scrupulously "hands-off," even grumpily so, to the nubile charms of peripatetic Susan; with all that denying going on, he must not want her, right (director Tashlin knows better, of course, shooting delectable little Reynolds in various cute/sexy outfits, including wearing only Powell's pj bottoms pulled up just far enough to keep things clean)? Finally, even though Reynolds does a fair approximation of a dizzy teen (I'll bet soft-but-steely Reynolds seemed 35 when she was 5), we never really believe she's only 17, so we're given a pass and "allowed" to go along with the premise (we don't believe the polished 22-year-old Reynolds is 17 anymore than we believe the 50-year-old Powell is 35 here). And if all of that isn't enough to convince you that Powell won't touch Reynolds, Gottlieb even keeps them apart after their legal marriage in Las Vegas, as director Tashlin builds a humorous montage of the couple dancing endlessly, avoiding the wedding ceremony's end game (the honeymoon bedroom), with Susan expectant (she already loves the caring Mark by now), and Mark determined to dance her around until she drops.
All of that, of course, doesn't mean that S-E-X has taken a powder here. Fans of Frank Tashlin who don't usually connect up Susan Slept Here with his later outrageous, leering, sexual innuendo-laden visuals from classics like Hollywood or Bust or The Girl Can't Help It, should take another look. Right off the bat, "Tish Tash" gets in a funny breast joke (what else from the 1950s?) about Oscar® wanting to be smothered in an actress' large cleavage, before he moves on to feature absolute knockout Anne Francis in a devastating approximation of all those 50s pin-up glamour gals (Tashlin's cheerful willingness to indulge in this almost fetish-like peeping is one of his most endearing traits). Tashlin keeps vamp Mara Lane on hand to occasionally walk through scenes, distracting us with that tightly-skirted derriere, before he delivers a completely unexpected nightmare/"dance" sequence, garishly colored, that features a decidedly (and self-consciously hysterical) Freudian framework, complete with sexy Reynolds trapped in a gilded birdcage, Powell as a cocky gob (right out of his early Warner Bros. musicals), and luscious Francis as a man-eating spider leading him off to her web (fans of Tashlin protégé Jerry Lewis might find his dance sequence in The Ladies Man strikingly similar).
Dick Powell, in his last time up on the big screen, does an admirable job of appearing above all this―not in a snooty, indifferent way, but in the way of a big screen "star," confidently laid-back, using his previous noir-image toughness and cynicism in small doses to effectively underplay against Reynolds' effervescence. Working with Tashlin, he gets to do a bit of Lewisian shtick (a funny gag where Powell overacts a lip-synch to one of his old movies, Dance, Girlie, Dance, on TV), inbetween throwing out some effective comedic line-readings, including his best, and one that somehow slipped past the censor: "She's a natural blonde," he states about girlfriend Francis, with Reynolds replying, "You sure?" which prompts Powell to answer, "We're very good friends...she told me." (all that vaguely sexual stuff from Mark's lawyer about his daughter joining a fraternity and living on UCLA's 40-yard line in a tent suggests some stuff that was trimmed). The supporting cast is fine (watch for a hilarious, wordless cameo from Red Skelton), with Farrell particularly good as the frustrated secretary who would love to have Powell kiss her under the mistletoe ("What do you know about motherhood?" she's asked, replying, "I typed the script for Stella Dallas."). As for Reynolds, to be honest, I was always a bit of "take it or leave it" with her, but I found her delicious here. Looking exactly like one of those first Mattel© Barbie® dolls, Reynolds is alternately brassy and demure, completely getting across the image of a young girl falling for a sophisticated man who's actually kind to her. She gets to mug here, too, Tashlin-style (mimicking Francis in a home movie), while alternating between dizzy teen (fanning herself in the icebox when she hears a dreamy singer on the radio), sensitive young girl, and confident, sexualized wife (she looks like she knows what's she doing when she eventually leads Powell off to the bedroom despite his protests). Cute and charming and subterraneanly perverse, Susan Slept Here is a nice surprise waiting to be rediscovered on DVD.
The DVD:
The Video:
Susan Slept Here looks terrific in a 1.66:1 widescreen transfer (side-matted, I assume, onto a 16:9 enhancement from the original open matte), with eye-popping, smooth Technicolor®, a sharp image, little grain, and no compression issues. A winner. The full-screen, 1.33:1 transfer has been side-matted onto a 16:9 enhancement
The Audio:
The Dolby Digital English split mono audio track is re-recorded at a solid level, with little fluctuation or hiss. No subtitles or close-captions available.
The Extras:
An original trailer is included for Susan Slept Here.
Final Thoughts:
A 1950s sex comedy that's scrupulously clean...with a very dirty-minded story and leering visuals. Devotees of director Frank Tashlin will enjoy picking out his trademark obsessions, while fans of Powell and Reynolds will enjoy their clicky chemistry. A most welcome surprise, and perfect holiday-themed viewing. I'm highly recommending Susan Slept Here.
---
Paul Mavis is an internationally published film and television historian, a member of the Online Film Critics Society, and the author of The Espionage Filmography.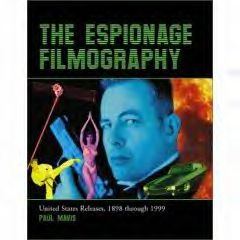 ---
C O N T E N T

---
V I D E O

---
A U D I O

---
E X T R A S

---
R E P L A Y

---
A D V I C E
Highly Recommended
---
E - M A I L
this review to a friend
Sponsored Links
Sponsored Links