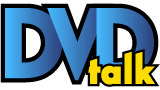 MGM // Unrated // October 26, 2011
List Price: $19.98 [Buy now and save at Amazon]
---
For what it is, namely a low-budget B-Western probably shot in 10 days or less, Gunfighters of Abilene (1960) is actually pretty decent. Nothing about it is remotely groundbreaking, nor is it particularly notable in any way. However, the script by Orville H. Hampton and the direction by Edward L. Cahn are reasonably intelligent, creative, and workmanlike, and the cast of mostly aging genre veterans is enjoyable, particularly Buster Crabbe and Barton MacLane.



Also helping things enormously is the fact that, unlike many MGM manufactured-on-demand DVDs of fifties and early sixties movies, Gunfighters of Abilene boasts a sparkling anamorphic widescreen transfer and this "Limited Edition Collection" disc even includes a trailer.






Gunfighter Kip Tanner (Crabbe), having received a letter from long-estranged rancher brother Gene, asking for help, returns home to Abilene, Texas. Just outside of town, three ranchers attack him: Harker (perennial Three Stooges bad guy Kenneth MacDonald), Rigley (Arthur Space), and Hendricks (Richard H. Cutting). They accuse Kip of conspiring with Gene in a stagecoach robbery soon after which Gene disappeared. Marshal Wilkinson (Russell Thorson) arrives but he has no use for Kip either, advising him to leave the territory. Kip refuses, at least until he can clear his brother's name.


It's soon apparent wealthy rancher Seth Hainline (Barton MacLane) is up to no good. His son, Jud (Lee Farr), and ranch hand Marty (Richard Devon) steal Gene's letter from Kip's saddlebag. Later, when Kip learns Gene had been engaged to Hainline's daughter, Alice (General Hospital's Rachel Ames, then billed as Judith Ames), he threatens Kip himself. And later still, when the only witness to the stagecoach robbery, driver Andy Ferris (Green Acres' Hank Patterson), is shot dead in Kip's hotel room by Jud, Hainline sees to it that Kip is framed for the murder.


The plot's nothing new, but Hampton's screenplay is reasonably paced and dramatically sound. A prolific writer of low-budget movies, Hampton penned his most fondly remembered film the same year as Gunfighters of Abilene, the quirkily amusing Atomic Submarine. Director Edward L. Cahn was even more prolific, Gunfighters of Abilene being the first of ten features he'd make in 1960 alone. While relegated to cheap productions, his best movies are generally much superior to others working at this budget level. They're better-paced, and Cahn shoots a lot more coverage than most. Gunfighters, for instance, has a surprising variety of camera set-ups: close-ups, multiple angles, even some decent tracking shots. He's most famous for his sci-fi and fantasy films, of which Creature with the Atom Brain (1955), The She-Creature (1956), and It! The Terror from Beyond Space (1958) are all pretty good, the latter famous as one of the inspirations for Alien (1979). Zombies of Mora Tau (1957) and The Four Skulls of Jonathan Drake (1959) are below average but well directed, while Invasion of the Saucer Men (1957) and Curse of the Faceless Man are terrible by any measure. Interestingly, Gunfighters of Abilene has an effective dash of horror itself, when Kip discovers a graphically decomposed body.


Following in Johnny Weissmuller's footsteps, Olympic swimmer and Gold Medallist Buster Crabbe made his official screen debut in Henry Hathaway's The Thundering Herd (1933), opposite Randolph Scott. He played "Kaspa the Lion Man" in King of the Jungle and Tarzan in Tarzan the Fearless that same year. He continued at Paramount for a time, memorably in the great W.C. Fields comedy You're Telling Me! (1934) before landing his signature role, starring in Universal's three Flash Gordon serials, as well as Buck Rogers. Soon after that he toiled away at Monogram making Poverty Row Westerns, usually playing Billy the Kid/Billy Carson in a prolific series of about three-dozen films made between 1941-46. (As routine as Gunfighters of Abilene is, it's miles ahead of Crabbe's super-cheap Monogram Westerns.)


He segued to television, most notably as Captain Gallant of the Foreign Legion. He then played Wyatt Earp in Hampton's Badman's Country (1958), noteworthy for cramming Earp, Pat Garrett (George Montgomery), Butch Cassidy & the Sundance Kid (Neville Brand and Russell Johnson), Bat Masterson (Gregory Walcott), and Buffalo Bill Cody (Malcolm Atterbury) all into a single, 68-minute movie. Gunfighters of Abilene was Crabbe's last starring film for 20 years. He was top-billed in two low-budget features made shortly before his death: Fred Olen Ray's Alien Dead (1980) and Harry Hurwitz's The Comeback Trail. (1982). It's interesting to see Crabbe at this point in his career. At 52, he's remarkably fit but his swimmer's sheen has been replaced by a leathery veneer, actually more appropriate to the genre than the pretty-boy juvenile lead he started out as. He was never much of an actor, but Crabbe was always sincere and his middle age lends weight to the character.


Barton MacLane, beady-eyed, short-tempered and surly, was one of the screen's great shifty types, perhaps most notably as the crooked McCormick in Treasure of the Sierra Madre (1948), or as hotheaded Detective Dundy in another Huston-Bogie classic, The Maltese Falcon (1941). Like much of the seasoned cast, by this point MacLane had settled into steady employment on TV, but he's perfectly cast in this.


Video & Audio


Quite good. Presented in 1.66:1 widescreen with 16:9 enhancement, Gunfighters of Abilene appears to be a recent transfer. In any case its black & white image is sharp and clean and a pleasure to watch, with much detail and excellent contrast. The mono English audio (no subtitle options) is adequate on this region 1 disc.


Extra Features.


Included, in 4:3 full-frame format, is an original trailer complete with text and narration.


Parting Thoughts


While no lost classic, Gunfighters of Abilene was for this reviewer a lot of fun even though there's nothing special about it. The crisp widescreen transfer is very good and the picture is Recommended for genre fans.













Stuart Galbraith IV's latest audio commentary, for Media Blasters' Godzilla vs. Megalon (with Steve Ryfle), is on sale now.
---
C O N T E N T

---
V I D E O

---
A U D I O

---
E X T R A S

---
R E P L A Y

---
A D V I C E
Recommended
---
E - M A I L
this review to a friend
Sponsored Links
Sponsored Links