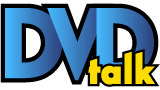 Lost Keaton - Sixteen Comedy Shorts, 1934-1937
Kino // Unrated // March 20, 2012
List Price: $39.95 [Buy now and save at Amazon]
---
One of the great things about DVD and now the Blu-ray format is how, occasionally, heretofore long-unseen movies turn out to be a lot better than their terrible reputations would suggest, diamonds in the rough, as it were. This proved true, for instance, when in 2006 Fox released to DVD their Laurel & Hardy movies from the 1940s, pictures long regarded as unfunny, painful embarrassments. But, it turns out, their movies got a lot better as they went along, to the point where The Big Noise (1944), formerly regarded as one of The 50 Worst Films of All Time, was revealed as not only a pretty good comedy, but overall arguably slightly better than Laurel & Hardy's weakest Hal Roach and MGM efforts (e.g., Bonnie Scotland).



The same sort of thing is proving true of some of Buster Keaton talkies, movies that up until recently were almost impossible to see. Also in 2006, Sony released the ten two-reel comedies Keaton made at Columbia 1939-41. While hardly on the level of his great silent shorts, like One Week or Cops, most are perfectly pleasant, and a couple (notably Pest from the West and Pardon My Berth Marks) are actually flat-out funny.






This was quite a contrast to the creatively bankrupt period suggested in Kevin Brownlow and David Gill's otherwise peerless television documentary Buster Keaton - A Hard Act to Follow. Inarguably, the great silent clown of The General, Sherlock Jr., Seven Chances and other classics of screen comedy crashed and burned at the dawn of sound. He was famously unhappy at his studio, MGM, a company infamously all thumbs when it came to comedy. After Keaton's last masterpiece, The Cameraman (1928), Keaton bounced around from one inapt star vehicle to another, and eventually the studio partnered him with brash Vaudevillian Jimmy Durante, Keaton's opposite number in the comedy universe. The movies were generally quite bad yet, ironically, were also quite profitable.


Keaton found little respite away from the studio. He was, simultaneously, unhappily married to Natalie Talmadge (the less-famous sister of silent stars Norma and Constance). They separated and she took most of his money and both of their sons, refusing to let Buster even see them. Keaton took to the bottle, and by about 1933 was a raging alcoholic barely able to function.


It was in this environment Keaton left MGM and eventually worked his way down - way down - the ladder to Educational Pictures ("The Spice of the Program," read its motto), where he made 16 two-reel comedies, originally distributed by Fox Film Corp./20th Century-Fox. As with the later Columbia shorts, they don't hold a candle next to Keaton's silent comedies, but on their own terms, about half are pretty decent, and none is a total failure, though a couple near the end are astoundingly unfunny.


Kino released these films to DVD in July 2010. The new Blu-ray set is nearly identical, with liner notes in booklet form rather than as onscreen text. The high-def transfers are derived from Keaton's personal collection, and vary in quality. I had the DVD set and consider this a very worthwhile upgrade, even though as comedies the films vary widely, and the film elements sourced vary from good to only fair.


The 16 shorts, in release order, are: The Gold Ghost, Allez Oop (both 1934), Palooka from Paducah, One Run Elmer, Hayseed Romance, Tars and Stripes, The E-Flat Man, The Timid Young Man (all 1935), Three On a Limb, Grand Slam Opera, Blue Blazes, The Chemist, Mixed Magic (1936), Jail Bait, Ditto, and Love Nest on Wheels (1937).


The Educational shorts differ from the Columbia shorts made soon thereafter. Columbia, while still essentially a "B" studio in the late-1930s, at the time was comparatively lavish with their two-reel comedies, which while made fast and cheap, still looked polished and professional. (The Three Stooges and Charley Chase shorts from around this time are similarly well produced.)


Keaton's Educational shorts, on the other hand, are pretty threadbare and even shoddy, more like (but even worse) than the Sennett-Paramount shorts W.C. Fields made shortly before this, or maybe the average Monogram or PRC feature made in the years immediately after. The sets look cheap, the lighting is poor, camera angles are limited, and often the sound is so bad that voices echo on on soundstage exteriors. Reportedly each short cost around $20,000, of which $5,000 went to Keaton, and they were shot in three to five days. Three of the films were filmed at studios in New York City, and arguably these look even worse. Keaton, whose silent films could be quite elaborate, must have found conditions at Educational disheartening.


Keaton himself was pushing 40 but because of the hard knocks of his profession, combined with his heavy drinking and smoking he looks much older, and frequently disheveled, at times looking as if he'd just stumbled out of a drunk tank. In several shorts he audibly slurs his speech. And yet, through all this, the Keaton of yore, with his comedy genius and physical prowess is on display, too.



While most of the shorts are remakes or reworkings of past glories, on their own terms the best ones are reasonably funny. The Gold Ghost, Hayseed Romance, and Love Nest on Wheels are probably the best, while Blue Blazes and Ditto are among the worst.


Most are conceptually solid, but their execution is too often undone by their low budgets, obviously rushed schedules, and sometimes even Keaton's hazy performance. Oddly, in most of the films Buster is called Elmer, a strange tradition that began on Spite Marriage (1929) and most of his MGM films. (Why? Other comedians of this period often if not usually kept their stage names. Sergei Hasenecz informs me Keaton, rather than the studio, liked the name. He even had a dog named Elmer.) There's also a strange, disjointed quality to many of the shorts, even when the basic ideas are good, such as the badly-paced firefighting action in Blue Blazes, or the bizarre but unfunny sci-fi sight gags in The Chemist. Some try for wild farce or funny dialogue that doesn't really suit Keaton.


Others fail for other reasons, like Ditto, which has the bright idea of Buster, here playing an ice man, falling in love with a pretty young woman (Gloria Brewster) but constantly mixing her up with her twin sister (Barbara Brewster), who lives next-door. This short is undone partly because the Brewster sisters are miserably bad actresses, and throw off the comic timing. Worse, a big sight gag at the end is ruined because it's a cheat that could easily have worked had there been time to stage it as the trick shot it begs for.


And yet, in the end, there's always Keaton. Not prime Keaton, certainly, but every once in a while he'll execute a perfect 180-pratfall, or stage an ingenious bit of business that makes what might have been a dreary 18 minutes worthwhile. There's that and more in a few shorts, including the herky-jerky The Gold Ghost, with Keaton a rich city slicker in a Western ghost town; and the at times very funny Hayseed Romance, with Buster in love with a young woman whose domineering, enormous aunt (Jane Jones) threatens to overwhelm their budding courtship.


Veteran Charles Lamont is the credited director on most of the shorts, though some sources assert Keaton actually helmed most in all but name. Their casts include faces familiar to fans of such pictures, including Warren Hymer, Harry Myers, Bull Montana, Harold Goodwin, Vernon Dent, Stanley J. "Tiny" Sandford, Kitty McHugh, Grant Withers, Diana Lewis, Bud Jamison, Al St. John, and a quartet of Keatons: Joe (father), Myra (mother), Louise (sister), and Harry (brother). The degree in which Buster's mother and sister resemble him is uncanny and even a little disturbing.


Video & Audio


Much of Educational's holdings went up in smoke when vaults containing the highly flammable nitrate film negatives caught fire in 1937, and most of the company's silent era output was destroyed in an instant. Whether the original camera negatives of Keaton's shorts were included in that blaze is unknown, but these may be the best surviving elements. Though basically 35mm prints, they generally look good, but the sound is sometimes weak and even distorted on a few, and the otherwise good-looking Mixed Magic is positively overrun with distracting splices. And yet on Blu-ray the film texture of these prints shine through and they're a clear step above the DVD release.


Extra Features


Supplements include film notes by David Macleod, which read as a bit too heavily trimmed to be completely satisfying; a stills gallery; and a previously released film montage entitled Why They Call Him Buster.


Parting Thoughts


Lost Keaton may not present the Great Stone Face in the best possible light, but for Keaton connoisseurs this set is fascinating for its failures as well as its successes, and there are more of the latter than one might first suspect. Highly Recommended.



Stuart Galbraith IV is a Kyoto-based film historian whose work includes film history books, DVD and Blu-ray audio commentaries and special features. Visit Stuart's Cine Blogarama here.
---
C O N T E N T

---
V I D E O

---
A U D I O

---
E X T R A S

---
R E P L A Y

---
A D V I C E
Highly Recommended
---
E - M A I L
this review to a friend
Sponsored Links
Sponsored Links