Andy Hardy Collection: Volume 1 (Warner Archive Collection), The
List Price: $59.99 [Buy now and save at Amazon]
---
"We'd like you to meet the Hardy family―they're pretty swell people."
A delight for fans...but incomplete. Warner Bros.' irreplaceable Archive Collection, their direct order service of M.O.D. (manufactured on demand) discs of rare, out-of-print, and generally unavailable library titles, has released The Andy Hardy Collection: Volume 1, a scattershot attempt to sample the first two-thirds of the iconic, 16-film M-G-M "B" series that starred "Mighty Mite" Mickey Rooney, Lewis Stone, Cecilia Parker, Fay Holden, Sara Haden, and Ann Rutherford. The six titles included here are 1937's You're Only Young Once, 1938's Out West with the Hardys, 1939's Judge Hardy and Son, 1940's Andy Hardy Meets Debutante, and 1941's Andy Hardy's Private Secretary and Life Begins for Andy Hardy (leaving out opener A Family Affair, Judge Hardy's Children, Love Finds Andy Hardy, The Hardys Ride High, and Andy Hardy Gets Spring Fever, if you wanted to watch the series in order, up to Life Begins). Of course, I'm not going to recommend you "skip" an opportunity to see these six delightful Hardy films, particularly since they've been so long in coming to DVD (after all, there could be rights considerations I'm unaware of). However, it is a major disappointment for serious movie fans―the very people to whom the Archive is trying to cater―not to get this landmark series started off in complete, proper release order. Solid transfers and original trailers help, though. Let's look very briefly at each title.
YOU'RE ONLY YOUNG ONCE
Carvel, a small town in the Great American Midwest. Judge James K. Hardy (Lewis Stone), a paragon of upright Yankee values, has decided that after 12 years, it's time his beloved family had a real vacation: two weeks on Santa Catalina Island, California, where the Judge hopes to snare a prized trophy―a swordfish. His family, however, has other ideas. The Judge's saintly, understanding, patient wife, Emily (Fay Holden), wants to spend time near her family in a lakeside cabin. Eldest daughter (and dreamy, gorgeous blonde), Marian (Cecelia Parker), wants to go to a lake where her boyfriend is helping to build a bridge. And 15-year terror, Andrew Hardy (Mickey Rooney), the very personification of youthful American vim and vigor, wants to go to another lake where his girl-next-door steady, equally dreamy Polly Benedict (Ann Rutherford) is vacationing for the summer. In the end, the Hardys always pull as one team, and they put aside their own whims for the good of the family: the Hardys are off to California. There, Andy will meet a rich, spoiled, and dangerous young girl, Jerry Lane (Eleanor Lynn); Marian will meet a handsome but shady lifeguard, Bill Rand (Ted Pearson), and the Judge will learn that a note he co-signed for a neighbor has come due, and as a result, the Hardys may lose everything.
A bittersweet, fascinating source of nostalgia for me from all those years ago when Andy Hardy films were a staple of afternoon and late, late show movie programs (and now the occasional re-runs on TCM), irrepressible Andy and his mythical Carvel hold a special place in my early movie memories, when, if you were young enough, you could almost believe such a place existed, as well as such a poignantly idealized American family (in some long-lost, black and white movie world). Often referred to as "America's first family" in the press and by moviegoers, tens of millions of Americans, tired of the Depression and fearful of the inevitable world conflict inching its way towards the States, labeled these lovely characters as such when the plain, average Hardys, in their own homey, rock-solid-valued way, showed their audiences how to meet everyday (and melodramatic) challenges with steady resolve, teamwork, understanding, and of course, love. I've never believed that there was a time when Americans were "naïve" about the realities of life (a favorite canard of the history books and social commentators), but there were certainly times when social customs demanded that they appear naïve about life's more unpleasant aspects (or perhaps more correctly, deny or keep quiet about those realities in favor of a socially-accepted façade). Folks living in the midst of the American Depression were more than wise to how hard life was outside those hallowed movie halls, but this was still a time when a vast majority of Americans could accept melodrama and sentimentality "innocently," if you will, fully acknowledging the artifice that went into utilizing them, but also accepting them as valid dramatic vehicles for emotional expression, without pejoratively sneering at them with cynicism and irony (like today). Most Americans probably knew that M-G-M's studio head Louis B. Mayer was feeding them corn in the Andy Hardy movies, but importantly, he was doing so with an absolutely straight face, without trying to insult his audiences. And they responded in kind, embracing the Hardys unequivocally for what they were: a fictional, idealized portrait of what many Americans wished they were. With that, Mayer and M-G-M's team fulfilled the goals of true "dream-making," where the product was perfectly realized and accepted between movie factory and escapist audience.
Begun innocently enough as just another "B" programmer out of M-G-M's 52 films-a-year schedule, the first Andy Hardy film, 1937's A Family Affair, based on Aurania Rouverol's 1928 Broadway hit, Skidding, wasn't expected to do much more business than its meager $200,000 budget (an M-G-M film back then wasn't considered truly "important" by the higher-ups until it had a million dollar-and-up price tag). The only real "name" in the cast was Lionel Barrymore as Judge Hardy (hardly an A-list leading man seat-puller like Gable or Taylor), while Mickey Rooney, gaining notice in Hollywood as a "comer," was still without wide name recognition with the American moviegoing public (he wasn't even the role's first choice; Frankie Thomas, Jr. was signed...and grew too tall before production began). Yet, when released in April, 1937, A Family Affair cleaned up at the box office (relative to his small budget), prompting studio head Louis B. Mayer, now free of the more intellectual/artistic constraints of his recently-deceased production head, Irving J. Thalberg, to try something different: a carefully-designed (but still cheap) sequel to a Metro "B," with the idea of creating a series franchise.
Barrymore, one of Mayer's favorite actors, declined to participate in the sequel, due to the ignominy of being typecast in a "B" programmer (but more likely because of the dough), and Thomas Mitchell (It's a Wonderful Life) was tested, but eventually Mayer went with courtly, suave Lewis Stone of Grand Hotel fame to take on the Judge Hardy role. Rooney's part was beefed up from the previous outing since peculiarly (at least to Metro executives who heretofore never thought of teenagers and children as a ticket-buying force to be reckoned with), he seemed to drive the kids nuts with his wholesome, all-American, hyperactive shenanigans (setting a precedent with audiences and studios that we're still dealing with today). With veteran producer Carey Wilson now shepherding the potential series, and director George B. Seitz permanently in the director's chair, You're Only Young Once, featuring another screenplay by A Family Affair's Kay Van Riper, was rushed into production, and premiered in November of 1937 (just six short months later), exceeding all box office expectations. Mayer had a bona fide phenomenon on his hands and he ran with it, eventually churning out 14 more Hardy epics before the series proper was cancelled in 1946 with Love Laughs at Andy Hardy (1958's Andy Hardy Comes Home was a belated, unsuccessful entry by producer Rooney to revive the series). No one knows for sure exactly how much those first 15 Hardy films actually made, since M-G-M and Mayer (as well as the other studio moguls) were notorious for hiding actual gross and net figures lest their stars realize their true earning potential. However, conservative estimates at the time put the series' total earnings back to the studio at over ten times their above-and-below line costs, an astounding figure (in 1939, at the height of the series' popularity, M-G-M's net profits were 9.3 million...4 million of which came solely from the last three Andy Hardy pictures released, each of which was still produced for under $300K). By 1939, Mickey Rooney―forever associated with Andy Hardy (probably to the detriment of the rest of his career)―was the number movie star in the world (for three straight years), with the Hardys the single most influential image of the "typical" American family ever perpetuated on the world's movie screens.
As for You're Only Young Once, watch the included trailer to get a lock-solid take on Metro's approach to the future focus of the series, where the "simple and homely"-acting Hardys "fight together, side by side, to save their little corner of happiness." (the needlepoint "sampler" of the Hardys' title card is a nice touch). Much has been written about how the Hardy series was fueled and shaped by the detailed, often-times manic attention of Mayer, who insisted that the sequels honor (and idealize) motherhood, small-town values, American can-do-it-ness, and respectful, loving understanding between impetuous-but-good-hearted sons and wise, forgiving fathers. Was this how Mayer, an Ukrainian-born Jew and naturalized American citizen via stops in Great Britain and Canada, grew up in St. John, New Brunswick? No...but like many artists (and Mayer the mogul, May the executive was an artist, just as surely as were his directors and writers and actors), Mayer was able to take his memories and form them into something new, a version in this case of what perhaps he wished his boyhood to be, and a vehicle to proselytize his vision of an American society that obsessively accentuated the positive, while eliminating almost completely all of its negatives.
Moviegoers would still have to wait a movie or two for Rooney's rambunctious Andy to take over the series' center stage; here, in You're Only Young Once, sister Marian's perpetually doomed romantic pursuits fill up more screen time than Andy chasing rich bad girl Eleanor Lynn (no doubt to take advantage of Metro's faith in second-billed contract player Cecilia Parker). Those expecting complicated drama from the Hardy movies would have to look elsewhere, though. Mayer's imposed formula for the Hardy pictures is simplicity itself, with a melodramatic framework lightened by genial, good-natured family moments, that wouldn't have been out of place in Victorian times: teens Andy and Marian find themselves growing up, tempted by the morally-suspect "easy way out" solution for a particular problem, and after flirting with it (before being corrupted or consumed by it), they're "talked down" by kindly Judge Hardy, whose sage, firm, but understanding advice leaves room for personal growth and love, not moral outrage and damnation. In this movie, when the Judge discovers that Marian's cad of a boyfriend is married, he doesn't sock him in the jaw, he brings it all out into the open, welcoming him into the family and cagily telling him they're behind his efforts to get out of his marriage, knowing full well he'll balk and dump Marian. When the Judge takes a stronger tack with Andy, calling his rich, spoiled girlfriend "rotten fruit" who will spoil any man she's with, Andy rebels, calling him an "old fogey" before he has to discover for himself that the Judge was right: Jerry is bad news. And the "nick of time" solution to the Judge's melodramatic trouble―a plot machination used in subsequent outings; this time, it's the Judge almost losing his shirt when he honors a legal commitment to a shady neighbor―perfectly illustrates Mayer's ideal of a father: honor-bound, rock-solid in his commitments, generous, and yet cagey and smart enough to get his family out of trouble (the Judge using Civil War script to pay for government land, from an old, forgotten statute). If all of that was thoroughly familiar and clichéd even by 1937 standards, Mickey Rooney's exuberant mugging and peripatetic scramblings weren't, and America's youth was electrified by his antics (it's not a stretch to pin the start of the American "youth movement" right at Andy Hardy's feet). Mayer, no dope when it came to what ticket buyers wanted, would steadily make Andy and his romantic/moral/monetary problems the center of the series' attention from this point on.
---
OUT WEST WITH THE HARDYS
It's vacation time again for the Hardys, this time at the request of Judge James Hardy's (Lewis Stone) old high school flame, Dora Northcote (Nana Bryant). It seems that Dora and her husband, Bill (Ralph Morgan), another school friend of James', are getting squeezed on their western ranch by unscrupulous neighbor H. R. Bruxton (Thurston Hall), who illegally controls the water rights to the stream that passes through the Northcote land. Judge Hardy is more than willing to go out there with his family to help...provided that old "scandal" about the school picnic and James and Dora going missing, isn't brought up to James' saintly wife, Emily (Fay Holden). Egomaniac Andy Hardy (Mickey Rooney) isn't adverse to a little R&R away from girl-next-door Polly Benedict (Ann Rutherford), with whom he has broken up yet again. Sister Marian (Cecilia Parker) will find troubled romance (again) with ranch foreman and widower Ray Holt (Gordon Jones), while Andy will find a worthy opponent in all manner of western skills in little Jake Holt (Virginia Weidler), Ray's little smartypants cowgirl.
A moderately entertaining entry in the series, Out West With the Hardys lacks a strong central romantic conflict for Andy, something the fans were coming to expect from these M-G-M efforts; no cute little buckskin-clad M-G-M starlet awaited Andy when he hit the range here. However, the bookending Polly Benedict fracases are still funny (Rooney kissing Rutherford and then warding off expected blows is pretty good). The story's central crisis again revolves around the Hardys helping out a friend at the risk of losing their own home, certainly a common enough-held fear with the movie's audience during those Depression years...although the Hardys don't have too much to worry about...considering they have a spare home as backup. Marian's doomed romance with Roy is as old as the hills, complete with Ray's little moppet throwing a monkey wrench into the romantic works, but the resolution still feels unnecessarily abrupt (you can probably guess that by this point, Mayer was goading the writers to, "get off Parker and stick with Rooney!").
As for Rooney, it's fun to see writers Kay Van Riper (again), Agnes Christine Johnston (Show People, Black Beauty), and William Ludwig (Blackmail, Oklahoma!), openly allude to Rooney's increasing reputation off-screen as Hollywood's preeminent hot dog, before thoroughly knocking him down a peg or two. Hotshot Andy confidently answers Polly's threat of, "If you don't stop all this showing off...", with "I get away with it, don't I?" before he's bragging about this being a "man's world," thereby giving him the right to act anyway he wants. Judge Hardy knows he's headed for a fall, and gives him just enough rope―a week with no rules―to hang himself, before Andy is literally turned back into a mama's boy ("I want my mama!" he cries before fainting from heat exhaustion, after he goes out into the desert to get a horse doctor for Jake's injured pony). Even better is Judge Hardy openly admitting to Emily―and even asking for her approval and help―that he's going to commit criminal conspiracy to buy that adjacent Indian land to get back his friend's water rights (how the hell did that get by Mayer?). Judge Hardy's "trial marriage" experiment for Marian might have seemed a bit titillating by suggestion to the audiences back then, but M-G-M keeps it squeaky clean and above-board morally, with Stone driving home the point to a remorseful, wiser Marian, who asks him, "Does everyone pay for the impulsive things they do?", to which the grave Judge answers, "I always did."
---
JUDGE HARDY AND SON
In the unusually quiet courtroom of Judge James Hardy (Lewis Stone), naturalized citizens Mrs. Judith Volduzzi (Maria Ouspenskaya) and her husband Anton (Egon Brecher) ask the judge for advice: are they going to lose their home because they can't pay the note on it? Judge Hardy asks if they have any children, because the court can compel them to help out financially if they're able (is that still a law?). The Volduzzis claim their daughter is dead, but the wise Judge knows better, and he enlists his son, Andy (Mickey Rooney), who's in need of some fast cash to fix his junker car, to track down any girls in town with the initials L.V.. This gets Andy involved with southern belle Clarabelle V. Lee (Margaret Early), weird, third person-speaking scammer Euphrasia "Prasie Daisy" Clark (June Preisser), and troubled "14-year-old" Leonora V. Horton (Martha O'Driscoll), the wealthy, isolated daughter of Mrs. Maria Horton (Leona Maricle), who keeps Leonora tightly under wraps. When Andy dreams up a scheme to win $50 bucks for a girl's essay contest, the resulting complications are nothing compared to the Hardys' trial by fire when beloved mother and wife Emily (Fay Holden) contracts deadly pneumonia.
Retooling the framework from Love Finds Andy Hardy (and subsequent outings where Andy juggles several girlfriends), Judge Hardy and Son can't be any more clearly titled, at least where it concerns M-G-M's direction for the series: the focus, more and more, is on Andy and his relationships with girls, with his father offering up advice at critical moments in the story. Everything else is basically window dressing (Marian is treated as almost an afterthought here). A lot of mileage is had from the extended set piece of Andy fixing his decrepit jalopy's tires (director Seitz keeps its simple and direct, and lets Rooney expertly build up a head of frustrated steam), while Andy's investigation for his father is basically just an excuse to see Rooney in action with Early, the talented Preisser (she's supremely odd and funny here, speaking only in the third person), and the lovely O'Driscoll (what a doll). Intolerant viewers today will see their blood pressure heat up when the Judge offers marriage advice (wives should be better cooks), only to see them cool off when he also declares that husbands should be more affectionate with their put-upon wives. Indeed, it's hard to find fault with the Judge's axiom for marriage (marriage "is a constant adjustment of your whims to your partner's needs"), or his gentle admonishment to Andy that his choice for a wife will be the single most important decision he makes in life.
No doubt Louis B. Mayer's favorite element of Judge Hardy and Son, aside from the look of pride on Judge Hardy's face when Ouspenskaya confirms her husband has been a naturalized citizen for 35 years, had to be mother Emily Hardy's illness, and the reverence with which director Seitz and scripter Carey Wilson (Ben-Hur: A Tale of the Christ, Mutiny on the Bounty) show father and son tensely, mournfully holding vigil outside her sick room. Certainly this is melodrama of an almost primitive nature, complete with a bridge washing out while Andy tries to retrieve his sister for the turning point in his mother's illness. Importantly, though, it's crude melodrama of a most sincere, effective form: calculated, yes, but completely straight-faced and honest in its simplicity, without a wink or a nudge to the audience who probably sniffled right along with the characters (according to several sources, Mayer himself wrote Andy's common-man, aw shucks prayer to God to save his mother, after Wilson delivered a too-flowery, too-intellectual sermon). Some modern viewers may be unable to watch these beautifully designed scenes without chuckling to themselves (as certainly some high-brow critics did at the time, too), but to those who can accept the intent behind these machinations, no matter how premeditated, these scenes still hold a quiet, emotional power that's unusually effective, even 70+ years later. A finely-designed entry in the series.
---
ANDY HARDY MEETS DEBUTANTE
Carvel High's BMOC Andy Hardy (Mickey Rooney) has a problem: he's told everyone that he knows New York debutante Daphne Fowler (Diana Lewis), a celebrity socialite that Andy has been mooning over for months, and that she's left him a standing invitation to visit her anytime he likes in the Big Apple. Polly Benedict (Ann Rutherford) and Beezy Anderson (George P. Breakston), co-editors of the school magazine, don't believe this for a second, and dare Andy to get a photo of himself kissing the elusive deb, a dare that Andy is confident he won't have to honor because he couldn't possibly go to NYC. However, Judge Hardy (Lewis Stone) has plans for just such a trip; it seems that the Carvel Trust that funds the local orphanage has gone belly-up from a switch to now-worthless European bonds, and it's up to James Hardy to fight for the little motherless tykes in a New York courtroom. Now Andy is stuck trying to introduce himself to the hard-to-reach Daphne, while fending off the advances of Betsy Booth (Judy Garland), the poor little rich girl that Andy meet last year in Carvel. Will small-town hicks Andy and Judge James beat the richer, more sophisticated city slickers at their own game?
A solid, entertaining entry in the series, Andy Hardy Meets Debutante features the second appearance by Judy Garland as Betsy Booth (the first time in this DVD set), so newcomers may be a little confused by Andy's familiarity with her here. Scripters Annalee Whitmore (Mickey and Judy's Babes in Arms, Honky Tonk) and Thomas Seller (The Black Arrow, TV's The Lone Ranger) create a nicely dovetailed conflict for Judge and Andy to share together in New York City: both feel uncharacteristically like small-timers in the Big City, facing contemptuous sharpies at every turn until, through adversity, they both triumph with their small-town ways―ways, they argue, that are imbedded in the very fabric of America's creation. One of the more openly patriotic Hardy outings, inspiration for the characters is found at the newly restored Grant's Tomb, the Statue of Liberty, and the now sadly-forgotten Hall of Fame for Great Americans (all nicely faked with good second-unit location work), where the Judge and Andy get into an uncharacteristically nasty fight, insulting each other in a way that's quite refreshing for the series. Andy, obsessed with the social stature and money of the elusive deb who remains out of his reach, is told off in short order by a contemptuous Judge/Father Hardy. Spitting out that Andy should "stop sniveling about money and class" (amen, Judge), and instead start protecting his American heritage of freedom and equality for everyone, the judge winds up with this whopper when Andy callously calls him a judge "nobody knows;" "When a boy is stupid, he's just stupid, that's all." Of course, the two find respect for each other in the end, but this little bit of grit is welcome at this point in the series.
There are several interesting tangents that pop up now and again in this cleverly-plotted Hardy outing, including Andy's incomprehension at Daphne's mother's assured dismissal of this "commoner's" attempt to make friends with her valuable daughter ("Back where I come from, everyone has a mutual interest in everyone else," he hopelessly counters, to absolutely no effect), as well as the Judge's assertion that "every city and village in the world is evil, in some aspects," not just New York City (too bad Mayer wouldn't let him outline Carvel's sins just once). These deft little disturbances are balanced nicely with the more familiar comedic misunderstandings of Andy and his pursuit of the high life in New York, including a nicely staged dinner sequence where he's completely out of his depth (his pole-axed reaction to a forty dollar dinner tab is more understandable when you adjust for inflation: make that over $600 dollars today, as is his faint heart when he loses Betsy's father's pearl stud, worth over 6K today). Viewers today will probably find Garland's appearance here the most noteworthy element of the movie, and certainly, her energy and skill in both the comedic and dramatic sequences (and the musical numbers, it goes without saying) noticeably elevate the movie's feel. No wonder American kids got so exciting about Rooney and Garland pairing up; they're electric together, and Garland in particular shines in this go-around, whether singing a funny version of Alone (making sure she emphasizes "alone" so Mickey can hear her), or when she's silently crying over loving Mickey, or when she's luminously moving through I'm Nobody's Baby, looking thin and impossibly young, and lovely. Andy Hardy Meets Debutante is definitely one of the series' better efforts.
---
ANDY HARDY'S PRIVATE SECRETARY
Carvel's mini-tornado, Andy Hardy (Mickey Rooney), is about to graduate high school, and as Student Body President, he's single-handedly juggling most of the chores associated with the commencement festivities―badly (he even manages to accidentally bounce a check as school treasurer). Judge James K. Hardy (Lewis Stone), worried about his son stretching himself too thin, suggests a way for Andy to not only alleviate some of the burden, but also help out two lonely kids new to the community: "hire" a private secretary. The Judge takes Andy to Steven V. Land's (Ian Hunter) modest home, where big wheel Andy finally takes the time to actually talk with school outsiders Kathryn (Kathryn Grayson) and her brother Harry (Todd Karns), who resents Andy's success at school. Andy offers Kathryn the job of helping him organize their graduation, while giving Todd the chance to run the decorations, which he reluctantly accepts. Meanwhile, the Judge, finding out that educated, down-on-his-luck Steven Land is multi-lingual, secures a job interview for Lands with the State Department. Polly Benedict (Ann Rutherford) isn't exactly thrilled with Andy spending so much time with pretty Kathryn, but Andy's biggest problem comes when it's time for final exams, and when he makes a grave error concerning the Lands' graduation, and their father's job.
An entertaining, satisfying entry in the series, Andy Hardy's Private Secretary focuses exclusively on Andy and his troubles this time, positioning the story's central conflicts―Andy's risk of not graduating, and his culpability in Steven Land losing his State Department appointment―squarely around the charismatic Rooney; the Hardys won't lose their home this time, the Judge hasn't signed any compromising notes, and Marian and her romantic plights are nowhere in sight. Top-flight Metro screenwriters Jane Murfin (What Price Hollywood?, Pride and Prejudice, Alice Adams, The Women) and Harry Ruskin (The Postman Always Rings Twice, the Dr. Kildare series), sneak in some very vague reference points to what was really happening in 1941's world outside the fictional Carvel (Lands doesn't need to explain how he recently lost his European travel agency), before reasserting how lucky Americans were to be living where they were at this particular time in history (Lands knows there's nothing wrong with America as long as his kids can go to a free, modern school like Carvel High, while poor-girl Kathryn is just grateful to be able to go to school, rather than suffer in Europe).
No Andy Hardy film would be complete without the Judge gently guiding Andy to some kind of epiphany about growing up, and here, the issue is snobbery (again), with the Judge admonishing big-wheel Andy for not including the Land children in his little group, just because they're poor. Bringing Andy down a peg further is the fact that he's flunked out of English by none other than his own Aunt Milly (Sara Haden)―no favoritism in the Hardy house―leading to several funny scenes of an increasingly frantic Andy trying to escape his fate; the all-night cram session is beautifully handled by Rooney (his photo session with his mother is also a highlight for Rooney fans who can't get enough of his mugging). Certainly most noteworthy for Andy Hardy's Private Secretary is the debut of lovely, talented Metro contractee Kathryn Grayson, who begins her 11-year stint with M-G-M here. While still somewhat tentative in her dramatic scenes (a quality that's endearing, nonetheless), and with Metro not yet paying enough attention to her to solve the photographic problem of her slightly wall-eyed look, all is forgiven the moment soprano Grayson sings her arias, hitting incredible high-C notes effortlessly with her startlingly clear, controlled voice. While it certainly didn't hurt for a young starlet to get her first push in the popular Andy Hardy series, the talent still had to be there to exploit, and clearly Grayson's singing and pleasant demeanor here points towards her upcoming long, successful association with Metro.
---
LIFE BEGINS FOR ANDY HARDY
Newly graduated Andy Hardy (Mickey Rooney) is having the time of his life, enjoying those few, fleeting weeks of careless summer before the responsibilities of adulthood come crashing down for good. His father, Judge James Hardy (Lewis Stone), expects him to accept a scholarship to alma mater Wainwright College, but Andy has other ideas: he wants to take a month off and go to New York City in the hopes of making it big there, with the guidance (not monetary, mind you) of friend Betsy Booth (Judy Garland). Checking into the City House dormitory for young men, Andy gets a tip on an office boy job from departing tap dancer hopeful, Jimmy Frobisher (Ray McDonald), who just quit Consolidated Stocks & Bonds. Hustling over there that night, Andy waits for boss Eric J. Maddox (Lester Matthews) to come back in, while making an impression with player Jennitt Hicks (Patricia Dane), Mr. Maddox's gorgeous secretary. Unfortunately, even an expensive bottle of perfume for Ms. Hicks isn't enough to secure the job for Andy, and he's soon walking the streets, unable to find a job, and unwilling to accept a handout from rich girl Betsy. Eventually, the office boy job opens again, and Jennitt, taking pity on Andy, secures it for him, but that's only the beginning of his troubles as he navigates the treacherous waters of dog-eat-dog New York City.
One of my favorite entries in the series, Life Begins for Andy Hardy follows fairly closely to those Horatio Alger stories that Louis B. Mayer reportedly revered since his boyhood, complete with a story line showing our small-town boy making good in the big city after dodging numerous obstacles, including the "unhealthy" attentions of a morally-suspect woman (an incredibly beautiful morally-suspect woman, I might add). Screenwriter Agnes Christine Johnston (from Out West With the Hardys) has some fun suggesting―only suggesting―the more grown-up hijinks Andy is getting up to after graduating high school (the rather risqué sight of a woman's name and telephone number scrawled in lipstick on his shirt), while getting off some choice lines during Andy's heartfelt goodbye to virginal, unsullied Polly Benedict ("No regrets?" she asks tearfully, to which he replies, with sudden self-awareness of his own good conduct, "No regrets...darn it!"). Once the story moves to New York City, though, it turns quite dark, with our confident whiz kid turned into a morose failure, while the audience sees the death of good kid-turned-penniless-failure Jimmy, who dies in Andy's bathroom (we're titillated with Andy's suspicion it was suicide, before the script―probably at Mayer's insistence―redeems the character with a faulty heart condition).
Quite a bit of tension is maintained throughout the movie as we worry if Andy is going to survive not only unemployment but employment, particularly in a beautifully designed sequence where Andy's first day on the job is marred by extreme hunger, resulting in him fainting dead away in front of the boss. It's an amusing scene on the surface (and Rooney is, as always, excellent), but the subtext is fairly serious, particularly for anyone who can remember going hungry for lack of money (not unknown to those Depression-era audiences), or blowing their first important, really necessary job. The Hicks character is also quite interesting, being carefully modulated to give the viewer just enough information to suggest she takes gifts from men she eventually ruins, while showing just enough compassion for Andy (at first) to make us sort of like her (what guy in his right mind wouldn't have minded Patricia Dane using him?). Eventually, her true hand is revealed when she calls Andy's father "holier than thou" and a "liar"―sacrilege in the Hardy world (Dane, whose career was fatally sidetracked by her marriage to bandleader Tommy Dorsey, is terrific here: lushly sexual, with just enough seesawing mystery to her where you'd want to try and see if she could be faithful to you). Of course, no one gets explicit, but sex and its complications are just as important to the story as Andy's Alger-like trial by fire, with the Judge (brought into New York so he can have his de rigueur talk with Andy) posing an interesting theory that infidelity in married men is learned beforehand, through the indiscriminate offering of love (and sex) to multiple partners he's not serious about―a theory that hits home with Andy. Fans of Garland will be sorry to note that this is her last appearance in the series, and that's too bad because she immediately elevates the movie anytime she's on-screen. Looking sexy as hell when she's shot by director Seitz, sitting and sweating in front of a fan on a sultry NYC night, Garland doesn't get to sing here, except for Happy Birthday (despite what the poster art says: perhaps this was Mayer trying out her appeal sans singing?), but she is luminous anytime she starts mixing it up with Rooney. She'll be missed in the series.
The DVD:
The Video:
Having grown up seeing these movies in beat-up 16mm prints, broadcast many times "live" by the local television stations (complete with film breaks and hairs in the projector gates) to my crappy little black-and-white portable TV, I'm not going to complain about the transfers here. No meticulous restoration has been performed for The Andy Hardy Collection: Volume 1, but then again, the full-screen, 1.33:1 black and white prints used here are in relatively good shape, with minor scratches and dirt, some dark and/or contrasty scenes here and there, and expected grain levels (not distracting at all if you expect it).
The Audio:
The Dolby Digital English mono audio tracks are serviceable, with minor fluctuations from time to time, and hiss...but all dialogue is clear.
The Extras:
A nice bonus is an original trailer for each movie here―not bad for the Archive.
Final Thoughts:
Of course I would have preferred strict chronological order for this premiere volume of Andy Hardy DVDs; after all, part of the fun of this first truly successful Hollywood franchise series is watching the evolution of the characters within the rigid formula imposed by Louis B. Mayer. For whatever reasons, that isn't going to happen, so let's just enjoy what's here: six entries in this quintessential Metro series, all beautifully produced, sharply written, and expertly performed by the engaging cast and solid guest stars. I'm highly, highly recommending The Andy Hardy Collection: Volume 1.
---
Paul Mavis is an internationally published film and television historian, a member of the Online Film Critics Society, and the author of The Espionage Filmography.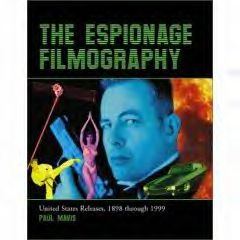 ---
C O N T E N T

---
V I D E O

---
A U D I O

---
E X T R A S

---
R E P L A Y

---
A D V I C E
Highly Recommended
---
E - M A I L
this review to a friend
Sponsored Links
Sponsored Links