Laverne & Shirley: The Fifth Season
List Price: $39.98 [Buy now and save at Amazon]
---
"What's da matter wit you, Shirl? You're no fun anymore!"
Perhaps it was that dreaded fifth season sitcom curse. CBS DVD and Paramount, roused from their slumber concerning this classic sitcom series, have regrouped four years later to release Laverne & Shirley: The Fifth Season, a 4-disc, 25-episode collection from the ABC monster hit's disastrous 1979-1980 season. Decidedly hit-and-miss in terms of quality, with a game-changer in format that's abandoned rather quickly (when the girls join the Army), there's still enough left-over laughs here for devoted Laverne & Shirley fans...but most of those viewers would also admit this outing wasn't the series' best by a long shot. Some honest-to-god extras are included here in this nice-looking transfer.
The set-up is ridiculously simple. Milwaukee, around 1964. Plucky bottle-cappers Laverne DeFazio (Penny Marshall) and Shirley Feeney (Cindy Williams) finish up their mundane shifts at the local Shotz Brewery plant, only to return home to their crummy basement-level apartment. Dreaming of a better life, the two life-long friends go about getting that better life in different ways. Former Brooklyn native Laverne, the "loose" member of the team, wants to have fun―especially if a good-looking "bad boy" is involved―while "good girl" Shirley staves off the forever-frustrated advances of Carmine "The Big Ragu" Ragusa (Eddie Mekka) in the 1950s "American Dream" hopes of getting that split-level Colonial house with her doctor husband Dwayne and dog Dave. Of course, these vastly different approaches to "fun" create havoc-ridden situations for the girls, with these slapstick adventures often attended by upstairs neighbors Lenny (Michael McKean) and Squiggy (David L. Lander), two impossibly stupid would-be greaser toughs who barely qualify as human beings. Offering tough love and support for Laverne (and for Shirley, too) is Laverne's grouchy, loud father, Frank DeFazio (Phil Foster), owner and operator of the local Pizza Bowl bowling alley, and his fiancé, Edna Babish (Betty Garrett), the girls' landlord.
I wrote fairly extensively about Laverne & Shirley's aesthetic aims and goals (yes...Laverne & Shirley had "aesthetic aims and goals") almost five years ago (cripes) for DVDTalk, so I'll try not to cover the same ground again (you can read those reviews here for more context). To make a long story short, I didn't particularly enjoy Laverne & Shirley when it first came out in the mid-seventies (except for the frankly brilliant McKean and Lander), preferring its host series Happy Days (although the best seasons of that classic were almost done by the premiere of this spin-off). However, upon re-discovery decades later, Laverne & Shirley's simple, baggy-pants style slapstick, so reminiscent of Lucy and Ethel, admittedly made me laugh. And that's all you need in my book for a sitcom to be deemed "successful." Re-reading those reviews of Season Three and Four of Laverne & Shirley brought back a few smiles, and even prompted me to revisit a few of the best ones―not a bad recommendation.
That's why I was a bit disappointed by the wavering tone of this fifth season. TV lovers know all about the supposed "fifth season curse" that can afflict a network series (particularly sitcoms), but that kind of conjecture is more fun as a hypothetical noodle to mull over with other TV addicts, rather than anything remotely resembling a measurable "fact." What is readily apparent, though, with Laverne & Shirley's fifth season, is that...it's just not as consistently amusing anymore. Sure, the performers can still wring laughs from basically the same set-ups (although observant viewers will sense some kind of...strain in the actors' demeanor: they don't seem all that "happy," for lack of a better word, running around the set), and the set-ups are fairly consistent with previous seasons' efforts. Laverne and Shirley are still trying to climb that ladder to personal and professional happiness; they still encounter a world (increasingly mechanized) that thwarts them at every turn; and despite all setbacks, they reaffirm each other's belief that through friendship and hope and a lot of laughs, they will persevere while making us laugh in the bargain...
...only...just not as reliably here. Laverne & Shirley's fifth go-around is often highlighted for its final season set in Milwaukee (before everyone packed up for Los Angeles), and for its spectacular fall in the Nielsen ratings, going from the number one show in the country the previous season, to down in the forties and fifties this fifth season―one of the most dramatic self-destructs in TV history, often blamed on ABC's incomprehensible decision to move the show from its secure slot on Tuesday nights. No doubt that move played a huge part in Laverne & Shirley taking a Nielsen nose-dive...but I would venture that by this point, big audiences were beginning to abandon Laverne & Shirley because quite simply, the episodes just weren't as funny as previous seasons. To be fair: there are highly amusing episodes here, and you can always count on something in each one to make you laugh (usually Lenny and Squiggy). However, there's a "sameness" to many of the offerings here, along with an indescribable ennui―mixed curiously with a "let's get this over with" brusqueness―that's a sure sign of a cast and crew working their way through a "chore," not a labor of love. Watch Williams and Marshall individually when they're silent and not delivering a line, reacting to each other: there ain't a lot of "joy of performance" going on there. A lot of tension, perhaps. Or boredom, maybe. But not joy (by comparison, check out something like the fourth season's The Festival, and see Marshall and Williams pinging off each other delightfully as they bicker at a street fair). What used to feel free and manic, now frequently comes off as brittle and shrill and frankly, rote.
The two-part season opener, Shotgun Wedding, with part one officially a Happy Days episode (included here in the set as an extra), is a disaster―not exactly encouragement for viewers trying to find the show on its new night. I've written before about how crucial premiere episodes are for a continuing series (particularly if there's been a time/day shift), and Shotgun Wedding is Happy Days and Laverne & Shirley at their mind-numbing, bubble-gum worst (when Henry Winkler and Ron Howard climb into a pantomime cow costume...one can only look away in embarrassment). Other episodes in this first part of the season struggle along, as well, with an entry like Fat City Holiday (where the girls go to a "fat farm") playing like a re-worked Odd Couple episode, only adding to the viewers' sense of déjà vu. When the girls join the Army in We're In The Army Now, the viewer is suddenly faced with the prospect of a format change for the sitcom...but the producers apparently thought better of it and just let the idea fade away with only a few more scattered Army-driven episodes strewn throughout the rest of the season. It's actually not a bad idea to put Williams and Marshall into a typical Abbott & Costello / Martin and Lewis "service comedy" framework; the switch-up yields more sight gags and freshens up the formula (We're In The Army Now is one of the better efforts this go-around). But for what other reason, any long-term commitment to this change was quickly abandoned (and talk about vague and arbitrary: since when did Lenny join the Army Reserves, as he magically appears in uniform in You Ought To Be In Pictures? That kind of convenient story hole-filling doesn't fool the audience for long).
Equally distressing is this season's tendency to throw out some quasi-straight drama episodes that fundamentally clash with this particular sitcom's overall tone. Seriously...who in hell wants Laverne & Shirley to be "serious," for chrissakes? In What Do You Do With a Drunken Sailor, Shirley must come to grips with her alcoholic brother, played by Ed Begley, Jr. (gee, that sounds like a fun time). In The Duke of Squigman, what should have been a knockout episode with Squiggy sleepwalking (metamorphosing into an aristocratic Englishman), turns inexplicably and inappropriately solemn when the script insists on humiliating the Squiggy character by finally making him admit to himself that he's a loser. Now why in the world would the producers do that to Lander? The whole point of his character's comedy is that he's unaware of what a grotesque he is; that's where all the humor comes from. So why take that essential element away from the character for a cheap, mawkish shot at pathos? And in Why Did The Fireman?, we get the happy storyline of Laverne loosing her would-be fiancé, Ted Danson, in a fire, after which she cracks up and has to be talked down by her father. I tuned into Laverne & Shirley to see that? I had a hard day at work (or a rotten day at school: Salisbury steak for lunch), and I want to forget my troubles and just sit in front of the tube and have it amuse me...and I get Ted Danson burned up in a fire and Penny Marshall going crackers? This is feel-good escapist fun? It's bosh, is what it is, and it smacks of either producers not trusting the formula, or performers tired of doing "just comedy" and insisting on more "meaningful" material. If I want maybe a little something more than lowbrow slapstick from Laverne & Shirley (a perfectly respectful request), I'll take a sweet, telling little episode like Testing, Testing, where we learn some truths about the characters' backgrounds in an episode that mixes equal doses of laughs and sentiment quite nicely (when a company psychiatrist asks Squiggy what kind of child he was, he answers, "White.").
Funny episodes and moments this season include One Heckuva Note, with Williams doing one of her patented freak-outs when she discovers a love note from Carmine to Laverne. Fat City Holiday may be just another reworked Odd Couple episode, but it is funny to see Marshall and Williams rolling around, starving ("Please don't leave Lenny in the sun...he'll spoil," is Squiggy's advice). You've Pushed Me Too Far has a fair share of laughs when Lenny and Squiggy fall out (the boys get to do their patented Tex Avery-cartoon-wolf-come-to-life bit, "Oooooohhhhhoooooh, and Squiggy's proclamation, "As God is my waitress!" cracked me up). Bad Girls should have been a funnier look back at Laverne and Shirley's girl-club days, but it's nice to see the actors openly corpsing at the sight of Lander and McKean in grotesque drag. Williams gets to do her delightful "Shirley shuffle" come-on dance in Take Two, They're Small, a funny outing where Laverne and Shirley have "little people" blind dates. Not Quite South Of The Border has some big-scale gags (ruined by one of the worst applications of a sweetened laugh track I've ever heard), while The Beatnik Show is nicely paced, with Williams getting hip at The Buttered Cocoon coffee house. The Right to Light is one of this season's best approximations of the old Laverne & Shirley manic humor, with Williams and Marshall hilariously trying to escape from a bomb (the sight of Lander and McKean doing The Monkey is priceless, as is their catch-phrase shout, "Double make-out!" when the lights go out and they hone in on Williams and Marshall). The two-part Murder on the Moosejaw Express is dopey fun, filled with lots of good gags, particularly Williams' charade of the "poisoned cocoa" she drank. Survival Test is another fairly amusing Army episode, with the girls having a funny slapfight as they hang from parachutes, before they hallucinate Lenny and Squiggy holding a turkey (it plays like an old Hope/Crosby Road picture).
Two stand-out episodes this season, though, are The Diner and You Oughta Be In Pictures. In The Diner, Laverne and Shirley buy a dilapidated diner from Lenny and Squiggy (where the featured "Dead Uncle Lazlo Burger" contains "60% meat and 40% high adventure"―a one-liner worthy of Neil Simon). Of course it's a disaster, with lots of amusing bits including Marshall flipping a giant pancake with a dust pan and her absolutely hilarious fog-horned-voiced, "Betty, please..." order calls on the diner's P.A. system (Lander had me on the floor when Shirley comforts a distraught Lenny with, "Where tears flow, hope can grow," as an uncomprehending Squiggy then finishes her "song" with, "...or would you rather be a mule?"). And in You Oughta Be In Pictures, Williams' old First Nudie Musical cohort Bruce Kimel is quite funny as an expansive movie director who misleads the girls on the kind of film they're making: an Army venereal disease training film called This Can Happen To You. Williams and Marshall do horrified embarrassment well, and Lander and McKean are, of course, spot-on, co-starring in the film as advanced V.D. cases (the narrator intones, "...other soldiers weren't so fortunate," when they stumble into view). Those two episodes alone make Laverne & Shirley: The Fifth Season recommended viewing.
Not too many people were recommending Laverne & Shirley this 1979-1980 season, however...when they could find the show on their dials, that is. In one of the biggest freefalls in Nielsen ratings history, Laverne & Shirley went from the number one-watched show in the country (for the second year running) for the 1978-1979 season, to the bottom of the barrel when ABC inexplicably swapped the timeslots of two of their most successful shows: Laverne & Shirley out of its established Tuesday 8:30pm slot, with what the network thought was their next big smash, the much-hyped Angie, starring Saturday Night Fever's Donna Pescow and Airplane's Robert Hayes at its Thursday 8:30pm time slot (Angie had garnered a rather astounding 5th most-watched show of the previous season with just a mid-season start in February). Wrong on both counts. The move decimated both show's ratings, with once-promising Angie cancelled by the spring of 1980, and Laverne & Shirley first quickly hustled to Monday nights at 8:00pm (where it got creamed by Little House on the Prairie), and then back to its Tuesday 8:30pm slot in February. Ratings ticked up, but not even close enough for Laverne & Shirley to crack the Nielsen Top Thirty―a humiliating, completely unnecessary showing for a series that wasn't "broke" in the first place. Laverne & Shirley's sixth season would see the ratings rise higher again...but nowhere near its previous glory.
The DVD:
The Video:
The full-screen, 1.33:1 transfers for Laverne & Shirley: The Fifth Season look quite good, with solid color, a crisp image, and no compression issues to speak of.
The Audio:
The Dolby Digital English split mono audio track is fine, with clean dialogue and low hiss. English subtitles are available.
The Extras:
In addition to the Happy Days episode, Shotgun Wedding: Part I, there are original episodic promos for all of the entries here, as well as an original gag reel (3:11) that shows what foul-mouthed broads our two plucky little bottlecappers were in real life. Fun (and any kind of bonus is welcome on this kind of set...even though I would have purely loved a commentary track from the leads).
Final Thoughts:
A wavering tone and some grumpy leads gives Laverne & Shirley: The Fifth Season a herky-jerky feel, with new ideas (Army=good, while it lasted; "serious" drama=bad) not exactly invigorating this once-bouncy sitcom. Still...enough laughs are present to make Laverne & Shirley: The Fifth Season recommended viewing for fans of the series and classic sitcoms.
---
Paul Mavis is an internationally published film and television historian, a member of the Online Film Critics Society, and the author of The Espionage Filmography.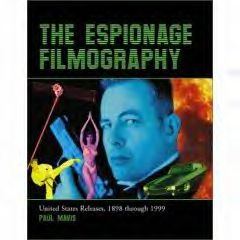 ---
C O N T E N T

---
V I D E O

---
A U D I O

---
E X T R A S

---
R E P L A Y

---
A D V I C E
Recommended
---
E - M A I L
this review to a friend
Sponsored Links
Sponsored Links